Fashion Nova is the epitome of fast fashion. What is "fast fashion?" Well, it's basically exactly what it sounds like.
Today, consumers are growing more impatient than ever to get what they want. And of course, we are! With companies like Amazon providing two-day shipping, we've grown to expect freaky fast delivery as soon as we click "purchase."
This expectation of quick turnaround times has demanded the utmost efficiency from companies, especially in the fashion industry. New trends, fads, and fashions are constantly popping up, whether they be from Instagram, peers, or more famously, celebrities.
Obviously, celebrities are always in the spotlight and are always serving looks that don't disappoint. Being so, fashion brands look to create copies or knockoffs so us mere mortals can try and recreate the looks we loved so much.
One company who's been repeatedly beating all other brands to the punch is Fashion Nova.
One prime example of its efficiency and quick-to-it manufacturing is from Kylie Jenner's birthday bash. Jenner was seen wearing a hot pink, shoulder-padded dress with a cinched sash to match, and what do you know, the NEXT DAY Fashion Nova came out with an eerily similar dress for sale on their site.
As well as a glitzy, glittery skin-tight bodysuit much like Jenner's second outfit of the night. The fast fashion brand also came out with a dress that could twin with Kim Kardashian-West's pink minidress she debuted that night.
Aside from that night, Fashion Nova has been stealing styles not just from the Jenner/Kardashian clan. Jenner bestie Jordyn Woods took a picture in a yellow plaid bikini and an oversized gingham blazer, and two very similar items just happened to appear on Fashion Nova's website soon after.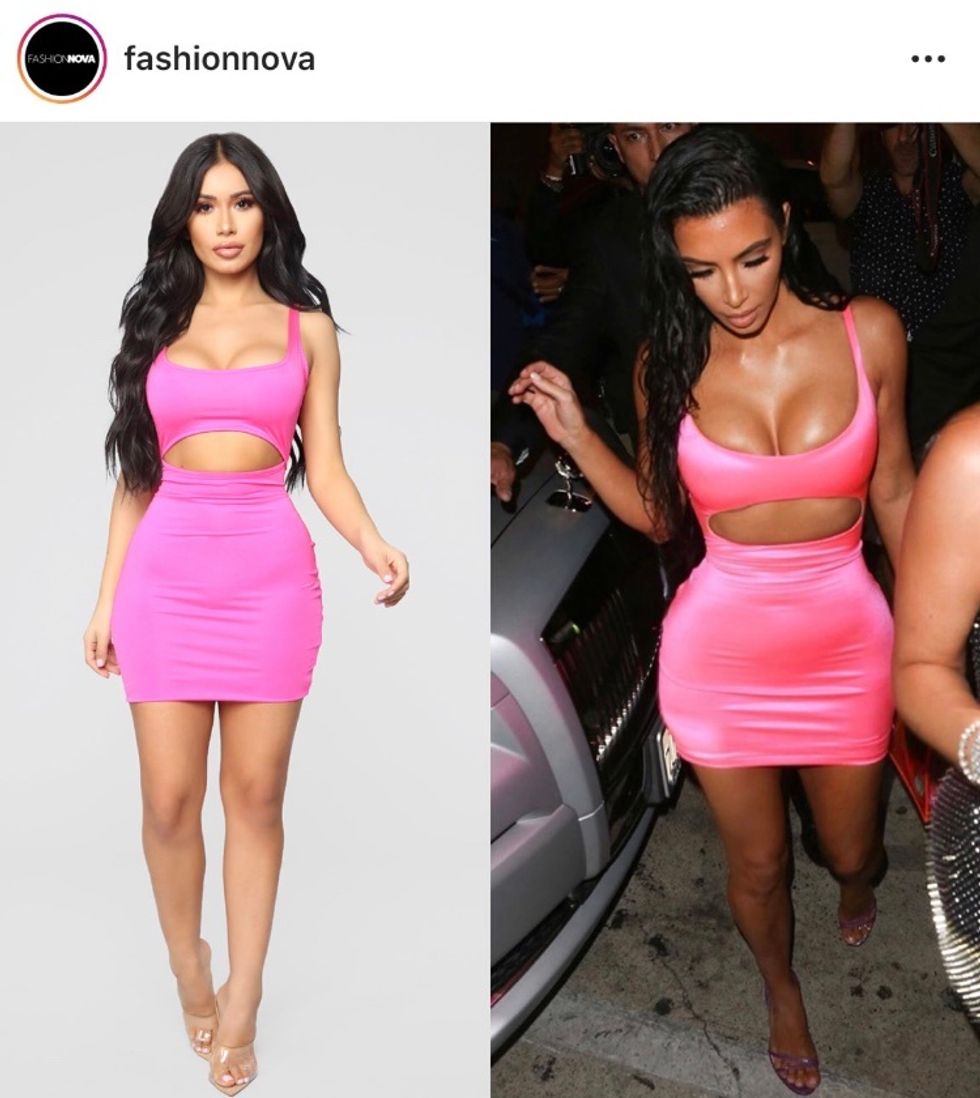 And if Fashion Nova isn't stealing looks from celebrities, they're giving it to them! On numerous occasions, celebs have been paid to flaunt Fashion Nova's clothing. Kylie, Khloe, and Kourtney have all been pictured posing in their latest Fashion Nova purchase, and even Adrienne Bailon went from Cheetah Girl to Fashion Nova Girl.
Cardi B, as well as her sister Hennessy Carolina, have both been spotted out and about in Fashion Nova.
Point being: The devil works hard, but Fashion Nova works harder.