Whether you a fan of the franchise or just wishing they stop making the movies, you know The Fast and The Furious is one of the biggest franchises in the world. It's made over five billion dollars worldwide since it started churning out movies back in 2001. The last Fast and Furious movie brought in $1.5 billion dollars globally this past spring.

There's even a live arena tour set for 2018 with all the most exciting and death-defying car stunts.They even have their own ride at Universal Studios, Hollywood. The thing that the cast uphold most is not the money but that they are a family. But right now, there's a family feud brewing and the family we've loved all these years is coming apart.

Let's do a quick recap of the family drama. Warning aside, there are a few spoilers ahead.
Summer 2016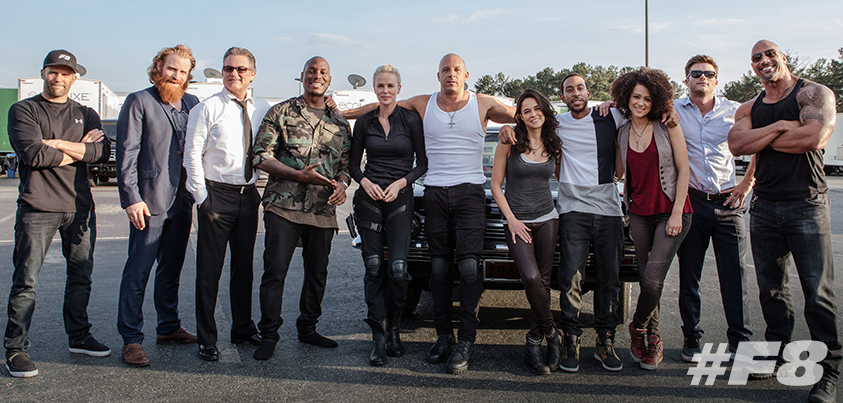 During the filming of Fate of the Furious last summer, The Rock went on Instagram to praise his female costars but also called out his male costars on Instagram for being unprofessional on set.
"This is my final week of shooting #FastAndFurious8. There's no other franchise that gets my blood boiling more than this one. An incredibly hard-working crew. UNIVERSAL has been great partners as well. My female co-stars are always amazing and I love 'em. My male co-stars, however, are a different story. Some conduct themselves as stand up men and true professionals, while others don't. The ones that don't are too chicken sh** to do anything about it anyway. Candy a***s. When you watch this movie next April and it seems like I'm not acting in some of these scenes and my blood is legit boiling - you're right.
The Rock has been part of the franchise since Fast Five in 2011 as Luke Hobbs and has been appearing in movies since. He did not name names but it was evident that he was speaking about Vin Diesel who is an executive producer on the franchise and the leading man. According to TMZ, the infighting was because of Dwayne's anger of Deisel's lack of work ethic and being number one on the call sheet. Scott Eastwood, son of Hollywood Legend Clint Eastwood, said to Esquire magazine during film production, he says most of the cast retreated to their trailers.

"I remember something he told me early on. I don't remember how old I was when you told me this, Dad. But you said, 'As an actor, I never went back to my trailer. I always hung out on set and learned That stuck with me. I'm on this Fast and the Furious movie right now, and everyone goes back to their trailer. I stick around and say, 'Why are you setting up the shot like this?' I want to learn."
Co-stars Ludacris and Tyrese posted on social media with throwback pictures displaying their loyalty and siding with Deisel. Vin Deisel went on Instagram later that month and said that they had settled their disputes and it was just conflicts of interest. As we all know, the franchise is Vin Deisel's baby and will do anything and everything to protect and continue the movies. The Rock posted on social media again to sort of clear up the air and rule out suspects in the issue. He gives shout-outs to Eastwood, Tyrese Gibson, and series newcomer Natalie Emmanuel for working with them upon completion of filming. However, he doesn't mention Ludacris, Michelle Rodriguez, or Diesel. This could've had been signs of a possible civil war between the cast.
"Finished strong and on to the next. That's an officially wrap on #FastAndFurious8. Thank you to our director @fgarygray for the vision and execution. Thank you UNIVERSAL for being tremendous partners as always, thank you to all my fellow co-stars for the daily effort and grind. Scott Eastwood you handsome sumbitch! Natalie Emmanuel, I have a cold Budweiser ready for you and Tyrese Gibson you still have the biggest smile and forehead I've ever seen.😂 And a huge THANK YOU to our hard-working production crew - the backbone of our business. Your kind words meant a lot to me last night - thank you! In the end, we all rallied, as great teams do, kicked ass and will deliver an amazing movie to the world. Proud of our entire FAST FAMILY.
And now in two weeks I'll reunite with ol' friends Kevin Hart & Jack Black and we have the honor to introduce a whole new generation to the amazing world of #JUMANJI. *(for the record we are NOT making a reboot, but rather a continuation of the awesome JUMANJI story). It's also crazy to me how much me, Kev and Jack look like triplets when we're together. 👶🏽👶🏻👶🏿. Man this is gonna be FUN."

It's been said that they had a secret meeting to settle their arguments and that the beef was squashed. However, in the eighth installment, Johnson and Deisel barely have any scenes together. That shows that the rumors of on-set feuding were true.
June 2017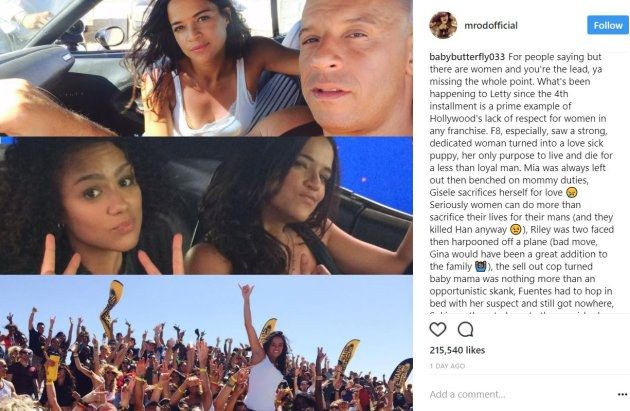 While the negotiation for returning characters was underway, franchise matriarch Michelle Rodriguez went to Instagram on the day of the Fate of the Furious digital release and announced that if the studio and writers don't include more female character arcs/material dialogue, she will leave the franchise.

This sparked much panic and news among fans/news outlets as Rodriguez has been in five of the eight movies and plays Dom Toretto's girlfriend now wife, Letty Ortiz (Now Toretto) in the movies. Her character had been killed off in, Fast and Furious, but came back to the franchise in Fast and Furious 6 after fans petitioned to bring her back into the fold. Female representation in the last few movies has been a lack in recent years.
Elsa Pataky( Elena Neves) in movies Fast Five to The Fate of The Furious, was brought into the franchise as a filler love interest for Vin Deisel's and was only brought back for the eighth movie for the storyline of her having a secret baby with Dom. She had only two scenes in both the last movie and Furious 7. It's the same misrepresentation that Michelle is speaking o[upon.
There have been powerful leads such as Wonder Woman Star Gal Gadot who starred in three of the movies from 2009 to 2013. Fast and Furious Alumni Jordana Brewster, who plays Dominic Toretto's young sister, spoke with Us Magazine about how important female representation is in the film industry.
"I'm all for girl power. I think that it would be wonderful for the girls to have stronger storylines, and I hope she never leaves because she is such an integral part. She's so amazing and I love working with her, so I think it will all work out in the end."
However, in previous films, her character has little dialogue with fellow female characters and is put on the sideline while the rest of men have the action. She has said that it's possible for her to return to the franchise in later movies. According to Vin Deisel's Instagram, she's expected to return in the ninth installment but she has not confirmed.
Soon after Michelle's post, Vin Deisel posted a video with Rodriguez on his Instagram page that he supports female empowerment and representation in the franchise. Rodriguez had not stated if she will or won't return for the next film but many fans expect for her character to come back.
September 2017
Tyrese Gibson went to Instagram pleading with The Rock to return his calls concerning the franchise. Universal Studios had been in talks of doing a Fast and Furious spin-off that would center his character, DSS Agent Luke Hobbs, and Jason Statham's character, Deckard Shaw. This is great for fans, however, that would mean that Fast and Furious 9 would be delayed and a release date had already been set for April 19th, 2019. Tyrese continued to post on Johnson's timeline try to talk about putting out the Fast movies without delaying the next movie.
October 4, 2017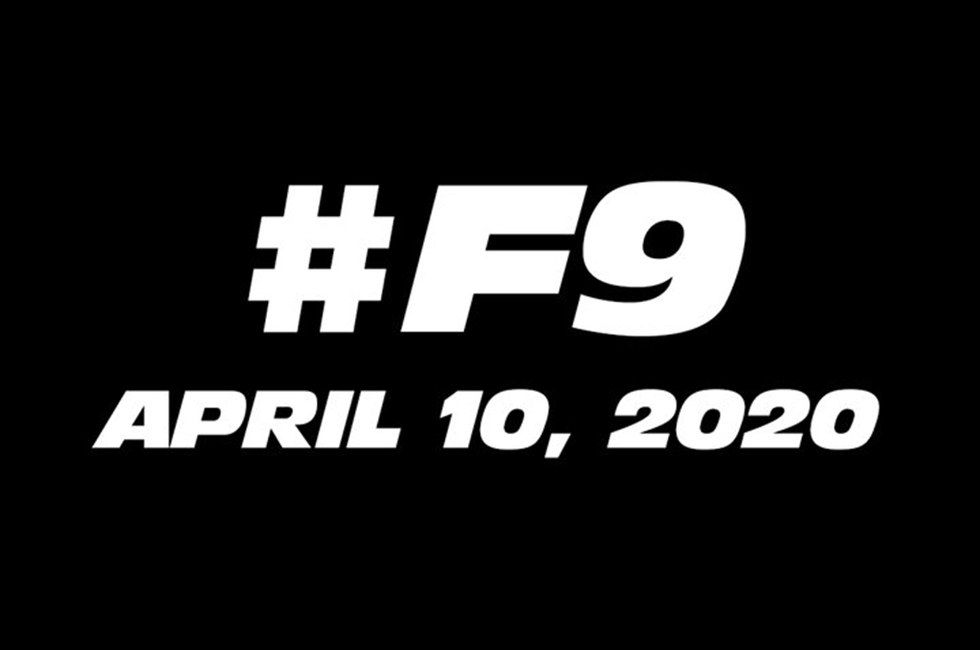 Universal announced Wednesday afternoon that the next installment of the Fast and Furious, that has yet to be titled, would be pushed back to April of 2020, making it three years until the next film is released. This made fans shocked and dishearted over the extended wait, causing fingers to be pointed at The Rock over the rumors of a possible Hobbs spinoff. At the time, nothing had been finalized yet for possible spin-offs in the works. Tyrese expressed his disappointment on Instagram, implying how Dwayne Johnson let money and fame take over and how taking the deal for a spin-off with Universal broke up the "Fast Family".
"Congratulations to @TheRockand your brother in law aka 7 bucks producing partner @hhgarcia41 for making the fast and the furious franchise about YOU - And like you, DJ even if they call I will not be deleting this post - Gn folks see you in 2020 April #FastFamily right? Nah..... it's about #TeamDewayne #3yrs will it be worth the wait? #NoShaw just Hobbs will this be another #BayWatch? Guys just relax I'm just a passionate film critic."

However, numerous people have speculated that the pushback was due to there being no director set to work on the movie and the upcoming script had not been completed. It's been rumored that Fast and Furious Alum Justin Lin is at the top of the list for directing the ninth film. He's previously directed some of the other movies.
October 5, 2017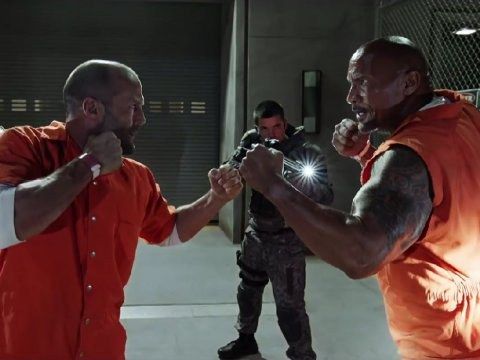 Just one day after the announcement of pushback, Universal announces that the Hobbs spin-off is set to release July 26th, 2019. Again, nothing has been fully finalized but there has been a director slated. Tyrese responded to the news by posting on Instagram with a throwback picture of the original cast of the first Fast and Furious film and continued to call out The Rock and implied that he, Vin Deisel, Ludacris, and the late Paul Walker had been approached to do a spin-off and declined the offer.
A representative for Universal later came out and said that Tyresse's claims about being approached for a spin-off are untrue. So is he being petty or does is he stating claims that the studio doesn't want the fans to know about.
October 6, 2017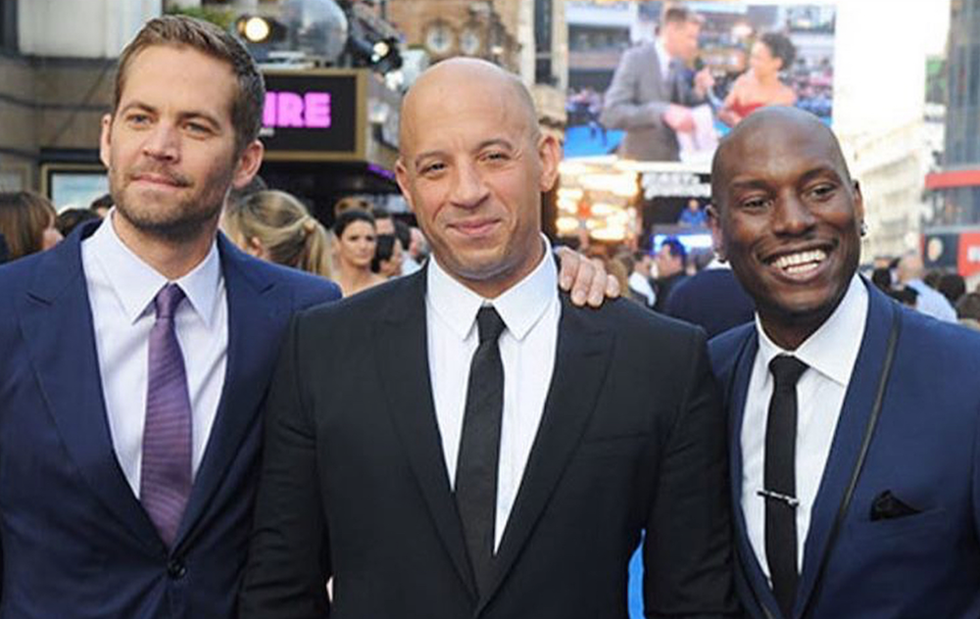 Vin Deisel posted a responded to the drama with this throwback picture of him, Tyrese, and Paul Walker at the premiere of Fast and Furious 6 captioning it "Brotherhood." Implying that he sides with Tyresse over the pushback of Fast and Furious Nine.
However, He later posts another throwback to Fats Five and supported The Rock as well as addressing that Fast 9 is delayed due to much-needed maintenance as the script has not been fully completed and there is still no director confirmed. This is an understanding reason to push back the movie since the story took a new shift in fast 8. Not only do we have new villain Cipher(Charlize Theron), but we also have the introduction of Dom's son, Brian Marcos Toretto, making he and Letty new parents. So I agree with the studio for taking more time to construct a new story arc for the next movie.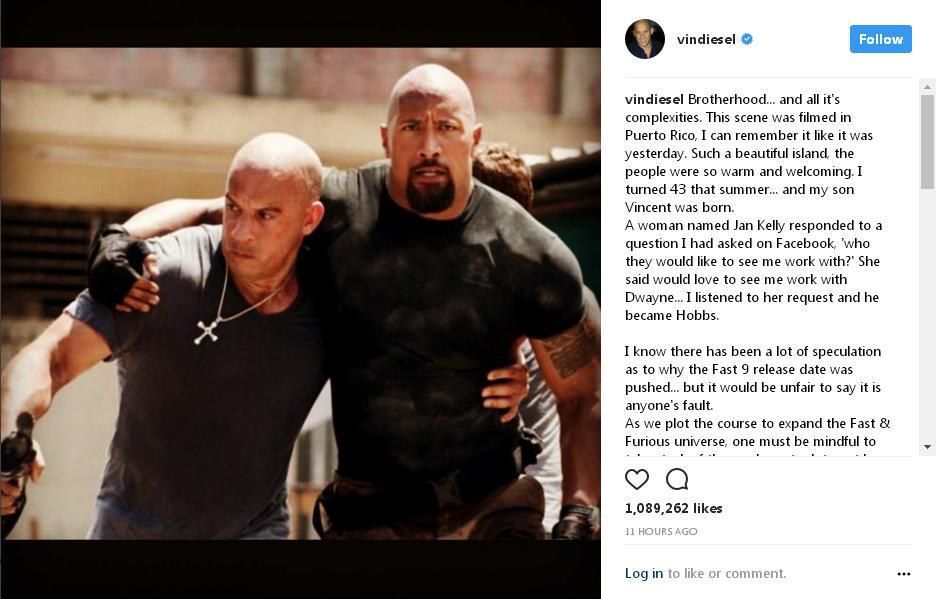 "As we plot the course to expand the Fast & Furious universe, one must be mindful to take stock of the roads we took to get here. The pillars of authenticity, family and most importantly, our loyal fan's perspective has been instrumental in procuring success,"
"However, like any vehicle that has run around the globe 8 times, the franchise is in need of maintenance. My good friend and the godfather of Universal, Ron Meyer has granted me the time to do just that. We have some very exciting news to share soon … stay tuned."
October 9, 2017
The Rock indirectly responds to Tyresse's by posting about the upcoming Hobbs spinoff and throwing some shade at his fellow fast costars, Tyresse in particular. Here's his caption.
Pumped to expand and build out the FAST & FURIOUS universe in a cool, exciting way with our @sevenbucksprod, writer/producer Chris Morgan, producer Hiram Garcia and lead producer and my bigger twin, Neil Moritz.
Thank you, UNIVERSAL STUDIOS for being tremendous partners who see the big picture and for coming to us years ago with this spinoff idea. Huge shout to my brother, Jason Statham for the trust and wanting to create and deliver something fresh and bad ass for the fans.
I have a tremendous amount of respect for this franchise that I've enjoyed droppin' blood and sweat in over the years and my vision is to create greater opportunities for not only my fellow FF cast mates but for other amazing actors as well who want to be a part of something new and cool.
I want to use my spinoff platform to create new characters that fans will ultimately love to have fun with in multiple chapters and platforms. Film, TV, Digital, Virtual Reality etc.. the more opportunities we can create the better for the fans.
Smart business.
Let's have some FUN and to quote, Hobbs the boss, if you don't like it, we're happy to beat that ass like a Cherokee drum."
#HOBBS #SevenBucksProds#NewOpportunities#CandyA***sNeedNotApply
JULY 2019

Tyrese responds back posting a video of the Rock calling his album, Black Rose, trash and a waste of his time following the post. This makes some people think that this feud could be fake or that Tyresse is trying to make The Rock look like the villian. In a general opinion, it would be pretty pointless to do fake press for movies coming out in two and three years.
So this is from a fan to the Fast Family:

We love you guys, we love the movies. One of the main reasons why we love them is because you guys are a family. When Paul Walker died, we cried with you. We thought this was the end of the family but you guys came back and gave us our goodbye to Paul. When you came out with the eighth movie, we were skeptical but you proved us wrong. We were happy to see the story continue in the next and last two movies. We look forward to spinoffs, TV specials, and whatever ventures you may take to expand the series.
But now, what we see online isn't a family at all.
The infighting coming to light has us asking if you ever enjoyed the job at all. Do you guys keep doing this for the money?
We're disappointed not just by the push-back, we're still getting a movie. We're disappointed at the way you guys are acting. The last time we checked, high school girls settle beef faster and more mature then you guys are. The shadiness and the pettiness from every side are just sad.

You guys are all adults, ACT LIKE IT. You got kids, their friends are gonna be telling them about how their dads are arguing on Instagram and that's embarrassing. It's pathetic.
Let everyone have equal opportunity and recognition, including your female co-stars. Give them their just dues as well as input when it comes to their characters. If sixteen years with a franchise doesn't mean anything, then change needs to happen. If not, then maybe it's time for goodbye. I stand by Michelle and her beliefs and she deserves producing credits the same as Vin.
For the whole family, Address the problems within and move on. Because just letting your ego get the best of you and acting for the cameras and the public eye, it's just going to make the movie bed because we're going to know that you guys are faking.

This may be going above the boundary but Paul would be disappointed too. He wanted the movies to go all the way to ten. This just puts a tear into his legacy with this franchise.
So have a meeting with Bishop T.D Jakes, go on a cast retreat to the woods where you can't go on Instagram or Twitter, air out your grievances and move on. Because if you don't and this continues, the fans will not go to theaters for any of the movies where it's evident that the family is gone.
Sincerely,

One of the millions of Fast Fans
Cover Image Credit: Unsplash