Remember the old days of cable television, especially in the mid-2000s? Even after all these years, there is still one game show that still lives in the crevasse of our mind to this day. A game show that involved hydraulic cushions, gallons of freezing water, and a whole lot of BAM sound effects. That's right I'm talking about "Wipeout." And while your chances of getting on the show may be slim at best nowadays, there is a game show type game that you can play right now – "Fall Guys: Ultimate Knockout" (2020).
I'm going to take a wild guess that if you are a gamer reading this article then you already know what "Fall Guys" is, but for the non-gamer crowd like always let me give you the rundown. So, Fall Guys is a free to play a game for PlayStation 4 and costs around $20 on Steam. The game is simple, you compete against 59 other jellybean creatures with one goal; make it to the end and grab that crown! There are on average five rounds of mini-games one has to complete in order to win and boy let me tell you it is not easy. The controls for the game are simple but not as sensitive to touch as one may prefer but in a good way. Your jellybean is slow and a clutz so sometimes it can be frustrating when they don't do the specific move you want them to complete- but that's where the fun is. Or rather rage for many, I personally haven't raged at a game so hard in a long time. From people holding you back as you try to cross the finish, to scumming to the fact that whenever you're on the yellow team you automatically lose the game is hella fun! I dare you to go on YouTube and look up the rage compilations.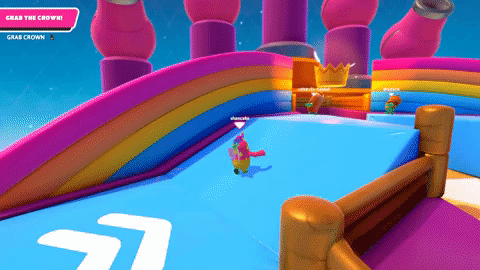 Fall Guys GIF by Press Start Australia Giphy
The game does have some problems, sometimes the servers take a second to load or there are disconnections. But in my experience, this has rarely happened to me, it's mainly due to the success of the game. As the developers, Mediatonic, did not intend on the game becoming so popular. "Fall Guys" is a great stress reliever to the real-world pandemic and is definitely a boatload of fun that, especially playing with friends. Their social media team loves poking fun and interacting with their community, something other popular games/companies seem to fail at. I'm looking at you Fortnite.

"Fall Guys" overall is a return to that childlike wonder and defiantly is one of the best party games of 2020, and it's just getting started. Having just launched two or so weeks ago, the "Fall Guys" hype train doesn't seem to be slowing down.