Sneak a peek at her upcoming solo exhibition at Rubberneck Gallery.

The multimedia artist, Claire Burke Dain has two main styles she will exhibit at her solo show, "Do You Love Me Now?" opening Friday, December 15th at Rubberneck Gallery. Dain calls into question, through her unique body of work, the ways in which people establish their identity.
She looks, in particular, at the way people decorate themselves and 'perform' for others. The intention behind her collection of drawings and paintings is to illustrate the invisible and intuitive self. As well as expose the identity and personality of the objects we wear. Her pieces argue, by honoring imagination anyone can transform the mundane into something magical.
Claire Burke Dain is the 2017 recipient of the Thomas Hart Benton Painting Scholarship. She received first place in the Lester Goldman 9th Biennial Drawing Competition and was a Yale/Norfolk Summer Program Nominee. Dain received a Full Merit Scholarship at the Kansas City Art Institute.
Dain grew up in the city of Chicago and is very much influenced by the buildings that surrounded her. Most all of the buildings are covered in windows, which she describes as a type of authentic glowing comic. She describes her walks through the city as simultaneous narratives which play out and in one way this is magical but like most magical things they can feel isolating and unattainable.
This article offers a sneak peek at Dain's studio practice and some of the works that will be exhibited in her upcoming solo exhibition at Rubberneck Gallery in West Town, Chicago. Claire was gracious enough to open her studio doors to show how the magic is made in her unique process.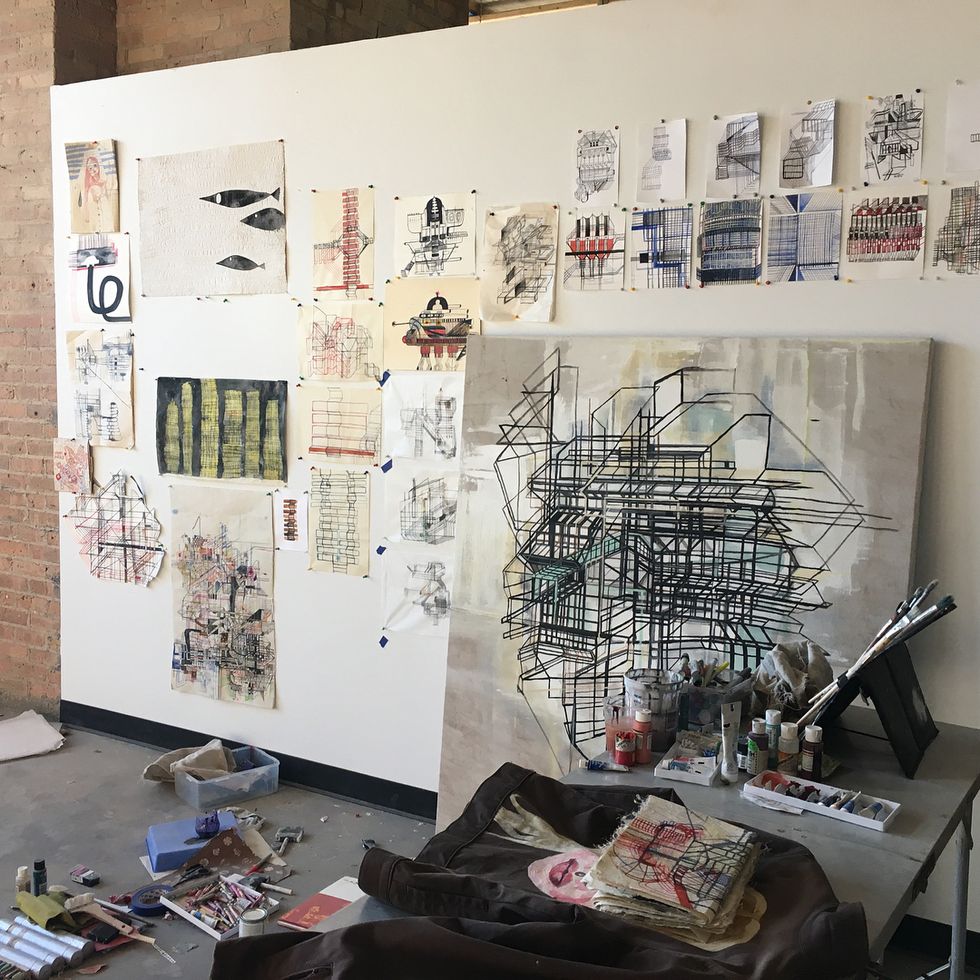 As one can see in the photographs from our studio visit, Dain works out many of her ideas on paper, using multimedia processes. She drafts works in ink, pencil, and paint, creating layers of organic shapes built into grids and mechanized forms. Each detail seems to be assigned a function for the viewer to determine, bringing to life these futuristic abstractions.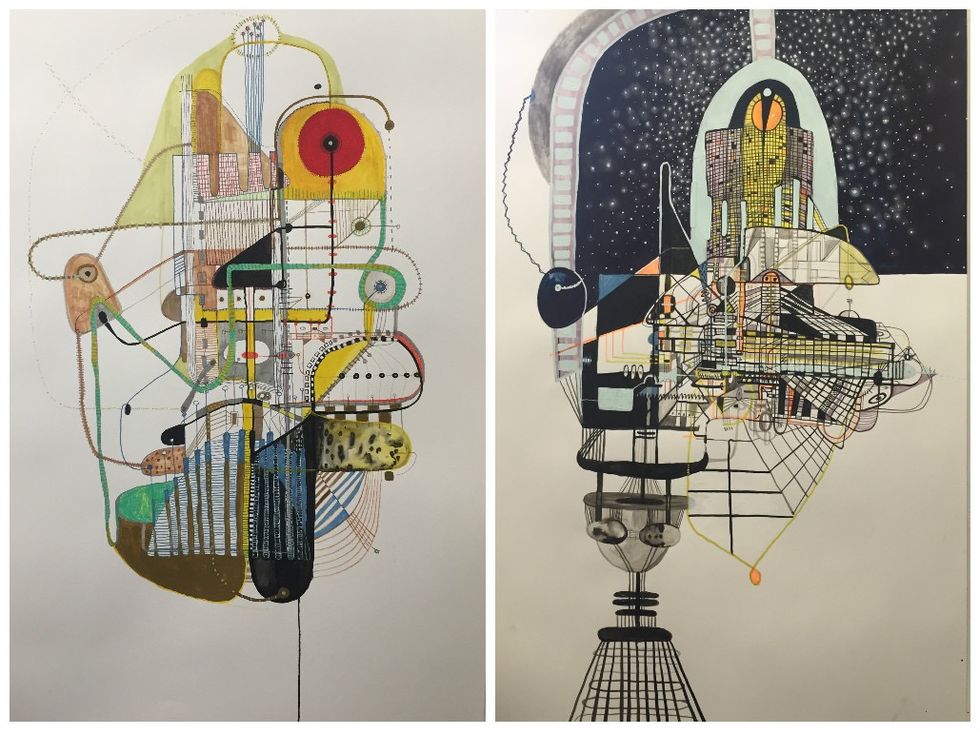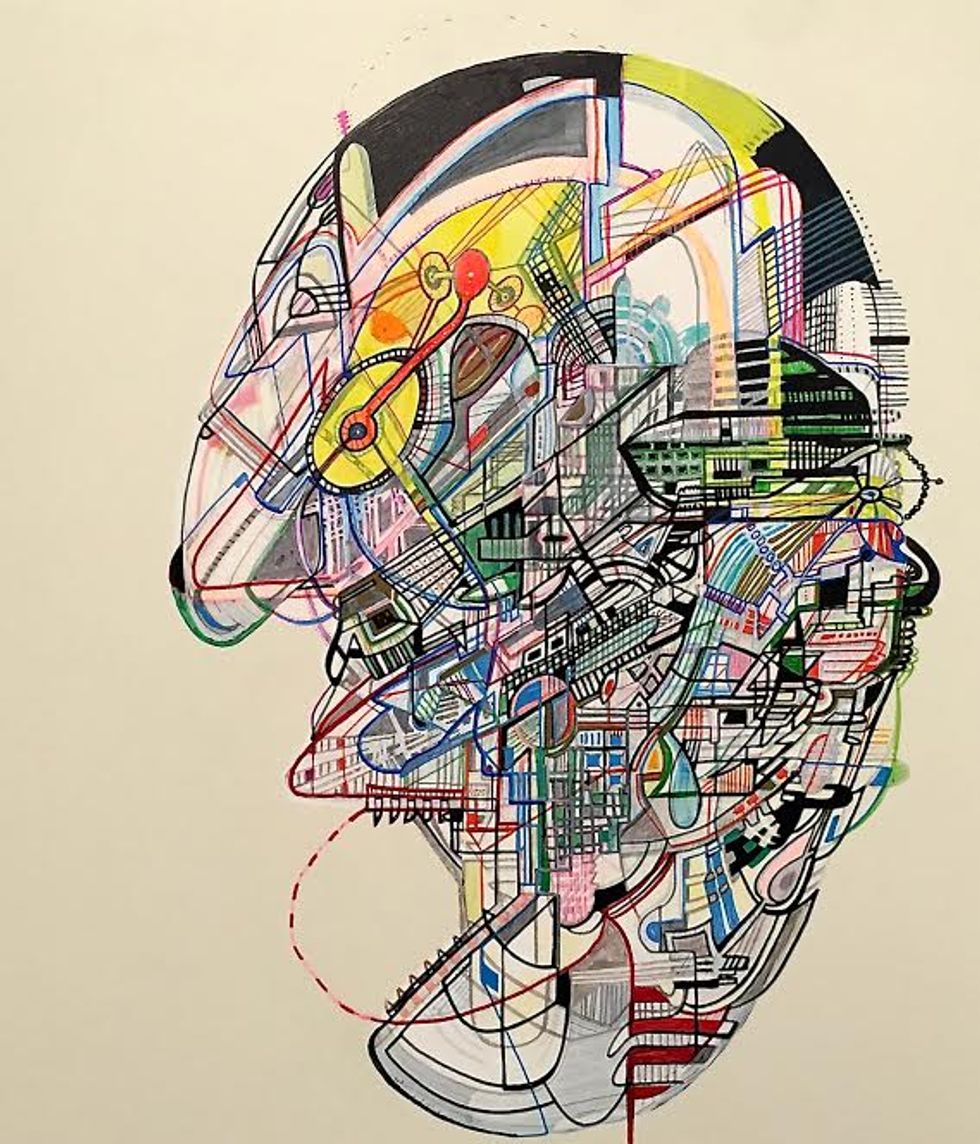 Another body of work focuses on identity through the creation and customization of personal belongings. This series includes painted leather jackets, sweaters, shirts, jean jackets, suede jackets and panel paintings depicting these art objects. Many of these custom painted articles of clothing feature portraits of individual faces in resting position, not expressing a clear emotion, but depicting a natural reflection of the face most individuals wear as they go about their day.
One could argue the paintings reflect people at their least and most vulnerable state when they are not actively thinking of how they are being portrayed (whether out walking on the street, or home in private). Thus when the individual chooses to wear these portraits, they are making a statement about themselves through the art, as if to say "this is me, take it or leave it."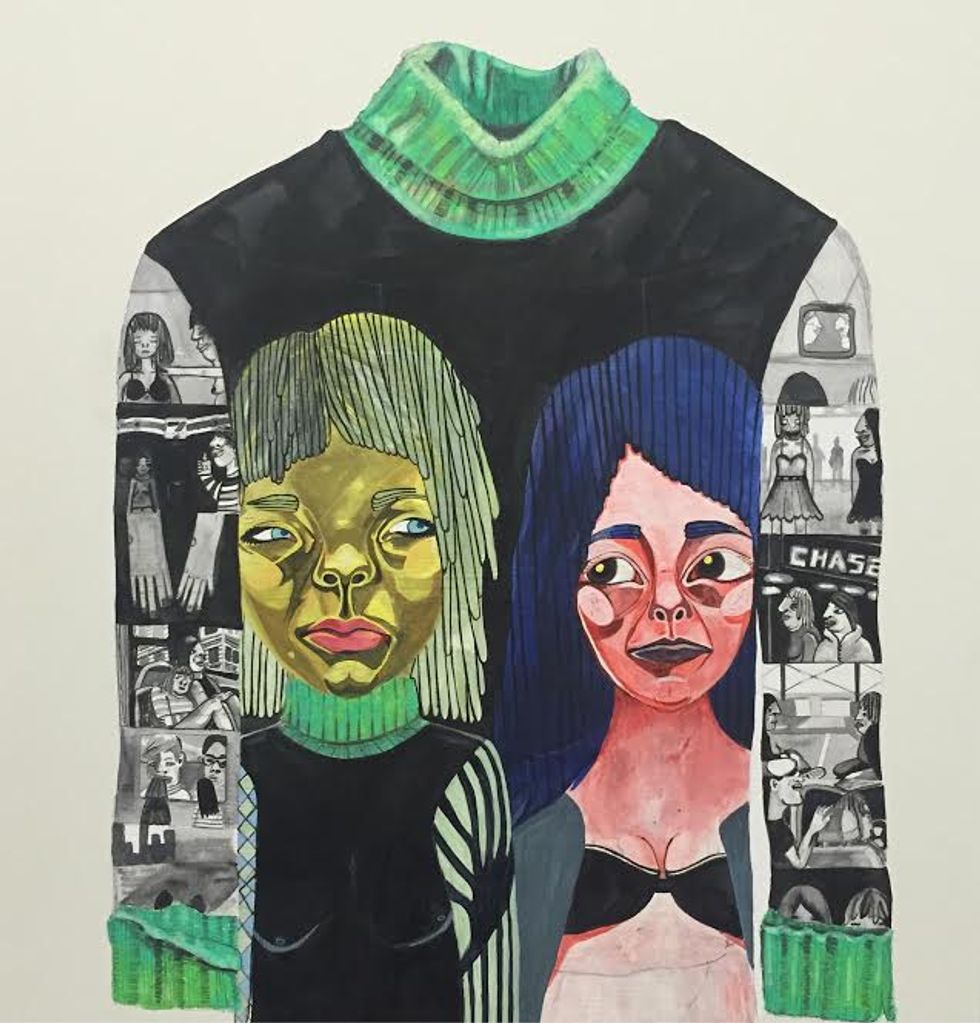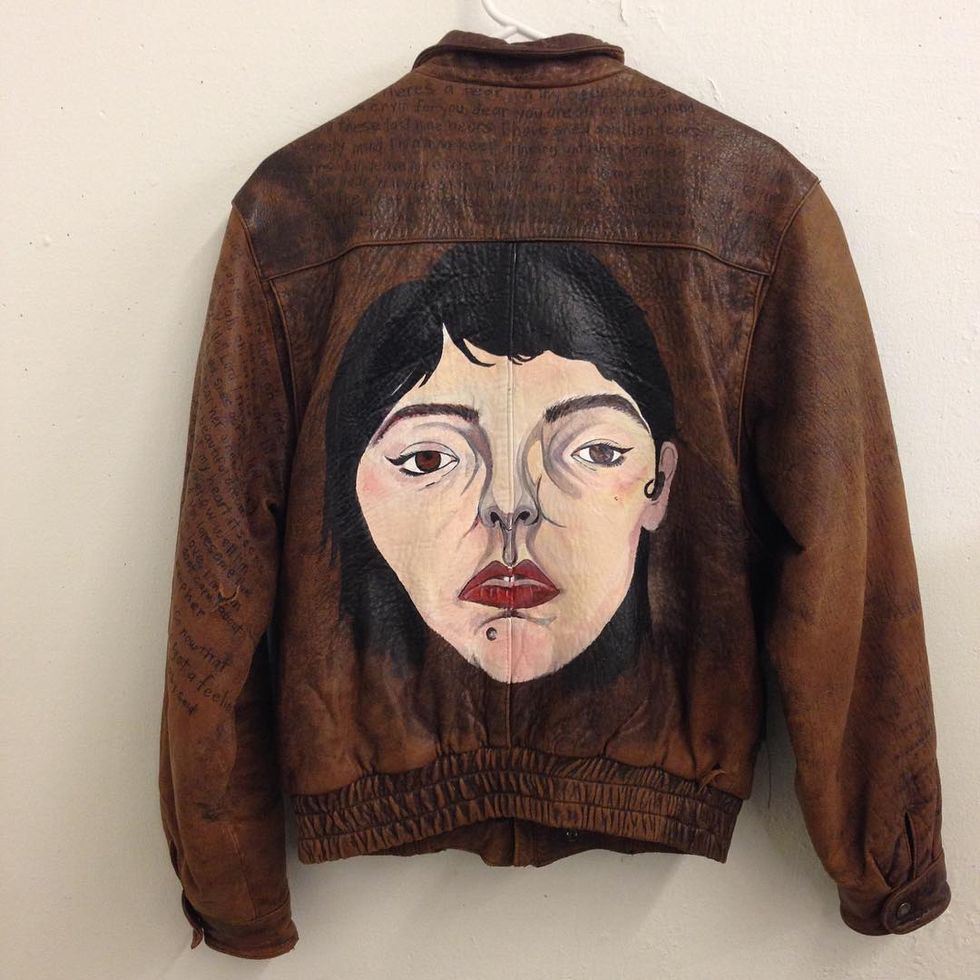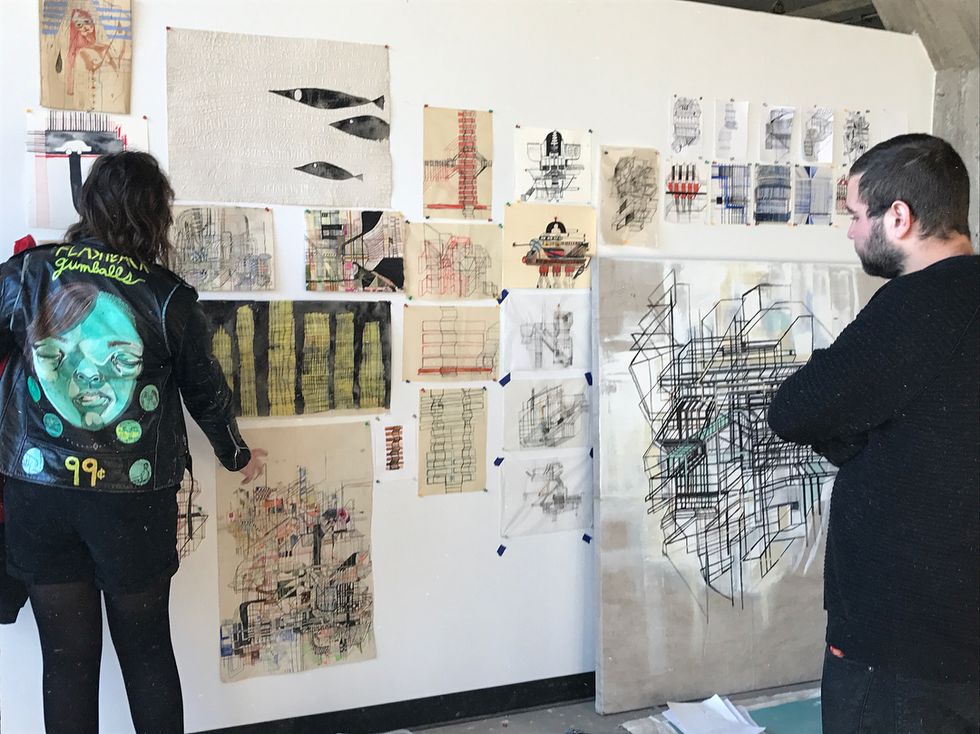 Dain shared some of the themes she focuses on in her works:
"A big theme in my artwork is the personalities and communities of different types of living things from mermaid communities to plant life to normal family dynamics. I try to look at people and depict them as if they, their habitat and habits are of an unknown species being observed from an outside species. All people fascinate me and I think they are all unique, unknown creatures inhabiting the sea of life."

Her focus on community and systems of living are one of the most interesting aspects of her work.
The transition from the studio to the gallery creates a transfer of energy, from potential to fulfillment. The obvious hand of the maker and the systems of creation are veiled in the gallery, where a grid of paper works, framed paintings, and panels hold an energy of their own. The art is ready for contemplation, providing an individual experience for the viewer.
We invite you to take part in this experience with Dain's work at the opening reception for her solo exhibition "Do You Love Me Now?", taking place Friday, December 15th from 6-10 pm at Rubberneck Gallery located at 2058 W Chicago Ave.
To RSVP for the event, please visit Rubberneck's Facebook event page!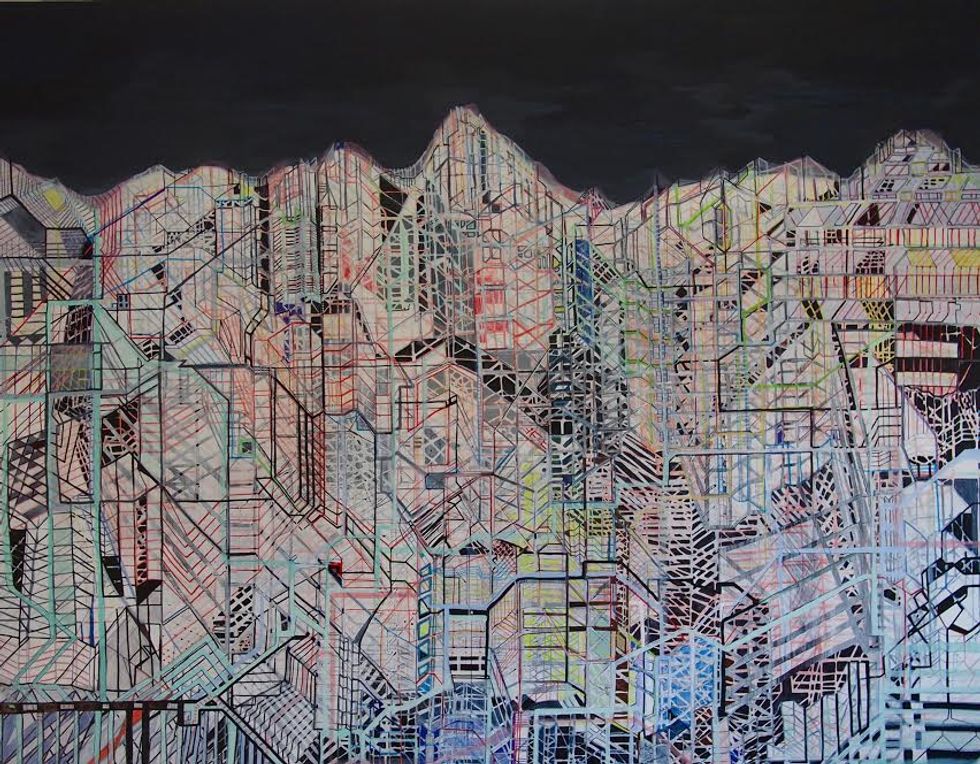 To follow Rubberneck more closely
Visit Our Website
"Like" Our Facebook Page
"Follow" Us on Instagram