One thing that can be quite irksome about being a part of the American school/college system is the fact that, for the most part, we are only given time off for holidays recognized by one religion, that being Christianity. I'm not saying these holidays are bad or that Christianity is overrated; far from it. But when you think about the holidays celebrated by Jews, Muslims, Hindus, Buddhists or, in this case, Pagans, it makes you wonder how everyone else chooses to celebrate their own holidays in the midst of the all-mighty Hallmark-centric holidays.
Before I converted to Wicca, I never quite understood why the majority of Americans chose to celebrate the gory death and alleged resurrection of someone during the spring, much like how we choose to celebrate Christmas in December even though many historians believe Jesus Christ was born around June. Although anyone can celebrate their own holidays for their own reasons, I think its also important to understand where these holidays may have really come from and how other religious holidays can be represented during this Easter weekend.
Instead of celebrating Easter, myself and millions of other people who identify as Pagans celebrate the holiday Ostara. This holiday is mostly celebrated around March 21, but fell on March 20 this year. During this time, Pagans celebrate the Spring Equinox, when winter ends and the bright colors of spring are allowed to come forward for the year -- when "Night and day stand equal, The Sun grows in power and the land begins to bloom and the powers of the gathering year are equal to the darkness of winter and death."
Ostara is one of the eight Pagan Sabbats marked by the Wheel of the Year. Each Sabbat marks a new season, equinox or solstice, which are used to signify the cycle of life, love, death and rebirth between the Mother Goddess (Gaia) and the Father God (also known as the Horned God). With Ostara in particular, it represents a new age of fertility, as the cycle of life and death of the Horned God starts up again.
There are many ways witches and warlocks from the multiple branches of Paganism choose to celebrate Ostara, but the majority of them choose to celebrate the Sabbat of rebirth by basking in the fresh spring flowers. For many, they can choose to have a ritual in their hard garden or simply enjoy the world around them.
You may be wondering, well what does some holiday about spring have to do with Easter? I'm glad you asked! As it turns out, like many other pagan traditions, the Christian religion got a few inspirations from the Pagans, one of them being the beloved Easter Egg.
What the rabbit represents for Ostara is fertility, magic and sexual energy, seeing as the main theme in the Spring Equinox is fertility and sowing seeds. Many believe that both of the holidays' names come from the goddess Eostre, who is sometimes associated with fertility and is loosely connected to both eggs and rabbits. There are also many sources, such as Jacob Grimm (one half of the Brothers Grimm), who believe that the egg is one of the symbols of early Paganism.
So how exactly do Pagans celebrate Easter, considering it's usually a week after Ostara? Well, for many, they just use the holiday to reconnect with family and celebrate some much-needed time off. For me, I just celebrate with food.
Lots and lots of food.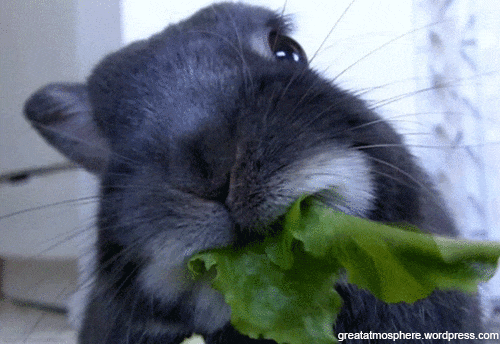 Happy Easter and Merry Ostara everyone!