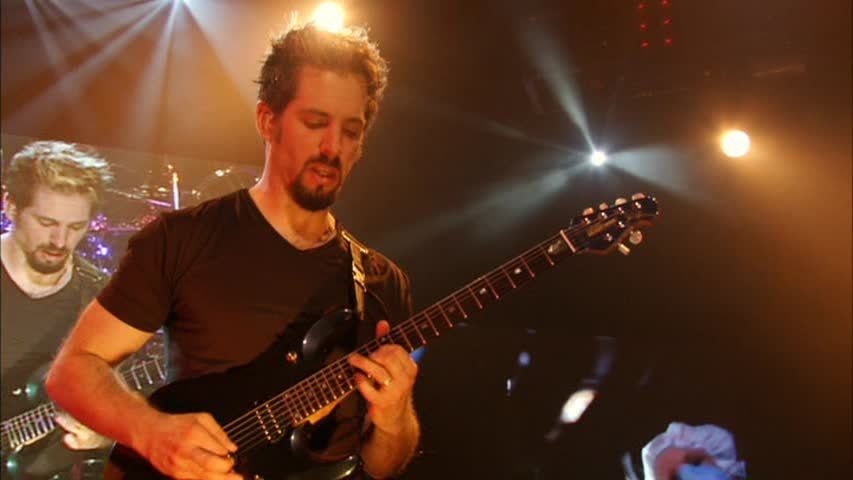 Line-up:
James LaBrie - vocals
Jordan Rudess - keyboards
John Petrucci - guitars, backing vocals
Mike Portnoy - drums, backing vocals
John Myung - bass
Additional info:
Produced by John Petrucci and Mike Portnoy
Train of Thought is the seventh studio album by American progressive metal band Dream Theater, released on November 11, 2003, through Elektra Records. The album's length is 69:21. Dream Theater decided to take a much heavier approach to this record because of the audience response to their heavier songs while they were on tour. This resulted in some of the most impressive heavier progressive metal in the genre. The band includes lyrical themes of religion, family issues, and alcoholism.
Six Degrees of Inner Turbulence began a trend towards insane instrumentation and darker themes in Dream Theater's music that is continued and taken to another level on this record. Train of Thought is not only great for the progressive music fans, but also for those who are fans of heavy metal. The ridiculous amount of flamboyant instrumentation combined with darker tones and themes make this album one of the most memorable in the entire Dream Theater discography.
Track Listing:
Track 7: "In the Name of God"
This track is over 14 minutes long. It is definitely my favorite song on this entire album. It includes everything that I personally want out of a Dream Theater song. It has thought-provoking lyrics, amazing instrumentation, and that "balls to the wall" mentality that Dream Theater was quoted as wanting this album to achieve. The instrumental section includes some of the fastest guitar solos I have ever heard in my entire life. This is definitely a classic song from the progressive metal genre.
Track 1: "As I Am"
What an amazing way to open an album. "As I Am" has catchy lyrics, excellent guitar work, and more straightforward metal approach that gives it a bite that most Dream Theater tracks simply are not able to achieve. The song's lyrics are written about Queensrÿche, guitarist Mike Stone who tried giving John Petrucci tips on playing guitar, leading Petrucci to write the lyrics: "Don't tell me what's in, tell me how to write". The guitar solo is a testament to this as Petrucci's shredding is absurdly fast and the solo itself is a message to all that he is simply the best. For the more traditional metalhead, this is definitely a track that needs to be checked out.
Track 4: "Honor Thy Father"
This song is the darkest from the entire record. This 10 minute monster of a song does contain a lot of repeated riffs, but it does not make it any less listenable. I love the lyrics about Portnoy's stepfather who he grew to hate. My favorite part of the song is when LaBrie actually growls the lyrics "don't cross the crooked step" around the five-minute mark. It's so unexpected and carries a heaviness that the band has never demonstrated prior to this album. The spoken word parts that occur after this add to the atmosphere of the track just before an excellent long instrumental bridge section.
Track 3: "Endless Sacrifice"
This track actually has a softer opening that may suggest that this is going to be a song that will perhaps end the trend of heaviness. In reality, this 11-minute masterpiece may have many soft parts, but its chorus and longer bridge sections hit really hard and have heavily distorted guitars. I love the lyrics, vocal melodies, insane instrumentals, and the terrific chorus of this track. Petrucci delivers another solo with blistering speed and Rudess could not be any more impressive with his keyboard solos.
Track 6: "Stream of Consciousness"
This is one of the best instrumentals that I have ever heard in my entire life. Its an epic 11 minute track with terrific keyboard, excellent bass work, insane guitars, and the usual consistently great drumming from Portnoy. The thing I probably love most about this track is how it never bores me and is captivating throughout its entire runtime. Dream Theater provides some of their usual insane instrumentation, but the riffs and keyboards drive the track to its level of excellence.
Track 2: "This Dying Soul"
This is actually a track that took me a little bit longer to get into in comparison to the others. "This Dying Soul" clocks in at over 11 minutes long and continues Mike Portnoy's Twelve-step Suite about his fight with alcoholism. It has a dark tone and some of the usual impressive vocal melodies and instrumentation that are present in Dream Theater's music. I particularly enjoy the drumming and believe that it is the most impressive part of the entire track.
Track 5: "Vacant"
When you hear a track like "Vacant" surrounded by such monumental masterpieces, it's very easy to simply dismiss it and skip to the next track. I would definitely advise against this though because this is a beautifully written track that was inspired by LaBrie's daughter who fell into a coma on her seventh birthday. This track brings a tremendous emotional weight as well as plenty of variation to an already impressive track listing.
My Verdict:
Train of Thought is such a well put together album that shows off all of Dream Theater's strengths in songwriting, instrumentation and conveying emotion through their lyrics and music. Despite the additional emphasis on utilizing a heavier sound, Dream Theater did not lose the characteristics that make them who they are, while adding a darker element that allowed them to expand and improve their sound. Even by Dream Theater standards, this album is very impressive and I am going to give it an A+.
Grade: A+