On Sep 22, a recital, "Olya: Light Minutes Away," was held in Berk Recital Hall at Berklee College of Music in Boston, Massachusetts. This is a performance of techno music with interdisciplinary collaborations, which combined music, live painting, and real-time interactive visual programming together to present the project, "Birth."
The event was created by Olya, also known as Olga Kisseleva, 35, a Brooklyn-based singer-songwriter who currently attends Berklee College of Music in Boston. She and the other two artists, Fotini Christophillis, 36, a Boston-based interdisciplinary artist, and Alejandro Gonzalez, 24, a South-Korea-based multidisciplinary artist and sound designer, created the idea of projecting digital visual on a canvas, and having the painter create real-time interactive paintings upon live music and visual.
"There is music to feel, and music to listen. This is one of the performances that I want the audience to be engaged on a listening level," said Olya, "The live part of painting gives them a chance to see the creation of it, so they engaged visually aswell."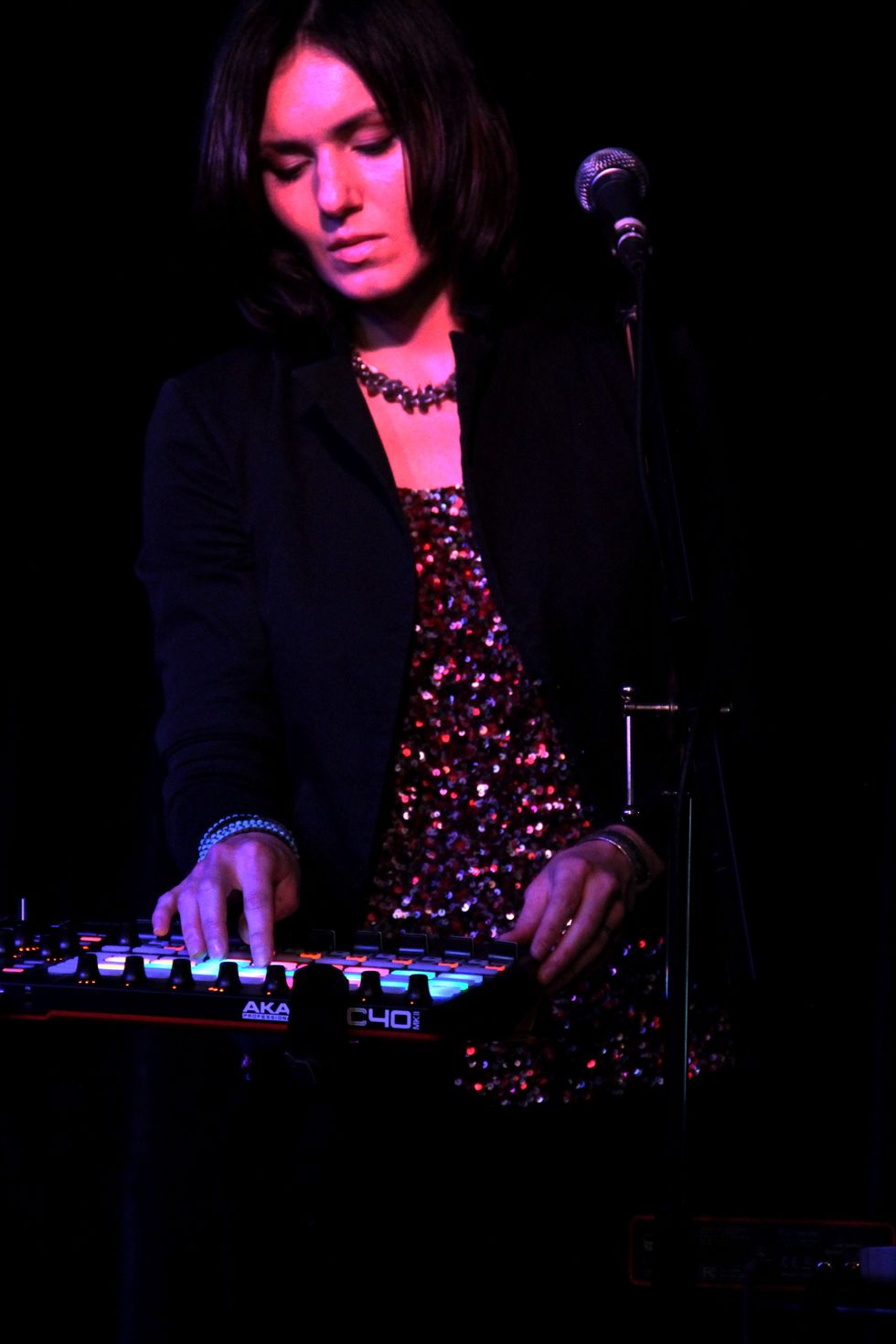 Just before the recital started, the entire recital hall was full. The audiences were conversing and socializing with each other, waiting for the show to start.
"Going onto multimedia, it's amazing because it adds on another dimension of the music. It gives extra meaning and allows people to see images, not just imagine things," said Olya, "For the music part, I am attracted to the sonic quality to the sound -- the soundscape -- and how you can hear certain synthesized sounds. It's not only the pulse or the groove, but also the soundscape."
Kedaar Kumar, 35, a Cambridge-based sound designer, musician, and installation artist, took over the visual programmer position of this show after Gonzalez left Boston for South Korea.
"It is always nice to have a visual component with the music." Kumar said, "Human have a natural tendency to draw connection when they hear music and see visual; they automatically put them together. It's definitely an enhancement." He believes, the visual gives the audience manifestation and personification of the sound.
Most of the people who attended this recital were students or faculties from Berklee and Boston Conservatory. Christophillis said: "There were musicians and dancers from my school and other schools were coming and working together. I found that to be one of the most interesting part of my career."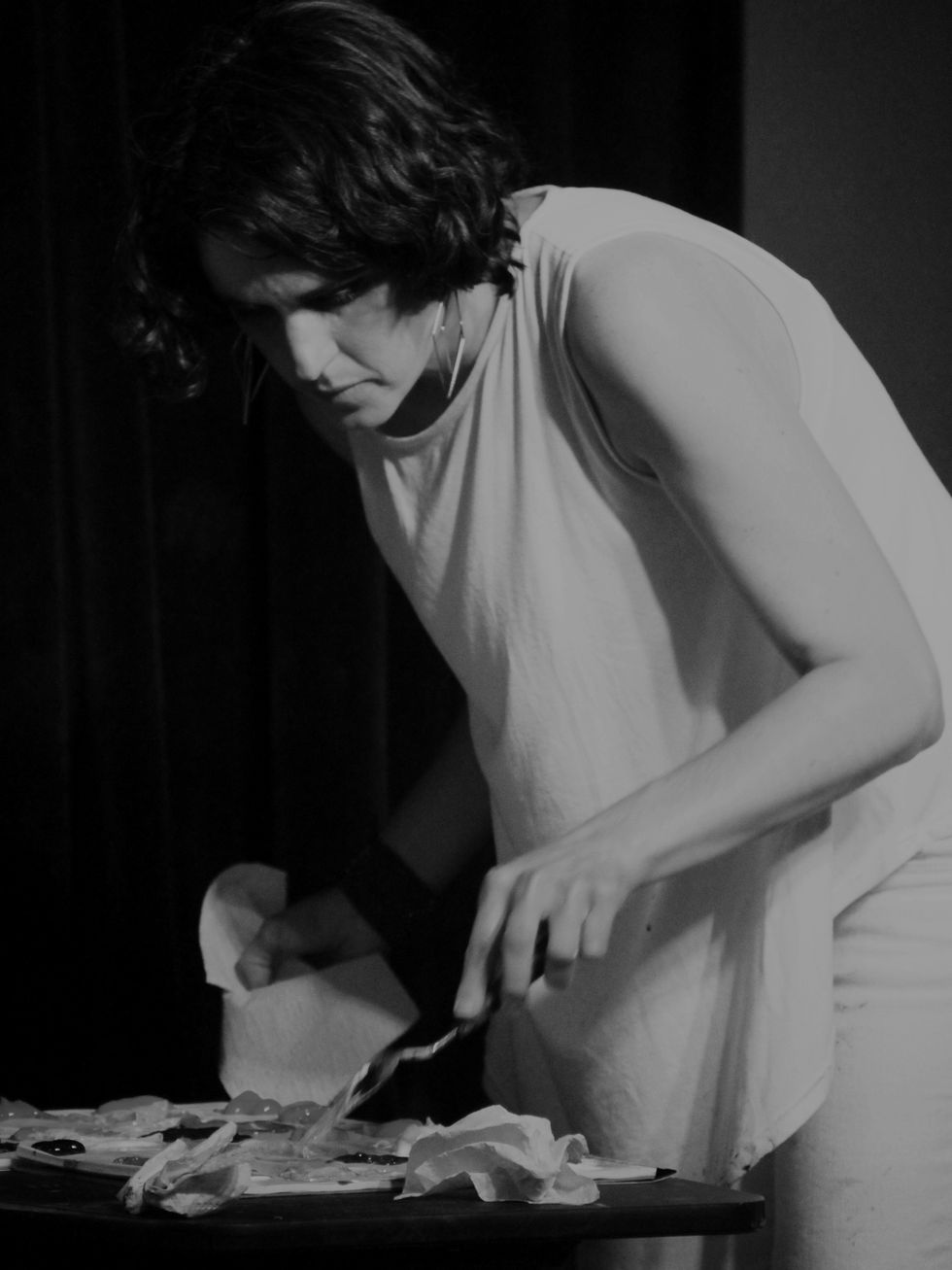 "I am transforming myself into a performing artist." Christophillis said, "I started to think that way about painting, in terms of choreography and theatricality, as a whole new element." For Christophillis, working with live performers is still a learning process. It is the element of time what made this performance more challenging; as the musical composition ends, the painting has to stop too.
After a performance with Olya in May, Christophillis and Olya got together and started the conceptualization of this project. This project in three-part series. The first part is "Birth," which was presented in this recital. According to both artists, the second part will be about breaking free, and the third part will be about facing the challenges and a new identity.
"In this recital, we performed two tracks. The first track was the Russian folk song; the second one is a more produced tune where vocals didn't have lyrics. The tune was based on an Arabic scale. That was the inspiration," Olya said.
She also clarified that the piece "Birth" never existed in a track. All the elements and pieces are called "sound assets."
The fragments of assets are from sample library or pre-recorded. Each of the assets is like a key to a keyboard; she has to decide what and when to play them in order to make such composition. All of her launching actions were live and there is never a fixed length or order for this song.
Christophillis said that she felt an excitement from live performance with a multimedia approach. This provides her a whole other level of light, moving images, sound, stage, and even audience.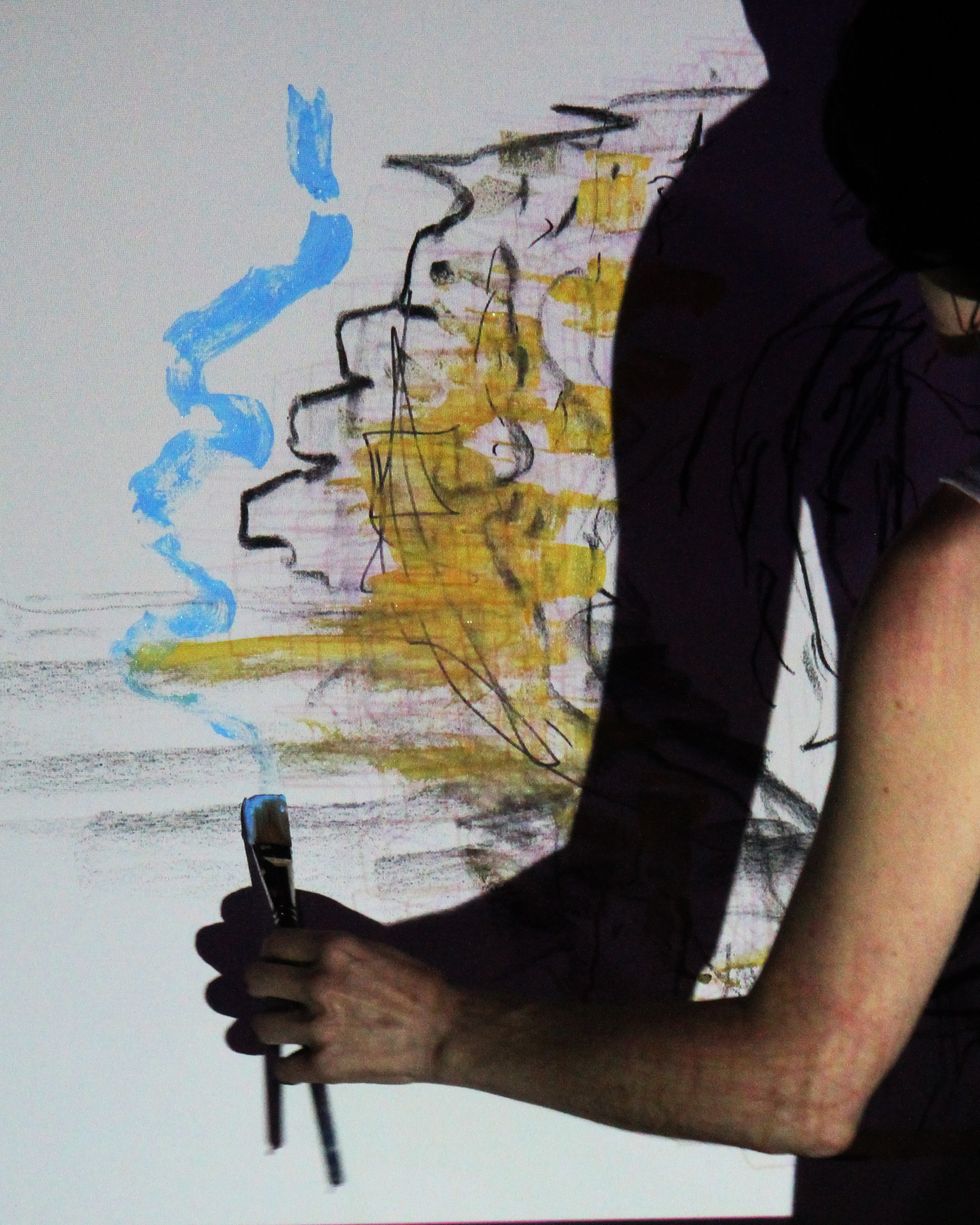 "I was talking about a song that I heard." said Christophillis. "There was a lyric in the song stuck out to me: "I never knew I was a dancer 'till Delilah showed me how". It is basically about going on a detour path, starting over, and being reborn again. We ran with that idea."
As the new member in the team, Kumar said: "I've done a lot of multimedia stuff, but never done anything like this one before."
This collaboration is a special coincidence because all of the artists came from different backgrounds, different art forms, different schools, according to Christophillis. But the connection of their concepts linked them together, which allowed the magic to happen.
"The concept of the collaboration was new to me and it was really inspiring." Gareth Wong, 22, a student at Berklee College of Music, said, "I loved the way how the music, the visuals, and the painting influence each other."
Despite liking the show, Wong thinks there is still room for improvements: "I enjoyed it overall but it would be awesome if the show was longer and the projector covered the entire canvas, rather than a portion of it."
For those who couldn't make the recital on Sep 22, Olya, Christophillis, and another visual artist, Christopher Konopka, are planning another show in Boston on November 18 to present the second piece, and the third piece will be brought out sometime in spring, 2018.
Check out a short clip video of Olya's recital here and more details of the event on November 18 on Facebook page linked down below:
https://www.facebook.com/events/122902215050531/?ti=icl