News articles abridge confusing concepts through syntax, vocabulary, and, often, intellectual query. Some articles are efficacious: discussing topical events, evaluating perspectives both audacious and prudent. Some articles promote sedition and confusion, often concomitant with the former group of articles.

For the lazy sybarite and those novice in the art of lexicography, this article offers no respite. So, I beseech you, deny your scurrilousness and join me in embracing our collective, dusty, neglected dictionaries and consider this word:

Inconceivable—not capable of being imagined or grasped mentally; unbelievable.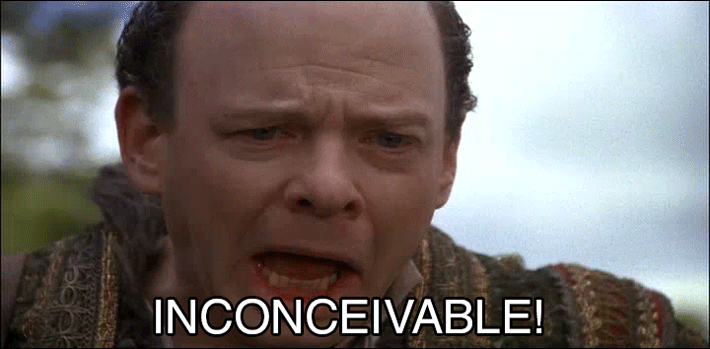 In the enchanting movie, "A Princess Bride" our lovable but incompetent Sicilian crime boss Vizzini says the word "Inconceivable!" after his every attempt to outsmart Wesley fails. Time and time again during the movie we hear "Inconceivable!!" knowing all too well Vizzini is improperly using the word "inconceivable." Vizzini is finally corrected when one of his posse, the Spanish master swordsman Inigo Montoya, says, "You keep using that word. I do not think it means what you think it means."
Have you ever stopped to think, "What was Vizzini doing wrong?" or maybe "Well, he was just being hyperbolic!" Well I have, and I present to you three options and you, dear reader, may decide just how mistaken Vizzini is.
Option one: Catachresis—A misuse of a word; an application of a term to something which it does not properly denote.
Vizzini, while planning the heist to kidnap Buttercup for ransom, accidentally established "inconceivable" to be a synonym with "improbable." This happens all the time with the word "literally." From doctors and drama queens to politicians like Chris Traeger, the word literally has almost developed another definition: figuratively.
.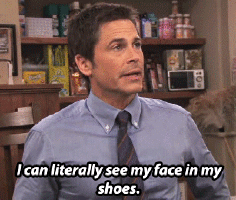 Vizzini wants to express disappointment and shock that his plan failed. He doesn't mean to use the textbook definition of inconceivable, rather he has a case of catachresis. Bam. Option one.
Option two: Lethologica—The inability to remember the correct word.
Moments that take your breath away may also give you a severe case of lethologica. Also, extreme stress. Or maybe, it's just a word you don't use that often. Picture this: You're at Super Bowl 45 and Christina Aguilera is singing the national anthem. Pretty easy gig for a singer like her, right?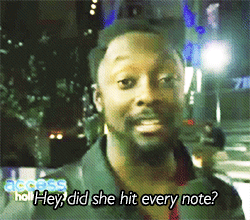 But you noticed something weird about it: she forgot to say the word "rampart's." Slipped her mind. She probably hadn't ever used the word rampart outside of singing that song. Thus, lethologica. Vizzini is probably not accustomed to failing at his job. With Fezzik the Giant and Inigo the swordsman at his side, the team of bandits were underperforming. And Vizzini, blindsided by their failures, forgets the word improbable. But he has to say something! Thus, inconceivable. Option two.
Option three: Sophomania—A delusion of superior intelligence.
Vizzini has surrounded himself with a less-than-intelligent muscleman and a Spaniard whose English is considered sub-par. This option presents Vizzini as a mastermind who is not really a master of his mind. Sure, he managed a few tricks and understands dialectics as if he were Hegel himself. However, delusions being delusions, Vizzini thinks he can simply say whatever he wants and assume it is correct because his surroundings propagate that behavior. Are the blunders truly inconceivable? Of course not. But does that word help him to assert his influence over his two subordinates? Hell yes. Option three.
Though this is really a trivial matter and there is no true answer why our Sicilian friend has a bad case of malapropism, I hope you've learned a little bit about some words. And maybe even about yourself? Wait… news articles that make you think? Inconceivable!
Note: My money is on option one.