As December rolls around I tend to get discouraged by the wastefulness and consumerism associated with Christmas. Gift-giving at Christmas is, at its core, a tradition centered on love. I adore giving and receiving gifts. In fact, gift-giving and receiving is my number one of the five love languages.
However, I find myself torn during the holidays because my desire to give meaningful gifts competes with my values of rejecting materialism and protecting the environment. Not to mention that I generally have had little money with which to purchase gifts.
This is why a few years ago I made the switch to giving handmade gifts. Below I list my favorite handmade gifts that I've given to friends and family over the years. These 9 gift ideas are thoughtful, inexpensive, and many are recycled to lower their impact on the environment.
1. Map Coasters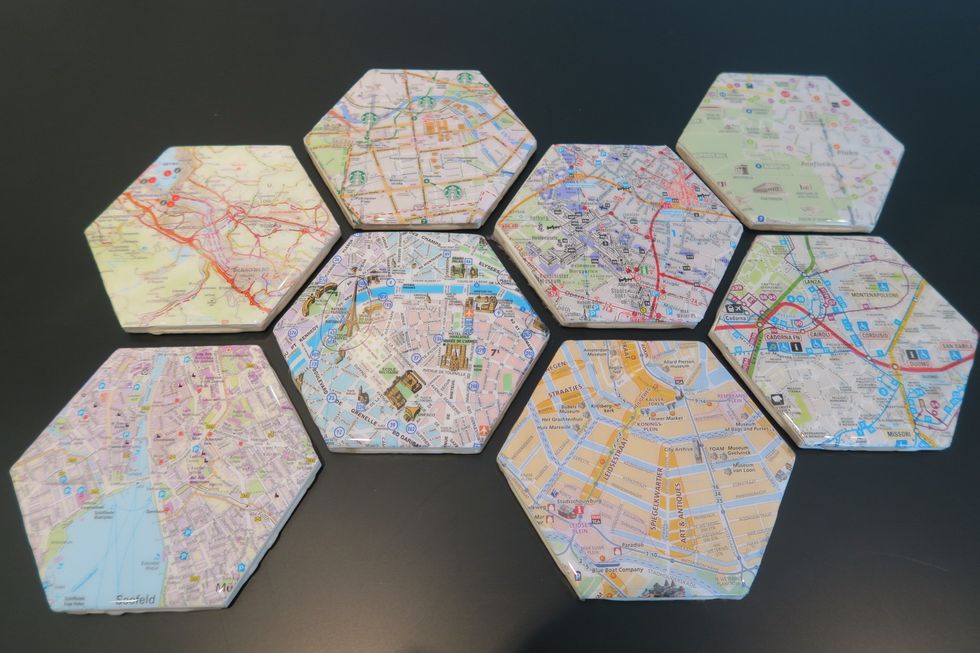 Brittany Harms
Estimated cost: $15-$20 for a set of 4
You will need: Bathroom tiles, decoupage glue, pour-on finish, maps, round felt stickers
I've made this project many times for gifting and selling and they are always a hit. I start by cutting the maps to fit the coaster, then I glue the map pieces to the tiles and cover each completely with decoupage glue to seal it. I then pour a two-part resin (which you can purchase here) completely over the coasters. After a few days, they are set and dry. I put felt stickers on the bottom (so the tiles don't scratch the coffee table) and then they are ready for wrapping!
2. Recycled CD Picture Frame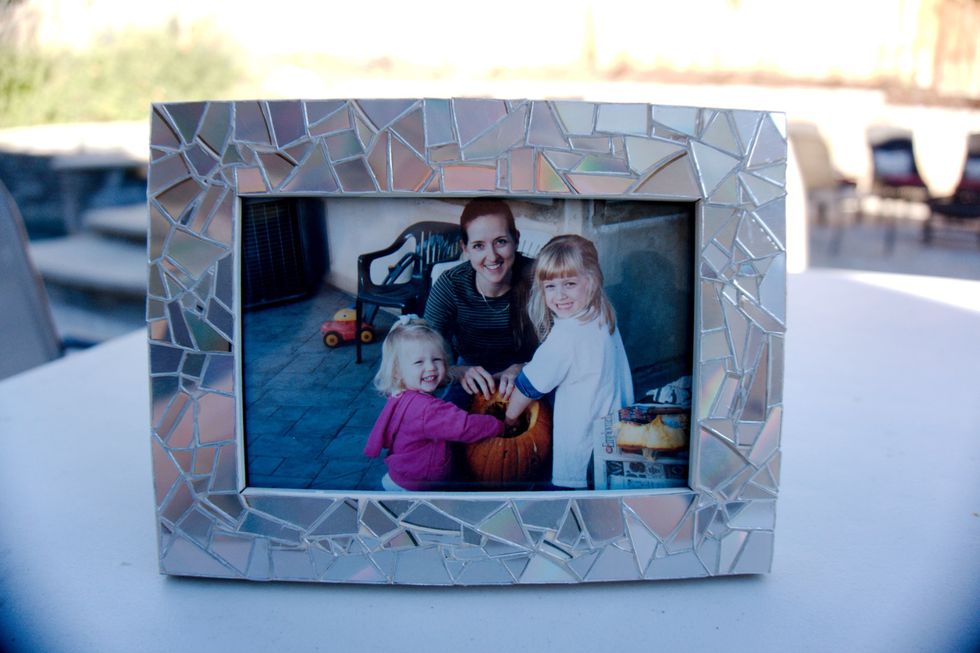 Brittany Harms
Estimated cost: $5
You will need: A picture frame, picture, CD, scissors, hot glue/tacky glue
I made this for my mom's birthday one year and she loved it. It's a simple project that costs little to make. I found an inexpensive picture frame at the thrift store and painted it to look new. Then I found some old CDs and cut them into random small shapes (thank you, Spotify, for making the destruction of my CD's something I would actually do). Then I glued the pieces onto the frame mirror-side up. It took some time, but the end result was a lovely gift that anyone would appreciate.
3. Hand-Stamped Stationery Set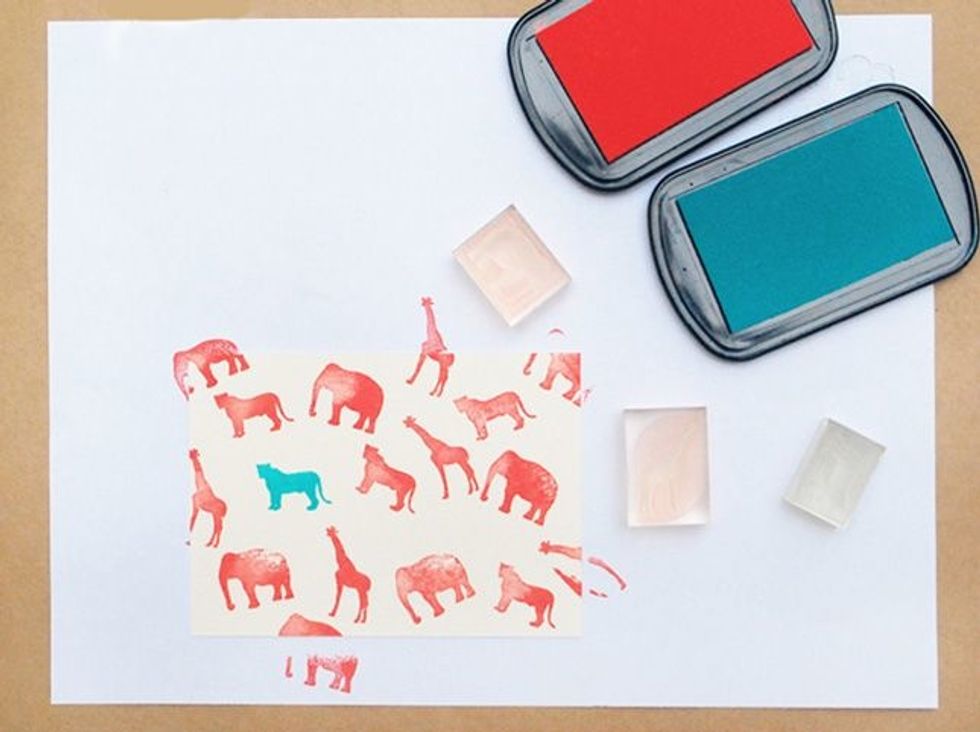 https://www.brit.co/family-chalkboard-paint/
Estimated cost: $5-10 per set
You will need: blank stationery, stamps (or an sponge to make a stamp), paint/ink
Stationery is a useful gift because nearly everyone will write a letter or note to someone at some point in time. If you don't already have stamps, you can make one by cutting a dish sponge into shapes. If you have nice handwriting or letter stamps, you can add words to your stationery!
4. Twig Candle Holders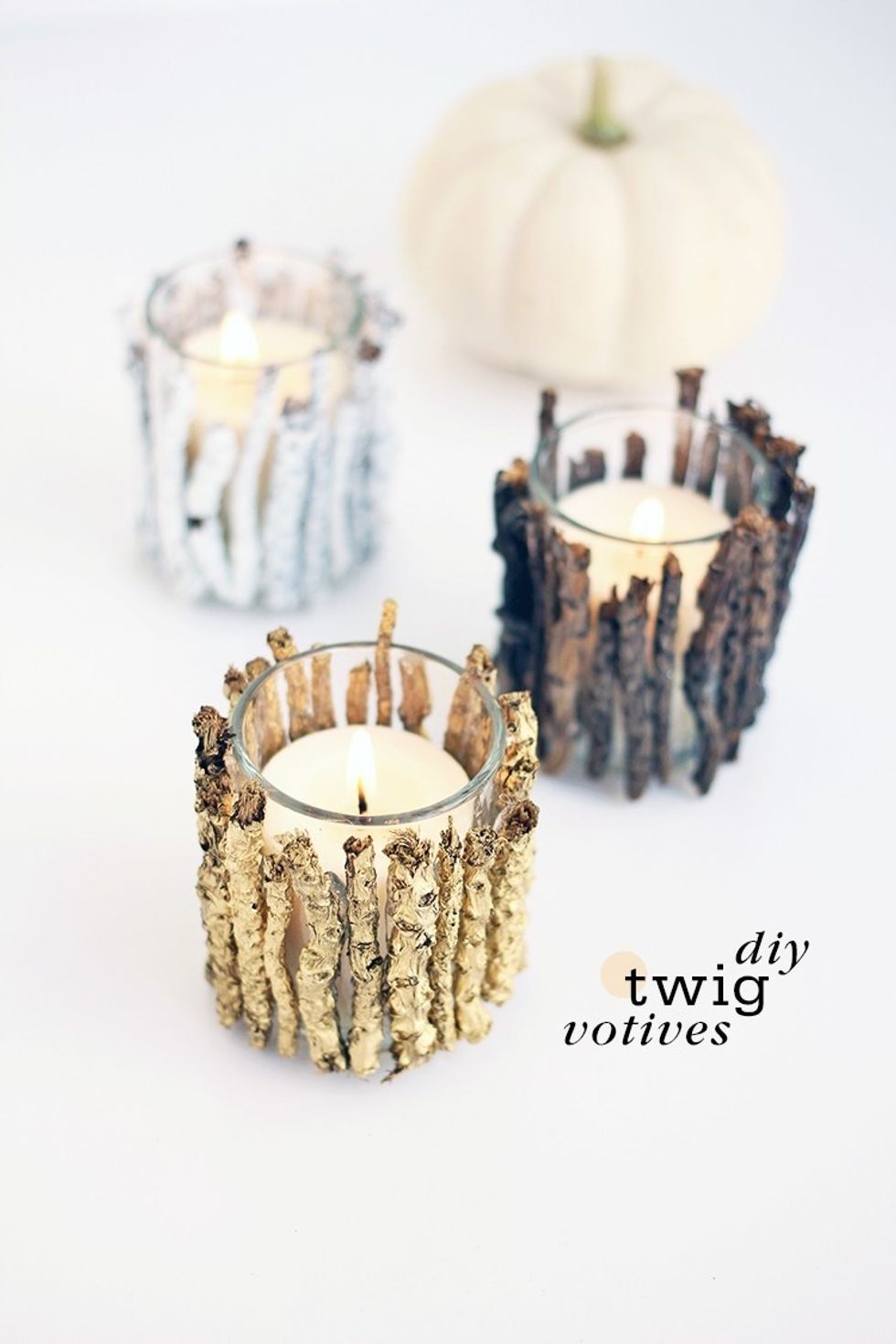 http://www.freutcake.com/art-design/diy-art-design/diy-twig-votive-candle-holders/
Estimated cost: $5-10 per set (including cost of candles)
You will need: jars, small twigs, glue, votive or other candles
This project can be completely recycled if you use jars from your kitchen. Start with a clean jar and simply glue twigs around the sides for a cute decoration that matches most types of home decor!
5. Basket Woven from Plastic Bags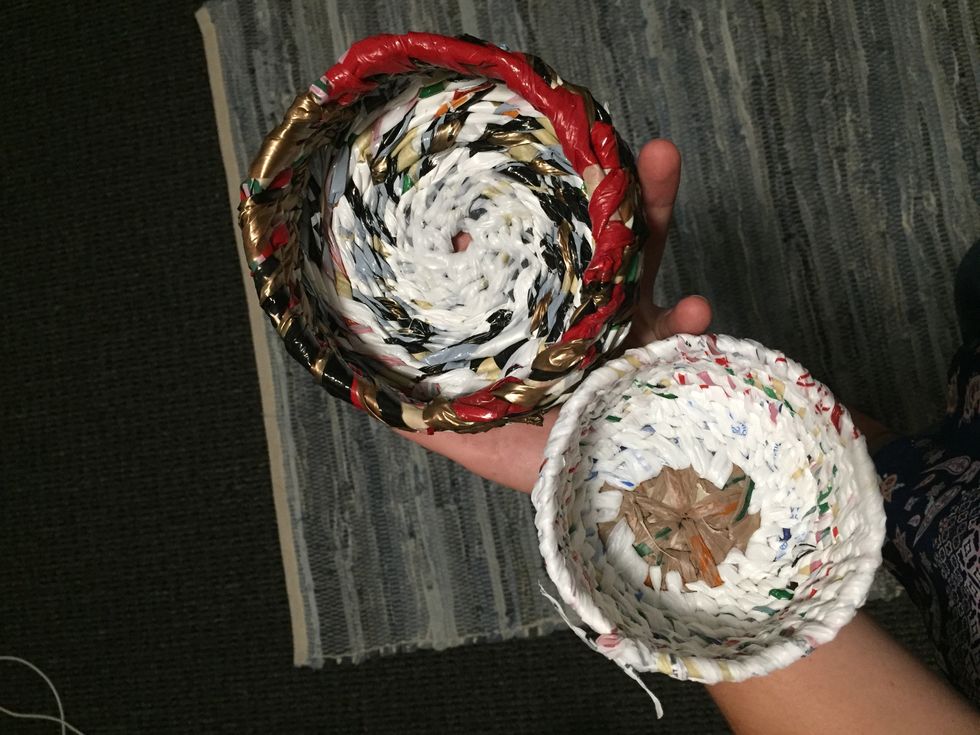 Brittany Harms
Estimated cost: <$1 ($0 if you already have a yarn needle)

You will need: a yarn needle, scissors, tape, plastic bags.
I love this project because it recycles one of the largest pollutants in our ecosystem, plastic bags. It's a bit hard to explain, so instead I'll link a YouTube video tutorial.
6. Decorated Journals/Notebooks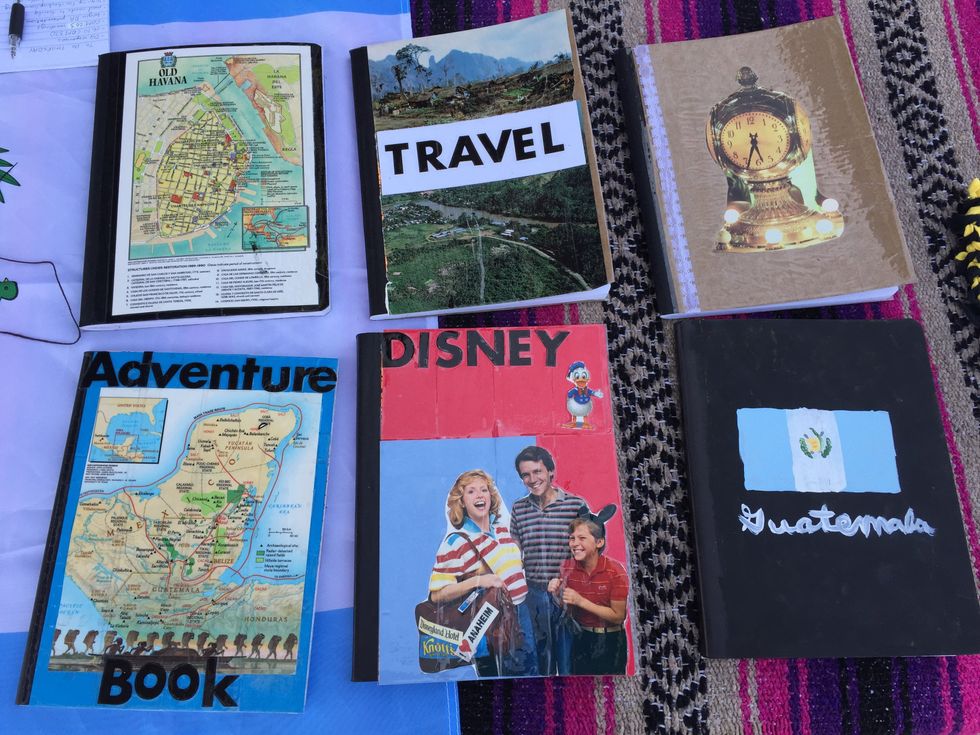 A group of students and I made these journals for a fundraiser.
Brittany Harms
Estimated cost: $1-5 each
You will need: Blank notebooks, fabric/paint/maps/pictures, decoupage glue
I love this project because it's so simple. Take blank notebooks, or even composition books will work. Then cover with newspaper, maps, fabric, paint, or other decor. I've done this project many times to give as gifts or sell for fundraisers. This is a great project to make in bulk and give as smaller gifts.
7. Recycled T-Shirt Woven Potholders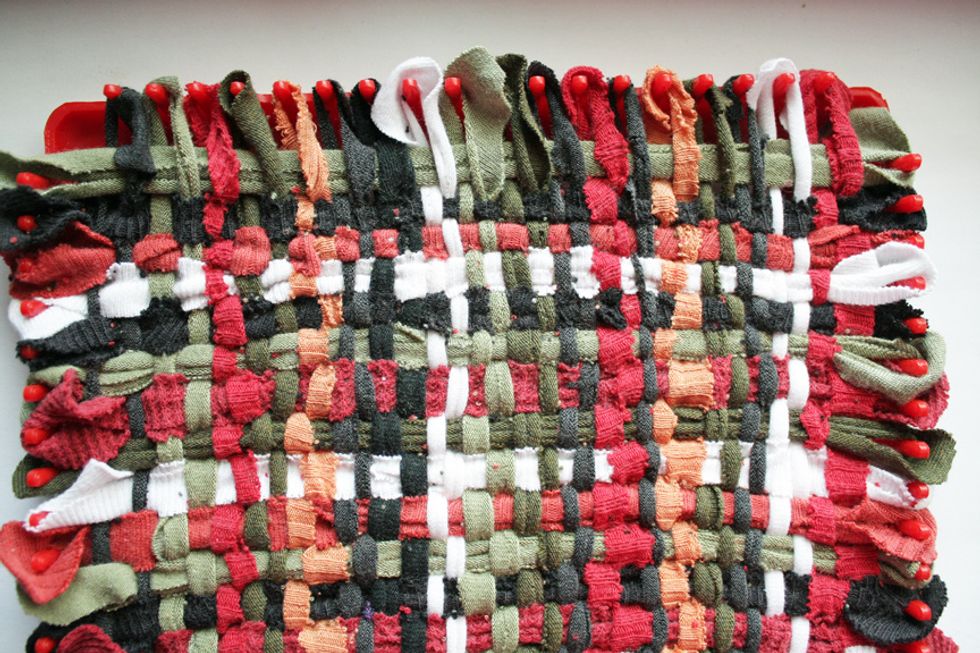 http://donnaberlanda.com/make-potholders-from-old-t-shirts/
Estimated cost: $10 one-time cost (for the loom)
You will need: t-shirts or other stretchy fabric, potholder loom
Don't throw away that old t-shirt! You can cut t-shirts into strips with a slit in the middle to make a loop, then weave them into potholders for your kitchen. I often make these out of random old t-shirts as housewarming gifts for friends. Here is a tutorial.
8. Pallet Mug Hanger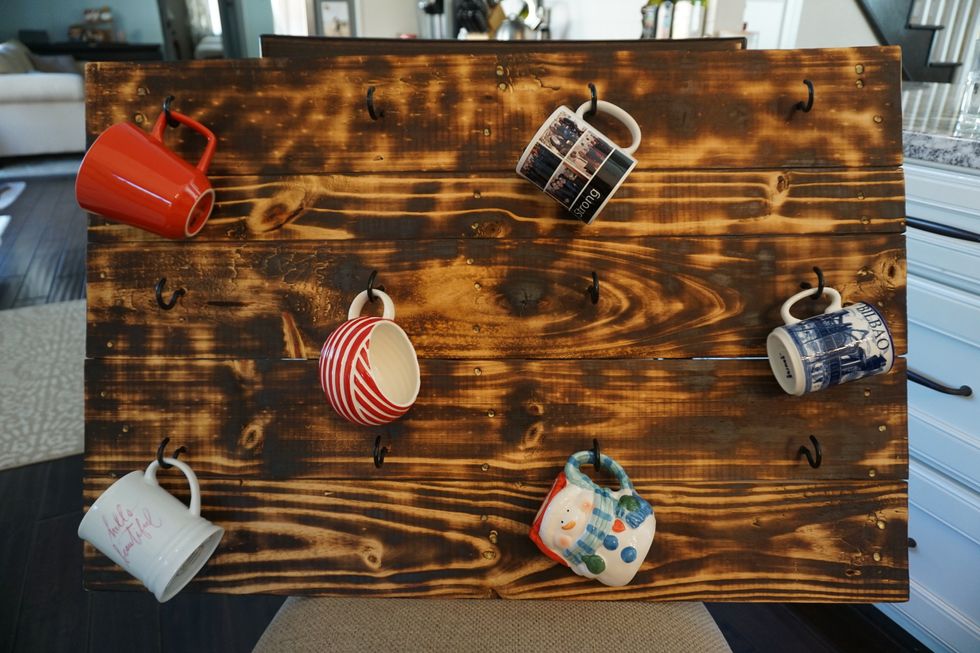 Brittany Harms
Estimated cost: $10-$20
You will need: A wooden pallet, sandpaper, stain or paint (if desired), mug hooks
I found my pallet next to a dumpster at my university and stripped off the unnecessary wood. I then sanded it down and used a blowtorch to seal the wood and give it some color. You can paint, stain, or varnish your pallet depending on the look you want. I then measured where I wanted each mug hook to go and screwed them in by hand.
9. Coin Magnet Set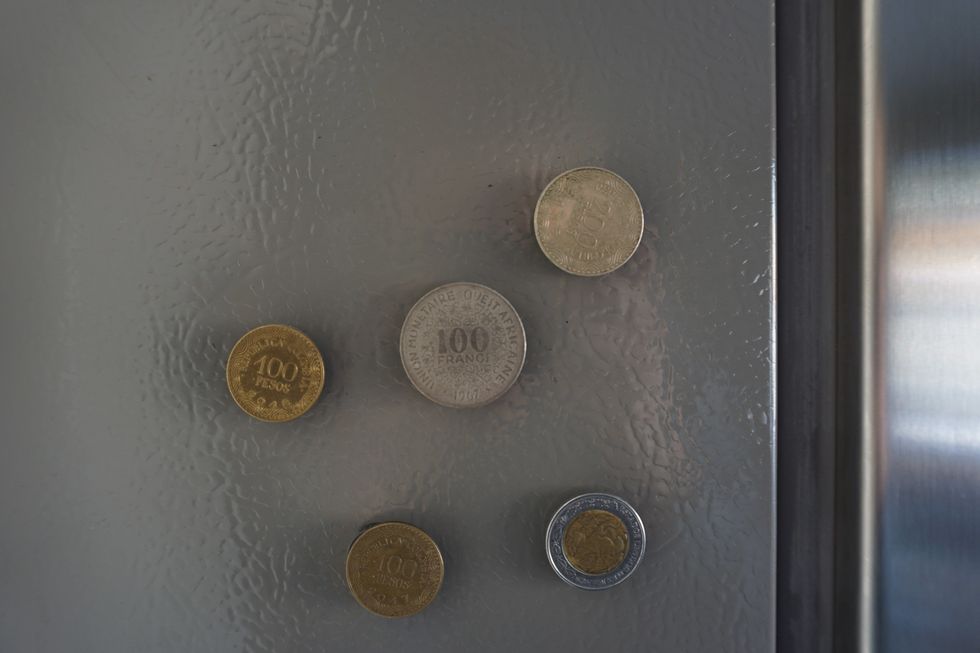 Brittany Harms
Estimated cost: $7
You will need: Magnets, coins, super glue
I glue super magnets to the back of random coins I keep from my travels. This is a quick project and very affordable. You can use coins or get creative with seashells, rocks, buttons, or other items.
You don't need to be crafty or creative to make something that's useful, thoughtful, and low-cost. Instead of spending massive amounts of money to show people you care, try some handmade gifts this season; they are good for the environment and your wallet!