Disneyland is expensive, guys. Those park tickets and hotel prices will drive you insane, so every cent you spend should be enjoyed thoroughly! After all, you have limited time to do so, so why not postpone going on these attractions until you have extended time in the resort? Some of these may be unavoidable if there are young people (or young at heart) in your party, but I guarantee you a happier trip if you decide to prioritize your must rides.
Buzz Lightyear Astro Blasters
If you want a more updated point and shoot game similar to this, I suggest Toy Story Mania instead. This ride has too long of a line for what the ride actually is! If all else fails and you can't miss this ride on your trip, it's not the end of the world.
Mad Tea Party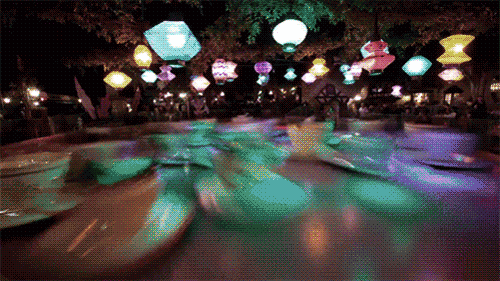 Giphy
The nausea isn't worth the minute and a half ride! Pictures on the ride are fun, but if there's one fantasyland ride to skip on your trip, I say put this at the top of that list! It's a classic Disney ride, however, there are no spectacular themes or experiences that will make you regret missing it just once.
It's A Small World
"it's a small world" is not for the crowd that's afraid of dolls or afraid of migraines. Do yourself a favor and skip this globe trot cruise, unless you're riding it to cool off in the air conditioning for a few minutes at the heat of the day. The mind-numbing anthem is not a cult favorite, so don't feel bad about saying no to riding it.
Ariel's Undersea Adventure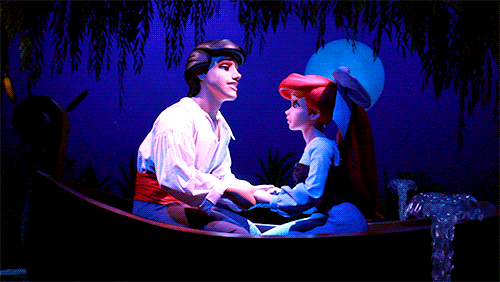 Giphy
For the Ariel super-fan, this may be a harsh adjustment, but bypassing this dark ride at California Adventure won't be that big of a deal! I say trade this for the thrill of the Incredicoaster, or the serene Soarin' Over the World. It's your average Disney dark ride, so save this for another trip. Many of the times I've been on it, Ariel's Undersea Adventure has broken down mid-ride! This could just be my bad luck, but you never know!
Autopia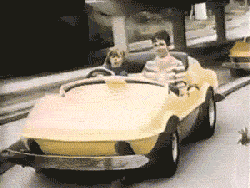 Giphy
This ride is pretty hectic and irritating, especially if you're going during a busy time or a warm season. Please do yourself a favor and don't subject to the pressures of Disney die-hards who insist you shove yourself in a mini car to drive around at 5 miles per hour! This attraction was one of the original Disneyland attractions, so if you're doing a nostalgic sweep of the park, maybe do go on it. For the rest of the audience, feel free to try a ride that doesn't require your steering!
Nemo's Submarine Voyage
Finding Nemo is an astonishing Pixar film, but this ride is not on the same level of amazing! If you don't like tight spaces, this ride may not be for you! I give the Imagineers props for the creativity of the use of this lagoon space, but it's ok to say "not today" to this attraction. It's geared toward the younger Disneyland demographic, so you may not find yourself satisfied with your experience on the ride if that's not your style!