Let us travel back to the 1940's; a second global war, otherwise known as World War II, had everyone in a state of chaos. As American men were being drafted to fight in the war, everyone at home took part in propaganda - including The Walt Disney Company. What would be better than Uncle Sam himself? Perhaps a mouse.
[rebelmouse-proxy-image https://media.rbl.ms/image?u=%2Ffiles%2F2016%2F11%2F02%2F6361369694188357462004926943_UNCLE%2520SAM.gif&ho=https%3A%2F%2Faz616578.vo.msecnd.net&s=688&h=fb07af6f0bd75726a3430b124cd708d8e1683b66c8fb9aa82b92230e1dd2e5bc&size=980x&c=1290529212 crop_info="%7B%22image%22%3A%20%22https%3A//media.rbl.ms/image%3Fu%3D%252Ffiles%252F2016%252F11%252F02%252F6361369694188357462004926943_UNCLE%252520SAM.gif%26ho%3Dhttps%253A%252F%252Faz616578.vo.msecnd.net%26s%3D688%26h%3Dfb07af6f0bd75726a3430b124cd708d8e1683b66c8fb9aa82b92230e1dd2e5bc%26size%3D980x%26c%3D1290529212%22%7D" expand=1]
Propaganda (noun): information, especially of a biased or misleading nature, used to promote or publicize a particular political cause or point of view.
Familiar cartoon faces such as Mickey Mouse, Donald Duck, and Goofy were portrayed in illustrations to increase patriotic morale and better the war effort. You could find these characters in newspapers, magazines, savings booklets, and on posters. In these illustrations, each character portrayed a specific role that Americans were encouraged to participate in. Some of these include Red Cross volunteers, purchase of war bonds, chemical warfare servicing, can collections, and drafted soldiers. One may ask if the Disney company created this idea on their own? As a matter of fact, the U.S. Treasury Department first went to the company directly for help.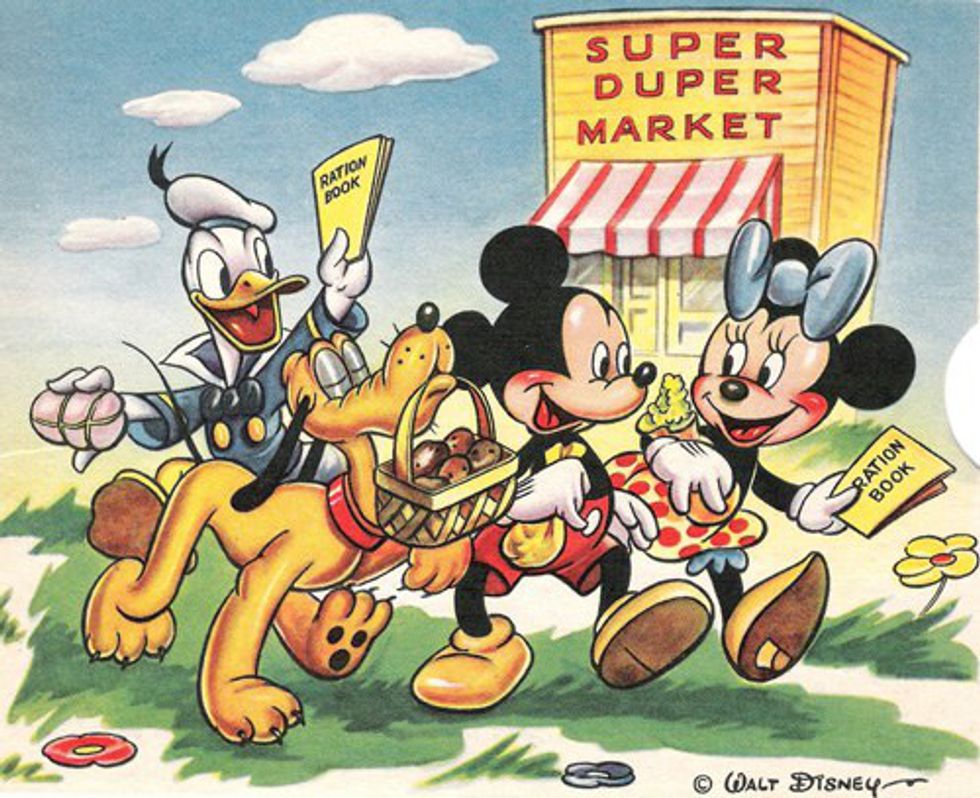 Perhaps you could find Mickey Mouse participating in the popular civilian participation campaign: the Victory Gardens. Families were encouraged to grow their own foods at their own homes. If Mickey Mouse took part, why not an American family? This use of campaigning for the war effort was nothing short of brilliant.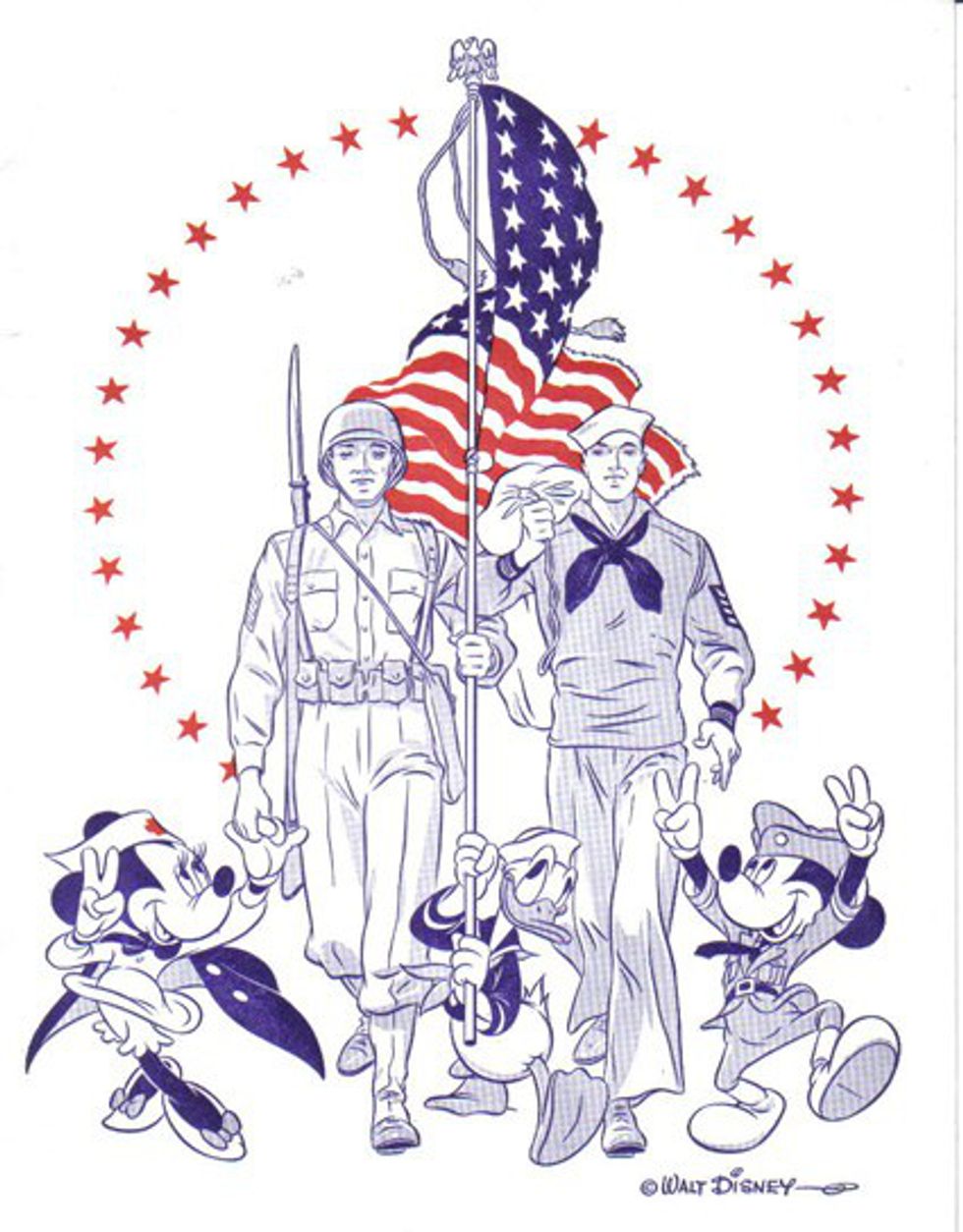 During the winter holidays, cards with Disney animations were created to be sent over to American troops. And yes, there were Disney stamps as well.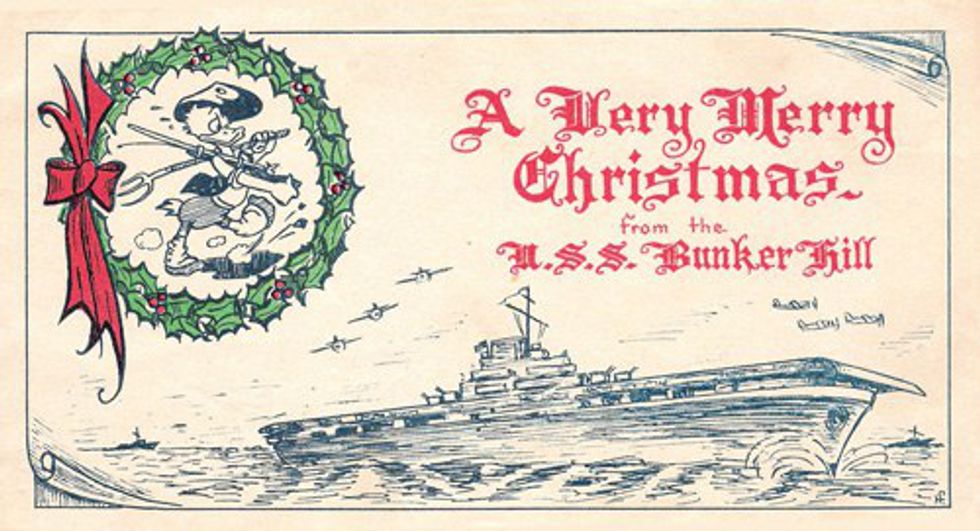 As these illustrations became wildly popular, the Disney's advertising department began to create short films to demonstrate current events during the war. Films such as "Education for Death: The Making of the Nazi" in 1943 and "Commando Duck / Donald Duck vs. the Japanese" in 1944 were created by Disney animators for the U.S. government. You could go to a local movie theater, purchase a soda pop, and watch Donald Duck announce "Heil Hitler"!
Watch these short films here:
https://www.youtube.com/watch?v=l14WDZCnz-w
https://www.youtube.com/watch?v=IWAf3dQxAfQ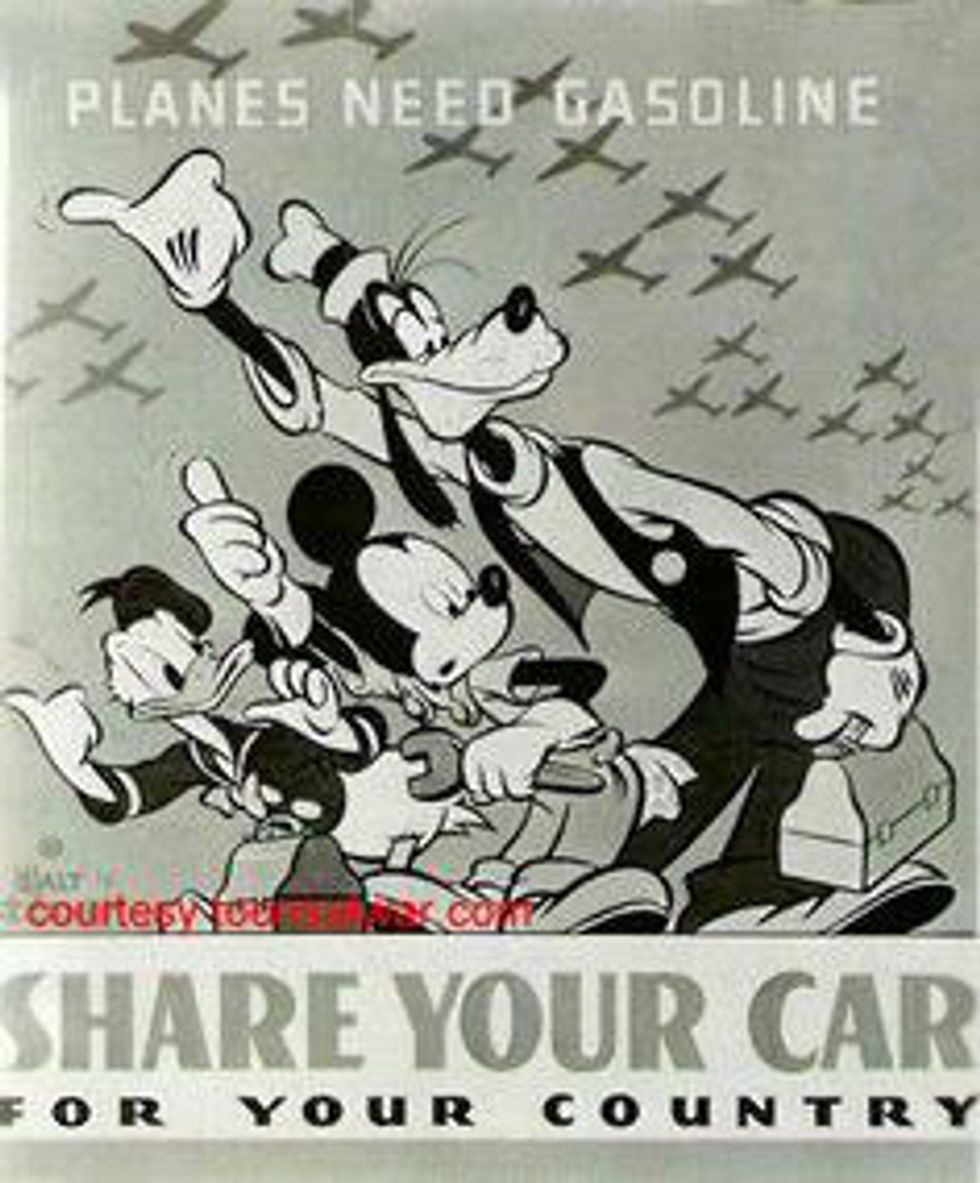 Uncle Sam's face could be plastered only so much for it to get old, but to see more and more Disney characters taking part in the war effort pushed America to victory. In films alone, there were over one-hundred produced. The purpose was to educate America about what they could do to help and about their enemies. Like always, The Walt Disney Company was successful.