Do not let this year's Thanksgiving stress you out over not knowing what to cook. Try these simples dishes to spice up your feast during the holidays.
1. Classic Corn Bread Dressing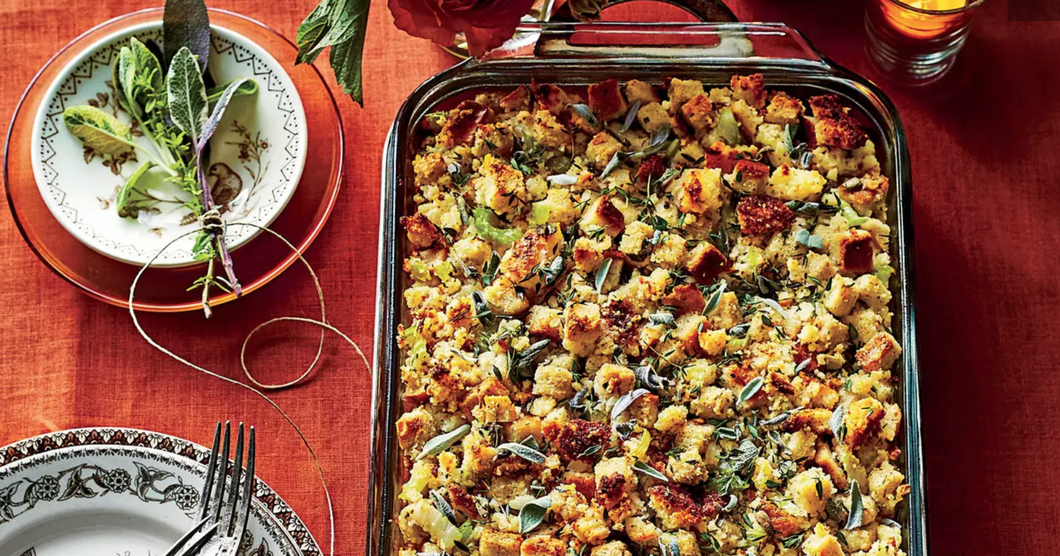 https://www.southernliving.com/recipes/classic-cornbread-dressing-recipe
Try making cornbread in a skillet this Thanksgiving. Prepare this up to two days before doing the rest of the dish. This makes it dry out completely.
Step 1: Start preparing the cornbread and then preheat the oven to and combine self-rising cornmeal mix and sugar in a bowl. Stir the eggs and buttermilk together in a different. Later on add the cornmeal mixture and mix it all together.
Step 2: Heat the salted butter in a skillet and preheat oven over 5 minutes. Then melt the butter into batter and melt the butter into the batter. Pour batter into hot skillet.
Step 3: Bake the cornbread until it is golden for about 25 minutes; cool the skillet for 20 minutes. Remove skillet to wire rack and cool it completely for another 20 minutes. Crumble the cornbread and freeze it in a large ziplock plastic bag. It can last up to one month in the freezer and thaw in the refrigerator.
Step 4: Now it's time to prepare the dressing so preheat oven to 350°F and melt butter in a skillet. Add onion and celery for flavor and color in the dish. Make sure to stir often for 10-12 minutes. Add spices like sage and thyme. Keep stirring at this point for about a minute.
Step 5: Stir eggs in a large bowl and the crumbled cornbread together. Add onion mixture, chicken broth, black pepper and kosher salt until blended.
Step 6: Put into 2 lightly greased baked dishes. Freeze it up and it can last up to 3 months but thaw it in the fridge for a day. Uncover it and let it out in room temperture for 30 minutes before baking it.
2. Fried Mash Potato Balls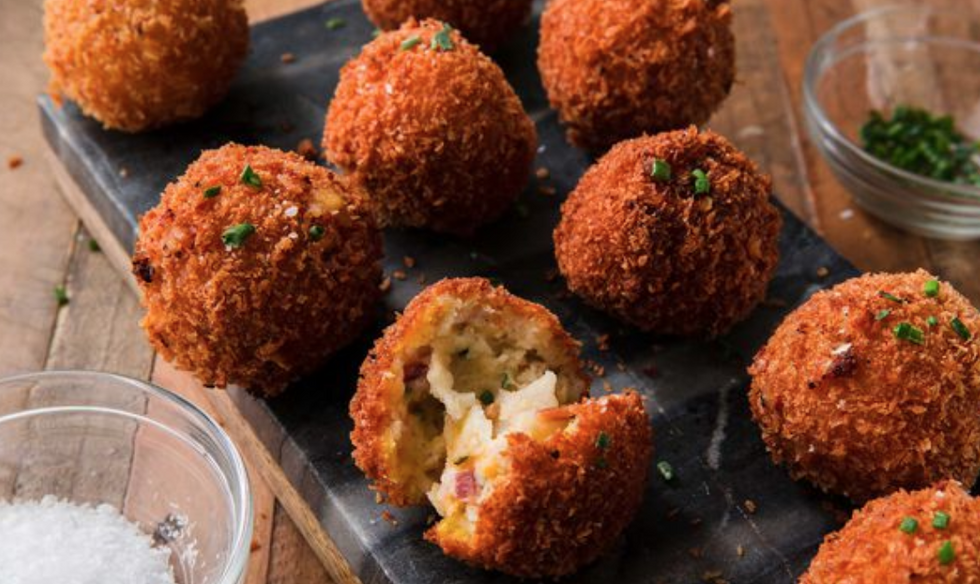 https://www.delish.com/cooking/recipe-ideas/a22566735/fried-mashed-potato-balls-recipe/
A simple dish like fried mash potato balls turns those old leftovers mash potatoes into something new and exciting for your tastebuds. Not only is it crispy on the outside but it is also savory on the inside that's filled with cheesy bacon bits.
Step 1: Grab a large bowl and combine mash potatoes with bacon, cheddar, chives and garlic powder. Then add seasoning like pepper and salt and stir until all ingredients are mix well.
Step 2: Put eggs and panko in separate bowls. Take a small cookie scoop to scoop mash potatoes into balls and then roll it into a shape of a ball with hands, then soak into eggs and panko, Continue this until mash potatoes are used.
Step 3: Heat oil in a skillet until 375° and fry them for 2-3 minutes.
3. Fresh Green Bean Casserole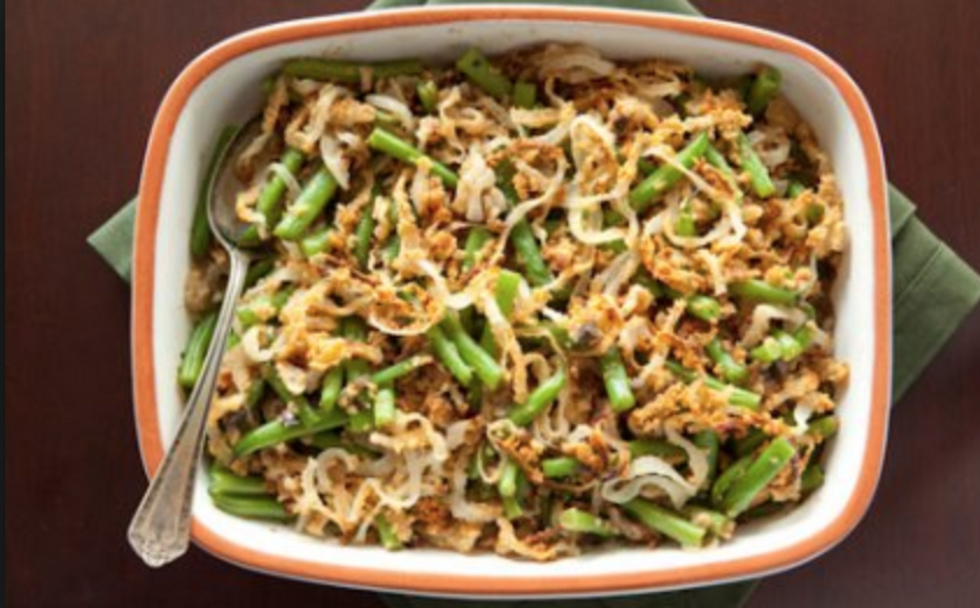 https://www.spendwithpennies.com/green-bean-casserole/#wprm-recipe-container-140855
Instead of popping open those canned goods this holiday try this recipe of fresh green bean casserole. Made only with fresh ingredients and no onion soup mix needed.
Step 1: Preheat oven to 350°
Step 2: Boil water in a pot and cook the green beans for 6-7 minutes. Make sure to drain them well.
Step 3: Cook onion and mushrooms in butter until tender and stir in flour, salt, pepper.
Step 4: Cook for 2 minutes and add milk and cream whisk it together. Remove heat and stir in soy sauce. Add salt and pepper.
Step 5: Mix together green beans, cheddar cheese, red pepper, and parmesan cheese. Add mushroom sauce.
Step 6: Bake for 20 minutes and then stir in the toppings. Bake an additional 10-15 minutes.
4. Stuffing Muffins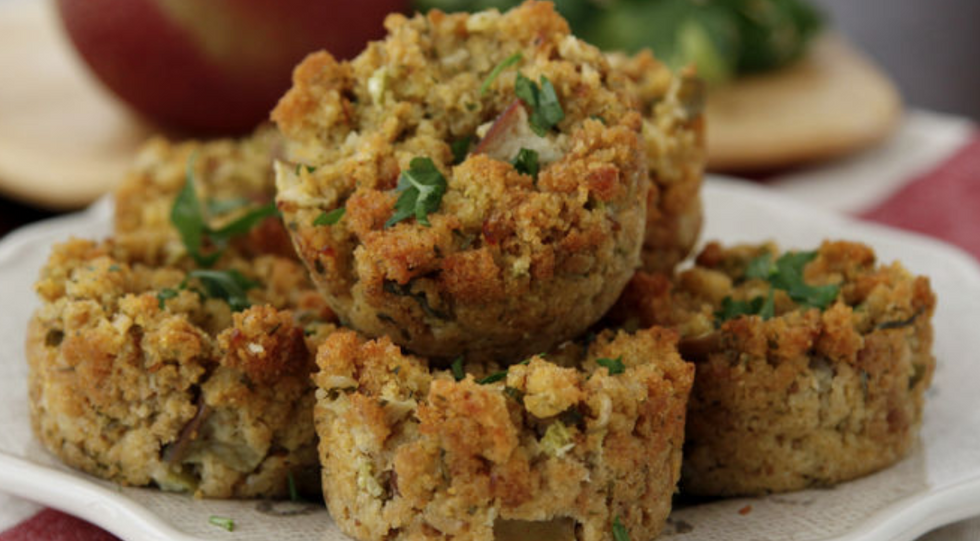 https://www.bettycrocker.com/recipes/stuffing-muffins/2ba5e361-7490-4fc7-9fa3-095c72a6c9de
Change stuffing into individual Thanksgiving stuffing muffins for the big feast. The muffins can be made up to 4 hours ahead and allow to cool completely in a pan. Cover foil and reheat oven before serving.
Step 1: Heat oven to 350° and spray 9 muffin cups with cooking spray.
Step 2: In a bowl, toss stuffing mix, water, apple, celery, parsley. Divide mixture even among muffin cups and press mixture in cups with spoon.
Step 3: Bake it for 20 minutes.