The new trailer for the "Fantastic Beasts and Where to Find Them" series just dropped and I have a LOT of feelings. Mainly: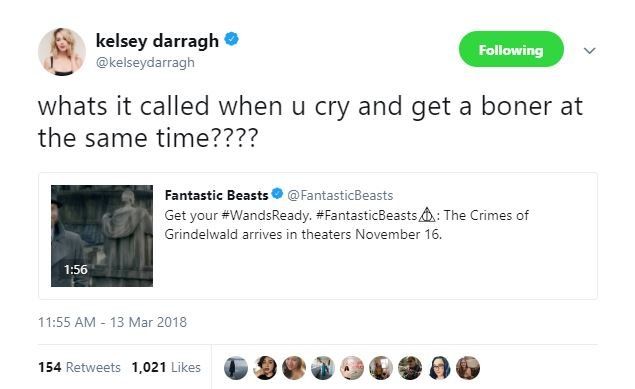 https://twitter.com/kelseydarragh/status/973603502...
With the release of this new trailer, the only natural thing to do is to binge watch the "Harry Potter" series. Now, if you don't know about "Harry Potter" series, I'm going to assume that you were born literally minutes ago. For those of you who do know what I'm talking about, let's chat.
Throughout the series, we see some pretty rotten witches, wizards and muggles. The worst being Bellatrix LeStrange, in my opinion.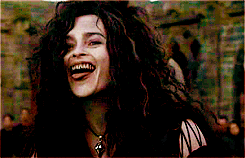 *Side note: Voldemort killed meticulously and with his own "reasoning" that supported his actions. Bellatrix killed for sport. No reason was necessary to support her choices. Regardless of who I thought was worse, it doesn't change the fact that they were both 100% assholes.*
Throughout the movie, and even more so throughout the book, we are able to see slight character arcs for a majority of these lesser-evil villains, such as Petunia Dursley, Narcissa Malloy, Snape, and Draco Malfoy.
After Snape, Draco had one of the biggest character arcs in the series. He saved Harry and, ultimately, through his actions, gave Harry one last chance to defeat Voldemort. How? Well, Pottermore explains it best, but to put it simply, he refused to give Harry, Ron, and Hermione up to Bellatrix and the Snatchers.
This moment is so pivotal and apparent in the books, yet on screen, while it's still a huge moment, it still gets downplayed. The weight of the moment isn't truly felt and could be taken as more of a mistake on Malfoy's part. That moment, if not understood correctly, could change many viewers' opinions about Draco's transformation from elitist, bigot, selfish snob to a (slightly) unknowingly ignorant, scared, defeated teen.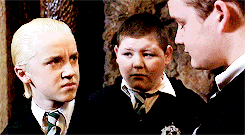 Damnit, J.K. Rowling, you've done it again. Even after all these years, somehow I still always seem to find something new.
Now let's talk about how the new movie will allow the Ministry to apparate onto Hogwarts?!