A native of Florence, SC he is known for his unique cool fashion sense his laid back personality but most importantly his art. To say the least the brother is talented. He hopes to further his education at the Savannah College of Art and Design for Animation.
Check out his Q/A below:
Shakora Bamberg: Tell me a little about yourself and about your role at Winthrop including any leadership roles you have held thus far as a student at WU
Devon Ford: I am a visual artist, mostly known for my drawings and paintings. I have been drawing since second grade and have been accepted to numerous collegiate art programs across the South.
I am currently the President of the Gentlemen's League (was formerly the Development committee co-chair and secretary for GENTS and formerly the chair of Press & Publicity for Winthrop's chapter of NAACP). I was also a member of A. Bevy, Def Poet's Society, intramural dodgeball (Fall '13).
SB: Of, all the roles what has shaped you into a better young artist?
DF: Being PR for the Winthrop chapter of NAACP really challenged me artistically. It helped me step into a new realm of art that I wasn't really comfortable with: digital art. I used that opportunity to learn and I thrived in that position and still use those skills today.
SB: When did you realize you wanted to go into this field of study where did this passion come from?
DF: Probably around 10th grade. I have been drawing my whole life, but I really began taking the craft seriously around this time.

SB: Tell me about the inspiration that comes with creating your paintings what have customers said about your work?
DF: Honestly, just situations of everyday life. I just take chunks of inspiration from all aspects of my life: my family, friends, music, politics, culture, etc.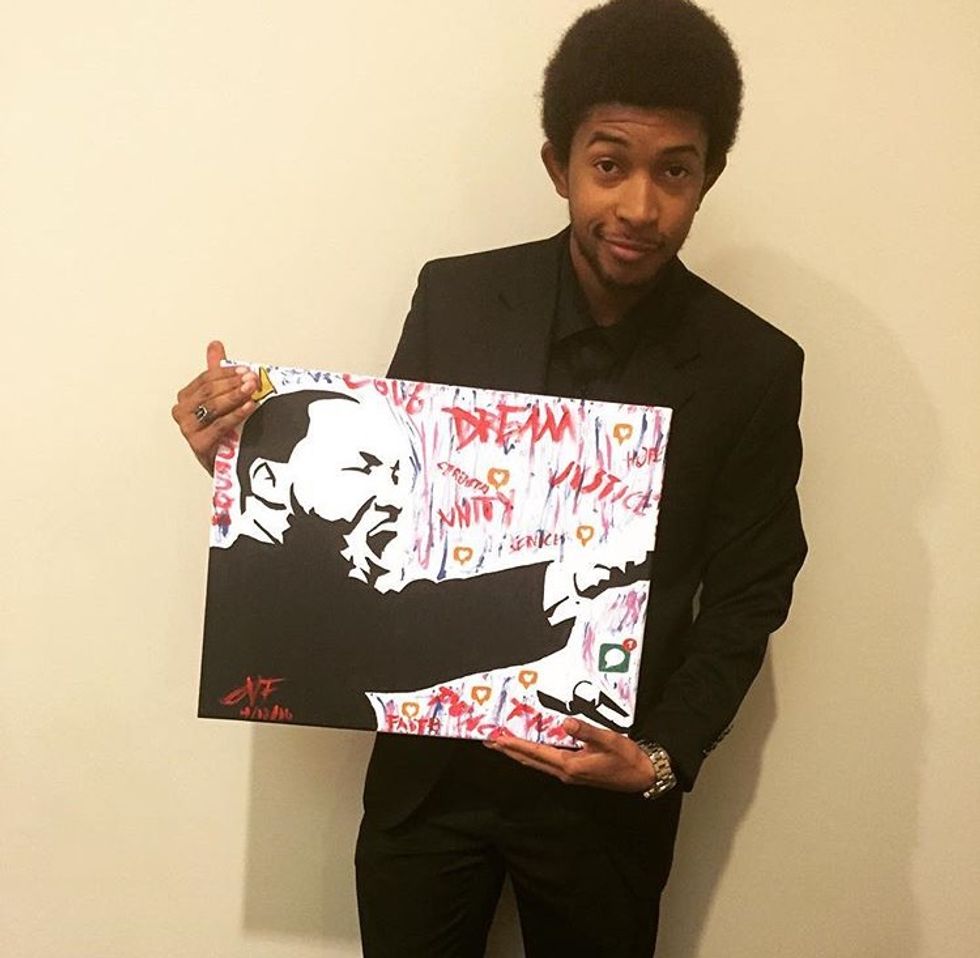 SB: Social media accounts for potential customers to purchase or view your work?
DF: @builtfordtuff94 on Twitter, Instagram, and Snapchat. I frequently post in progress shots of my work as well
SB: What opportunities has your skill afforded you? What was it like painting and meeting singer Anthony Hamilton?

DF: It's honestly a blessing that I never take for granted. My gift has opened many doors and allowed me to interact with many people, even people I look up to. Jodeci, OutKast, Martin Lawrence, and so many other celebrities I admire have seen my work. Meeting and showing Anthony Hamilton my work was really cool. He was very appreciative and gave off that "cool/funny uncle at the cookout" vibe. It honestly didn't feel like I was meeting a celebrity.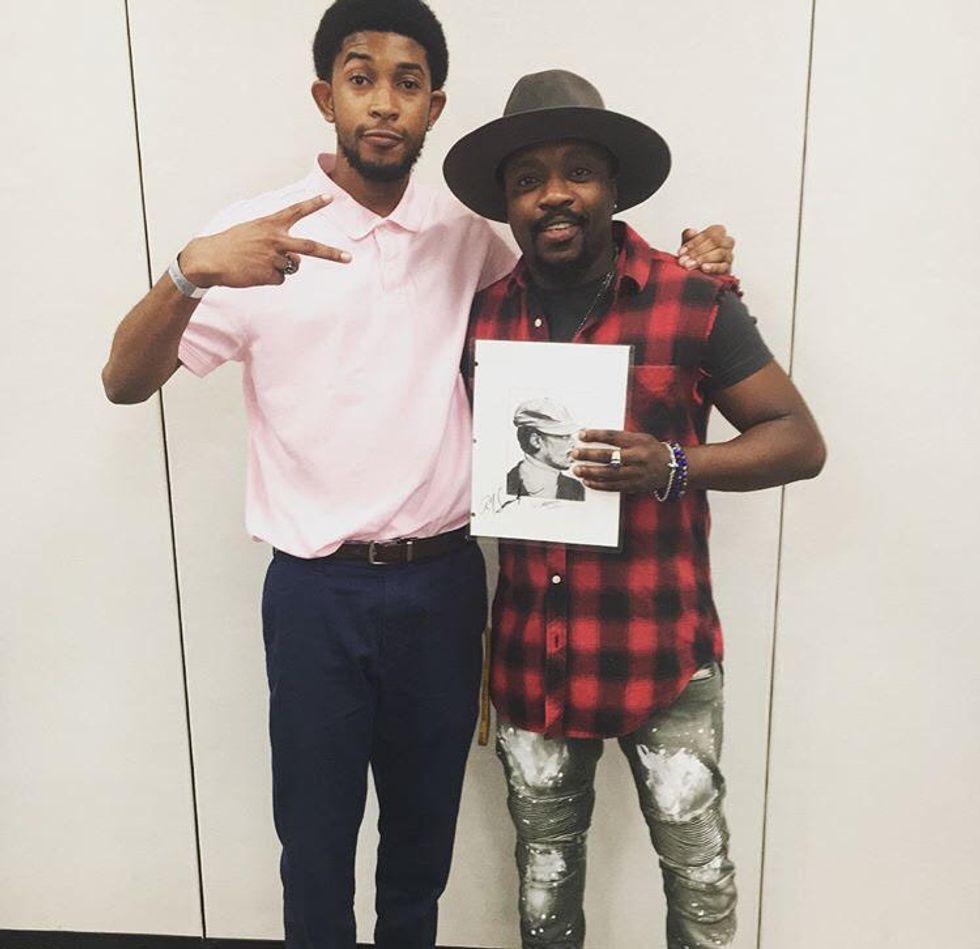 SB: Basic prices for your art?
DF: They vary. I wouldn't say I have specific prices, it all boils down to what exactly a person wants (size, color, medium, time, etc.). I will say I'm reasonable and negotiable. My usual price ranges go from about $20-$100, again depending on the factors above.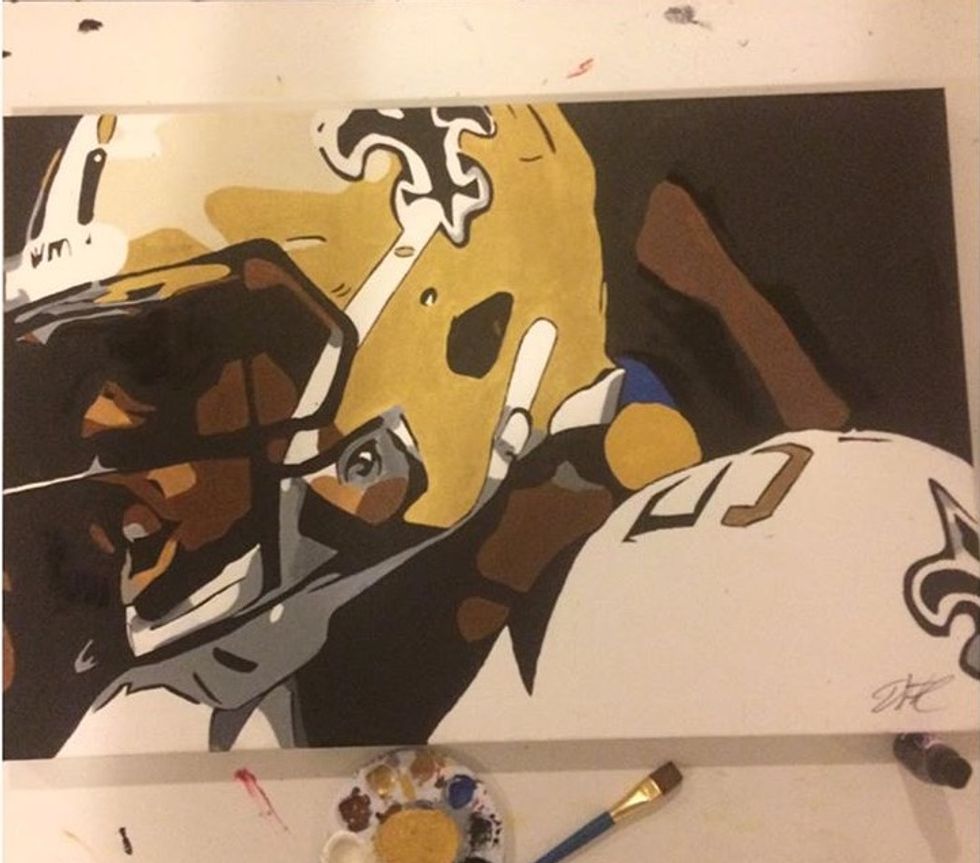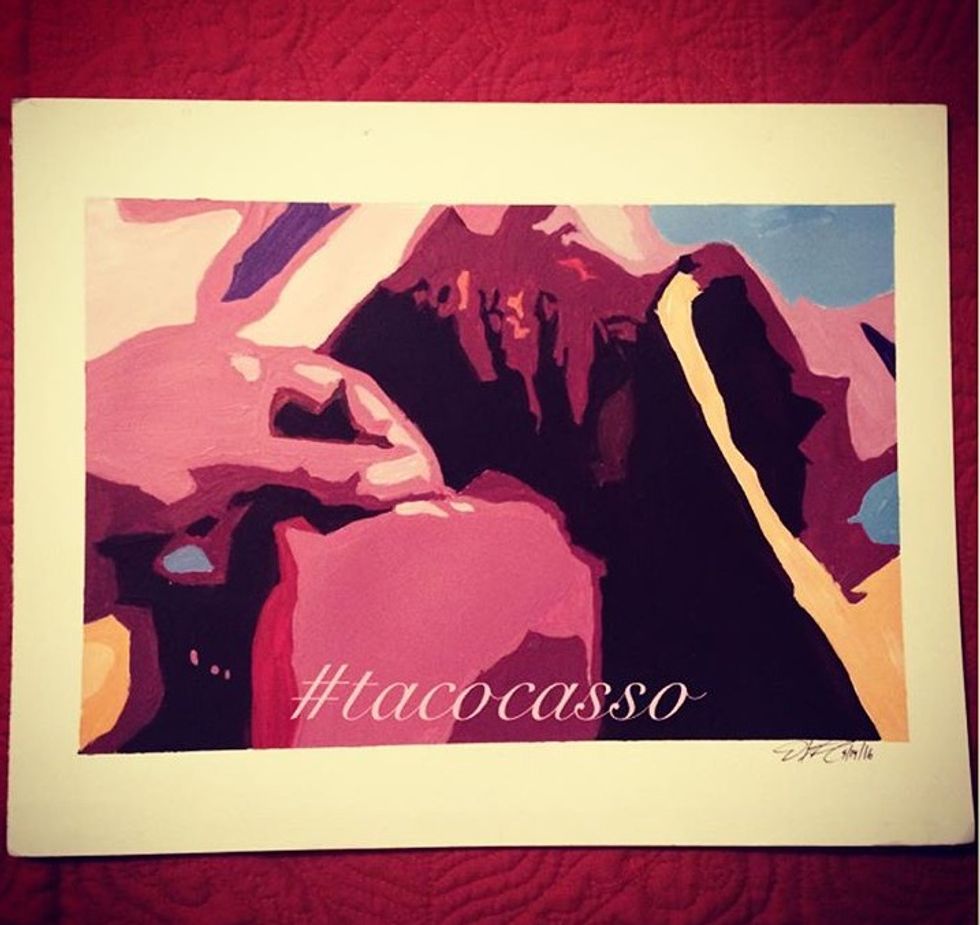 SB: Favorite quote by your favorite artist?

DF: "The meaning of life is to find your gift. The purpose of life is to give it away." – Pablo Picasso

SB: Who has been your biggest influence?
DF: Andre 3000. He's humble, stylish, and artsy. Not to mention he's a pretty talented musician. Just an all-around renaissance man, something I aspire to be like.
SB: Has this business venture paid off thus far?
DF: Definitely. Not even just monetarily. Like I mentioned earlier, it's opened so many doors for me and allowed me to elevate to realms I never even thought were possible. I'm so grateful that God chose me to have this talent
SB: What is one piece of advice you can give to college s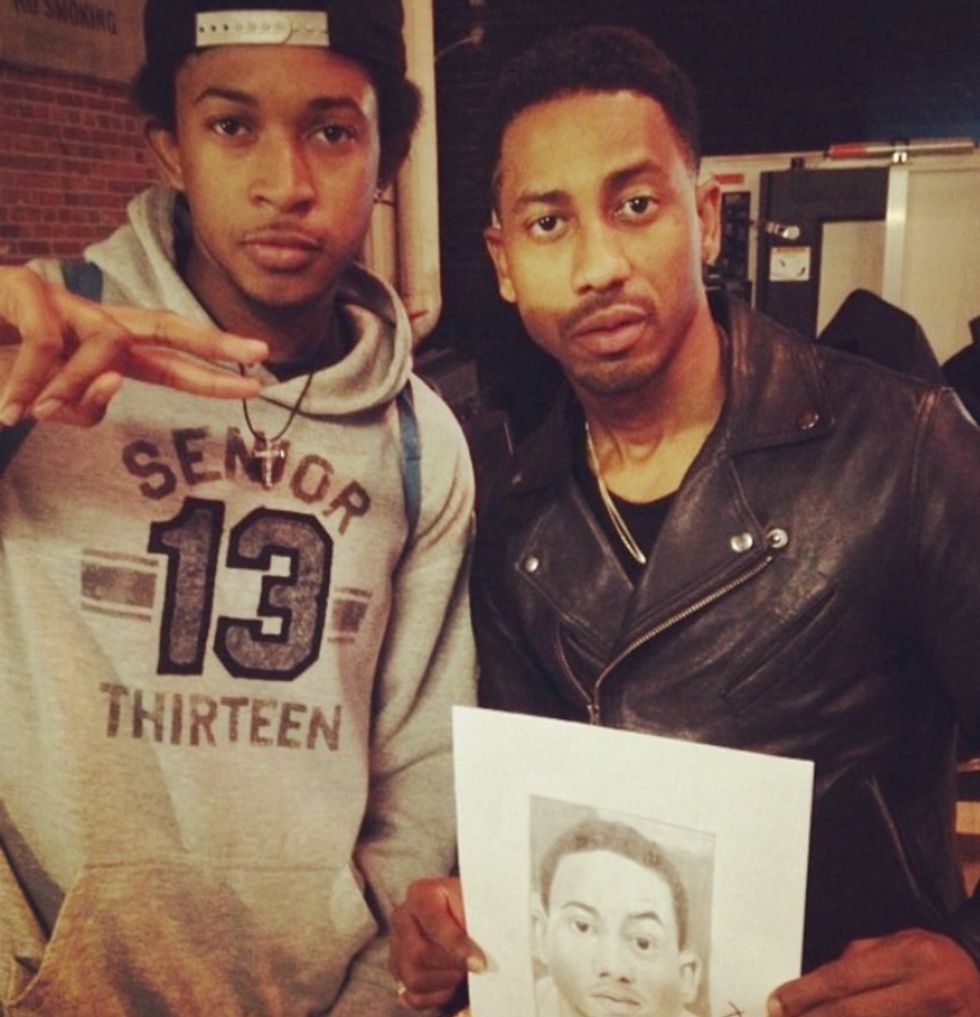 tudents who are interested in starting a small business:
DF: One of my good friends, Ismail Lee, always instilled in me: "invest in yourself and perfect your craft". Essentially that means realize who you are and what you have to offer the world, then keep building on that. Stay true to what your calling is and never sell yourself short!

SB: What advice do you have for men who are entering the same work profession as you?
DF: Again, stay true to the craft, don't try to be something you're not. Don't let the notion that we live in a patriarchal society hinder you from expressing yourself and creating the art that you want to see.
SB: What are your long-term career goals?
DF: I've always wanted to go into 2D animation. Another one of my inspirations is cartoons, so I always thought it'd be cool to go in and create one of my own. If for some reason that doesn't fall through, I've always wanted to teach art on any level. It'd be a great opportunity to use my gift to inspire children/teens to unlock their own artistic talents.
SB: When do you do your best work as it relates to your business? How do you get better at your craft?
DF: I do my best work in solitude, listening to music with no distractions. I get better by practice practice practice! It is imperative to continue to work on any craft you try your hand at by continuously working on it.
SB: Who is your favorite artist?
DF: I honestly never studied many artists, but I do enjoy Jackson Pollock, William H Johnson, and of course, Pablo Picasso.
My favorite visual artist is Ernie Barnes. His style is so unique, fun, and eccentric, and he really captures a mood or sense of culture in all of his work. As for musical artists, Outkast and Stevie Wonder.
SB: What advice would you give to the freshman class especially the young men who are preserving and beating the odds in terms of focusing on earning their degrees?
DF: Stay focused, go to class, and read all syllabi. Seriously, when you come to college, you're on your own for practically the first time. You're exposed to a lot that you weren't previously exposed to, so it's easy to get distracted. Have fun and enjoy your college experience, but don't forget the essence of why you're here and working so hard to achieve.
Also, I highly stress getting involved. Don't be a dorm rat; get out, meet people, join organizations, participate in events.
There are a plethora of ways to fit in, you just have to be willing to step out of your comfort zone and find what works for you.

SB: What is an interesting thing that you have been able to do?
DF: I have done a few live paintings at events on campus and in my community. Those were pretty fun.
Also, I once got slimed on Nickelodeon's Double Dare 2000.
SB: What is one thing that you love about Winthrop and why did you choose Winthrop?
DF: I love the community-like feeling here. Even though everyone comes from all different walks of life, there's always this sense of oneness within the campus through both staff and students. I chose Winthrop because it's away from home, but not terribly far. Plus, I had read that they have the top Fine Art and Education programs in the state; I was sold from that point.
I love the people. Winthrop often touts diversity, and when you get here, you really do meet people from all walks of life. With the people we have here, we can exchange knowledge and help each other grow, while also managing to make countless memories with them. That's the beauty that I cherish of this campus.
Ford's lighthearted personality and artistic ability speak on his behalf. If you are interested in viewing/purchasing some of his work contact him via email or social media above.