This was originally an 8 page essay I wrote for my English Comp 1 class and received a C on it I believe. Originally written back in early/mid 2017 when depression memes were thriving but Wholesome Memes seem to have taken over now in 2018, which is better than being sad people laughing at our sadness.
My favorite line in this is, "This show caused a new meme wave". Memes are so life changing, sister shook.
Whether you are scrolling through Facebook, Instagram, or Twitter, you will see pictures or videos that went viral and have everyone laughing; this is known as a meme. Memes are a shareable image, gif, or video clip, often including text. They are an easy global inside joke, often referencing popular culture, or things that have ironic status. It's a big joke that everyone knows about, and anyone can change it to fit their idea. Memes are sort of like the funnies in the Sunday paper; only they're just one frame long. Memes commonly are silly jokes or related to current issues, but recently a new form of memes have been emerging: depression memes. This type of meme ranges from clever puns, Kermit the frog, or being plain out ironic, but still able to tie itself to depression and mental illnesses. People view this meme as a negative and possible to worsen or cause others to develop depression, but others contradict and say that they are a way to been an outlet for them to help cope with their current depression and been therapeutic.
Throughout history, we have been introduced to many things that made waves in our lives such as fire, electricity, books, and—the mightiest—the internet. But the most significant thing we have been introduced to is meme culture. Memes have become something we can casually talk about and share in a chain email with everyone in the office and not worry that we'd be fired. Memes have risen to such fame that the word "memeing" and "memed" has been added to the Dictionary (memeing/memed=to create and spread memes). Back in May 2017, there was even a crisis with there not being enough new memes being made and people started to use old ones, which people began to refer this time as The Great Meme Depression. Memes have been able to affect us drastically as the meme Pepe The Frog got classified as a hate symbol back in July 2016 by the Anti-Defamation League due to the erratic way people would use his image. Memes have risen to such fame that they're now being used to advertise to people. Gucci recently released an art campaign back in early 2017 featuring their clothing in the style of a popular meme. While memes are being used to advertise now, they're starting to be used to talk about mental health.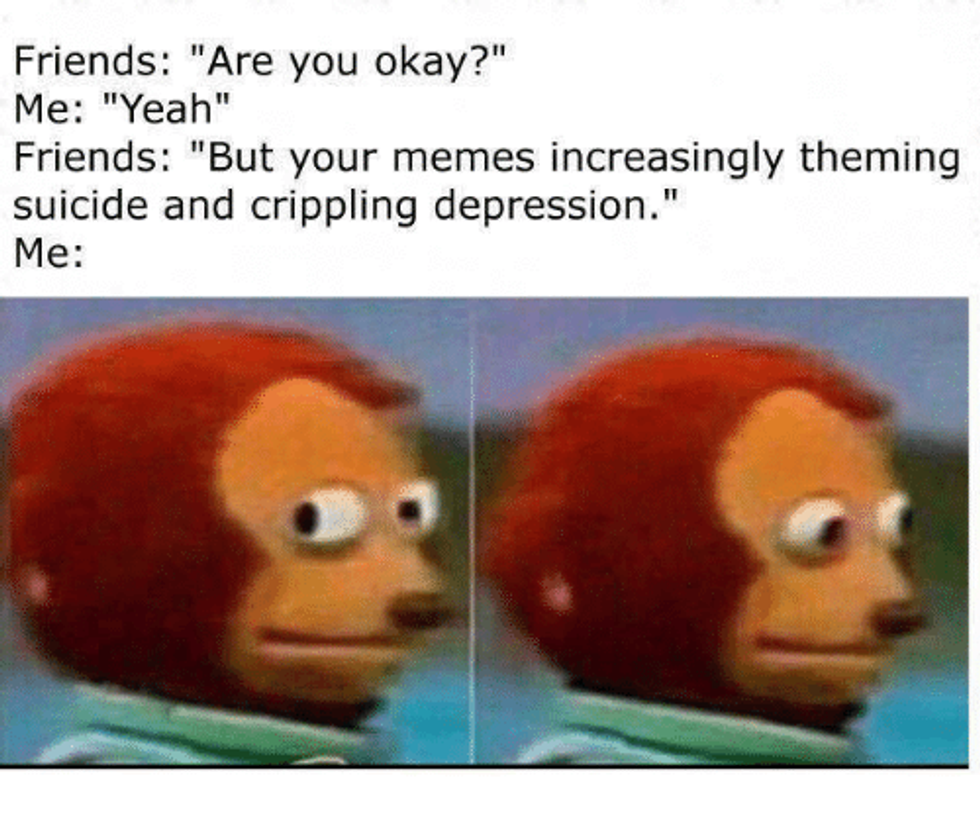 In recent years, memes have changed from being just a random image to now a message to spread. Still sticking to the main set up of repeated images, audio or video, each with a usually visible theme, their format has become looser. Now being able to fall into a specific category or theme expressing certain feelings or situations. Each Meme has a particular theme attached to it. For example, "Bad Luck Brian" was a popular meme made from an unfortunate yearbook photo and was used to explain the awkward or unfortunate situation. Now there's a meme that can be classified as the "depression" meme. Depression memes have been around for years, first starting on Reddit with the KILL ME Dog meme featuring a dog in an argyle sweater looking sad about it and wanting to die. But the emergence of depression memes truly started when Youtuber IDubbbzTV2 uploaded a video called "Disabled Pokemon Go-Eevee + Zubat" which featured him jumping into a wheelchair saying, "I have crippling depression" (IDubzz). During this time, IDubzz had a fairly large subscriber base, and so his followers began using this newly coined term in memes to depict how they felt humorously. A majority of his followers are teens to young adults who could have found this to be relatable in a light, humorous way which is why they began sharing it. How and why certain memes become popular is not always clear and easy to explain. In theory, meme trends should be a reflection of a widespread cultural feeling. American memes from 2016 tended to reflect a general disinterest in politics and culture at the time. Nihilist memes were very viral, and they showed a growing detachment to the disturbing events and catastrophe of 2016. Memes, vines, and GIFs could be seen as a "mirror" to what the people feel, and since we're now realizing this, we can now point out concerning emotions such as depression.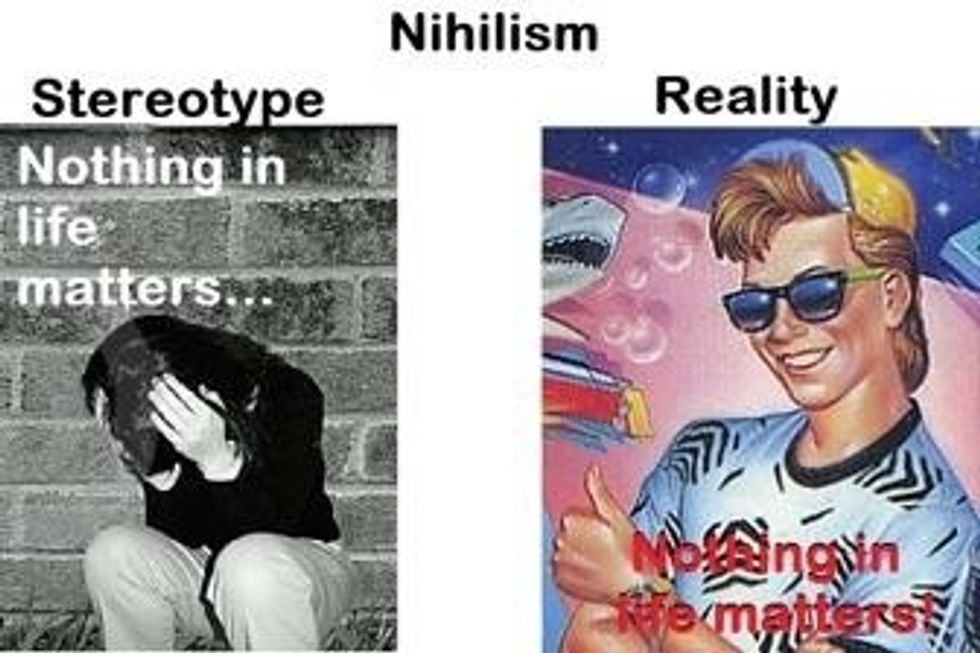 https://youtu.be/mIxxL-yhnsY
"Hannah Baker." Wikipedia, Wikimedia Foundation, 30 Apr. 2018, en.wikipedia.org/wiki/Hannah_Baker.
"Pepe The Frog- Hate Symbols Database" ADL, 2016, https://www.adl.org/education/references/hate-symb...
"The Great Meme Depression" Urban Dictionary, 27 June 2017, https://www.urbandictionary.com/define.php?term=The%20Great%20Meme%20Depression)
"Why We Need to Talk about Depression | Kevin Breel." YouTube, uploaded by TEDx Talks, 27 Sept. 2013, youtu.be/-Qe8cR4Jl10.