Demi Lovato took the world by surprise on June 21st with the release of her newest single, "Sober." The song is a heart-wrenching confession to family, friends, and fans that after six years of sobriety from drug and alcohol addiction, Lovato has relapsed.
"Momma, I'm so sorry I'm not sober anymore
And daddy, please forgive me for the drinks spilled on the floor
To the ones who never left me, we've been down this road before
I'm so sorry, I'm not sober anymore."
Lovato entered rehab in October 2010 to seek treatment for her addictions, as well as bipolar disorder, anorexia, bulimia, and self-harm. March 15th, 2013 marked her first anniversary of sobriety, and each year since, Lovato and her fans have celebrated the momentous day together. Just this past March, I had the privilege of attending her Brooklyn concert that took place two days after her six-year anniversary, and the crowd sang an emotional "Happy Birthday" to Demi to honor the day she started her new life of sobriety.
At the end of May, Lovato teased her newest music to fans, saying of her upcoming seventh album, "Some of you may not like or understand my truth but it's me... take it or leave it.." Upon the release of "Sober," Demi captioned her social media posts: "My truth... #sober out now."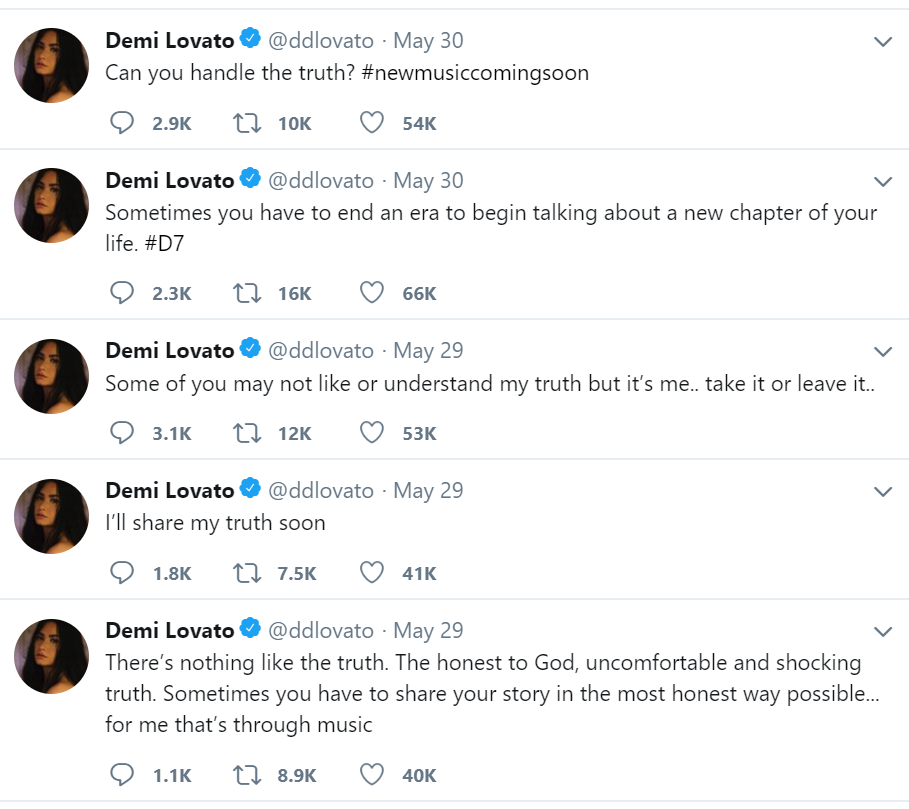 "Sober" comes as a shock to all who have followed Lovato's journey the past six years. As a huge fan of Demi, I was utterly heartbroken listening along with tears pouring from my eyes as she admitted her relapse. Since the very beginning of her rise to fame, I have passionately followed and been inspired by Demi. Her music and her story have played tremendous roles in my own mental health journey, and she has always been my beacon of hope reminding me that recovery is possible.
She may not be sober anymore, but Demi is absolutely still my role model. Until you have struggled with addiction first-hand, you know nothing of the courage it takes to even attempt sobriety. It's physically, mentally, and emotionally draining, and it never stops. Each day is a new fight.
Demi fought her heart out for six years, and I will never forget that achievement and abandon her for slipping up. I've followed her journey; I've seen her highest and lowest moments since going into recovery. I stood by her when she entered rehab, and I am sure as hell standing by her now.
"And I'm sorry for the fans I lost
Who watched me fall again
I wanna be a role model, but I'm only human."
The only thing more courageous than sobriety is being able to admit how hard it is. Recovery does not look like a perfect line — it twists and turns, circles around itself and zig-zags, goes up and down. What I've always admired about Demi's journey is that she doesn't sugar-coat it. Mental illness and addiction take people to dark, ugly, scary places, and Demi isn't afraid to be vocal about what those places are like for her. She doesn't just talk about her progress; she talks about her setbacks.
People are willing to support those with mental illness and addiction when recovery looks clean, measurable, and happy. But it is in our darkest moments — the moments that look like failures, the moments when people are most quick to abandon us — that we need the most help. Supporting someone through recovery means staying by their side even when it gets messy, ugly, and painful. There is no destination on the road to recovery, there is only waking up every morning and trying to be better than we were the day before.
I admire Demi's courage, as I always have, to speak her truth regardless of what others think. "Sober" is a brave, raw, and honest confession of what recovery actually looks like. Thank you, Demi, for showing me the strength in vulnerability. Thank you for reminding me that recovery is not always pretty, and that's OK. Thank you for speaking your truth and for giving me the courage to speak mine.
Cover Image Credit: