Daniel Bryan deserves to be the next WWE Champion.
He had an incredible run in late 2013/early 2014 that had the WWE Universe behind him 100% when he faced Randy Orton and Batista in the main event of Wrestlemania 30. Although his neck injuries in 2014 and 2015 cost him time away from competition, his GM role on Smackdown provided fans with a chance to see him take a non-wrestler role. Bryan enjoyed it...for a while. Ultimately, he got confirmation from various doctors that he could get back to actually wrestling: his first love.
Long story short: Bryan was cleared to compete by WWE doctors after a year of debating with them and Vince McMahon. Bryan teamed with Shane McMahon at this year's Wrestlemania weeks after being cleared and had no ring rust. Fans and critics were certain that Bryan would become a major player on Smackdown Live's roster after, especially when Paige became the new GM of the show.
It all went south when he was thrown into a feud with Big Cass.
Credit: WWE
Honestly, his return feud could've been with anyone else. Cass, also returning from an injury he sustained last August, is not what you would call a decent opponent for Bryan's first feud since his 'retirement' in 2016. We were teased with a potential feud with WWE Champion AJ Styles the Smackdown after Wrestlemania, but Bryan's sizzling return buzz has died. It would've been interesting to see Bryan claim that his rematch clause for the WWE Title back in 2015 by challenging Styles and setting up a long-term feud with Styles, or even a nice rekindling of his rivalry with Samoa Joe (who joined Smackdown two weeks after WM34).
However, we must deal with what is occurring at the moment.
Perhaps after the Cass rivalry ends, we can see Bryan actually feud with The Miz instead of their house show matches of late. The long-awaited rivalry between those two, dating back to 2010, would actually be great on television. A chance to regain his championship form by challenging the winner of the Styles-Nakamura after Money in the Bank 2018 would also be interesting, especially if Bryan is serious about being a champion again. It is important to remind fans that there is speculation that even though he is cleared to compete, Bryan might walk from WWE when his contract ends this fall.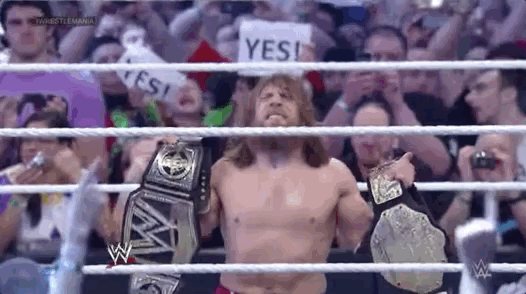 Wouldn't it be amazing if we could see this at next year's Wrestlemania once again? Bryan's underdog win four years ago had the WWE Universe in joyous tears, so why not capitalize on that again? Rebuild Bryan as the passionate, technically-gifted wrestler that we all loved...and run with it. The dream matches are possible once again, so have him face Shinsuke Nakamura and other great Smackdown Live stars instead of giving us another 'David-versus-Goliath' feud that we have grown tired of.
It's time for the 'Yes! Movement 2.0' to echo throughout arenas with Bryan as the solidified main-eventer he is at the helm.
Cover Image Credit: