Cruelty-free beauty items have always been labeled as luxuries and not plausible for the everyday person to obtain in their collection. However, organizations like People for Ethical Treatment of Animals (PETA) and Center for Alternative Animal Testing (CAAT) have become more widespread, and larger amounts of people have realized the horrors behind animal testing.
According to Shany Sun of Science in Context, "The National Institute of Health (NIH) and the U.S. Department of Agriculture (USDA) have strict regulations for animal testing. The NIH funds over half of the medical research conducted in the US and regularly visits research facilities to ensure that staff are following animal care regulations. The USDA surveys the total number of animals being used for research and how many of these animals experience pain."
But things do not run as cleanly and ethically as required; there are millions of animals locked into tiny cages! On PETA's website, they explain that "mice, rats, rabbits, primates, cats, dogs, and other animals" are included in the testing. They live short, painful and unnaturally inhumane lives. They are pocked and prodded for the entirety of their lives and are forced to experience uncomfortable reactions to cosmetics, like this bunny who will be put down due to its reaction to these products or these 13 animals who are tested on every single day.
Testers claim it is the cheapest option to decipher what is safe for human consumption. However, contrary to common belief, there are multiple extremely cheaper options that are much more successful, and there are dozens of extremely successful companies that are 100% cruelty free. Purchasing from those brands are one step towards ending animal testing.

All cruelty-free products are marked with one of the following: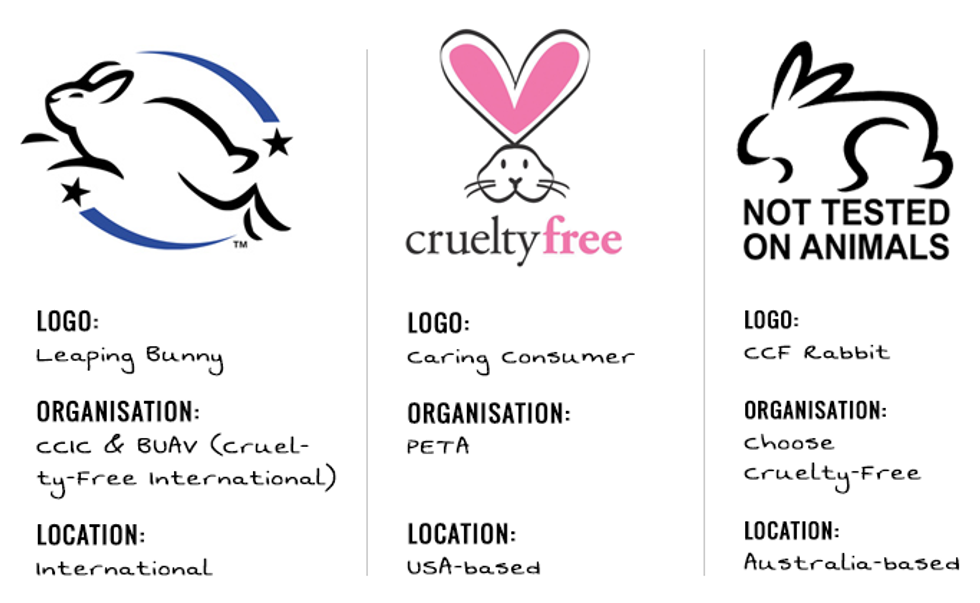 ---
Drugstore Brands That Are Cruelty-Free: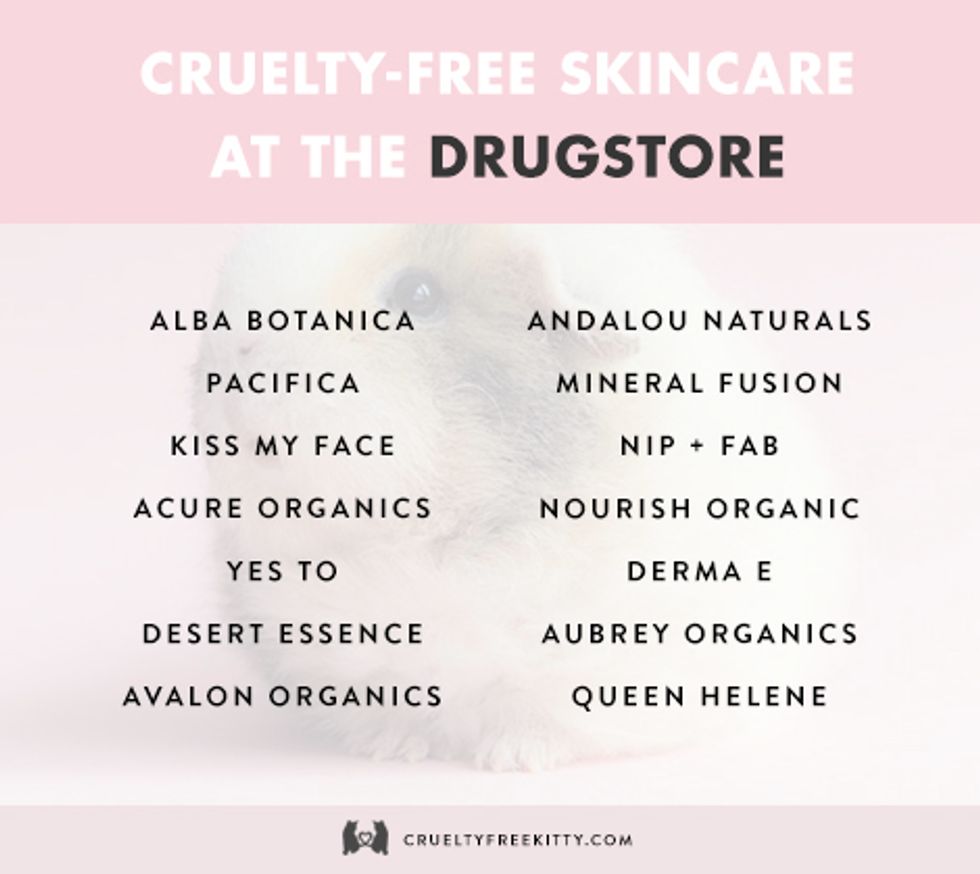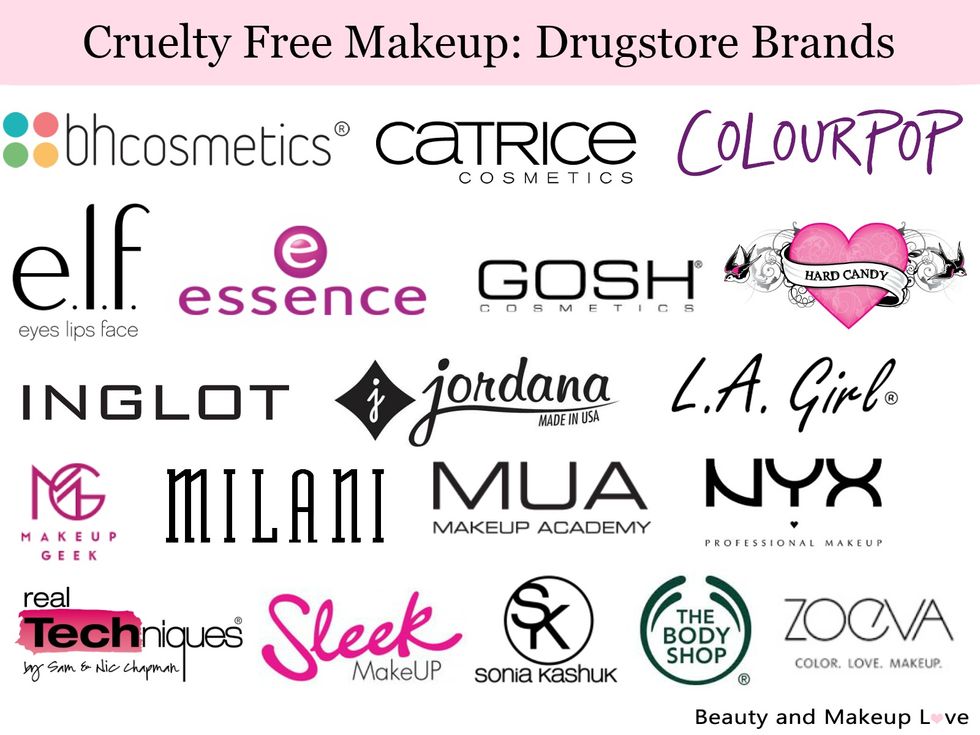 Not all cruelty-free brands are expensive. There are numerous cheaper brands that still have amazing quality and opt to have complete cruelty-free products. You don't have to pay high dollar for these products. There are always new brands coming to the drugstore so keep your eye out for the cruelty-free options.
Brands that are great quality, cheap and are cruelty-free include: Ardell (lashes), Burt's Bees, Cake Beauty, Ciate, Conair (hair care), DUO (lash glue), ELF, EcoTools (brushes and applicators), Eylure (lashes), Flower Beauty, Milani, Morphe, NYX, Pacifica, Paul Mitchell (hair care), Physician's Formula, Pixi Beauty, Pureology, Real Techniques, Sonia Kashuk, The Balm, The Body Shop, Ulta Collection, Wet'n'Wild, Yes To (skincare) and so many more.
Here are some common ones below.
High-End Brands That Are Cruelty-Free: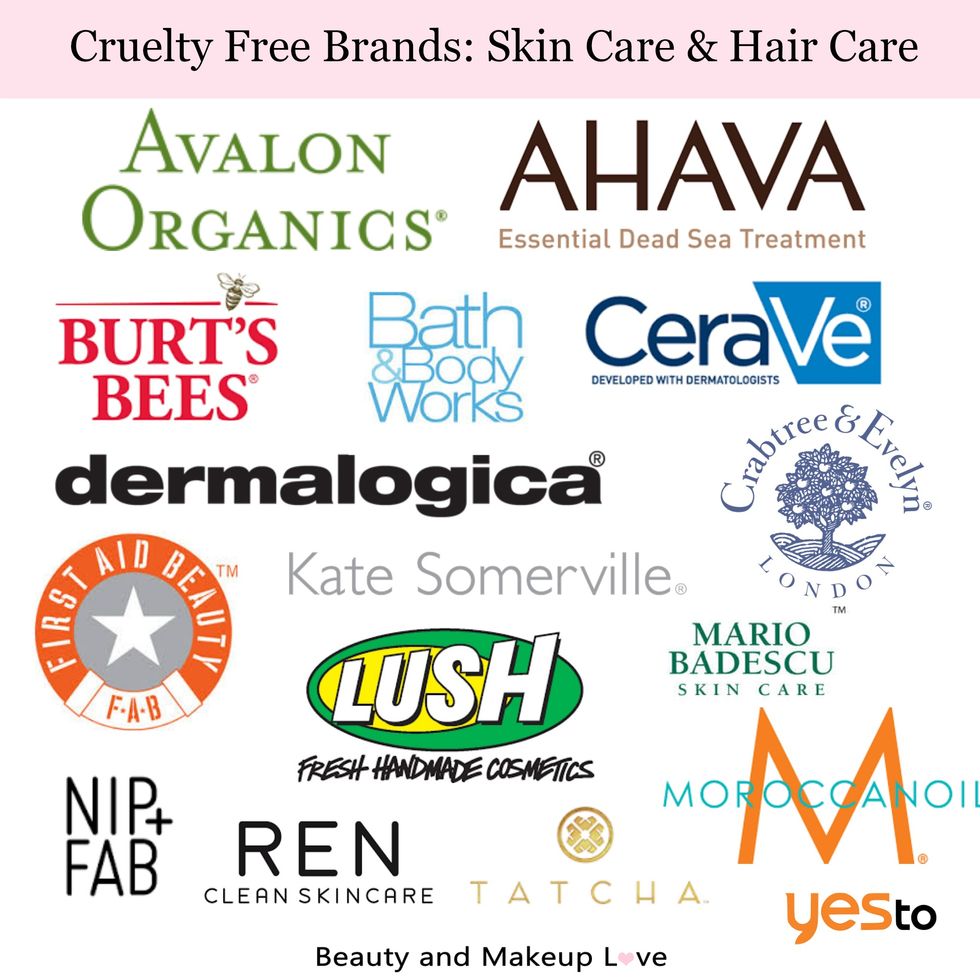 There are also endless options for high-end cruelty-free brands. Many brands have changed where and how production took place to become cruelty-free so the options are constantly increasing.
A small handful of the brands include: Amika (hair care), Anastasia Beverly Hill, bareMinerals, BeautyBlender (makeup applicators), BECCA, Bite Beauty, Butter London, Buxom, Charlotte Tilbury, CoverFX, Dry Bar (hair care), Drunk Elephant (skincare), Feline Lashes (lashes), Hourglass, House of Lashes (lashes), IT Cosmetics, Jeffree Star, Kat Von D, Lush (skincare), Marc Jacobs Beauty, Milk Makeup, Nars, NATASHA DENONA, Ole Henriksen (skincare), Tarte, Tatcha (skincare), Toofaced and Urban Decay.
When shopping in a Sephora or Ulta, you don't need to limit yourself when shopping cruelty-free because the vast majority are 100 percent cruelty-free, and some are vegan as well.
---
Cruelty-free is becoming very popular rather quickly. It used to be a rare gem, but now it is becoming the norm. Switching shouldn't be seen as a sacrifice. As more have people started shopping strictly cruelty free, brands have noticed. To keep up with their competitors, they start making the changes to become cruelty-free. Also, many countries have changed their regulations on animal testing like India and the European Union.
By simply shopping for these brands, we are one more step to a world without animal testing!