Hallmark Christmas movies are a glorious gift to mankind — in their own special way. They can be simple and meaningful, dorky and heartwarming, sappy and groan-inducing, or somewhere in-between. Their predictable but always enjoyable plotlines and characters have become a tradition in my family, with my mom recording each new premiere, my grandma sneakily watching some early, which we only find out about halfway through the movie, and my dad groaning as he deletes accidental duplicates on the DVR ("WHY do we have three of "A Wish for Christmas"?)
I love and appreciate Hallmark movies as much as I love to poke fun at them, and the movies' formulaic tendencies have been a joke between my sister and myself for years. In response, I had fun composing a sort of "create your own Hallmark Christmas movie" plot generator to help you make your very own cheesy and magical storylines!
Here's how it works: pick 8 numbers, one in each of these ranges: (1-14), (1-22), (1-26), (1-14), (1-11), (1-14), (1-10), and (1-12). Go down the list of options to see what components you picked, and fill them into your story! If you get one with options within the option, pick one of the available letters.
The format should be as follows:
A (1-14) female (1-22) is unhappy because (1-26). Everything changes when she meets a (1-14) male (1-11) while they're (1-14). Through crazy circumstances and with a little help from (1-10), she soon discovers (1-12).
Enjoy making your own fun holiday story — and feel free to let me know what you get!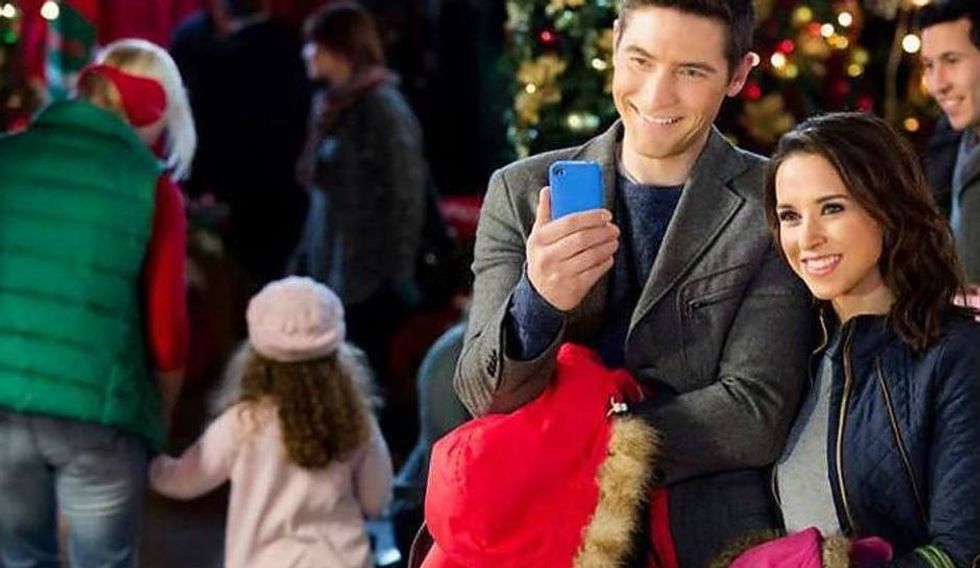 A
1: Sassy
2: Clumsy
3: Snarky
4: Feisty
5: Spirited
6: Strong-willed
7: Hard-working
8: Contemplative
9: Dorky
10: Nerdy
11: Blundering
12: Awkward
13: Cheerful
14: Dedicated
female
1: Manager
2: TV personality
3: Executive
4: Intern
5: Reporter
6: Author
7: Artist
8: Secretary
9: Nanny
10: Dog walker
11: Fashion designer
12: Decorator
13: Veterinarian
14: Librarian
15: Wedding singer
16: Business woman
17: Party planner
18: Teacher
19: Journalist
20: Bakery owner
21: Real estate agent
22: Publisher
is unhappy because
1: She wasn't given credit for her own idea at work, and is generally unappreciated.
2: She got passed up for the big promotion she's been working up to for ages.
3: She is so overworked she's missing out on her favorite season of the year.
4: Her significant other left her, and she was supposed to bring him to her parents' house for Christmas.
5: Her children are troubled because of her recent divorce, and have lost their Christmas spirit.
6: She lost her job, and therefore her way in life.
7: She had a tragic Christmas past and now hates the Christmas season.
8: Everyone hates her cold, businessy attitude, which has ruined her relationships with all the people she cares about.
9: Everyone hates her cold, businessy attitude, which has resulted in the upcoming closing/cancellation of everyone's favorite (a) library/ (b) toy factory/ (c) carousel in the park/ (d) music program at the local elementary school/ (e) town Christmas parade/holiday festival/ (f) local bakery/ (g) inn/ (h) diner/ (i) school musical/ (j) Christmas tree farm.
10: Her travel plans for the holidays fell through and she's stuck (a) in her home town / (b) at the airport/ (c) in the most Christmassy town in America/ (d) in a strange city far from home.
11: She never went after her dream job, and now she believes it's too late.
12: This wasn't the life her father wanted for her.
13: Her beloved (a) library/ (b) candy store/ (c) carousel/ (d) elementary school music program/ (e) town Christmas parade/ (f) town holiday festival/ (g) local bakery/ (h) inn/ (i) restaurant/ (j) oak tree/ (k) childhood farm is soon to be no more.
14: She made a Christmas wish that went very wrong.
15: She was given a puppy she does not want.
16: She is being forced to spearhead a project alongside someone else, when she always works alone.
17: Her cold businessman boyfriend doesn't share her love of the holidays.
18: Her cold businessman finance is too busy to join her on their annual trip to the ski lodge.
19: Her cold businessman boyfriend doesn't think she's sophisticated enough to meet his parents on Christmas Eve.
20: Her cold businessman boyfriend won't be home in time for Christmas.
21: She's being forced to babysit an incredibly disobedient child throughout the holiday season.
22: Her car broke down on her way to visit the snobby parents of her businessman fiancé.
23: Her Christmas tree and all her decorations were stolen, and she doesn't have the money to replace them.
24: She recently lost her mother, and can't find the spirit to celebrate Christmas without her.
25: She was tasked with a big assignment at work and isn't sure she can complete it, but has too much on the line not to.
26: A homeless man who claims to be Santa Claus showed up at her door and she caved and let him stay, despite her busy life.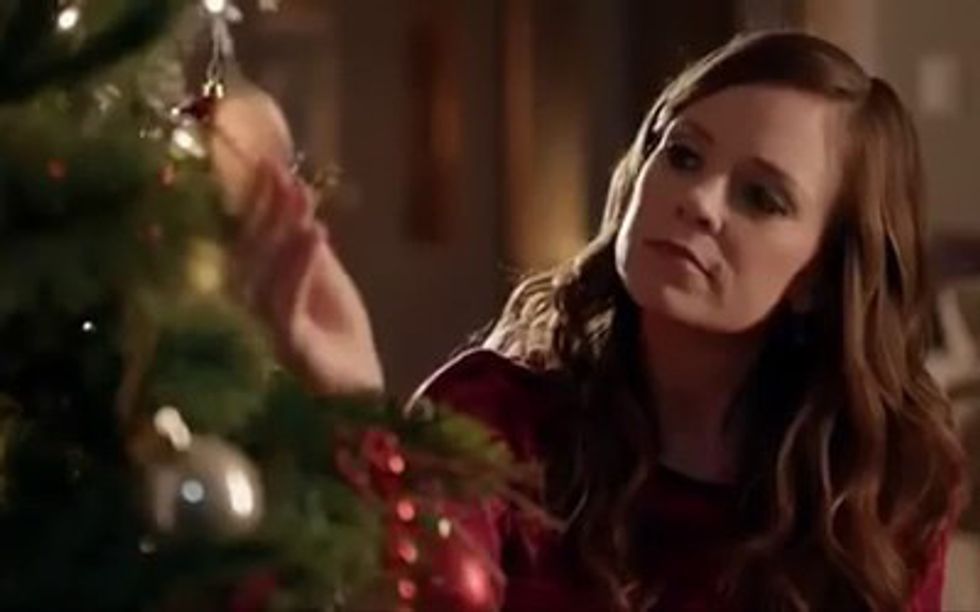 Everything changes when she meets a(n)
1: Snarky
2: Blundering
3: Nerdy
4: Awkward
5: Sassy
6: Dorky
7: Quiet
8: Funny
9: Troublesome
10: Troubled
11: Intelligent
12: Strong-willed
13: Handsome
14: Cute
male
1: Painter who doesn't realize his own talent,
2: In the same situation she's in, who's going through a nasty break-up,
3: Photographer covering the town's big Christmas parade,
4: Writer struggling to get his new children's story published,
5: Business man with a tragic past that causes him to dread the holidays,
6: Who will soon become her biggest rival,
7: Assigned to the same work task she is, whose ideas conflict with her own,
8: Responsible for her current situation,
9: Friend she hasn't seen since childhood,
10: Business owner who offers her the job of her dreams
11: Family man whose two kids are still mourning his recently deceased wife,
while they're
1: At a big corporate event.
2: Both entered in a Christmas (a) cookie decorating/ (b) ice carving/ (c) gingerbread house making/ (d) ice skating/ (e) caroling/ (f) dance/ (g) snowman building/ (h) snowboarding/ (i) lawn decorating/ (j) feast cooking/ (k) costume competition.
3: Both involved in a funny mix-up at the coffee shop.
4: Both involved in a funny catastrophe while holiday shopping in the toy department.
5: Both involved in a funny coincidence where they're mistaken as married.
6: Both at the airport.
7: Both snowed in at a local (a) lodge/ (b) inn/ (c) café/ (d) gas station/ (e) mechanic's house/ (f) department store.
8: Fighting over the same item at the department store.
9: Both involved in an ice-skating catastrophe, leaving them both stuck in the hospital for the entire Christmas weekend.
10: At a mutual friend's holiday party and get pressured under the mistletoe.
11: At a mutual friend's holiday party, which awakens childhood memories of their first meeting, years ago.
12: Both moping around at a karaoke bar and get pressured into singing a Christmas duet.
13: Both taking their friendly dogs for a walk.
14: Both targeted by the neighborhood snowball-throwing kids, and team up to take them down.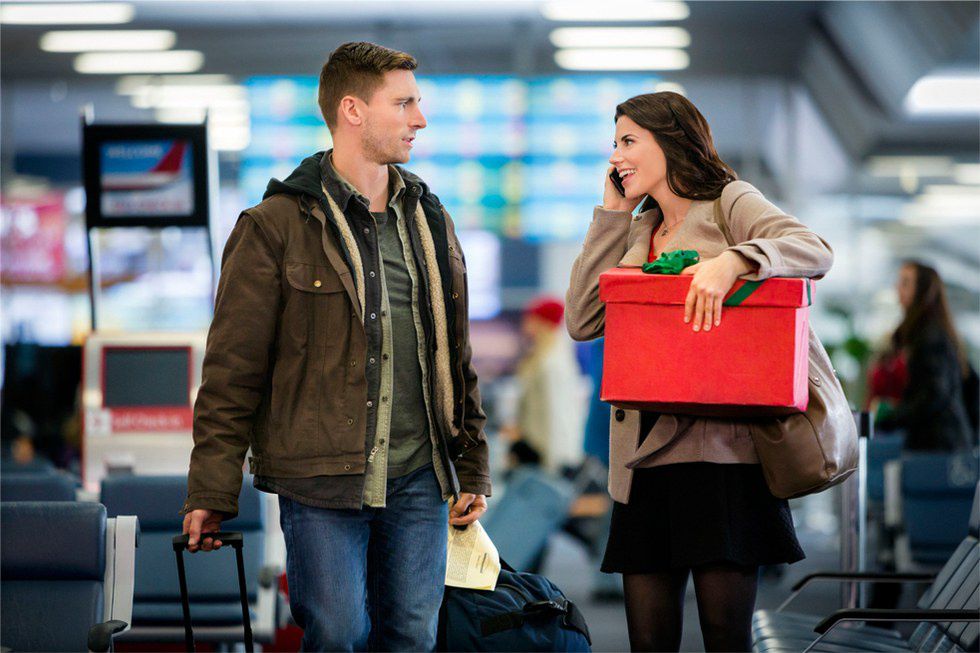 Through crazy circumstances and with a little help from
1: A lovable dog,
2: A special child,
3: The sister she never appreciated,
4: A mysterious bearded stranger with a twinkle in his eye,
5: A snarky elf assigned to her case by Santa himself,
6: A department store Santa Claus,
7: A nutty couple in the same situation,
8: The secretive old woman next-door,
9: Her wise old father,
10: Her Christmas-expert grandma,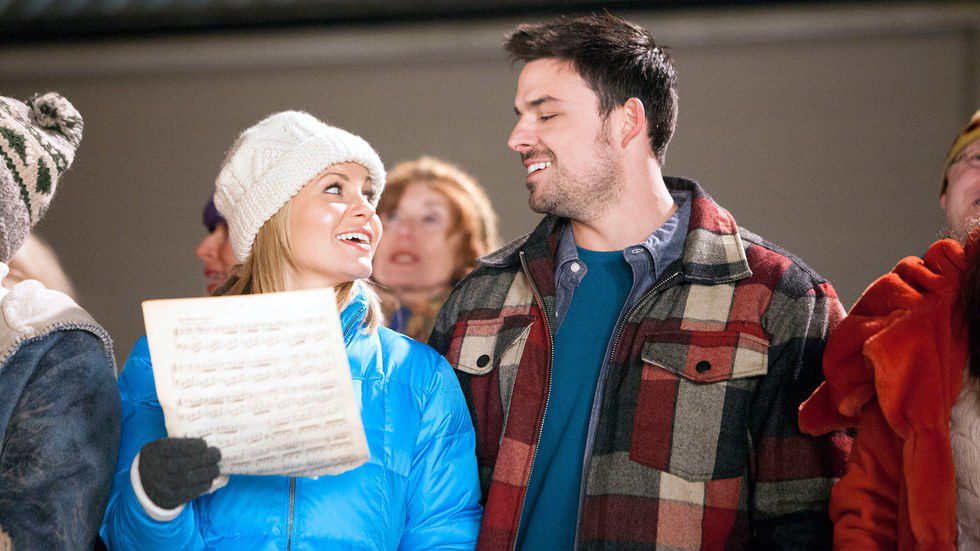 she soon discovers
1: How meaningful life can be.
2: That following your dreams is worth the trouble it takes to get there.
3: The true meaning of Christmas.
4: That your first love isn't always the right love.
5: The magic of the holiday season.
6: The love and Christmas joy the right person can bring.
7: That sometimes success isn't as important as following your heart.
8: That sometimes the life you always dreamed of isn't the life you truly needed.
9: That your Christmas past doesn't have to take away from your Christmas present.
10: That success is only success if you're happy.
11: That Christmas isn't Christmas without someone to love.
12: That sometimes the Christmas present you wanted isn't the one you needed.