This past year, The University of Delaware was named the Number 1 party school in America. Everyone here was ecstatic about this new title. However, recently a new bill was passed in the city of Newark that could potentially jeopardize our college experience and culture.
Everyone knows that partying is a huge part of college culture. It's essentially what college is known for. If you're not in class or studying, you're most likely at a party. It's something that is universal at every college.
This new bill that was passed could now prohibit and partying going on at all. People can get fined at maximum $2000 and 60 hours of community service after violating three or more offenses that the bill states.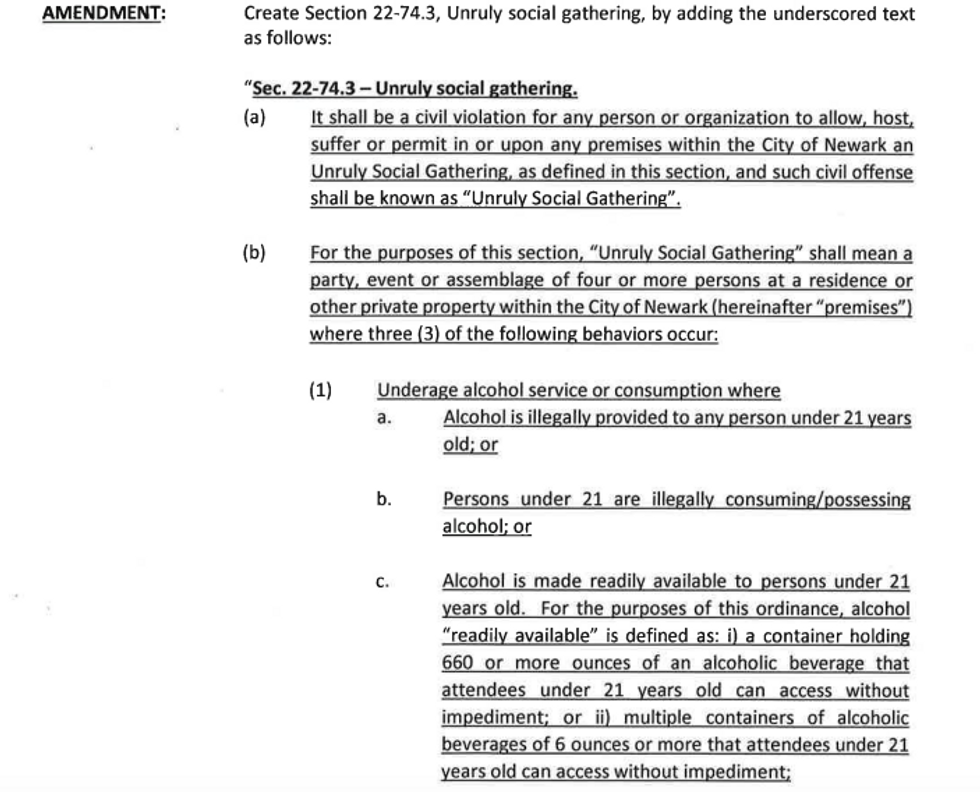 First section of bill 19-05
This bill comes the week before a very big party weekend. Now, I understand why they may have had it pushed before St. Patrick's Day, however, it is just making students angrier. This is something that we really look forward to.
College students do tend to get out of hand during large holiday weekends. Something about being able to celebrate spurs them on the party harder and bigger. I do think this bill will help scale down the massiveness of the parties, but it is eliminating them altogether.
This bill is rumored to have started because of the noise complaints from other Newark residents. This is a college town that thrives upon the student population, and wouldn't be half as prosperous had the college not been built here. When moving into Newark, the residents should have considered the fact that this a college town with a large party reputation.
This bill is not affecting our extracurricular activities as well. If we have events for the school that is scheduled for outdoors after 9 p.m., we now have to get a waiver signed by the school and the city for above 50 decibels. That's about the noise level on the top floor of the library.
While this bill just combines a litany of laws that were already made, it still makes no sense as to why they would enforce this so harshly in a college town. Students should have the right to assemble on the weekends and enjoy it with their friends.
This bill is completely destroying the college culture that is revered by many students and alumni alike. To have something that people look forward to from not only this school, but many others are easily taken away, we won't be quiet. To date over 12,000 student shave signed the petition to try and override this new bill.
If you want to help be a part of the change, you can sign the petition here.