Festival season has officially begun with the most renowned of them all: the Coachella Valley Music and Arts Festival. Over the years, Coachella has built up a reputation of exclusivity when it comes to festival outfits, VIP packages and A-List lineups. Weekend one of Coachella kicked off on April 12, 2019, and performances are being streamed live on YouTube both weekends (April 12-14 and April 19-21).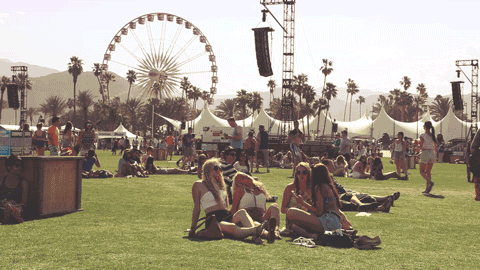 media2.giphy.com
This year's headliners include rapper Childish Gambino, alternative band Tame Impala and pop phenomenon Ariana Grande. The rest of the lineup is pretty impressive, sprinkled with the likes of Janelle Monáe, The 1975, Kacey Musgraves, Khalid, Billie Eilish and Solange.

Here are six artists performing at this year's festival that you need to feast your ears upon. If you haven't heard of them now, you definitely will after Coachella's first weekend.
1. Bazzi
Top songs: "Mine," "Beautiful (feat. Camila Cabello)," "3:15"
Unless you've lived under a rock for the past year, there's a chance you've heard "You're so f***ing precious when you smile" take over the internet. Those are the opening lyrics of Bazzi's "Mine," a love song turned meme thanks to social media. The prominence and virality of the single ultimately led to Bazzi's gig as the opening act for Camila Cabello's 2018 "Never Be the Same" tour, as well as their collaboration on his dreamy hit "Beautiful." If you like flirtatious lyrics over dreamlike hip-hop inspired beats, Bazzi's your guy.
2. Sofi Tukker
Top songs: "Best Friend (feat. NERVO, The Knocks & Alisa Ueno)," "Batsh*t," "Fantasy"

There is a 90% chance that you've heard Sofi Tukker's "Best Friend" at least once in your life. The New York-based duo formed in 2014 and mix 90s house and "jungle pop" to create their signature dance sound. Over rhythmic beats lay nonchalant vocals and eclectic lyrics. If "Selfie" by the Chainsmokers or "Let's Have a Kiki" by the Scissor Sisters get you going, then Sofi Tukker will make you lose all control and let loose.
3. BLACKPINK
Top songs: "DDU-DU DDU-DU," "Kill This Love," "Kiss and Makeup (with Dua Lipa)"

Similar to their male counterparts BTS, BLACKPINK has taken over the world. The K-pop quartet infuses hip-hop and trap beats with pop vocals and killer choreography. The girl group is the first female K-pop act to perform at Coachella, and it's no mystery since K-pop is on the rise. If you're down to learn a new language for the sake of catchy english hooks and infectious trap beats, BLACKPINK is the group for you.
4. Bad Bunny
Top songs: "Caro," ""Te Boté" (feat. Nio García, Darell and Casper Mágico, Nicky Jam and Ozuna)," "MÍA (feat. Drake)
Let's just start with: Bad Bunny be-bebé. That line kicks off most of the Puerto Rican Spanish trap artist's songs and sends fans into a frenzy. Although Bad Bunny's music is entirely in Spanish, it's still infectious and the go-to for parties across the globe. Aside from being featured on Cardi B's "I Like It," which peaked at #1 on the Billboard Hot 100 chart, has been certified six times platinum in the U.S. and was nominated for Record of the Year at was the 61st Annual Grammy Awards, Bad Bunny has released his debut album X 100PRE which is incredibly popular in the urban latin music community.
5. H.E.R
Top songs: "Best Part (feat. Daniel Caesar)," "Focus," "Could've Been (feat. Bryson Tiller)"
Gabi Wilson, who's better known by her stage name H.E.R, is a 21-year-old R&B artist and Grammy recipient for Best R&B Album and Best R&B Performance. H.E.R emerged into the music scene in 2016 with breathy vocals and infectious melodies over subtle trap beats. She's most known for post-breakup ballads and lending vocals to collaborations with Daniel Caesar and Bryson Tiller. If contemporary R&B hits you in all the right spots, H.E.R is your perfect match.
6. A R I Z O N A
Top songs: "Oceans Away," "Cross my Mind," "I Was Wrong"

A rock and electro-pop band originally from New Jersey, A R I Z O N A has begun to make their mark in the music industry. The band supported Panic! at the Disco during their 2018 "Pray for the Wicked" tour. Their debut studio album GALLERY was released in May 2017 and peaked #143 on the Billboard Hot 200. If you're into feel-good alternative vibes that are slightly reminiscent of Walk the Moon, A R I Z O N A is the band for you.
Get your streaming services ready and become familiar with these artists to watch at Coachella 2019. You'll thank me later.