It's no secret. Nick Jonas–the once totally beloved teenage rockstar– is married. And he has been living it up with his new wife, Priyanka Chopra. Most people have one ceremony, a honeymoon and rehearsal dinner. Even having two ceremonies isn't completely crazy. But, as I said, NIck and Priyanka have not let people forget they are officially married.

Yes, the newly married couple has had FOUR wedding ceremonies/receptions and a honeymoon. This may be hard to keep track of as the events have been spread out and we've all been a little too jealous to keep track.
If you want proof, ask Google. I tried to search up when their actual wedding was and even Google seems to think it's never-ending.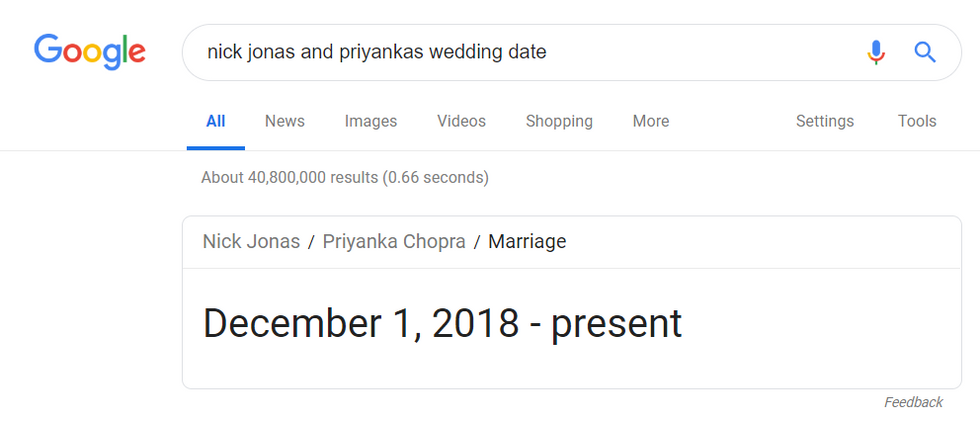 So, here is the ultimate break down of Nick and Priyanka's wedding festivities:
December 1, 2018
The happy couple tied the knot in Jodhpur, India in a Christian ceremony at the Taj Umaid Bhawan Palace, surrounded by family and friends. The first weekend of December the dynamic duo tied the knot in not one, but two beautiful ceremonies. One traditional western Christian and one traditional Hindu. And by what we have seen of the pictures from this marvelous wedding weekend, we all wish we could at least be a fly on the wall of this non-stop celebration. From Priyanka's gorgeous white, fitted Ralph Lauren dress with a veil that trained many many feet behind her that made all our jaws drop. To her stunning red dress and seeing the Jonas brothers unite with their brother standing by his side at the altar. And then that huge freaking cake and the choreographed performances!
December 2, 2018
The couple exchanged vows again an extravagant Hindu wedding. In Hinduism, a puja is "is the act of showing reverence to a god, a spirit, or another aspect of the divine through invocations, prayers, songs, and rituals" and is often part of domestic ceremonies.
Nick and Priyanka gave a peek into their special day and shared a message of love and respect with their fans.
"One of the most special things that our relationship has given us is a merging of families who love and respect each other's faiths and cultures," they shared. "And so planning our wedding with an amalgamation of both was so so amazing."
Indian culture is very intricate and different in so many ways than what Nick was normally used to when growing up, so the mere fact that he was willing to integrate himself and his family into this big and new culture shows just how much love he has for Priyanka.
December 3, 2018
The couple brought both of their families together for yet another marriage ceremony in Delhi. Despite all the hate they initially received, along with the continuous disapproval of random people on the internet, Priyanka Chopra and Nick Jonas are happily married and very much in love. Their families have come together through their marriage, and so has both of their cultures. This shows that anything is possible when two people truly love each other and that it doesn't matter what other people think because it's your life and your happiness.
After the celebrations, Priyanka shared a post on Instagram with the following caption:
January 10, 2019

The newly-married Nick Jonas shared an epic photo from his honeymoon with his new wife. Yes, the Jonas' double-culture wedding weekend was extra extravagant and we all can't have that physically. But the love and the joy that the two shared for one another is something we all can possess and learn and grow from.
January 27, 2019
The happy couple could not get enough of their newly-wedded status. Mr. and Mrs. Nick Jonas celebrated their union, yet again, at the Jonas family restaurant, Nellie's Southern Kitchen, in North Carolina. The 36-year-old actress and the 26-year-old singer
The couple's signature logo "NP" was splashed throughout the venue. Family and friends gathered at the restaurant to celebrate. Priyanka posted a picture on Instagram and thanked her new in-laws for the party.
They didn't always have the support that they do now from their fans. Priyanka Chopra is 10 years older than Nick Jonas and they are so different from each other that people could not help but hate on their relationship. They believed that it was wrong that two people with such a huge age gap could date, let alone get married. However, they proved that age really is just a number because the two are so, so in love. Many close-minded traditional Indian people also judged her for marrying someone that wasn't also Indian.

This whole concept is irrelevant though because Priyanka Chopra isn't going to end her marriage just because the one she loves is not from the same culture as her. Priyanka Chopra deserves a lot more respect only because this is such a monumental moment where there is a gap being bridges between the two cultures. She got so much hate yet she didn't let that bother her because she is going to do what makes her happy, and that is being with Nick.
So, there you have it, folks. The ultimate breakdown of all the many wedding celebrations for Mr. and Mrs. Nick Jonas. And who knows, they may have another one! They've been unpredictable, basically their whole relationship. I guess we'll have to wait around for the next surprise celebration.
Two absolutely stunning, talented, kind-hearted human beings could not be more perfect for one another But like every couple there are differences and when they commit to marriage with one another they embrace the differences. And their double culture wedding embodied and embraced every bit of each other's traditions and cultures.