Earlier in the school year, I decided to make an account as a part-time babysitter on Care.com, a website designed to connect babysitters and other caretakers to the people in need of them. Shortly after making an account I received two different text messages from women claiming to have seen my account, who were moving to "my area," and who were offering a large sum of money to watch their child with a flexible time schedule. What can I say, I was ecstatic. I should have seen that the offer was too good to be true, but I figured that the high pay was due to my residence, at the time, in the wealthy city of Montecito, CA.
I excitedly accepted the job offer from the first woman who texted me and soon she provided more details of the job in exchange for my resume. Shortly after receiving my resume, the woman shared that I was basically hired, although she ensured me that we would meet for an in-person interview before I actually started working.
Meanwhile, I had to reject the offer of the second woman due to my prior commitment to Woman #1. This woman seemed confused by my rejection, because although I voiced several concerns and ended my email with a clear, but polite declination, she still sent me an email explaining when I would start working and my duties as her employee. The exchange was strange, but I only assumed that the woman was either determined or extremely confused, and I immediately sent another email stating that I could not possibly work for her, which ended our conversation. Later I found that her ignorance to my concerns and pushy manner were common symptoms of internet scammers.
Now back to Woman #1, or as she claimed her name was, Susan. Susan had a complicated offer. She wanted to send me a check ahead of time for my services while saying that later on I would give back some of the money to her to pay for a power chair for her handicapped son, "Scott." This was the first sign that my parents and I saw as suspicious. It was illogical to request that I deposit a large sum of money only to send part of it back. I told Susan that I was uncomfortable with this plan and asked that if she still wanted to send a check that she only send what was intended for me, no more. However, she completely ignored my concern and soon sent a check for $2,000, a much larger sum than we'd agreed on.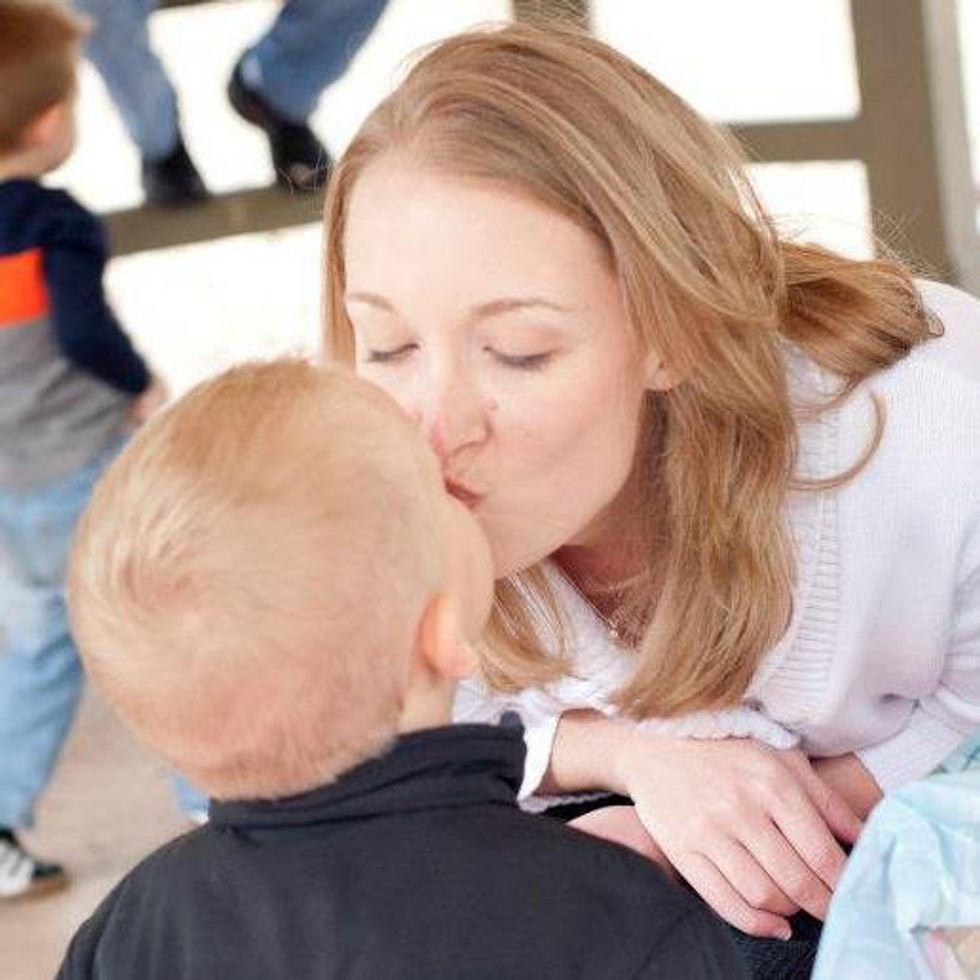 A picture Susan sent me of herself and her son.
I sent a text asking why she'd done this, reminding her that I'd asked her multiple times not to include the money meant for her son's power chair. She ignored my message. She only responded to ask if I'd deposited the check yet. By this point, my parents and I were extremely distrustful of Susan and after a little research, my father soon found a warning article on Care.com asking to beware of suspicious clients as they may be scammers in disguise.
The goal of the scammers, the article says, is to send the babysitter/caretaker a check only to ask that a portion of the money be sent back to them. The issue with this is that the check is fake, and the caretaker will often be asked to send back some of the money before the check is cleared, meaning that however much they send back is real money from their own bank account.
After learning this, I quickly ended all relations with "Susan" and started to look back through her messages to see what suspicious signs the Care.com article spoke of that I'd overlooked, including:
Contacting me through text instead of through an account on Care.com.
Saying that she was relocating to "my area."
Capitalizing random words in her messages (e.g. "I am Hard of Hearing").
Saying that she and her son were handicapped in order to evoke pity.
Offering an unrealistically large sum of money.
Saying in her first message that I would be looking after her "daughter" while in her emails saying that I would look after her "son, Scott."
Being impatient and ignoring my concerns.
I still get text messages riddled with grammatical errors asking that I start working for strangers who are "relocating to my area" in exchange for hundreds of dollars; only now, I know to reject these offers. And before anyone starts deleting their Care.com accounts, know that Care.com is not a deceitful website, but just like any website, users must be careful of the people they engage with through it, making sure that they make in-person interviews before accepting jobs and being wary of any contact that is made outside of Care.com's chat system (which allows users to flag suspicious messages).