Bronx rapper, Cardi B, has been absolutely dominating the music industry over the last year or so. Beginning with her hit single, "Bodak Yellow," Cardi B continued to take over the charts with other songs like "Motorsport" with Migos and Nicki Minaj, "Finesse (Remix)" with Bruno Mars and "Bartier Cardi" ft. 21 Savage.
While many were doubtful of her ability to last in rap music, Cardi B is showing all of her haters wrong with the early success of her debut album, "Invasion of Privacy."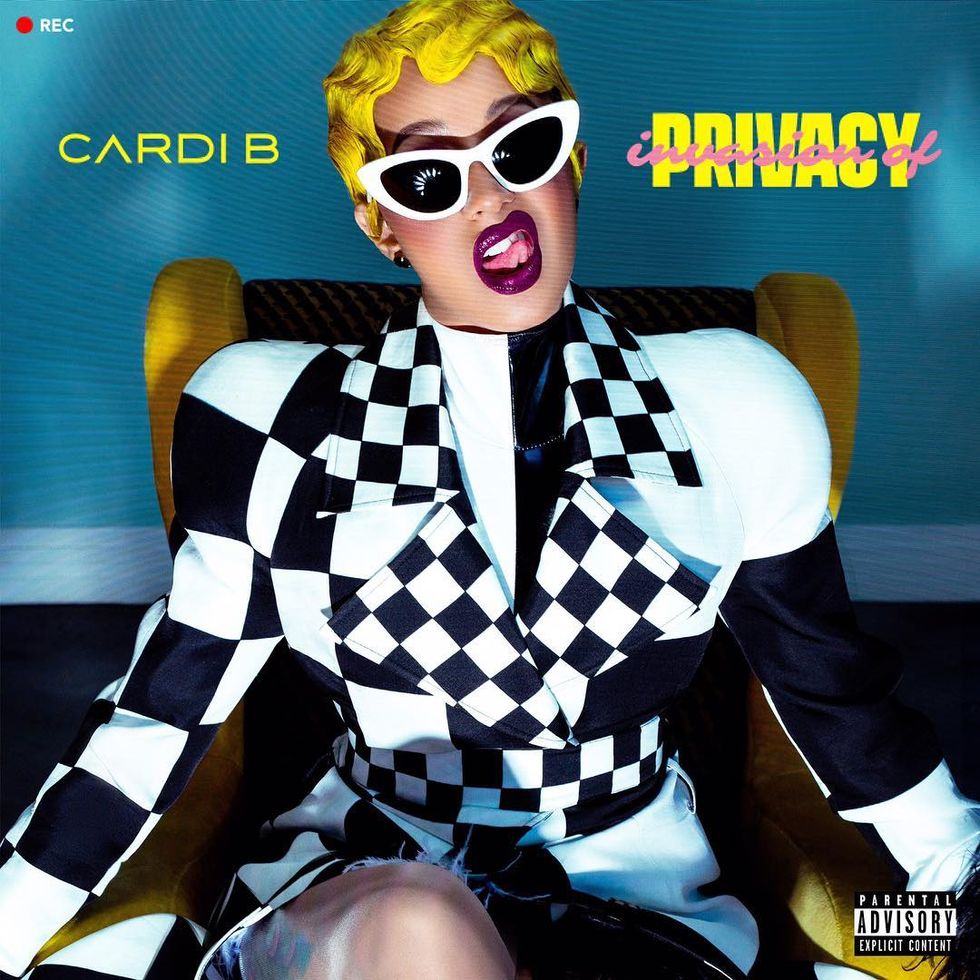 Released on April 6, "Invasion of Privacy" contains an abundance of different sounds that display Cardi B's cultural upbringings in The Bronx. This is her very first studio album, and it has already been certified Gold just minutes after its release because of the success "Bodak Yellow" has had.
But, that's far from being her only hit if her career continues to thrive at this rate.
1. "Get Up 10"
Let me start by saying this: I'm a HUGE fan of Cardi B. From the very first time I heard her rap to the first time I've ever seen her do an interview, I have "fallen in love" with Cardi B's talent and personality.
That being said, I have very mixed feelings when it comes to "Get Up 10" because it sounds a lot like Meek Mill's "Dreams and Nightmares" intro, but it's also a very dope song.

"Get Up 10" gives you all of the same vibes as Mill's intro, but it's not as good as his. Maybe it's because I'm from South Philadelphia and Meek Mill will always be a deity to us here, but I'm not a huge fan of someone making music that sounds like it was ripped from someone else's work.
Aside from it's similarities to "Dreams and Nightmares," "Get Up 10" actually is a good song to kick off "Invasion of Privacy" so, despite what my personal feelings are, it's definitely worth listening to.
2. "Drip" (feat. Migos)
This isn't the first time Cardi B has worked with Migos, and it most likely won't be the last, seeing as how Cardi is engaged to Offset and pregnant with his baby (though, Offset may want to "Be Careful" with Cardi). Cardi B sounds just like a fourth member of Migos on this track, and it's a guaranteed hit because of how catchy it is.
3. "Bickenhead"
This is actually one of the only songs on the entire album that I don't listen to (you'll read about the other one below). This doesn't mean it's a bad song, but it's not really my cup of time. Who knows? It could be your favorite when you hear it, so check it out. It's got a nice beat, and the production was really good, I just wasn't a huge fan of the song.
4. "Bodak Yellow"
"Bodak Yellow" is Cardi B's biggest song of her career so far, hands down! It's the sole reason "Invasion of Privacy" hit Gold just minutes after the album was released to the world because of how many units the single has sold. "Bodak Yellow" is also 5x Platinum and the song marks just the second time in history that a female rapper has released a solo song that reached number one on Billboard's Hot 100 (it actually broke the record for longest reign at number one for a female rapper).
5. "Be Careful"
"Be Careful" is low-key one of my favorite songs on the entire "Invasion of Privacy" album because it's such a calm song to chill and vibe to but the message is so important for women to hear. Cardi B raps and sings over the beat, presumably about Offset, warning that person to be careful with her heart because she'll only tolerate so much before she moves on to someone who's better for her.
6. "Best Life" (feat. Chance The Rapper)
One of the cool things about Cardi's album release was that we originally had no idea who the features were on the album until we just heard their voice enter over the track. This is just the case with "Best Life." Nobody knew Chance was going to be on this song until we heard his voice come on and it was such an awesome surprise–well, I guess there were obviously people that knew he was going to be on "Best Life" but not anyone from the general audience, I'm sure.
7. "I Like It" (feat. Bad Bunny, J Balvin)
Up until Drake released his single "Nice For What," I immediately thought that "I Like It" was going the bed THE hit of this summer. This song is a hot Spanglish rap track that samples Pete Rodriguez's 1960s hit, "I Like It Like That" and I was immediately blown away by the creativity done by Cardi B and her production team.
Nobody true does rap on their own, especially not nowadays as technology continues to advance, but it's awesome to see Cardi giving us music, unlike anything we've heard before.
8. "Ring" (feat. Kehlani)
Another thing I really loved about "Invasion of Privacy" was the fact that she put some women on the album that plenty of people still don't know about to showcase their talents on a track. Cardi pays homage to rapper Remy Ma early in the album and puts TDE artist, SZA, on the final song of the album, "I Do," but this track features Kehlani, one of the most beautiful voices I've heard in today's music.
On "Ring," Kehlani takes control of the hook while Cardi raps on the verses and it's done really well together. Overall, I think Cardi did a great job with every feature on this album.
9. "Money Bag"
"Money Bag" is another song I'm not crazy about but that's not because I think it's a bad song; I just think that it doesn't stand out the same way a lot of the other songs seem to. The beat is insanely nice and catchy, Cardi's flows are nice and her bars are, too. Like I said, it's just not AS entertaining as the rest of the album but it is a very good rap track. It sounds a little like I'm bashing the song but trust me, I'm really not.
10. "Bartier Cardi" (feat. 21 Savage)
"Bartier Cardi" is yet another song of Cardi's that has gone Platinum to be featured on "Invasion of Privacy." I mean, it truly feels Cardi B has the "Midas touch" where everything she touches turns to Gold–or in her case, Platinum.
11. "She Bad" (feat. YG)
This song truly aggravates me to no end because, overall, it is a very good song and it's pretty catchy, too. My problem however, is the fact that the hook is so annoying that I'd rather constantly bang my head against a wall while simultaneously hearing nails scrape a chalkboard. It's literally YG saying "she bad" like a million times over the beat and then they start rapping again. I'll be really surprised if the hook doesn't bother this much, that's how annoying it truly is.
12. "Thru Your Phone"
This is probably in my top three favorite songs off of "Invasion of Privacy," but I have some issues when it comes to the vocals that credited. The chorus is made up of a slow tempo while words of pain and betrayal are being sung over the music. On Genius, the vocals on the chorus are credited to Ali Tamposi while the background vocals being sung are credited to Cardi B.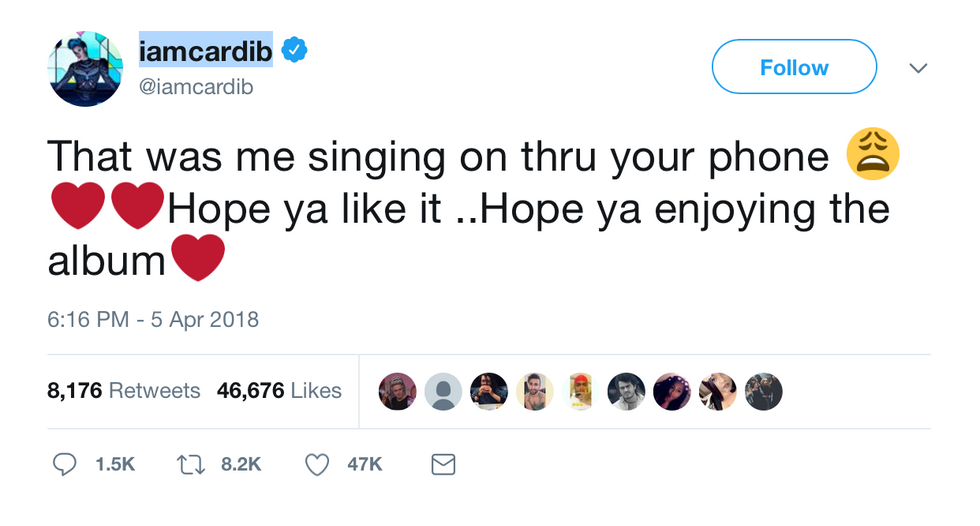 My issue with this is that Cardi seems to be acting like she sang the entire hook and you can clearly hear two very different sounding voices singing during the chorus–and it's not hard to tell which one is Cardi because of her strong New York accent.
There's not enough out there to say that Cardi is taking credit for what isn't hers but I certainly don't like that she seems to be reaping all the rewards and shouting out herself on Twitter while Tamposi isn't even receiving a simple shoutout for how beautiful her voice made that record.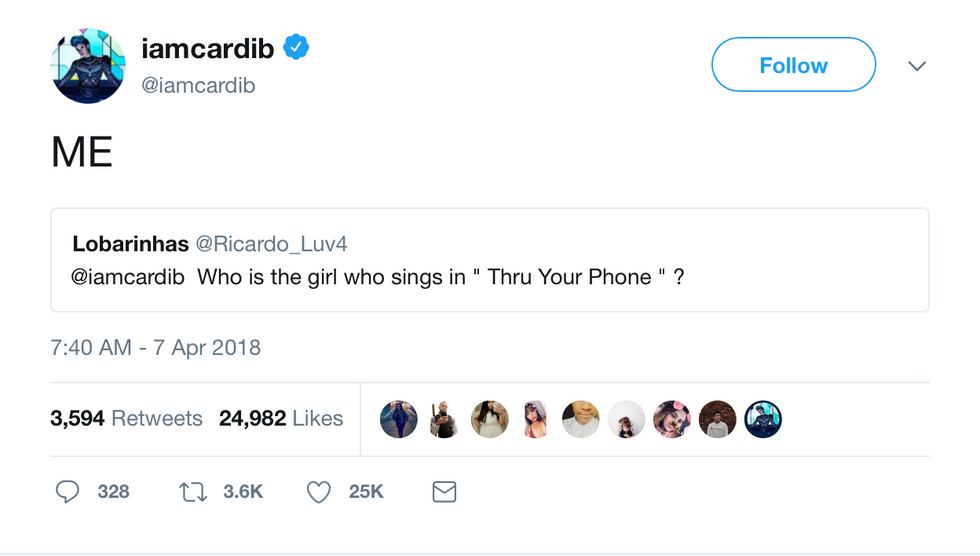 Regardless of how good the song is, I feel like there is too much confusion behind who truly sang on the hook and I think that needs to be addressed immediately before we started throwing compliments Cardi's way for how well she sings.
Tamposi is a singer/songwriter so it's possible she just wrote parts of the song and Cardi's voice was autotuned to sound more elegant but it's still very unclear what role Tamposi played on "Thru Your Phone." It certainly sounds like two different voices singing but I suppose autotune can do wonders when used properly.
13. "I Do" (feat. SZA)
This the final song that makes up my top three off of "Invasion of Privacy" and it's awesome from beginning to end. SZA absolutely killed it (she's probably my favorite voice in today's music) and Cardi B provided awesome verses on "I Do." These two women are probably going to take over the music industry and it looks like they're willing to work together to do so.
Overall, I think Cardi B's "Invasion of Privacy" was a very, very impressive debut album and I plan on bumping it all summer long until we hear more new music from her. "Invasion of Privacy" is out on Apple, Spotify and pretty much everywhere else now so check it out!