"C-Ville" is a minefield of coffee shops. Literally. You can't drive anywhere in town without passing at least three of them. If you're new to the area, or if you've recently unearthed an addiction to coffee, I'm here to help you navigate the sea of plenty that is the Caffeine Scene of Charlottesville.
---
Starbucks (the Corner, Nau/Gibson, and Route 29 are the closest)
Okay, I know that this is the obvious option. Before you write me off as a basic white girl, though, hear me out. While Starbs' coffee may not be top-notch, it is a great starting point (and the rewards program is on point). Come here for the convenient locations, late-night studying (the Corner is 24/7 during finals!) and of course, the fraps.
Keep in Mind: Frappuccino prices just went up because they added a smaller size; great for tastebuds, but not so great for those of us who have unpaid internships.
I Recommend: the S'mores Frappuccino (when in Rome… )
Shenandoah Joe (Ivy, Preston, and the Corner)
ShenJoe's is pretty much the premium in Charlottesville coffee. Even if you haven't been to the physical location, I can almost guarantee you you've had their coffee — they export their roasts to such popular coffee haunts as Milli Joe (#4) and Hot Cakes (#6). Their single origin coffees and original blends can all be brought fresh to you from their pour-over system. Full-disclosure: I'm writing this article from Ivy's ShenJoe. I find that I do my best work here.
Keep in Mind: Preston ShenJoe's is closed on Sundays. JSYK.
I Recommend: The Costa Rican roast. Mmmmmm.
Para/Grit (the Corner)
Para-now-Grit is the most convenient coffee shop for UVA students — just a hop, skip, and a jump from the Rotunda. Para is a great place to meet up with friends who don't have cars, and the outside seating is lovely on a spring or autumn afternoon.
Keep in Mind: This one is super crowded during the school year unless you get there early in the morning. I've made plans here in the afternoon more than once, only to have to relocate to a garden or the Lawn. If downstairs is full, though, you can always try upstairs.
I Recommend: Drip coffee (it's a dollar if you get there before 8 or 9, I believe) or an Iced Chai in the warmer months. So. Freaking. Good.
Milli Joe (Preston)
Milli Joe is probably the most hipster of the C-Ville coffee shops. (Though of course they'd never call themselves hipsters. They hate labels.) You'll usually find at least one of your grad student TAs there on any given afternoon, but it's a great spot to meet up with friends if you can chat quietly and about sophisticated things. Kidding, it's not that intimidating, I promise. Milli Joe serves their coffee and espresso in these perfect little cups with saucers and I'm still not over it. They also have waffles, gourmet chocolates, a bar, and a cheesemonger. And the MFAs have a reading series there once a week in the fall and spring, which is pretty cool if you're a nerdy writer like me.
Keep in Mind: Milli Joe is a lot more crowded on Sunday afternoons, because the Preston ShenJoe groupies usually migrate there.
I Recommend: The drip coffee, the waffles, the cheese… everything. It's a magical place.
Calvino Coffee (Main Street)
I love Calvino. It's a little mom-and-pop kind of place and almost never crowded. If you need a place to study during the school year, you really can't get any better than Calvino. Plus, it's right next to Feast, so you can sample to your heart's content if you need a study (snack) break.
Keep in Mind: Seating is pretty limited (there are only about four or five tables inside, plus the bar).
I Recommend: A latté. Just plain. I don't know what they put in it, but Calvino has the best latté around.
Hot Cakes (Barracks)
Hot Cakes is another coffee shop within easy reach, at only a 15-minute Northline bus ride away from UVA's grounds. As their name would suggest, they are a bakery as well as a coffee shop. I haven't gotten anything yet that I haven't loved.
Keep in Mind: September is Free Latté Month, which is exactly what it sounds like. A free latté, every single day.Wow.
I Recommend: A latté, hot or iced. Add some honey if you're feeling crazy. Also the lemon squares.
C'Ville Coffee (Harris St, near Downtown)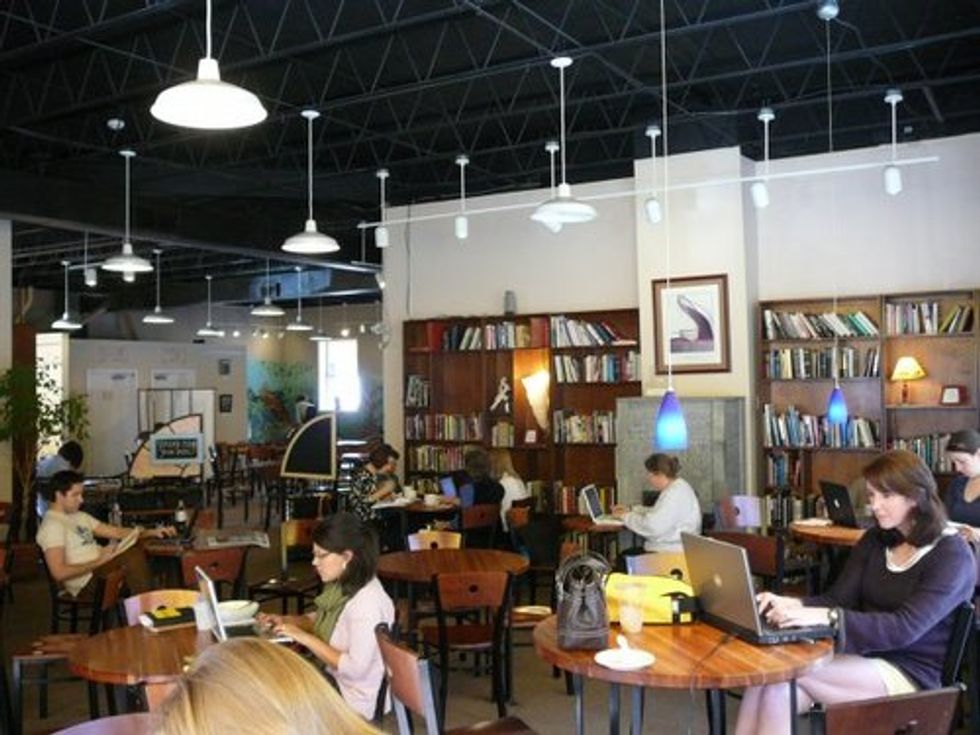 C'Ville Coffee was my first love, of all the Charlottesville coffee shops. As soon as you come in, you'll see a ceiling made up of hanging tea and coffee cups. It's majestic. They have so many tables and bookshelves, and a special "Adults Only" section, since it's a family-friendly place. This is the place for meetings, interviews, and maybe, Tinder coffee dates, probably because the atmosphere itself is just so happy and peaceful. It's a 10 for 10 rating.
Keep in Mind: The only downside to a family-friendly coffee shop is that it can get a little, well, noisy from time to time. It's never been all that bad, though, at least in my experience.
I Recommend: Iced Tea, if you are a tea fan at all. Theirs is a mix of Earl Grey and English Breakfast. Believe me, it has to be wonderful if I'm willing to forego a coffee fix to order it.
Panera (Barracks)

Panera is Panera. You know the drill. They've got a lot of seating and they're open until 10 p.m. most nights, which is good if you have to stay up late to write a paper and you need to pass the time until there are open parking spots for the library. Stay until about 9:45 p.m. and then try the Clark Hall lot again — works like a charm. I've only done that 1000 times.
Keep in Mind: The WiFi sometimes kicks you off after more than a few hours of use. Not always, but sometimes.
I Recommend: Ask for a mug when you order coffee, and you'll get free refills. And get the hazelnut roast, always.
Atlas Coffee (JPA)


Atlas is another one of those "best kept secret" kind of places. It's itty bitty, but totally worth the claustrophobic setting. Their baristas are so nice and friendly, and the patio seating is perfect for temperate weather.
Keep in Mind: They're open early, but they close at 3pm, and parking is very limited (but it's a quick walk from dorms/grounds).
I Recommend: Their plain iced coffee usually does the trick.
Mudhouse (Downtown Mall and Crozet)
The Downtown Mall's Mudhouse, unlike most coffee shops in the Charlottesville area, is usually quietest in the evenings, so if you want somewhere to study in the late afternoon, this is your place. The ~Crozet Mudhouse~ is only ever spoken of in hushed tones with dreamy-eyed expressions, so I can only assume it must be heaven (though I confess I've never wanted to drive that far).
Keep in Mind: The Downtown Mudhouse is hellishly crowded in the mornings and on weekends. You've been warned.
I Recommend: The Mud Cup: (n.) a Red Eye, but with a double shot of espresso instead of just one. It's so good, but it will ruin you if your body isn't used to highly caffeinated drinks. Drink with caution. Oh, and make sure to grab a free sticker or two. I love the "Drink Mud" one. It attracts all kinds of strange looks from the C-Ville tourists.
---
Those are my favorites. If yours wasn't listed, make sure to put it in the comments below!