A new library. An athletic lounge. A skywalk.
What's next?
Being on campus for the summer has opened my eyes to how hard Temple University is trying to be a state-of-the-art campus. Much of campus is closed off due to construction. I've had to change my route to certain places because there are so many detours. The incessant sound of drilling is pretty annoying.
Honestly, Temple, I loved you before all of this. I still love you. But...loving you also means that I will point out your flaws.
We don't need a high-tech, fancy library. Paley Library may be old, but I love its charm. We don't need a skywalk between the two business buildings. An athletic lounge should not be a priority when our counseling center is overwhelmed and students are struggling to find affordable places to live on campus.
Here's a quick rundown of Temple University's projects over the past few semesters.
On April 19, 2016, Temple officially began construction of its new library. It is going to be named Charles Library. This "state-of-the-art" library will cost $170 million. You read that right. $170 million.
The features of the new library sound promising. Some of these features include a green roof, a 24/7 cafe, and robotic book retrieval. Construction should be finished next spring.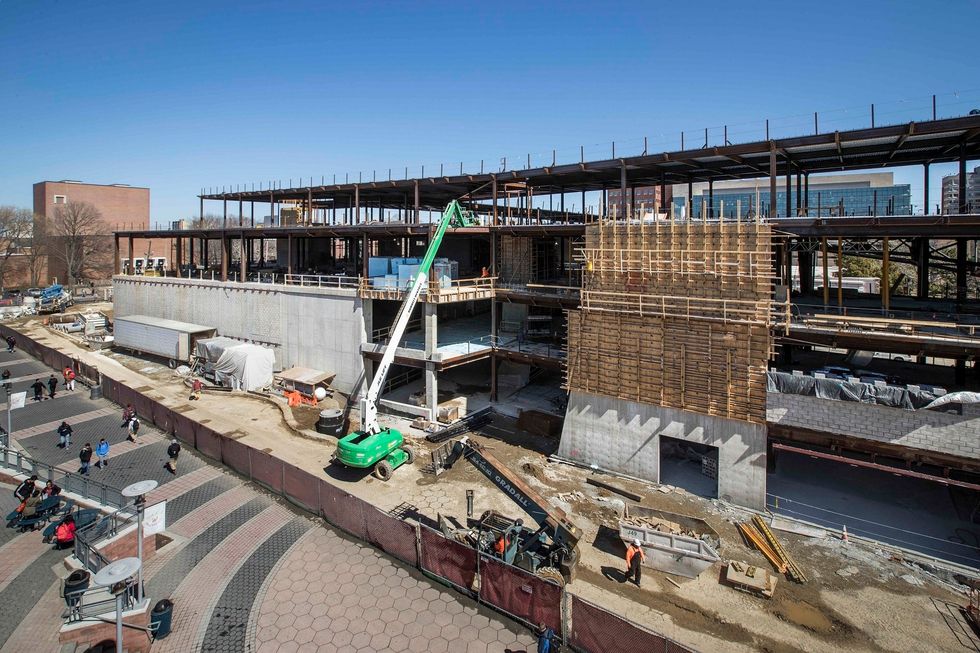 Construction of the Charles Library as of May 16, 2018.https://twitter.com/templelibraries/status/9968163...
Temple opened a lounge for student-athletes in Pearson Hall in January 2018. It was funded by private donors; Temple University did not use its own money to build it. This lounge includes nap pods, unlimited coffee, and video games. It is also a community space for student-athletes.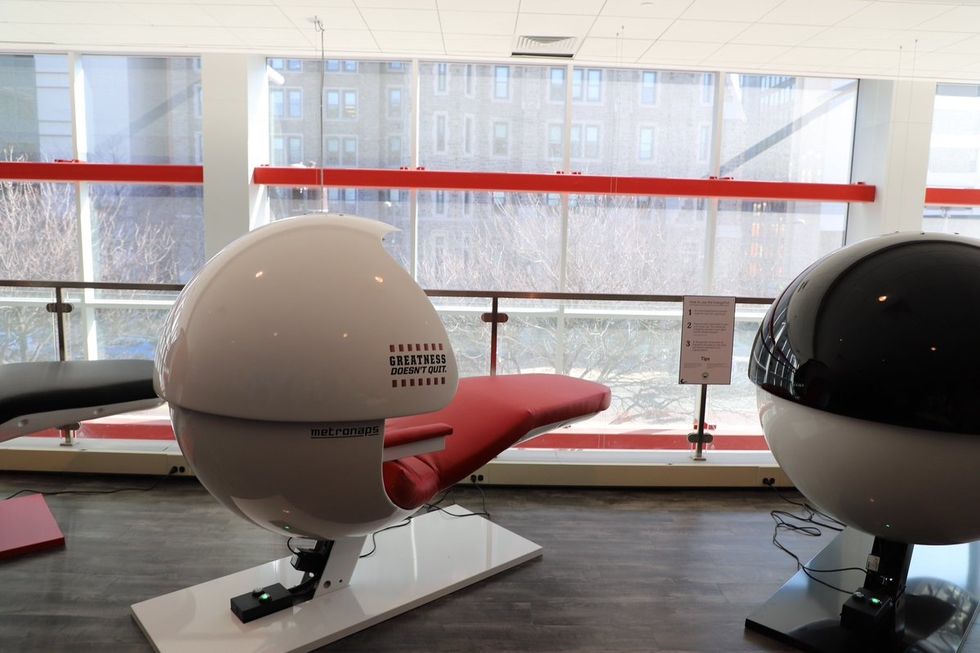 Nap pods in Temple University's new student-athlete lounge.https://twitter.com/TempleOwls/status/956937590946...
Expansion of the Fox School of Business began in the summer of 2017. Recently, Temple University began building a skywalk. The project should be complete by the beginning of the fall 2018 semester.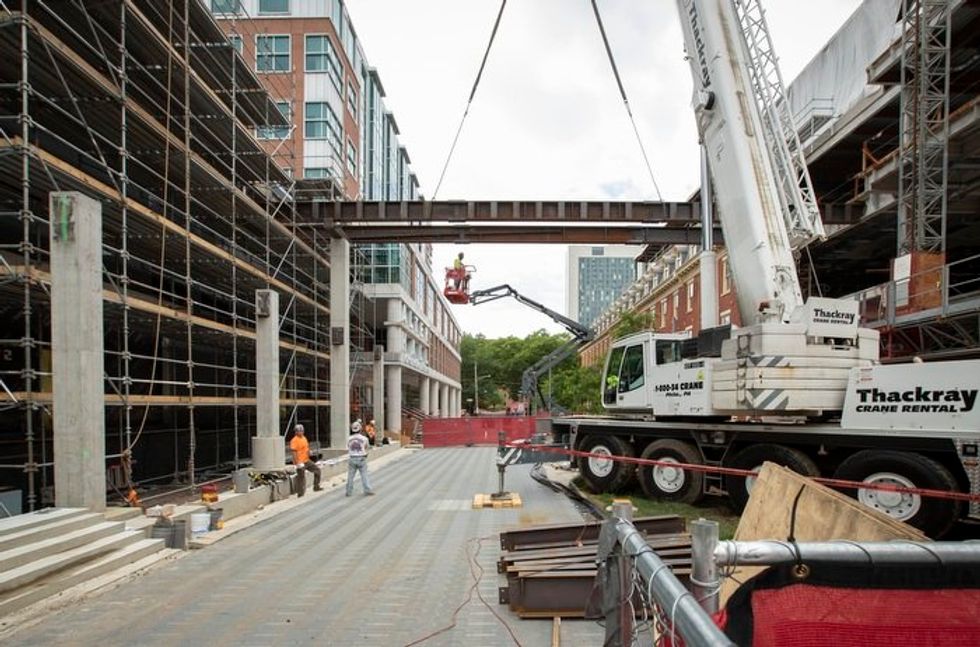 Construction of the new skywalk on Liacouras Walk as of June 7, 2018.https://twitter.com/TempleUniv/status/100476621200...
You may be asking, "What's wrong with all of these projects?"
There's nothing inherently wrong with the projects themselves. Temple University is trying to compete with other colleges in the United States. Having impressive facilities is a part of that. Athletes experience a lot of stress, and it's important that they have a space to decompress.
Temple is going to look great on the outside. There's no doubt about that. I'm looking forward to how pretty campus will be.
You could also say that Temple is addressing the needs of specific student groups (like student-athletes). Although that may be true, what about the rest of us?
Temple is ignoring the needs of the general student body.
The space that is being used to build the new library could have been used for student housing. Peabody Hall was demolished, so we need another communal residence hall to replace it. That should be common sense, but I guess it isn't.
Mental health resources are another concern. In the past, I wrote an article about how Tuttleman Counseling Services became overwhelmed after the tragedies on campus. Although it has been a few months since these tragedies occurred, the demand for mental health treatment on campus is still very high.
Many Temple students have begged Temple to expand its counseling center to meet the high demand. With an institution as big as Temple, we need a well-staffed counseling center.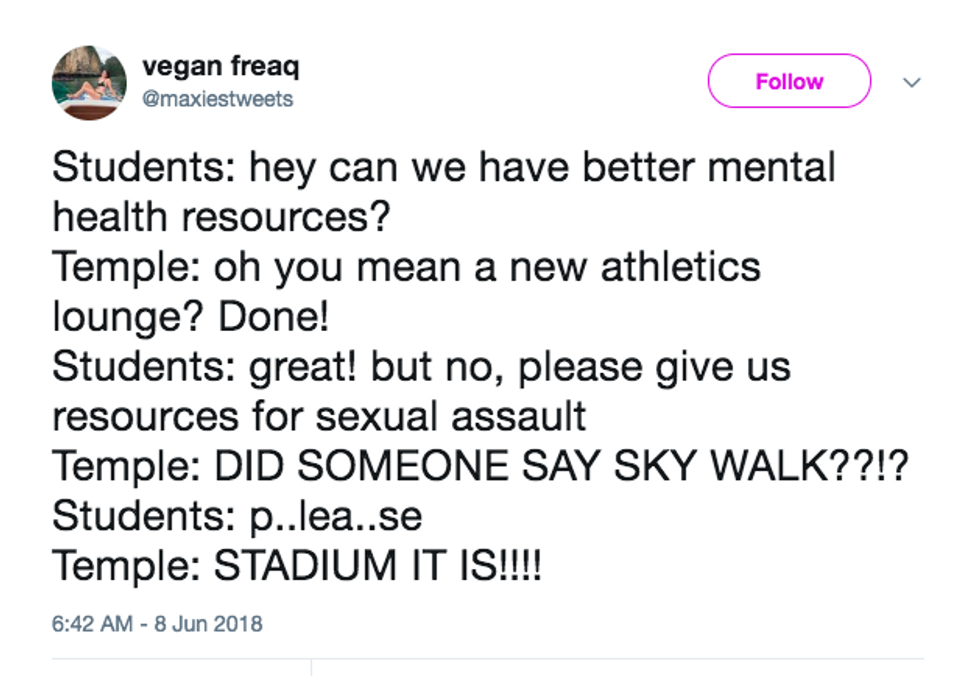 https://twitter.com/maxiestweets/status/1005082719297122304
To make things worse, I recently found out that a Temple student took his own life. President Englert was completely silent about his death. Normally, he sends out an e-mail informing students of the news and gives them information on resources available.
As soon as this death was confirmed a suicide...we heard nothing.
I have so much respect for my school, but being silent about a student's death says a lot. In my opinion, admitting that suicide is a problem on campus is much better than ignoring it completely.
The new student government administration, IgniteTU, has pledged to help increase funding for our counseling services. I truly believe IgniteTU's prioritization of mental health significantly contributed to the administration's victory. They earned my vote for that reason.
I hope Temple University will listen to IgniteTU's call for more mental health funding. It's so important for the health of our student body. I also hope Temple University will use its money to build more affordable on-campus residence halls.
It's obvious that Temple has the money, so it should be used for things that will help students in the long run.
Temple University, if you ever see this, hear me out:

If you want students to be happier, expand and improve mental health resources on campus.

If you want to be a top-tier institution, start acting like one. This isn't just accomplished by fancy buildings.
If you want students to believe that you care about them, start acting like it.
Listen to us.