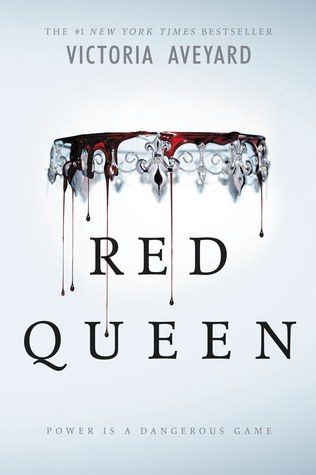 The Red Queen by Victoria Aveyard is a dystopian YA novel that takes place in a post apocalyptic America after what seems to have been a nuclear war. In this future there is a class system based on the color of blood. There are the Silver's, an elite class that are pretty much gods with fascinating powers that they use to stay superior above the rest, and then there are the Reds who are your everyday normal people. Amongst the Reds is a girl named Mare Barrow who discover's that she is a special anomaly for her kind and soon finds herself in the terrifying almost "Game of Thrones" like drama that is the Silver court. As she fights to survive she has to see if there is more that she can do than be a symbol of peace for the Reds and the Silvers all while trying hide her secret.
I really liked this book more than I thought I was going to, just because I didn't really know what to expect. It did have a kind of "Hunger Games" vibe for me at a couple parts, but that doesn't mean it was a bad thing. A funny thing I found about it was that I didn't really think it took place in the future until they mentioned something like turning on the lights in their home. Which I liked because that to me meant the world was really pulling me in as I tried to visualize it. There were a couple parts of it that were slow and that's because it was mostly talking about the history of things in the book. It made me feel like I had to pay a bit more attention to the book then I actually did because there were some things they would mention that I had completely forgot about and had to back track to get what was going on. My favorite parts were the one's whenever they talked about the Silver using their powers, that definitely gave the book the right amount of action whenever it was needed. Also if anyone is wondering how the ending goes I will say I've already purchased the sequel to know what happens next.
Rating: 3.75/5
Spoilers Talk
* Ok being told that there was a twist in the book ruined the twist for me. I felt like Roy in "IT CROWD" when he get's told there's a twist in the new Tarantino film and it ruined it for him. The minute Maven started being nice to Mare to I was like (Sarcasm) "Oh wow I wonder what the twist it?". Prince Hans from "Frozen" taught me to prepare for princes like these. When he turned on Cal and Mare I internally was like called it I'm a genius. Although the one twist I really didn't see coming
was Shade still being alive and I was glad about that.
*Am I the only one who got annoyed with Kilorn? He just seemed kind of whiny to me. Hopefully his character gets better in the series.
*I do want to see more Cal and Mare though because if they got to know each other more they could be either really cute together or really good allies.
*I'm also hoping we see more of Gisa in the next book because she seems like a character I just want to know more about.
That's all for now guys. What did you think about the Red Queen if you already read it? Feel free to comment below on your thoughts.