So, if you are anything like me, then you have colored your hair more than just a few times. Everything from box color to actual trips to get professional help from the salon, I have been doing this probably ever since I was 10 years old, and have continued to do it through my life. I love coloring my hair! I know how damaging it is but I don't care. I specifically like bleaching it and being blonde. I have been obsessed with platinum blonde, or even the gray colors.
Since I love being blonde so much, it requires some upkeep. Once my natural roots start growing, it's time to bleach again. I cannot deal with regrowth, it bothers the crap out of me. If I can't afford the $100+ to go to the salon, I just do it on my own. Just a few days ago, I bleached my roots all by myself. Here's how I did it:
A little bit about my hair:
My natural regrowth is as shown. It comes out super dark, and the rest of my hair is bleached already since I have been blonde since last summer. I have very thick hair, and it is a little longer than shoulder-length.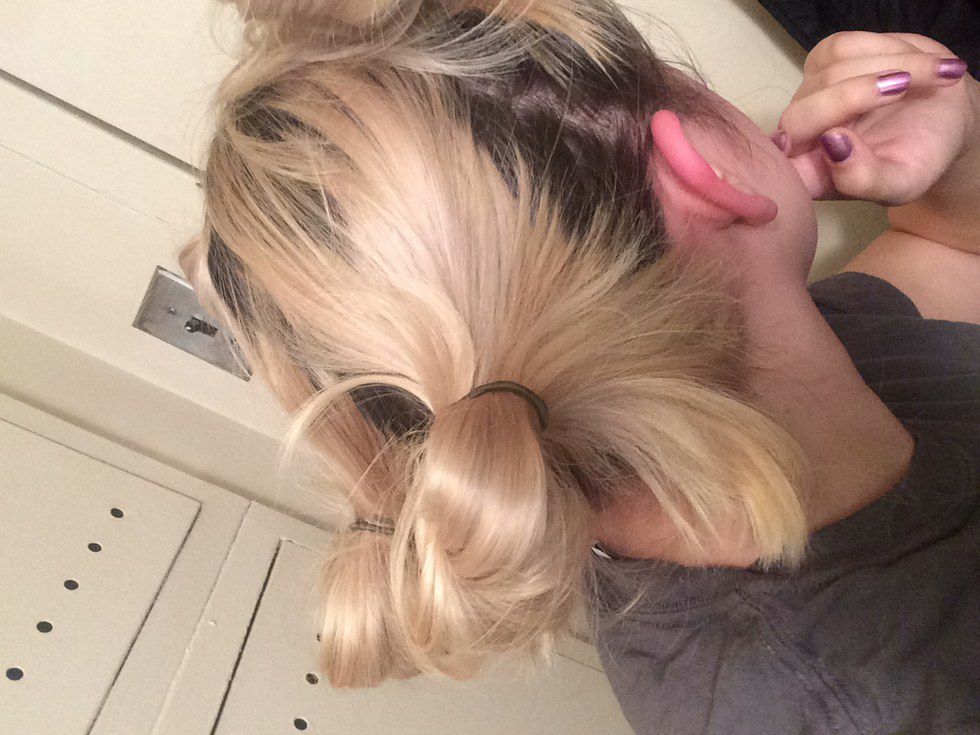 How gross looking does that look? This was me prepping my hair for the bleach.
Disclaimer: Everyone has different hair types, so what works on me may not work on you. If you are not aware of how your hair reacts to certain chemicals, always do a strand test.
Products used:
Developer - Salon care Crème 30 developer
Wella crème 20 developer
Toner:
Wella colorcharm T10 toner
Bleach:
Salon care blue flash powder lightener packet (2)
Untensils:
Mixing bowl
Squirt bottle from beauty store
Tint brush
Gloves (bleach burns badly)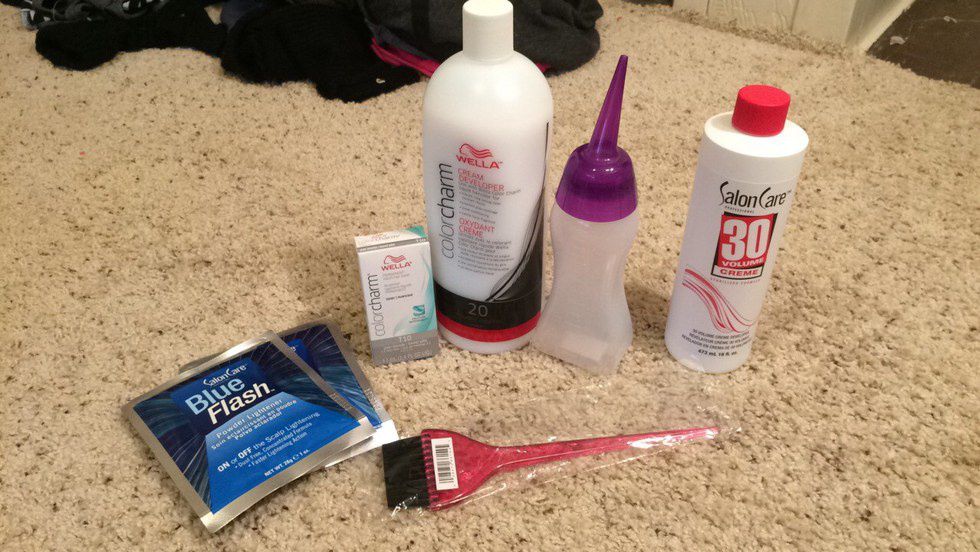 How I did it:
I mixed one packet of bleach with 3 oz of 30 developer. I divided all of my hair in 4 sections (2 in the front, 2 in the back). Each section I worked with I applied bleach to my roots and would go a little less than a centimeter down to my already bleached hair. I divided every section into smaller sections and saturated my roots with bleach. I left the bleach on for almost an hour, and rinsed in the shower with a deep conditioner.
After the rinse, I towel dried my hair and prepared the toner. I mixed a whole bottle of toner to two parts 20 developer. I applied it using the squirt bottle pictured above. I went in a zigzag motion all throughout my hair, making sure I was covering all of my roots mainly and then saturated my entire head with this developer so I have even coverage. I left the toner on for 20-30 minutes and rinsed out with just water and little bit of purple conditioner.
The result was beautiful, and it was almost a gray/white tone. I really do not like when my hair gets yellow or brassy so having a toner really gives it something extra.
I found that doing my hair on my own, was much more satisfying than actually going to a salon. I will probably go to a salon when I feel like changing my hair drastically like getting a balayage or something, but other than that I really like doing my hair at home for a much cheaper price.
And I got everything for a little less than $32.