I have been a big blackbear fan since I stumbled upon his music this past summer after discovering mansionz (which is blackbear and Mike Posner). I am a big fan of his mix of vocals and rapping, it is definitely my favorite type of music. He has a great mix of deep songs and hype songs, with some real real lyrics. I didn't approve of his stint with Bella Thorne, but hey, we all make mistakes.
Blackbear has slowly been releasing bits and pieces of his newest album, "cybersex." Some people had accused him of wanting to make more money off individual singles, rather than bundling into an album, but on Twitter he cleared the air, and I respect that. It is nice to be able to hear some new songs from an album, especially more than one. Listening to the same song over and over kills the mood and gets old.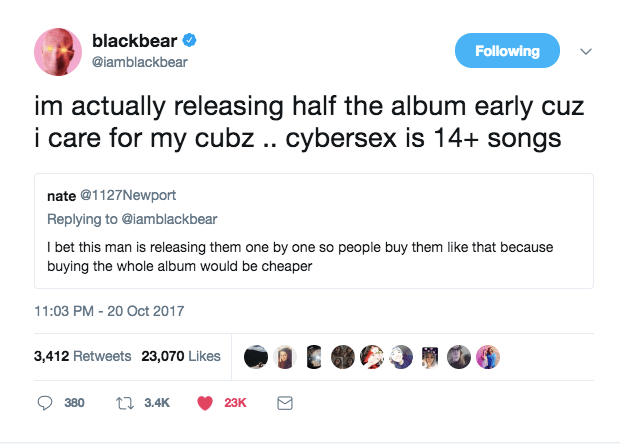 Overall, I am a big fan of this album. I was really shocked by some of the first songs on the album due to them not being in typical blackbear style. Songs like "gucci linen" and "bright pink tims" had a more trap vibe. The change-up was nice and very well done.
Eleven out of fourteen songs have a feature artist, and some big names are featured on this album. From Machine Gun Kelly to T-Pain (the songbird of our generation as my roommate likes to say) to RiffRaff and Ne-Yo, the list has amazing features who help enhance the album and make every song feel a little different while blackbear kept the whole album cohesive.
Some of my favorite songs from the album are "santa monica & la brea," "playboy shit" ft. lil aaron, "up in this" with Tinashe, and "thursday/froze over - 'interlude.'"
"santa monica & la brea"
This song is one of the slower songs on the album, which I always have a soft spot. It has a really strong message with lyrics like, "what if we never said 'Hello' and "What's your name,'" which really spoke to me. The vibe is very chill with good pacing. A very good feels song.
"i hope your whole life sux"
This song is what everyone is feeling after being dumped, or trying to get over that toxic person you let go. Inside you are telling yourself how the other person is taking such a big loss. Around the 1:50 mark blackbear spreads some wisdom he received which I think everyone should follow, "Get a job, have a backup 'plan a' 'b' and a 'c', and have fun in moderation, work harder, ain't shit for free". It's a real message and I love it; makes this song even better.
"up in this"
I had never heard of Tinashe till she was coming to University of Minnesota for homecoming, which I then fell in love with her after seeing her live. So, I was very happy to see this collab. One of the few songs released before the album, so I have had time to be obsessed with this song, and I still am. I feel like this is just a banger for ladies night, so ladies, dance it out. Plus, this features two beautiful voices!
thursday/froze over "interlude"
I am and always have been a big fan of interludes. It is just sort of a comical song about girls who chase rappers/musicians to start off. I am usually not a fan of two songs in one, but I kind of like the way it is so sudden. I take froze over as the interlude part of the song due to its calming and repetitive nature. But, overall well done.
I really like this album a lot, and think that blackbear did a good job of reaching outside his typical box and incorporating a wide variety of artists in his songs, which will help his music reach a wide variety of audiences. Overall, great album with lots of quality work.