"Wow, you're studying another language? That's going to make you SO competitive in the job market."

"Bilingual employees earn more money!"
If you are or ever have been a language major, you've heard these lines more times than you've probably cared to. It's exciting, the prospect of finding a higher paying job more easily because you can speak more than one language. But is it really true?
There's a lot of people saying that some of the benefits of bilingualism have a lot to do with your career and your salary.
Salary.com found that jobs with pay differentials based on bilingualism usually pay 5-20% more per hour for bilingual employees. But remember, this is a very broad number and covers many different languages and job markets. The amount of money you will make and your job prospects are completely based on local supply and demand.
Even though I'm bilingual in Spanish and English, I've never actually earned more at any job I've held because of my skills, even when I'm asked to use them. Some jobs told me the language skills were great, but not necessary for the job. At other positions, I was required to use them on a daily basis for no additional pay.
A friend of mine in Pittsburgh, Pennslyvania, sent me a job posting from her area boasting supplemental pay for those who could also speak Spanish. However, I've rarely seen postings like that in my area in Raleigh, North Carolina.

Indeed.com
I decided to conduct my own survey in order to find out what other people were experiencing. I created a survey that I shared on various social networks and sent directly to friends to ask them to share with anyone they knew who could speak multiple languages.

Here is what I found out:
100% of respondents were able to speak Spanish and English, with one additional respondent who was also able to speak French in addition to the other two languages.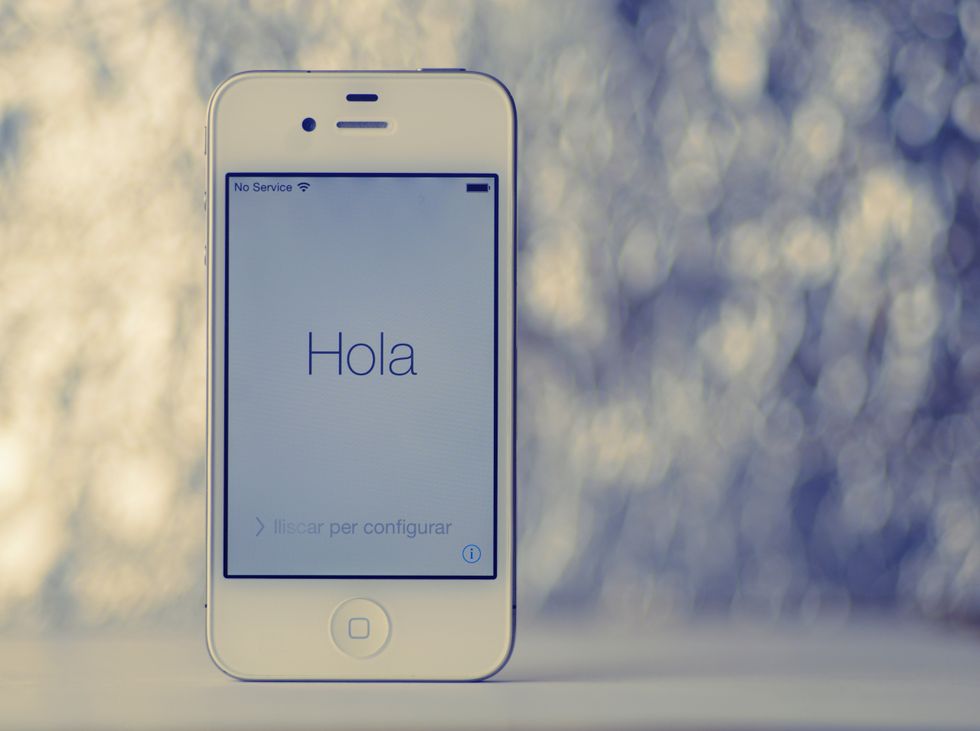 Photo by VanveenJF on Unsplash
Since I speak Spanish, many of the people who responded to my survey through my social links are likely other bilingual people that I know. Additionally, there are almost 700,000 estimated Spanish speakers in the state of North Carolina.
The majority of respondents work in customer service or retail, with some representing healthcare and education.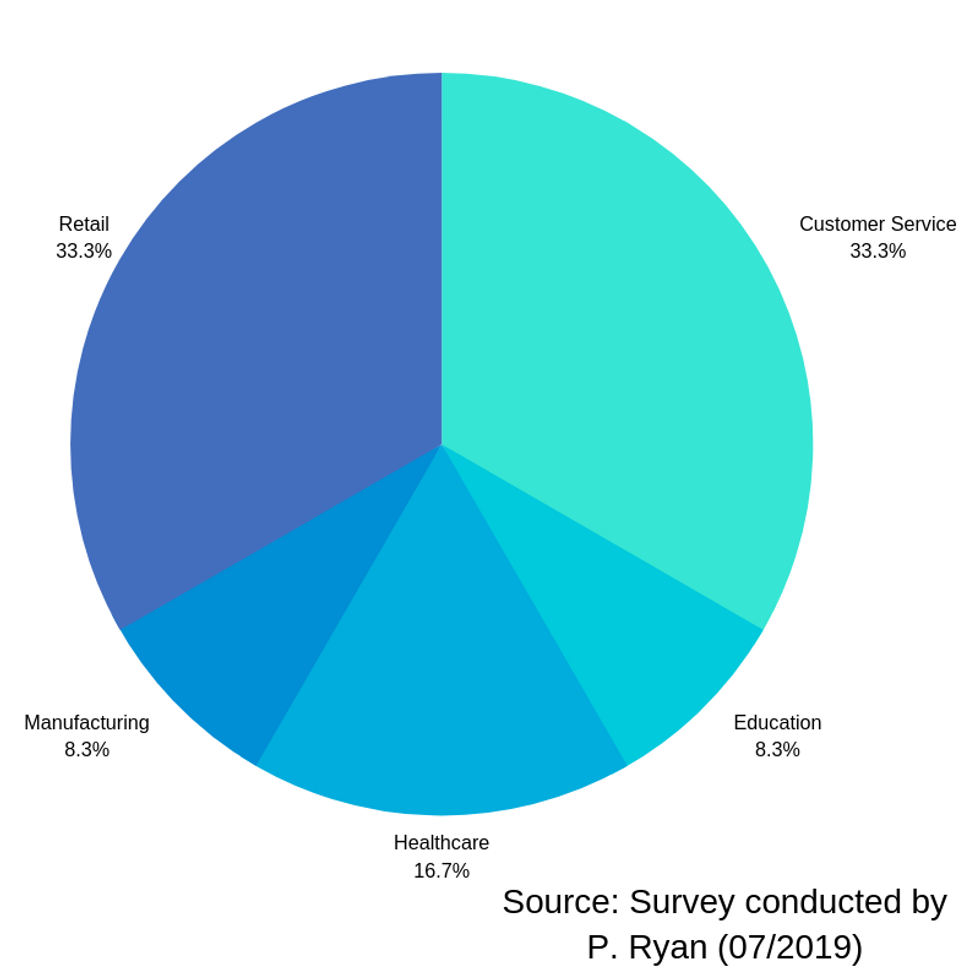 Paige Ryan
Results were split as far as whether or not their current job actually required language skills.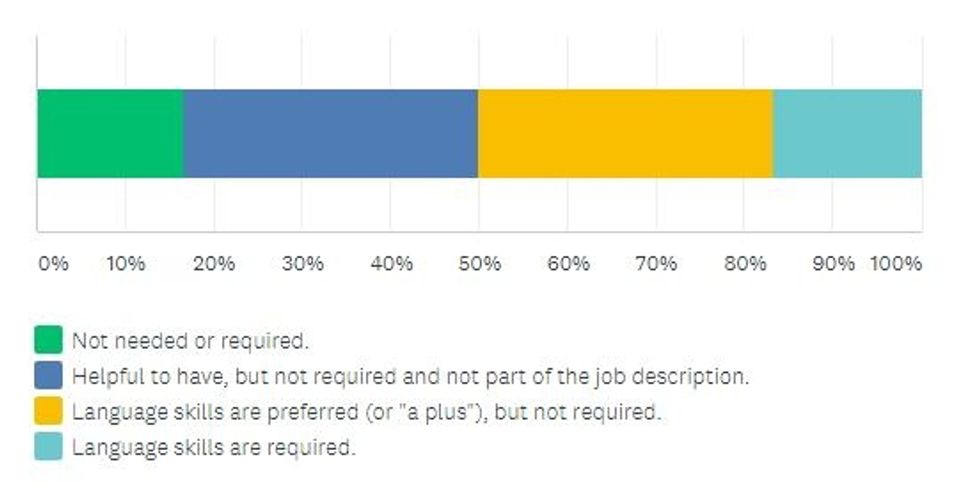 Paige Ryan
50% found that language skills were not required, the other 50% found that language skills were at least mentioned in the job description as preferred or were fully required. About 85% found that language skills were at least helpful or necessary to have.
Over 90% of respondents have used their language skills at work at least once a week or more.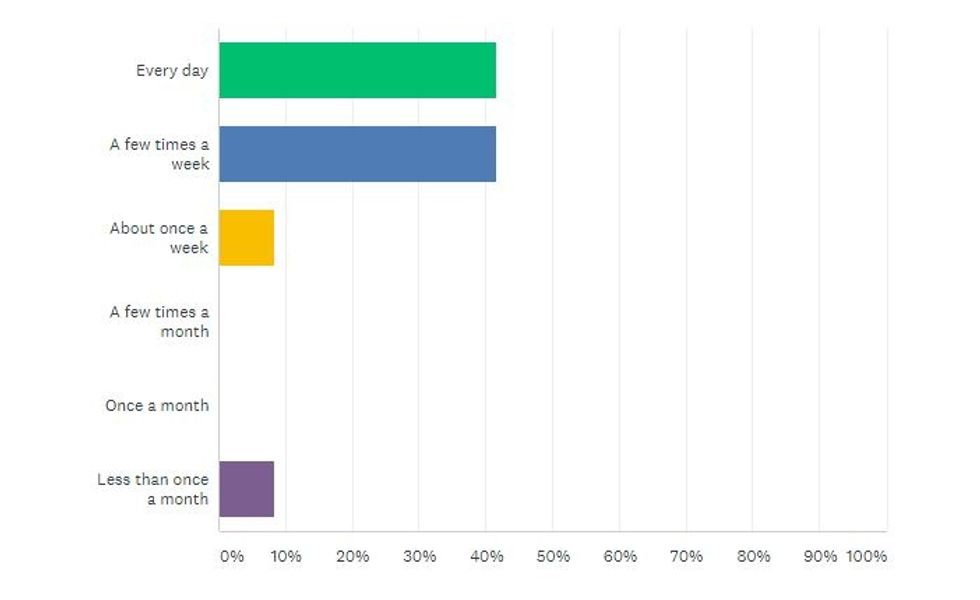 Paige Ryan
40% of respondents felt that multiple language speakers make up a small part of their company's workforce.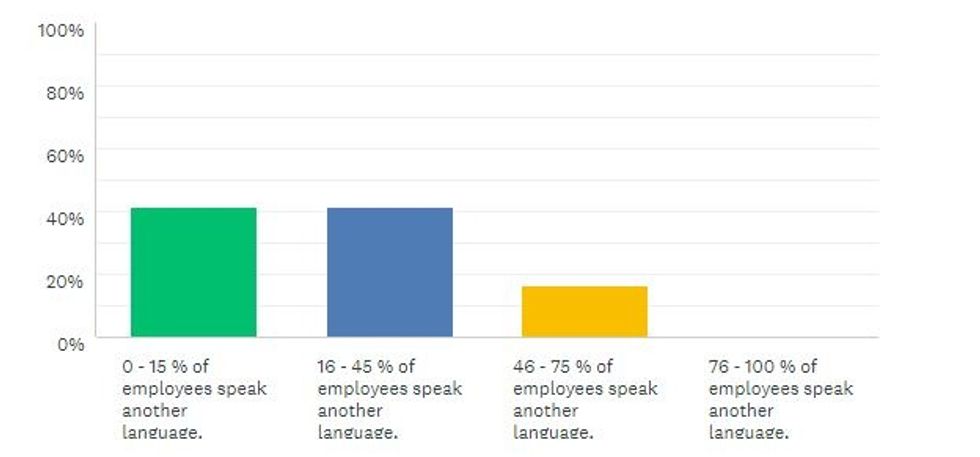 Paige Ryan
Some jobs require some sort of proof that you speak the languages you claim to. None of the respondents to my survey were required to go through any specific language assessment. Over 83% simply mentioned it during the interview process or listed it under the skill section on their resumes.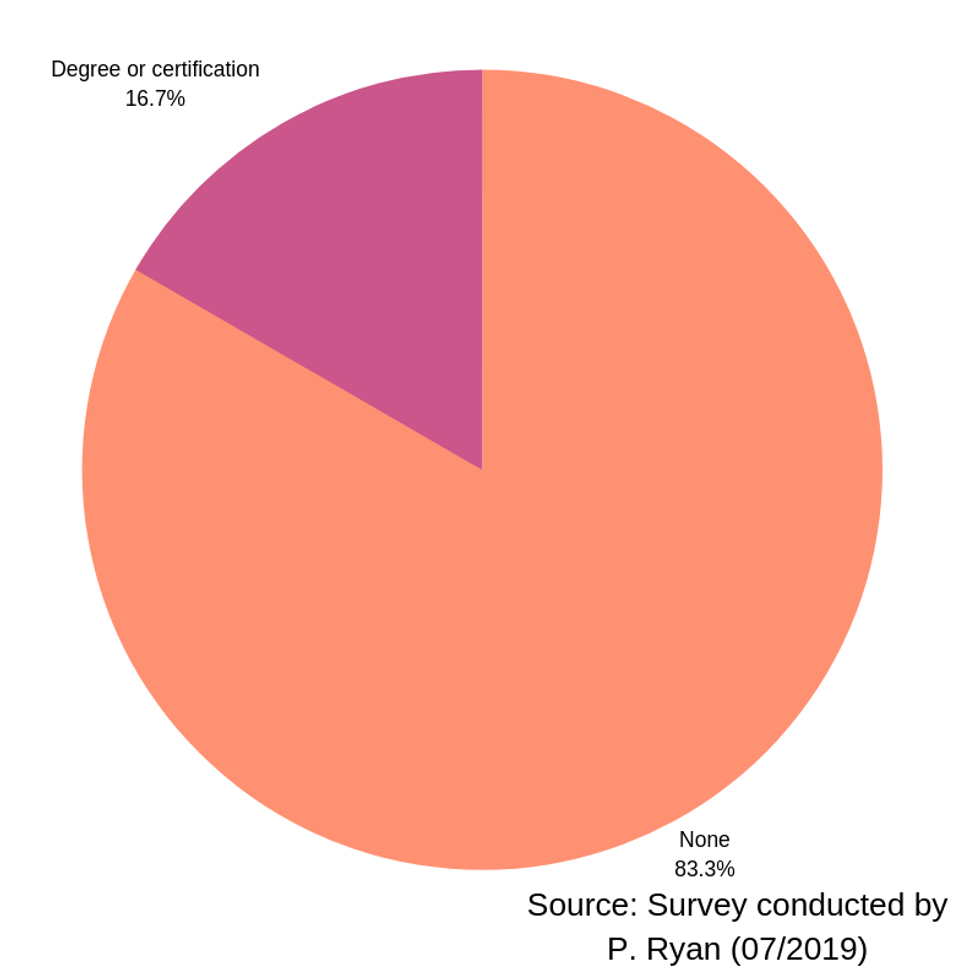 Paige Ryan
In some job interviews I've had, I've been required to take a writing or speaking test. I've also been fully interviewed in Spanish or asked to do a role play in Spanish. However, for the job I hold currently, there were no such screenings.
While a small percentage of respondents receive additional compensation, most do not. Additionally, a small percentage do not receive any additional pay even though skills are required for the position.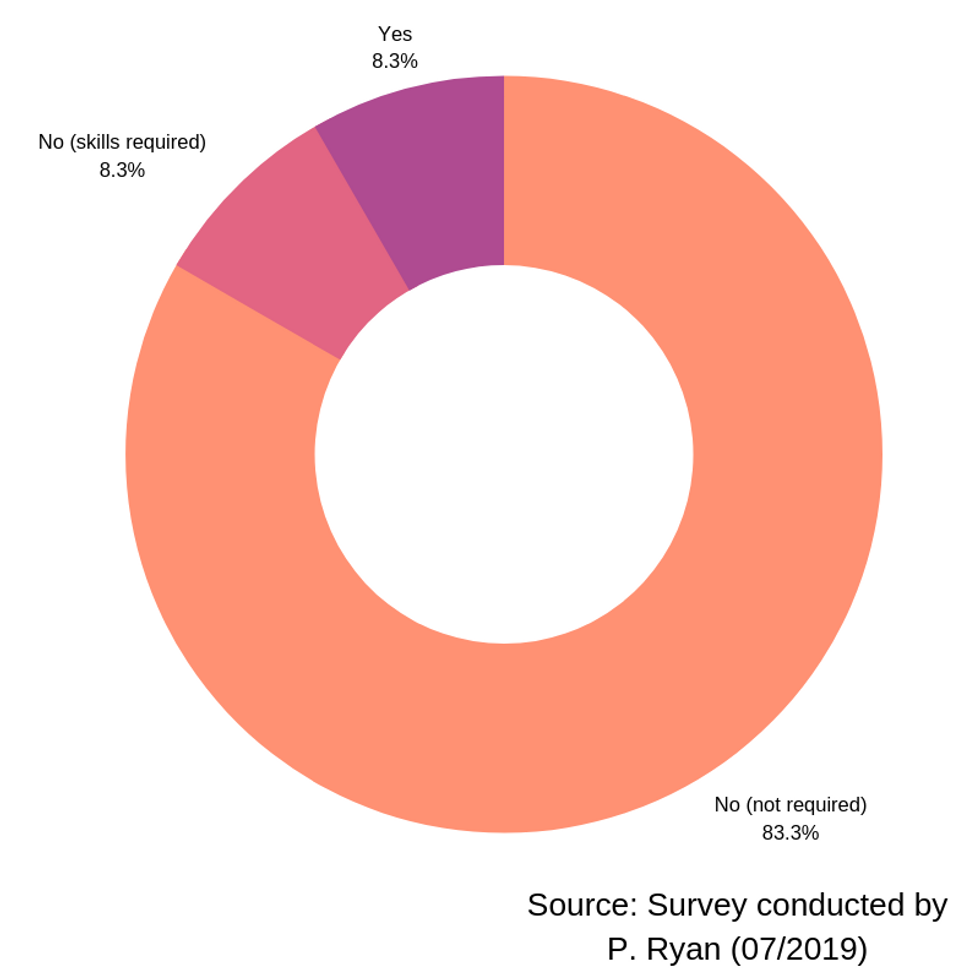 Paige Ryan
The respondent who does receive additional pay said, "I get supplemental pay for translating during parent conferences."
Despite the lack of supplemental pay, most felt that their language skills were beneficial to them in their careers.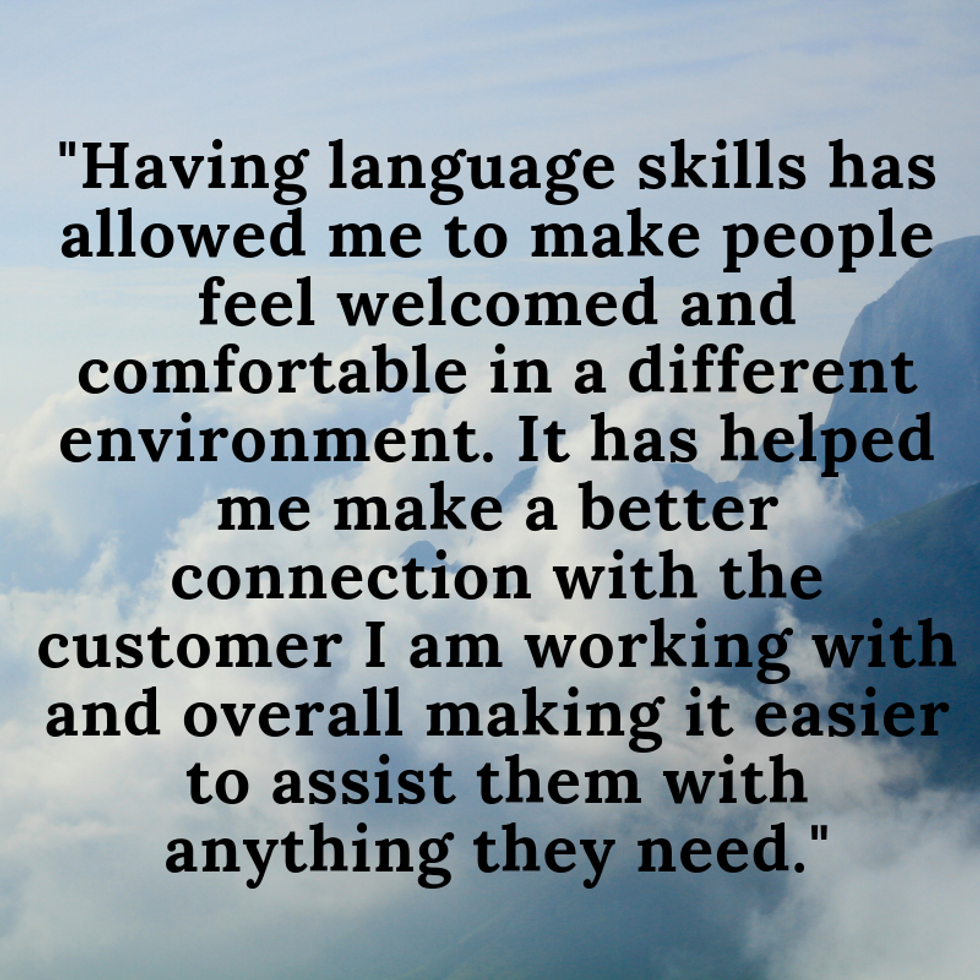 Paige Ryan
However, one respondent felt jaded by the system that takes advantage of employees.
It has definitely been useful in some jobs that I have had or been attractive to employers. Some employers have discovered the benefits of having a bilingual employee and used my skills or required me to perform tasks that no one was else was able to do, but I have never received additional compensation.
The majority of respondents felt that they should be compensated for having additional skills, especially when it benefits the company or when the company expects them to use their unique skills.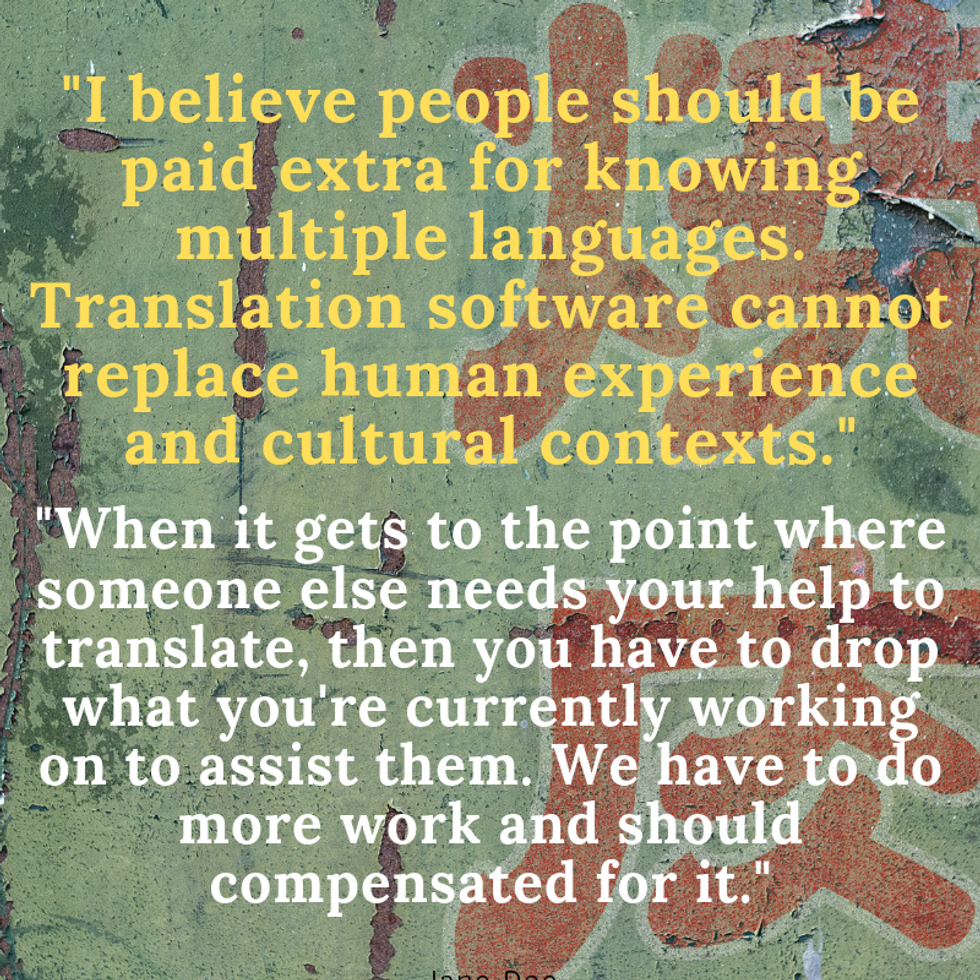 Paige Ryan
"I do feel like those who speak multiple languages should be compensated for it seeing as other companies do so, but unfortunately most companies don't."

"I do feel that anyone that speaks another language fluently should be compensated extra for their language skills."

"Yes, in the company I'm employed by there are a lot of Spanish-speaking employees and I have to translate instructions or tasks for them to do. This should be compensated."

"I believe we should be compensated for extra for having language skills. We have many foreigners come to our store and some do not speak English or have trouble with it, so it benefits the company having an employee who speaks the customer's native language. I have many employees call for me to come help translate which gives the customers a better experience."

"I believe that people should be compensated extra for their language skills because it helps them connect with people and better understand their needs."

"I believe that language skills should receive higher pay because they are helpful on the job and harder to learn than the basic training that most jobs do. If you're going to use an extra skill, you should earn more money for it."
the results from my survey show that you're not necessarily going to be paid more just for being bilingual, even if you're using it on a daily basis.
We are increasingly interacting with people from all over the world. Companies are expanding their global reaches and trying to attract customers from a variety of backgrounds. Perhaps these results show that language skills are not viewed so much as a rare commodity, but instead as a pretty common, necessary skill for employees to have. Many schools and universities already have language courses as a requirement for graduation.
Maybe we are heading towards a time where language skills are going to be viewed such as being competent in Microsoft Office. I still see many jobs where familiarity with Microsoft Office is listed as a required skill, but no one is going to be paid more for it.
So how a bilingual person market themselves to really stand out in the job market? You're not really going to have the upper-hand in job interviews just because you speak another language. Learn to speak about how your language skills have helped you and can help the company.

And if you find yourself in a job where you feel that your skills are being exploited, consider talking to your employer about what is and what isn't expected and required of you. Always stand up for yourself and your rights as an employee.
If you're thinking of pursuing a language major, make sure you're doing so for the right reasons. Just being bilingual may not earn you extra money or help you ace every job interview, but what you gain from knowing multiple languages is much more valuable.