Whether you relax by journaling, take faster notes by hand, or enjoy sketching, the tools make the experience better. These instruments are impressive in technology, design, and quality. You won't want to go back to a plain, old pencil or pen ever again!
1. Uni Kuru Toga Roulette mechanical pencil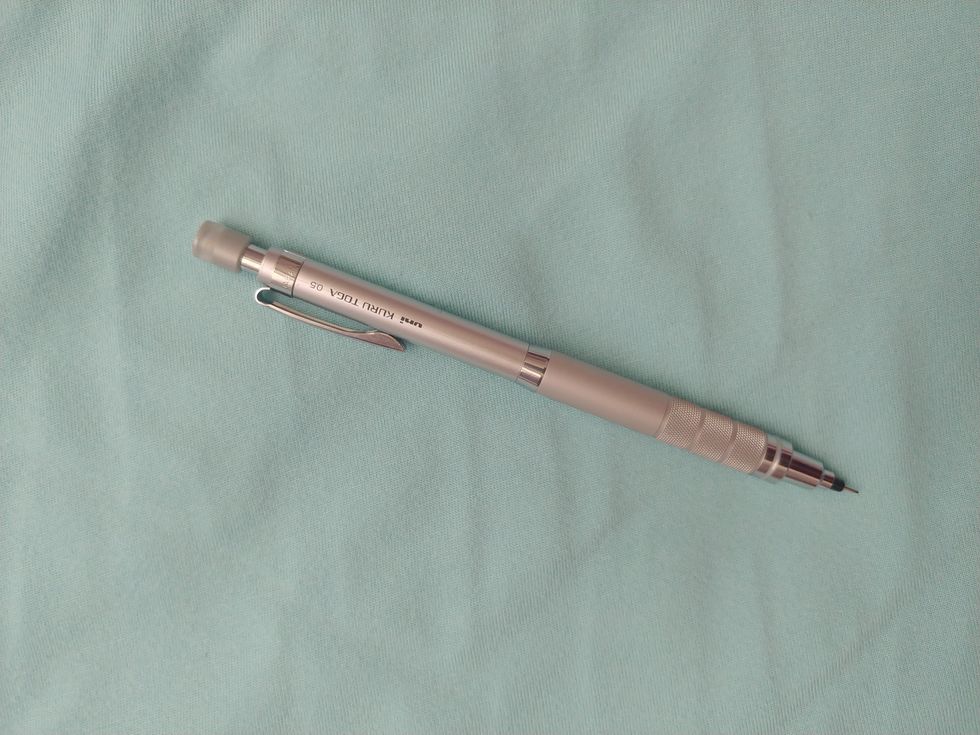 The Uni Kuru Toga Roulette mechanical pencil
Amanda Ellard
Uni-ball is already known for their amazing creation utensils, but the technology on their Kuru Toga mechanical pencil makes this pencil stand out even more. According to their website, they use a "patented rotating lead engine and Nano Dia lead to ensure the lead tip always stays sharp and precise." Say goodbye to uneven edges on mechanical pencil lead points because this slick pencil is self-sharpening as it rotates the lead without you even feeling it, keeping everything even and smooth so you can continue your quest to write the next great novel or score that A+. The body is sturdy, but thin, and textured on the spot where your fingers rest to resist sliding. It is a bit bottom-heavy and the eraser on the top required a tough pull-off of the cap to access. However, the re-fillable lead, that comes in two widths and is "infused with millions of nanodiamond particles and silicone oil", and replaceable eraser are great quality.
2. Pilot Frixion Point Knock pen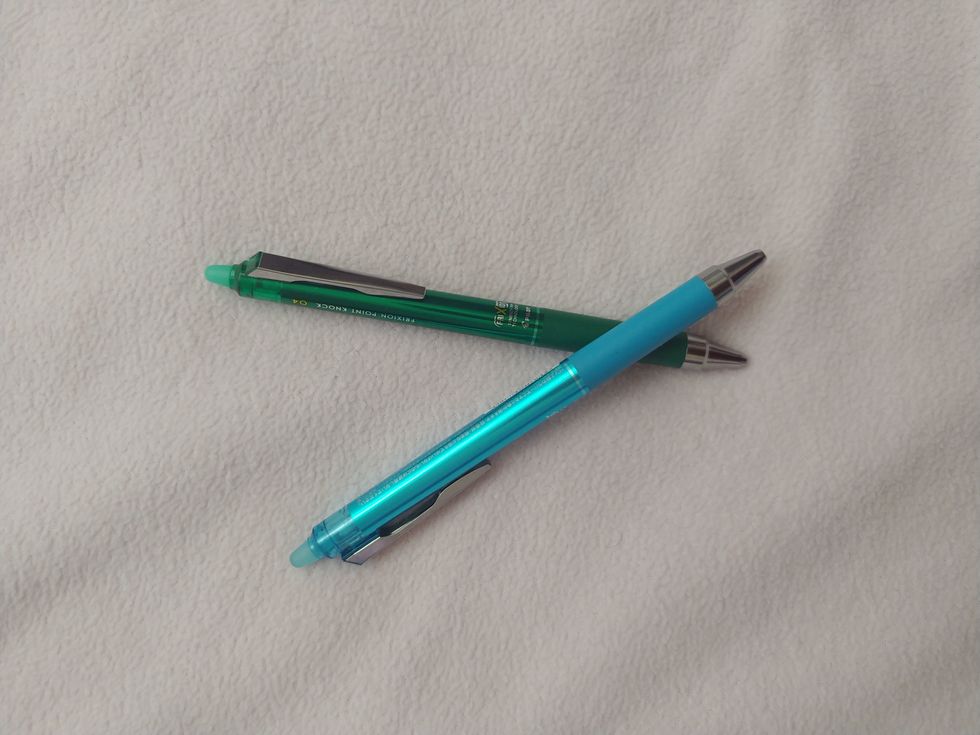 Pilot Frixion Point Knock pens
Amanda Ellard
Want to be able to erase but still use a beautiful ink? You got it! Frixion has many lines of pens, highlighters, and markers that are erasable using their "thermo-sensitive ink formula [that] disappears with erasing friction". The Point Knock pens feature a very fine gel ink point retractable through a click of the clip on one end and an eraser that is said not to wear down on the other. It takes some extra rubs than you may be used to with a pencil to completely erase the ink, but it does just as well if not a better job of clearing the stroke and it certainly does far less damage to paper. The variety of color choices is great for journaling or color-coding notes and the thick barrel leads to a solid grip.
3. Muji Hexigonal Aluminum Ball Point Pen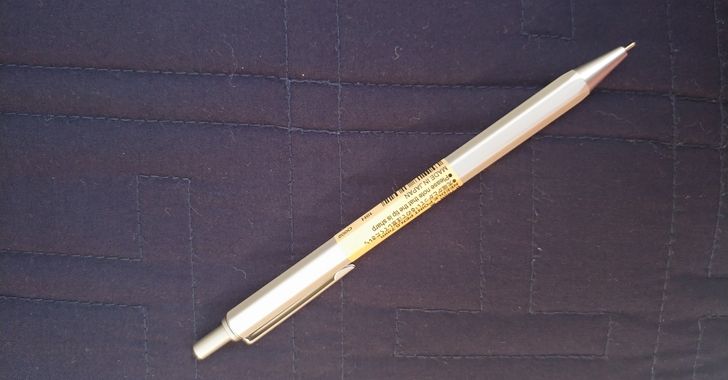 A Muji Hexigonal Aluminum Ball Point Pen
Amanda Ellard
Muji is definitely a stationary staple, but past their gel pens and refreshingly minimalistic notebooks is this gem. It is one of the thinnest pens I own, but that makes it so easy to carry in bags and manipulate while holding. It's hexagonal body in a beautifully simplistic silver settles well in the hand with a medium weight and the removable label boasts a 0.07mm needle point. The ink is dark and even, although it does need a moment to dry to prevent smearing. I've picked up this pen to use the most for its sturdiness, simplicity, and grand ink finish.
For all the great writers, expressionists, students, and artists out there, you're just as amazing as these instruments and hopefully these works of art tools will help you achieve your goals, pass a rainy day, or send you into a relaxing evening. Trying out new stationary is always satisfying, so if you're left wanting more, Uniball, Pilot, and Muji have many more creations just as wonderful to use.