Have you decided what dessert to make this Thanksgiving? If you haven't, consider one of these hand picked classics with a twist!
1. Chocolate Bourbon Pecan Pie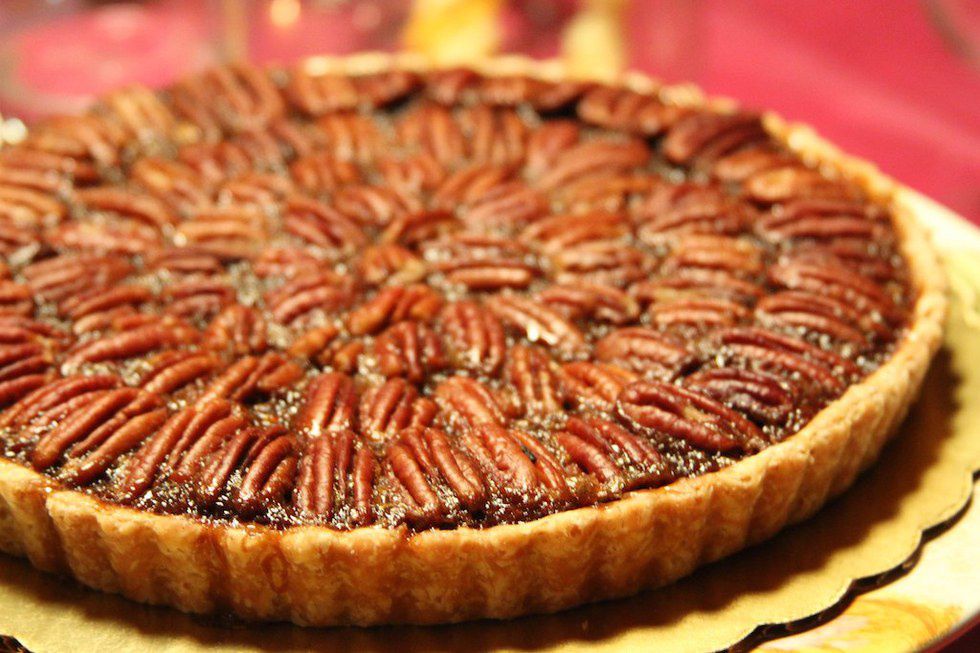 Ingredients:
1 (9 inch) pie shell
1 cup white sugar
1 cup light corn syrup
1/2 cup butter
4 eggs, beaten
1/4 cup bourbon
1 teaspoon vanilla extract
1/4 teaspoon salt
6 ounces semisweet chocolate chips
1 cup chopped pecans
Directions:
Preheat oven to 325 degrees F (165 degrees F).
In a small saucepan combine sugar, corn syrup, and butter or margarine. Cook over medium heat, stirring constantly, until butter or margarine melts and sugar dissolves. Cool slightly.
In a large bowl combine eggs, bourbon, vanilla, and salt. Mix well. Slowly pour sugar mixture into egg mixture, whisking constantly. Stir in chocolate chips and pecans. Pour mixture into pie shell.
Bake in preheated oven for 50 to 55 minutes, or until set and golden. May be served warm or chilled.
2. Apple Pie Muffins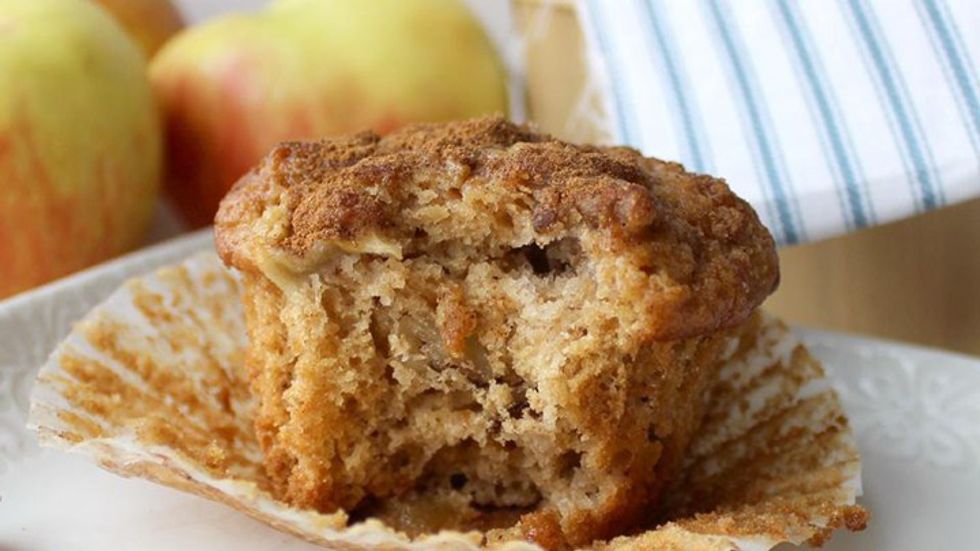 Ingredients:
2 1/4 cups all-purpose flour
1 teaspoon baking soda
1/2 teaspoon salt
1 egg
1 cup buttermilk
1/2 cup butter, melted
1 teaspoon vanilla extract
1 1/2 cups packed brown sugar
2 cups diced apples
1/2 cup packed brown sugar
1/3 cup all-purpose flour
1 teaspoon ground cinnamon
2 tablespoons butter, melted
Directions:
Preheat the oven to 375 degrees F (190 degrees C). Grease a 12 cup muffin tin or line with paper muffin cups.
In a large bowl, stir together 2 1/4 cups flour, baking soda and salt. In a separate smaller bowl, mix together the egg, buttermilk, 1/2 cup melted butter, vanilla and 1 1/2 cups of brown sugar until sugar has dissolved. Pour into the flour mixture and sprinkle the diced apple into the bowl as well. Stir just until everything is blended. Spoon into the prepared muffin tin, filling the cups to the top.
In a small bowl, stir together 1/2 cup of brown sugar, 1/3 cup flour and cinnamon. Drizzle in 2 tablespoons of melted butter while tossing with a fork until well blended. Sprinkle this over the tops of the muffins.
Bake for 25 minutes in the preheated oven, or until the tops of the muffins spring back when lightly pressed.
3. Pumpkin Bread Puddin'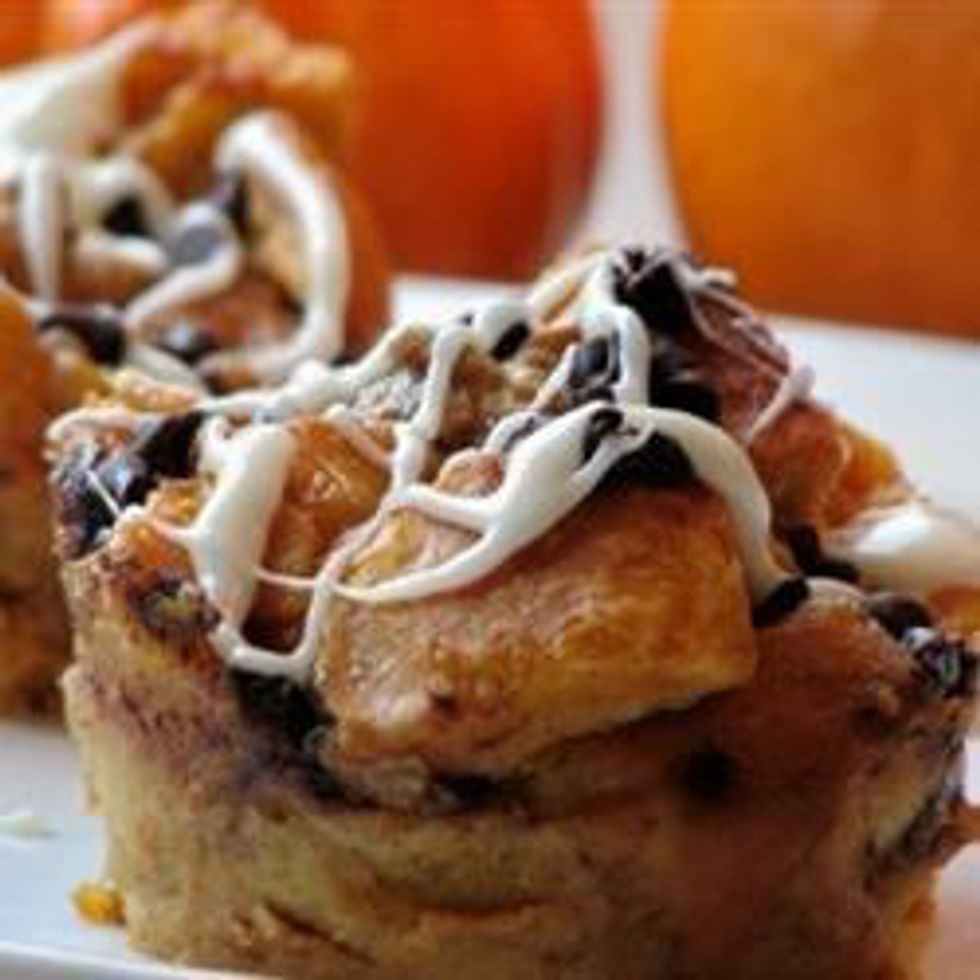 Ingredients:
1 egg
3 egg yolks
1 1/2 cups whole milk
2/3 cup sugar
3/4 cup canned pumpkin puree
1 teaspoon vanilla extract
1/8 teaspoon salt
1/4 teaspoon ground cinnamon
1/4 teaspoon ground nutmeg
1/4 teaspoon ground cloves
3 1/2 cups white bread cubes
3/8 cup miniature chocolate chips
2 tablespoons brown sugar
Directions:
Preheat oven to 350 degrees F (175 degrees C). Lightly grease 6 large custard cups.
Whisk together the egg and egg yolks in a large bowl. Add the milk, sugar, pumpkin puree, vanilla extract, salt, cinnamon, nutmeg, and cloves; whisk into a smooth batter. Add the bread cubes and toss gently to dampen. Set aside for 15 minutes.
Pour the batter evenly into the prepared cups. Sprinkle chocolate chips and brown sugar over each portion. Arrange the custard cups in a shallow baking pan. Pour hot water into the baking pan to halfway up the sides of the custard cups.
Bake in preheated oven until pudding is golden brown and puffy, about 40 minutes; transfer to cooling rack for 10 minutes.
All recipes courtesy of allrecipes.com.