For most people that do not know about Greek Week think that the week is filled with people dressed in togas and doing irrelevant things, but from behind the scenes of preparing for this event, I can say this week is where my memories of college stem form. Here are all the details and planning that go into Greek Week.
1. Theme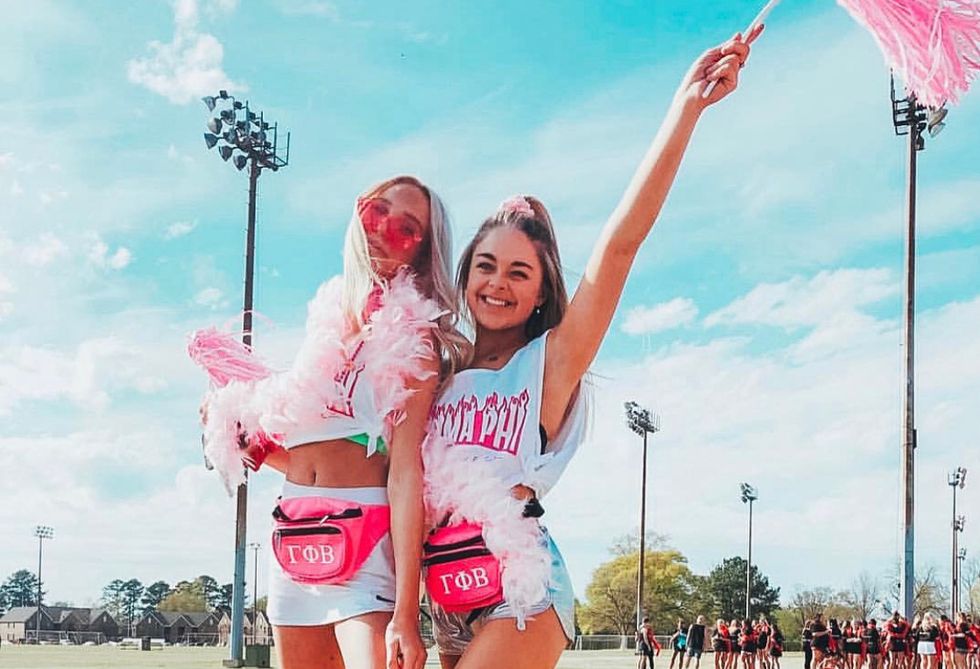 UA Gamma Phi Beta
Instagram: @UAGAMMAPHI
Each year, committees prepare weeks in advance and create shirts for all their members who choose to participate in the week-long event. Much thought is put into the colors and type of shirts that girls and guys will wear. Usually, the week with have a set theme that houses work around and compete to have the most creative look. No togas involved, but getting decked out for your fraternity or sorority will have you looking like true greek goddesses.
2. Gear
Besides matching shirts, Houses prepare every little detail and nothing is ever "too much." To look the part, houses provided and prepare posters, streamers, poms to cheer with, hair bows, tutus, and pounds of paint and sparkles. The goal is to stand out and show your spirit.
3. Banner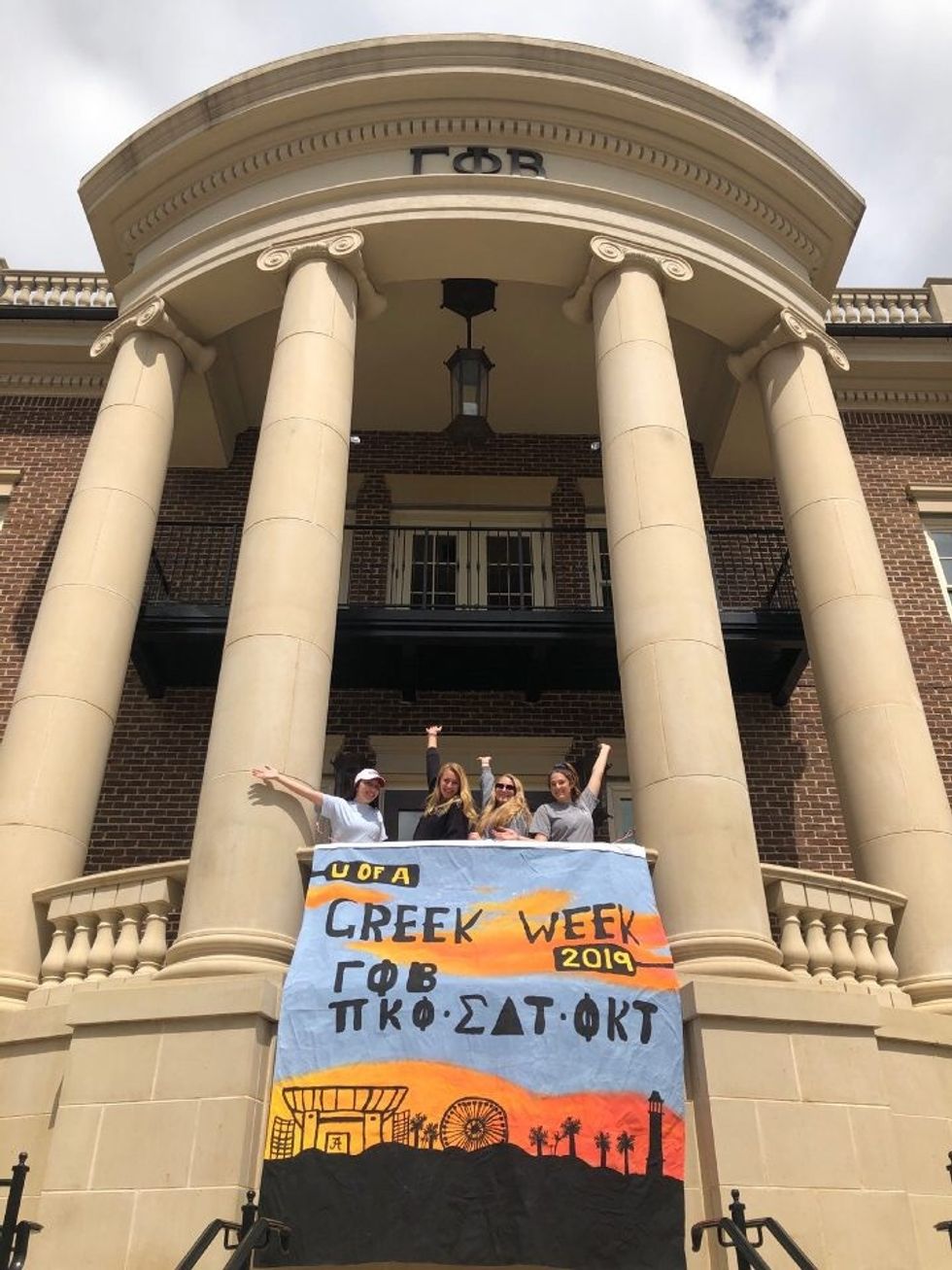 Photo Provided By: Julia Smith
Greek week is not only a week-long event but a competition. houses that choose to participate hang a homemade banner and is judged by the committee who puts on the week. Girls and guys create their own design in hopes of being chosen with the best banner. For my house, we spent some time working on the banner, playing music, and ordering pizza and donuts. Nothing ever seemed like a hard dreadful task, but just a good time to bond and get close to your sisters.
4. Cheering Committees
All members are invited to participate in the week, for the more people in attendance, the more points awarded. Good sportsmanship and enthusiasm earns points for all teams. Cheering committees attend all events and keep everyone pumped up throughout the week supporting their friends.
5. Sports Teams
Greek Week is almost like the Olympics, but you don't have to be a star athlete to participate. Competitions such a tug of war, bowling, kickball, and basketball are available for all teams to compete in. those who fill their teams and meet requirements earn points, on top of winning the games they participate in. Even if you have never played a sport in your life, games are friendly and always fun to spend with your friends.
6. Working with other groups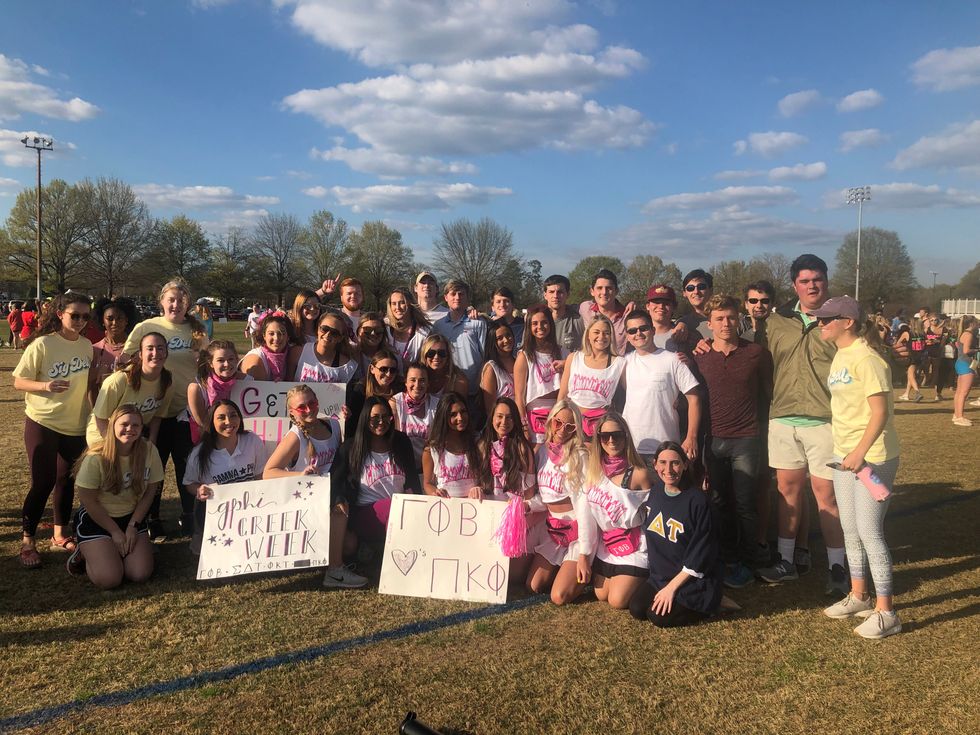 Photo Provided By: Julia Smith
The hardest but most rewarding thing about the week is making sure that everyone is included. Sororities are partnered with other Fraternities and compete together as one big group. The challenge is to make sure there is equal representation from every house and the hardest thing is to work with all students schedules and come out on top. Besides all the hard work, meeting new people is the most rewarding. Freshmen usually participate and meet their friends during this week. Win or lose, everyone gains new friends and many laughs
7. Greek Sing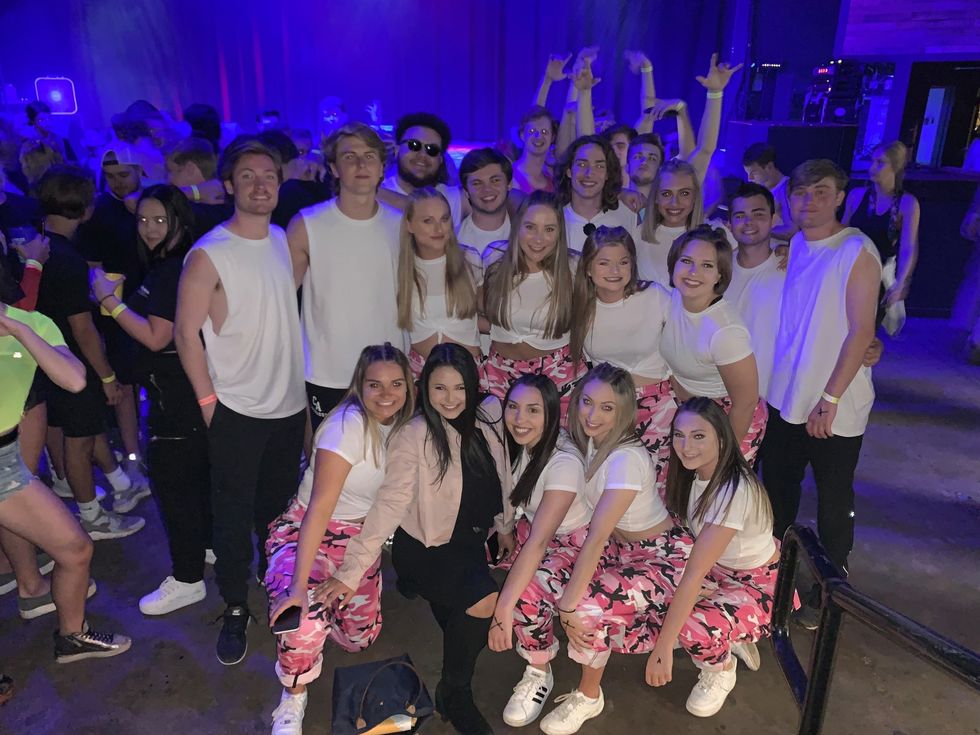 Photo Provided by: Tani Song
The biggest confusion is probably Greek Sing. There is no singing just a dance event. Girls and guys practice all week, come up with a costume, and perform on the final night of the week. This year guests, such a Damien Harris, judged the dance competition and all those who attended watched some great dances and danced the night away after the competition. This was a great conclusion to the week and girls and guys created new friendships throughout the week preparing for this event. It is exciting to see guys learn how to dance and get competitive or find out there are hidden stars in the making.
8. Don't forget the memories!
If you win or come in last place, no one really remembers how well they did, for they will always cherish the memories made during Greek Week. The week-long event really shows how groups come together in some friendly games and meet new people. This is a great way to get out in the sunshine and take a break from all the studies and have some fun!