Last night I had a truly wonderful conversation with a very good friend and future classmate about learning to be still. I am so thankful for this friendship. It is one of those friendships where you know you are free to express exactly how you feel, and you know the other person will understand you. It is also one of those friendships where you know exactly how to encourage each other in the hard times.
During the conversation, I was reminded of an especially hard time in my life. My freshman year of high school my mom was diagnosed with cancer. Our family spent the next four years supporting her through numerous surgeries and countless radiation and chemotherapy treatments.
I have always had a hard time managing stress and anxiety and all of these events certainly did not help. It took lots of work to get to a good place. Over time though, I was able to be still through this hectic time.
You see, I was trusting that the future of my family was in the control of God. The omnipotent and omniscient God that I had grown up learning about and trusting. When I surrounded myself in the constant reminder that I needed to be still and focus on the small things that I could control, I found myself with an amazing sense of peace.
"Be still, and know that I am God. I will be exalted among the nations, I will be exalted in the earth! The Lord of hosts is with us; the God of Jacob is our fortress" (Psalm 46:10-11).
I could sit in a hospital waiting room for hours waiting for my mom to come out of surgery and be completely at peace. It seems crazy that I could be at peace in a hospital of all places. While many people see hospitals as a scary place full of uncertainty, I see them as a place of healing and hope.
"Then they cried to the Lord in their trouble, and he delivered them from their distress. He made the storm be still, and the waves of the sea were hushed" (Psalm 107:28-29).
I believe that every person in my life is there for a specific purpose. The hospital staff and my mom's surgeon for her numerous surgeries were all there to keep her safe and to help her get back to full health.
My dear friends, in a busy world that is always changing, a world full of turmoil and confusion, find time to be still. Take time to see the beauty in the people that care about you. Be still.
"Be still before the Lord and wait patiently for him; fret not yourself over the one who prospers in his way, over the man who carries out evil devices" (Psalm 37:7).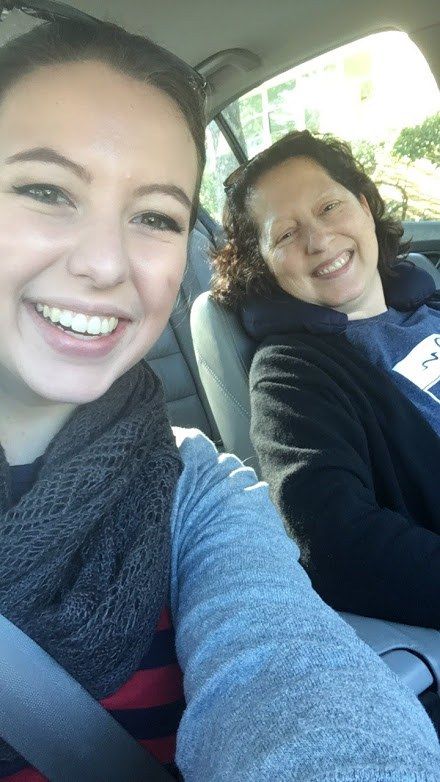 Driving my mom back from her very last surgery in December 2016.