- Blissfully unaware that butt-care beyond squats was even something I should be considering in my self-care routine, I tried one of Bawdy Beauty's butt masks for the first time a month ago.
- I've never really given my butt a second though till I took a look at improvements that could be made with the mask — if one of the hydrating, firming, detoxifying, or brightening masks in the kit I received could either smooth out cellulite or tone my skin a bit more, I wasn't going to complain.
- Each Bawdy Beauty sheet mask comes in an individually-packaged sheet, soaked with a serum I massaged into my skin after removing said sheet. The clay butt mask comes in a convenient stick format I simply draw on to my skin and leave to set for about 10 minutes before hopping into the shower.
- I set a goal of committing myself to butt-care every day for one month. Between the regular use of sheet masks, clay masks, and their CBD Butt Balm in between, I didn't have many expectations.
- I thought the whole concept may just be a gimmick, but my butt has never looked so toned in my life, and the cellulite I had is almost completely gone. I wear one every single day when I get the chance.
I'm incredibly skeptical when it comes to marketing ploys and gimmicks in the beauty world. I'll be the first cynic to try out the latest serum on the market every influencer is raving about just to negate every grandiose claim it makes.
When I began hearing buzz about butt masks, I thought they sounded hilariously fun. I couldn't wait to try out the masks, and the second I was sent a package from Bawdy Beauty's PR team to test them out, I couldn't have been more excited. When it comes to taking care of a woman's curves, lifestyle brands often fall in a space of shameful marketing ploys guaranteeing a certain body type when their product is used, and happiness for it.
Enter Bawdy Beauty: a body-positive brand celebrating our bodies for what they are, and for bringing back the fun in beauty. Their whole concept is built around debunking the old adage that beauty is pain — it's not. With Bawdy Beauty, it's meant to be lighthearted, fun, and effective in making you feel your absolute best in the body you have, not the one you want.
I was never really butt-obsessed. I do my squats and barre classes, and pretty much forget it's there beyond that other than occasionally (unfortunately, like most women) looking in the mirror and wishing it looked different. Either way, it was never a real preoccupation till the past month in which it became one.
My goal was simple: incorporate butt-care into the daily skincare routine I already have.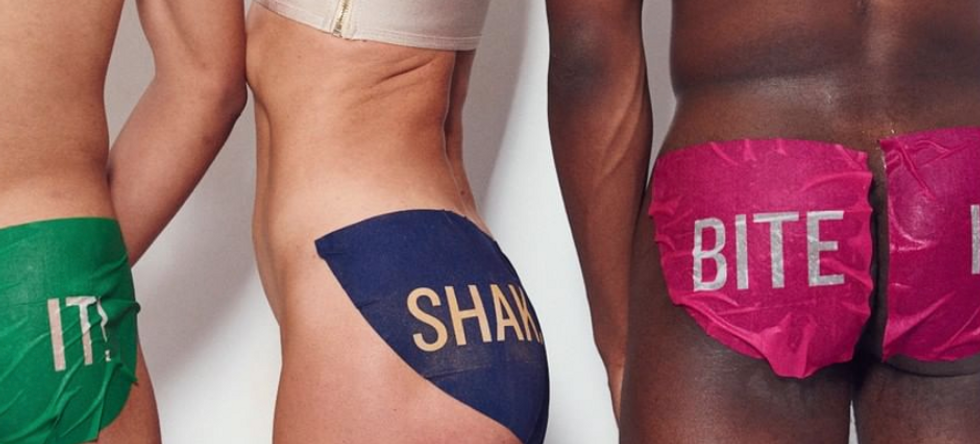 @bawdybeauty
How I use it
When I first received the Bawdy Beauty Galaxy Kit sheet masks, clay Butt Mask Stick, and Butt Balm, I was thrilled by the beautiful packaging and fun names each of the sheet masks were given, "Bite It, Shake It, Slap It, Squeeze It." I thought I'd make a night of the "Shake It" Galaxy sheet mask.
I lit some candles, put on "Bridget Jone's Diary", and laid on my back, sheet-masked butt in the air for about thirty minutes.
After removing it, there was tons of serum left over on the sheets. I squeezed out the excess onto my hands, and really massaged it into my skin, working it into my thighs where I could use a bit of toning, as well. The next day, I didn't see a miraculous change or anything, but my skin felt more taut and tight to the touch.
The next day, I tried out the clay butt mask. I braced myself for things getting quite messy, but it was actually incredibly easy. The twist-up stick made it easy to look in the mirror and draw the smooth clay mask on to my skin. Unlike some thicker clay face masks, this felt incredible comfortable on the skin and went on thin — I actually think more face mask should come in the easy, mess-free format.
After a couple of weeks, I adopted a routine of doing a sheet mask once a week and the clay mask every other day. Every morning for the past month, the last step in my (face) cleansing, serum, moisturizing, and jade rolling routine was applying their CBD Butt Balm — not just to my butt, but to my thighs and even, sometimes, my stomach area.
Which you should get
If you're looking for quick, fast results before a date, going to the beach, or just a Friday night in, go for the sheet masks. The Galaxy Kit's masks deliver the most instantly-noticeable results in thirty minutes or less.

If what you want is longevity of smoothness or to cure a case of butt acne, the Clay Butt Mask is what will serve you best. The kaolin clay in the detoxifying and firming stick is great for clearing out impurities — I recommend using it on any body acne you may have on your back, legs, etc. I don't personally have body acne, but this was an easy way for me to make the immediate effects of sheet masks last a lot longer, and kept my skin extra soft.
For those looking to tone and maintain overall skin health by smoothing out cellulite and making skin feel extra taut, the CBD Balm Stick is exactly what you'll want. It doesn't require the time commitment of a mask, and the balm formula makes it easy to apply, so it's easy to incorporate to your daily body moisturizing routine.
The results

After a month of using some form of Bawdy Beauty butt-care every single day, my skin has actually transformed. It's tighter, smoother, and — maybe this is just my mind playing tricks on me or the extra squats I've added to my workout routine — more toned than ever.
The cellulite once lining my tiger stripe-esque thighs is nearly gone, and the skin that felt smoother to the touch after one use of a sheet mask has sustained and grown.
Cons
If you decide the sheet mask route is best for you, they can be a bit pricey. At $34 for a pack of four in their Galaxy Kit, they're still less than $10 apiece, which is more than some might be willing to spend on a single-use item, but still cheaper than going to a spa.
If you choose the more eco-friendly or budget-friendly route, I highly recommend grabbing the stick clay mask and butt balm, which will give you at least a couple of months of use — and that's if you're a big enough fan to use these every day, which I was.
Bottom line (pun intended)
I've already recommended and ordered Bawdy Beauty products for two friends, who now consider the sheet masks and butt balm a pre-date and everyday essential, respectively.
Their products are officially a part of my daily routine, and likely will be for a very long time — not so much for the vanity of it all, though I do love that my cellulite, tone, and texture have never looked or felt better, but because I grew an admiration and investment in a part of my body I didn't really give a second thought to before.
Buy the Galaxy Kit of Butt Sheet Masks for $34 from Bawdy Beauty.
Buy the Clay Detoxifying and Firming Butt Stick Mask for $28 from Bawdy Beauty.
Buy the Restoring and Relaxing CBD Butt Stick Balm for $40 from Bawdy Beauty.