He's a silent cameo. A watchful legislator. A Democrat from Vermont.
Sen. Patrick Leahy absolutely loves Batman. So much so, that he boasts appearances in five of the last six films about the dark knight.
The seven-term senator has boasted about a fascination of Gotham City's hero ever since he was a child.
"I had my first library card when I was 14," he said in an interview with Roll Call. "My buddies at school were all reading Superman, I liked Batman."
Leahy originally made his screen debut in the Joel Schumacher-directed Batman Forever (1995) and Batman & Robin (1997) where he made brief appearances as a generic man in a crowd in both films.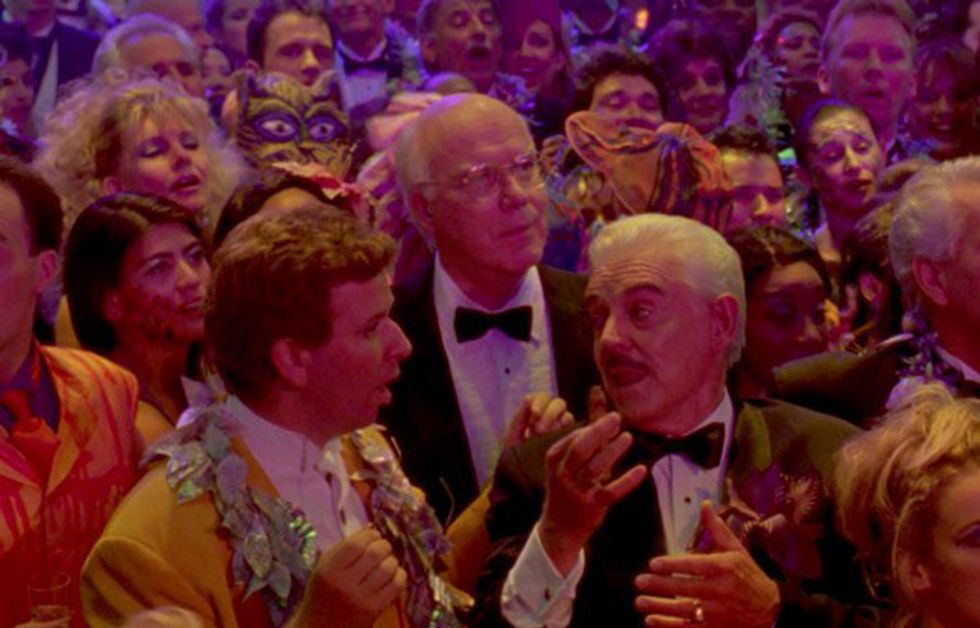 Sen. Leahy (middle) looks onward as Batman (George Clooney) and Poison Ivy (Uma Thurman) flirt off-screen in "Batman & Robin".

He later got involved in the Batman reboot films directed by Christopher Nolan and starring Christian Bale as Batman.
"They asked him to do a bit in a Batman movie," Leahy said referring to his son, who is an actor. "He said, 'you know, my dad likes Batman' and they said 'really?"
That's how the senior legislator got another Batman role, appearing in 2008's The Dark Knight. This time, Leahy got to deliver a line- and speak it to one of Batman's most iconic villains.
Leahy got to go toe-to-toe with Heath Ledger's Joker. See if you can spot him
in the scene:
Give up? Or just don't feel like watching? In summary, the current longest-serving incumbent Democratic member of the Senate gets to play another guy in a suit. He advises the Joker, who just crashed the party he was enjoying himself at, not to mess with Gotham:
"We're not intimidated by thugs!" Leahy declares.
"You know, you remind me of my father," the Joker responds before grabbing the face of the man who is third-in-line for the presidency (when Democrats control the Senate).
Sticking a knife in the Vermont senator's face, the Joker snarls "I hated my father!"
Leahy appears to have legitimate fear in his face during the scene.
"It's hard to imagine anyone doing a better job then Heath Ledger did," Leahy recalls. "He scared the heck out of me when he came at me with that knife. I didn't have to act!"
But Leahy didn't stop there. He made yet another appearance in the 2012 sequel The Dark Knight Rises as a board member.
His most recent appearance came in 2016's Batman vs Superman where he gets the chance to make another cameo- this time as a U.S. senator.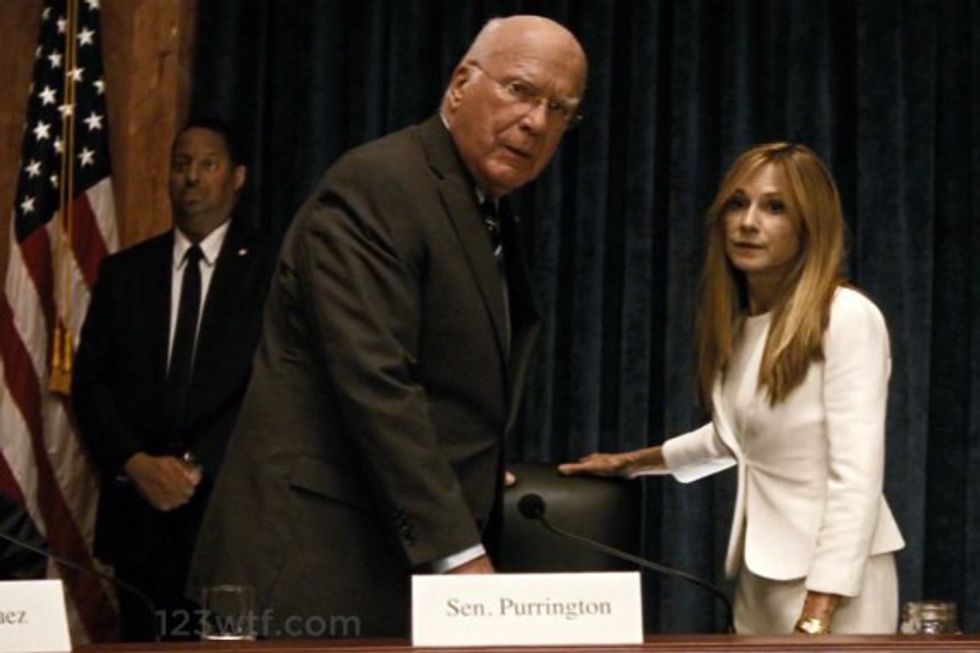 Leahy got a chance to make yet another cameo as the fictional Senator Purrington in "Batman vs Superman"

The former Judiciary chairman also has been known to whip out his Batman knowledge on anyone who dares cross him:
"I was talking to some people at DC Comics and they said something about Batman and I said 'No, no that's wrong because about the third page of the June issue of 1947 he did such-and-such and they went back and checked and said 'By golly, he's right!"
Leahy also had the opportunity to use the Batman comics as a vehicle to advance his anti-landmine legislation through the Senate by writing a forward to a Batman comic that featured them.
"Our point was there are no happy endings with land mines," Leahy said in the interview A lot of senators read it and brought it home to their families and they said, 'yeah we ought to ban those darn things."

The bill passed 100-0.
All of Leahy's earnings from his cameos are donated to local children's libraries in his home state.
Senator Leahy has been a senator since 1975 and was reelected to an eighth term last November. Before Republicans took control of the Senate in 2014, Leahy was the President Pro Tempore, the eldest member of the majority party. He has also served as chairman of the Judiciary committee. He has pushed for environmental and criminal justice reform as a senator.
Next time you watch a Batman film, you can annoy your friends with this piece of political movie trivia. With Ben Affleck working on another Batman film set to film in the near future, one might wonder if the longtime legislator is checking his availability for another big screen appearance.