One of the reasons I anticipate being home for the holidays is because I know I'll be able to get my hair done. As much as I love my small afro, it takes a lot of energy to get up early in the morning to moisturize, comb, and accessorize it depending on if I want to add a hair band or not.
After two years being in Austin, I still can't find a Black owned hair salon. Granted I haven't walked or taken the bus far enough to find one, but that's just it, I shouldn't have to. If UT Austin can have an ordinary barbershop, nail and hair salon, then there should be someplace close to accommodate Black students hair necessities.
When I searched Google for "Black-owned hair stylists in Austin", I was so excited to see a lot of red dots on the map, but when I looked closer and actually explored the suggestions, they weren't even Black hair salons. The salons had at least one but at most two stylists of color who may know how to do my hair, but I still wouldn't feel completely comfortable.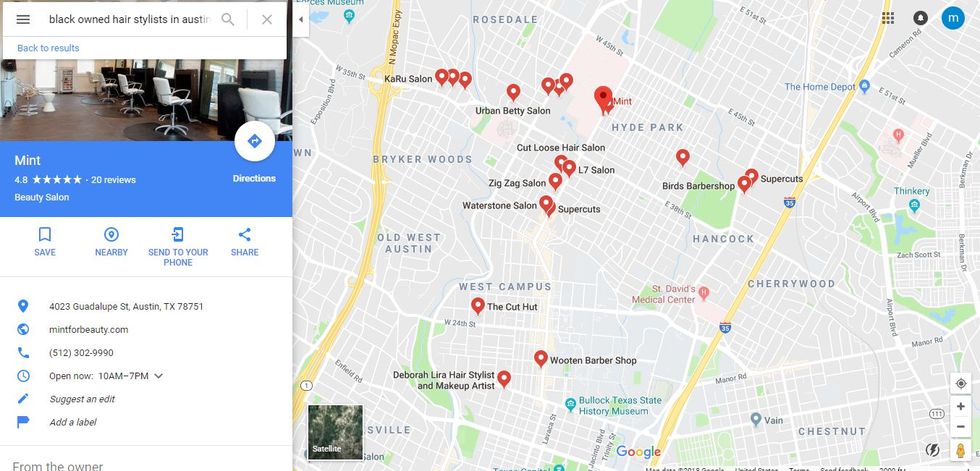 There's so much that goes into doing my hair. Unlike the Caucasian majority, my hair is more curly, coarse, and a tendency to dry out quickly if not moisturized enough. My hair also suffered a lot of damage from when I had put a relaxer on it for 6 years of my life until it got so brittle and broken that I had to cut it all off.
Back at home, it takes two to three hours just to get my hair trimmed. That's because my stylist not only has to shampoo and condition my hair using certain products, but they also give me a steam treatment and brush/straighten out my hair before they can even think about cutting the ends.
It's already disheartening to live in a city that's known as the "10th 'fastest-gentrifying city in the nation..." and going to a school where Black students only represent 5 percent of the total on-campus population.
It's aggravating how easy it is for hair salons to promote diversity in their shops, but most of the time they wouldn't know where to start with a Black person's hair.

The hair salons that could accommodate me on The Real Yellow Pages were much farther than the results I found on Google. The difference between the two search engines was YP's recommendations featured Black customers with sew-ins, braids, twist outs, and more. But their locations were farther away from campus and extremely expensive.
People of color need stylists with the same type of hair as them and are as easily accessible to their customers as White owned salons, plain and simple. But that's unlikely to happen since Austin will continue its dream of a gentrified society forcing residents of color and their businesses to move farther away.