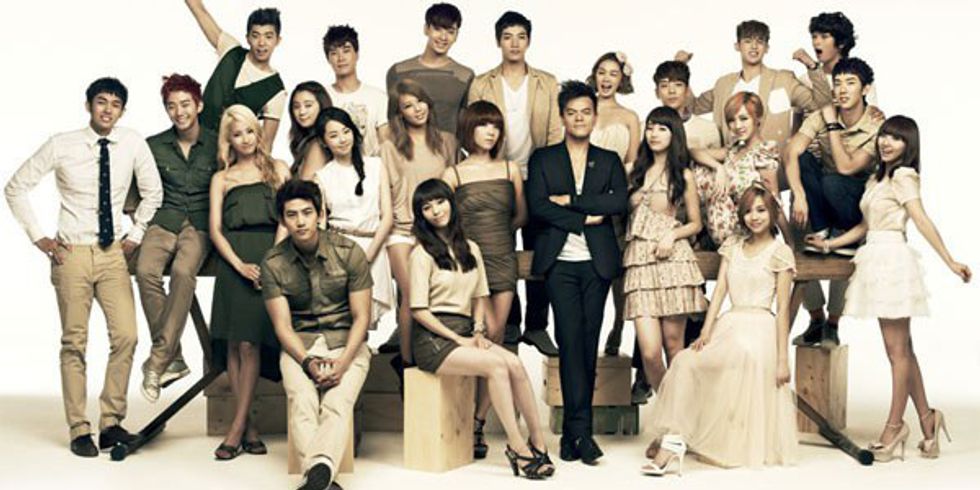 K-Pop stars along with head of JYP Entertainment, JYP (slightly off center in black).
PSY, Wonder Girls, Rain, Big Bang -- Korean pop culture is continuing to rise as not only a growing subculture in Asia. It's also becoming mainstream in many other countries. The influence of American music and entertainment eventually shaped Korean society and created what we know of today as K-Pop. Its music has spread to many countries, including the US, and a few well-known artists have even made their mark in the history of both music and American society. Known for their elaborate costumes, concepts and choreography, K-pop has created an international audience that continues to grow to this day. It's not just exclusive to music -- Korean dramas and televisions shows are also enjoyed and recognized in the world as well. Stardom in Korea seems like a dream come true, and to be a star slightly differs from how people become famous in America.
The internet is making it easier to find new stars, but there are some slight differences between the road to be a K-Pop star and an American Pop star -- especially for those who want to be a singer or dancer. Most K-Pop stars have to undergo intensive training required by the entertainment company they were hired to work for. Training time varies, depending on the individual's skills, and range from one to 15 years to complete. Competition to debut as soon as possible is rampant even after becoming a trainee -- and only the head of the company can choose who gets to star, who has to wait and who is out of the game.
Once chosen, trainees are divided into groups and debut as singers, dancers, rappers or those who have the skills to do more than their assigned roles. For those who do not speak Korean as a first language, Korean classes, along with their vocal and dance practices are part of their daily routine. Before becoming a trainee, one must audition for an entertainment company to even be accepted.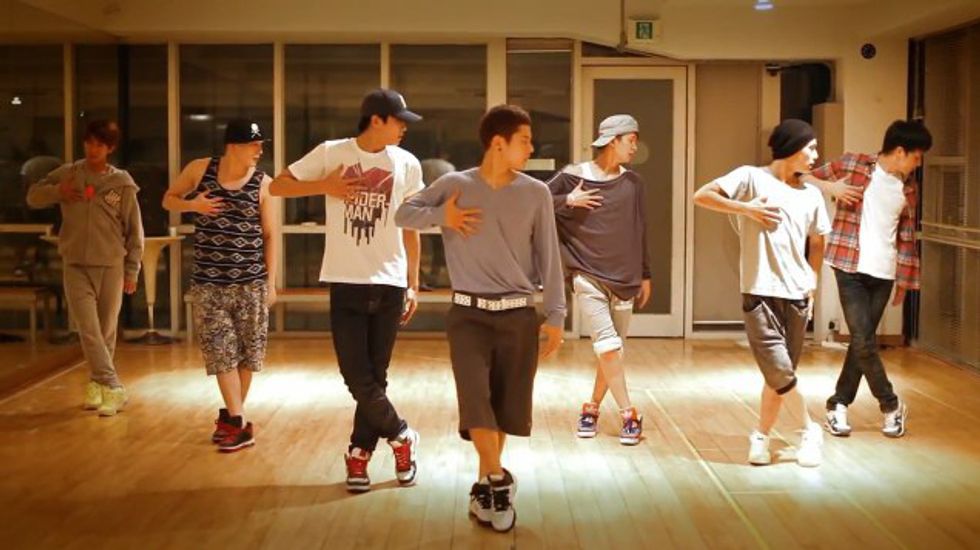 Auditions occur in Korea and around the world as well. Companies vary when it comes to how many times they hold auditions. Participants come from all walks of life and their ages range from 13 to 21-years-old. Some companies hold them annually while others do them every few years. Often, non-Korean participants would try to go into one of the three biggest companies in Korea: YG Entertainment (PSY), JYP Entertainment (Wonder Girls) and SM Entertainment (Girls Generation).
When my sister heard that JYP was holding auditions near our home, she convinced me to audition with her. I had no interest in becoming a K-Pop star myself, but I wanted to hear what the experience was like to show what I got to a country over 9,000 kilometers away. The only experience I had from audition for an entertainment company was when I was about five-years-old and unaware that my mother thought it would be interesting to turn me into a child star at the time. I wondered if auditioning to be a K-Pop star would be similar.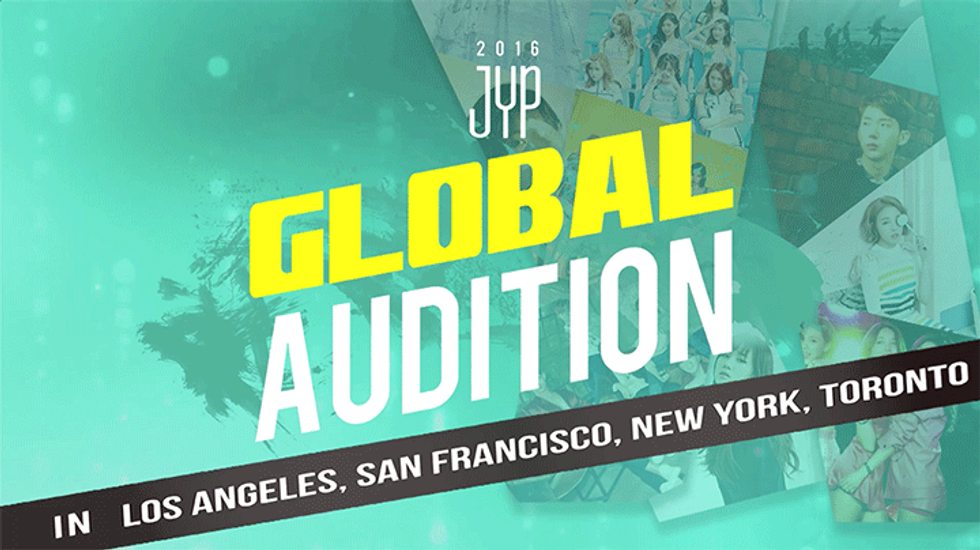 My sister and I did our applications online in advance. The application was rather simplistic compared to what I expected. No resumes were required, no face shots needed to be downloaded and no information about citizenship or addresses. All they needed to know was our name, age, email and what we were going to audition for. My sister decided to audition as a rapper while I decided to go for emcee.
Unfortunately, despite my self research and asking those around me what I am suppose to do for my audition, I had no idea what I had to do. I had nothing planned until a few minutes before my audition. During the slightly nerve-wracking wait, I tried to ask the volunteers and other participants about my dilemma -- most were not even aware that JYP was holding auditions for emcee while the others had no idea what I was suppose to do. I finally realized that my audition as an emcee required me to pretend that I was a host on a television show and perform whatever prompt I was suppose to practice. I was more relieved that I did not have to explain to the judge of the audition about my situation but disappointed that I had to learn last minute about what I was supposed to do.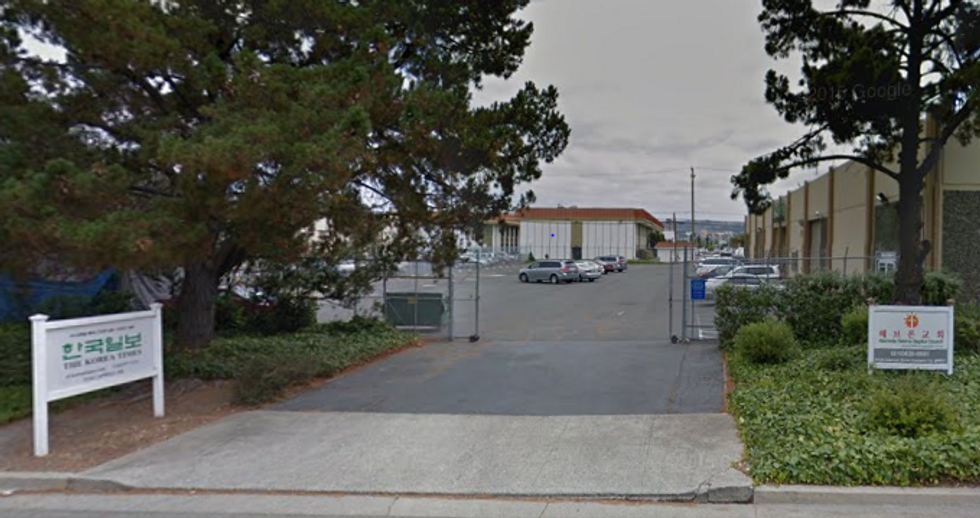 The Korea Times, location of audition.
The location, despite the company's website stating it will be in San Francisco, was actually in Oakland. The industrial-looking location was a community center called The Korea Times SF and did not give the vibe I was expecting. It seemed sketchy, despite how many times I checked JYP's website and the map instructions. Once I entered the building, I finally realized I was at the right place after seeing a professional-looking poster that sported the company's name.
The auditorium was used as a waiting room where rows of chairs were filled with potential stars and a projector played music videos to pass the time. My sister and I gave our applications to two kind greeters at a plastic table near the entrance. Parents were not allowed to sit with their children in the auditorium, and some were not even aware of why their children came here in the first place. The greeters, along with other people that were responsible for corralling us to our places, were volunteers from around the area.
My sister and I were given our numbers, which were mere stickers that had numbers written on them. We were told to go to the auditorium's stage to turn in our minimal applications. We were greeted by another volunteer, a computer science student from Berkeley, who occasionally called out the next numbers before leading them to the audition room. Other than the music videos on the screen, which most of the people waiting could recognize within just a few seconds it began, and merely talking to other participants, there was nothing else to really entertain ourselves. Wi-fi was not available and my data was unable to reach me.
As a person who was not well educated on what K-Pop is, I decided to ask a few people about why they love K-Pop and what brought them to audition. At least 95 percent of the people appeared to be Asian, and some tried to appear Korean to up their chances at being accepted. Only a few were actually male, while the rest of the participants were female. Most auditioned to be a singer while a few were auditioning to be dancers, actors and models. Many of them were in their first two years of high school with a few barely starting it. I was not able to find anyone around my age or auditioning for the same thing I was. I managed to befriend a few people, most of whom were aspiring singers or rappers.
[rebelmouse-proxy-image https://media.rbl.ms/image?u=%2Ffiles%2F2016%2F10%2F15%2F636121639892775349-281034875_14650562_1190483700995407_4313663501278875156_n.jpg%3Foh%3D7ab3d413f2f1422d208131e2fb98275e%26oe%3D5896504C&ho=https%3A%2F%2Faz616578.vo.msecnd.net&s=48&h=03cf9f611ebab41ee4e2cc092405d9a0252dfdd6c924cf2110124a4a69142e2b&size=980x&c=3927333493 crop_info="%7B%22image%22%3A%20%22https%3A//media.rbl.ms/image%3Fu%3D%252Ffiles%252F2016%252F10%252F15%252F636121639892775349-281034875_14650562_1190483700995407_4313663501278875156_n.jpg%253Foh%253D7ab3d413f2f1422d208131e2fb98275e%2526oe%253D5896504C%26ho%3Dhttps%253A%252F%252Faz616578.vo.msecnd.net%26s%3D48%26h%3D03cf9f611ebab41ee4e2cc092405d9a0252dfdd6c924cf2110124a4a69142e2b%26size%3D980x%26c%3D3927333493%22%7D" expand=1 original_size="1x1"]
The waiting room, where JYP's music videos and celebrity clips are shown on screen.
"So long as you behave well and work hard, you'll debut and be a star … eventually." That was the conversation I had with two talented individuals Jocelyn and Angelika. Both were around 13 to 15 years of age and auditioning to be singers. Just like many of the participants I ended up talk to after my audition, they wanted to be stars because they were interested in K-Pop. Most of them were from the Bay Area, while a few have traveled from different cities, states and even countries in hopes of getting in. Youth seemed to be the thing that could increase the chances of being accepted as a star. Many older participants reassured the younger ones that their dreams are still possible because of their youth.
Even though I slightly expected some hostility and tension between others, everyone was generally supportive of one another and often talked about their interest in K-Pop while they waited for their turn. Most of my conversations between Jocelyn and Angelika were like many others. We tried to comfort each other before our auditions and those who stayed after auditions talked about how others did. Some were described to be incredible; others were not so great. Opinions were honest, but not blunt or hurtful. The conversation eventually turned to what they heard about being a trainee in Korean entertainment companies. Comparisons were made between the top three -- one of them being JYP Entertainment. In the end, they all stayed diplomatic to JYP despite complaining about how tough training life was. The only thing I knew about training as a K-pop star came from a Buzzfeed video and clips of K-Pop star interviews, but only the latter seemed to match up the most with what it really was like to be a star.
Though the two girls I talked to were ecstatic about possibly becoming a star, they were worried about the hardships of becoming one. According to Angelika, a trainee is on the right path if they go to all the dance and vocal practices and do their best -- but only relying on merit does not always guarantee a steady rise in success.
[rebelmouse-proxy-image https://media.rbl.ms/image?u=%2Ffiles%2F2016%2F10%2F15%2F6361216465960909281737245894_14721473_1190487370995040_6048110929854802553_n.jpg%3Foh%3Decec056a7022d4b19d58776fd738f5b3%26oe%3D589CE384&ho=https%3A%2F%2Faz616578.vo.msecnd.net&s=756&h=77718790d8e39fc0dc7a7dbe798c272e55155a938ec211842ce52d159aba4e1a&size=980x&c=1985928778 crop_info="%7B%22image%22%3A%20%22https%3A//media.rbl.ms/image%3Fu%3D%252Ffiles%252F2016%252F10%252F15%252F6361216465960909281737245894_14721473_1190487370995040_6048110929854802553_n.jpg%253Foh%253Decec056a7022d4b19d58776fd738f5b3%2526oe%253D589CE384%26ho%3Dhttps%253A%252F%252Faz616578.vo.msecnd.net%26s%3D756%26h%3D77718790d8e39fc0dc7a7dbe798c272e55155a938ec211842ce52d159aba4e1a%26size%3D980x%26c%3D1985928778%22%7D" expand=1 original_size="1x1"]
From left to right: Angelika, Jocelyn, me, and my sister.

Even though my sister and I were suppose to arrive before one in the afternoon, there was a slight delay. Our numbers were in the 330s but they were currently calling the late 100s by the time we arrived. I didn't mind the waiting period of almost two hours after our supposed call, but I tried to spend some asking others what my audition should be like. Just several minutes before my number was to be called, I finally got my answer. I asked a volunteer about my situation and got my answer through the computer science student who acted as a translator. I had to act out as a host on a television show -- and I wished I knew I had to practice more sooner. Both Jocelyn and Angelika had went before me and talked about how their auditions went. Even though it reassured me, I knew that I would have to see the audition process for myself.
My sister, three other people and I were led out of the community center and to a nearby office that was connected to it. The door had a sign that signified that auditions would be held behind it. Another set of other participants exited out before I could go in. My heart was racing because I knew that I was going to screw up for being unprepared. My sister was equally nervous, but there was no turning back.
[rebelmouse-proxy-image https://media.rbl.ms/image?u=%2Ffiles%2F2016%2F10%2F15%2F636121654945928529-1803842777_14642039_1190483704328740_8828266772038130108_n.jpg%3Foh%3Dc9f99b5b1e2b7801927d7bc365e0ac85%26oe%3D586ACA35&ho=https%3A%2F%2Faz616578.vo.msecnd.net&s=252&h=6398de4cf2b5778a2e393d6c24031490dade3e629414f9355dd0c833834999b7&size=980x&c=2896482203 crop_info="%7B%22image%22%3A%20%22https%3A//media.rbl.ms/image%3Fu%3D%252Ffiles%252F2016%252F10%252F15%252F636121654945928529-1803842777_14642039_1190483704328740_8828266772038130108_n.jpg%253Foh%253Dc9f99b5b1e2b7801927d7bc365e0ac85%2526oe%253D586ACA35%26ho%3Dhttps%253A%252F%252Faz616578.vo.msecnd.net%26s%3D252%26h%3D6398de4cf2b5778a2e393d6c24031490dade3e629414f9355dd0c833834999b7%26size%3D980x%26c%3D2896482203%22%7D" expand=1 original_size="1x1"]
The five of us were brought into a crowded room that was supposed to look like a lobby. A room that had an open door was on the left, and another volunteer had us stay in a single file line close to it. One by one, we went inside. The rest of us could hear the others performing. A voice from the room would call the next person and have them stand on two pieces of tape that was put on the ground. The voice did not sound demeaning or critical, as I could hear whoever was in the room playfully laugh after seeing how cute my sister's audition was.
It was finally my turn. Stage fright nearly got the best of me as I walked into the room alone. The other participants waited to hear what I was going to do. Even the comments from other individuals about how bubbly and charismatic I was couldn't make me stop shaking in fear.
[rebelmouse-proxy-image https://media.rbl.ms/image?u=%2Ffiles%2F2016%2F10%2F15%2F636121644833568390-2058397259_14708349_1190483707662073_4214575197122526223_n.jpg%3Foh%3Dabf44c88655313ec1e1872f81434a4d8%26oe%3D5895D20C&ho=https%3A%2F%2Faz616578.vo.msecnd.net&s=671&h=6bf37ff802597a450ba08ae597f9dd32c9c27c65405accafa1295f041de2a14a&size=980x&c=3417538890 crop_info="%7B%22image%22%3A%20%22https%3A//media.rbl.ms/image%3Fu%3D%252Ffiles%252F2016%252F10%252F15%252F636121644833568390-2058397259_14708349_1190483707662073_4214575197122526223_n.jpg%253Foh%253Dabf44c88655313ec1e1872f81434a4d8%2526oe%253D5895D20C%26ho%3Dhttps%253A%252F%252Faz616578.vo.msecnd.net%26s%3D671%26h%3D6bf37ff802597a450ba08ae597f9dd32c9c27c65405accafa1295f041de2a14a%26size%3D980x%26c%3D3417538890%22%7D" expand=1 original_size="1x1"]
More participants waiting outside after my audition. ready to face the real deal.
The first thing I noticed was a camera directly in front of the place I had to stand. A tired but friendly-looking middle-aged man shuffled through the applications all the participants have given before and confirmed my audition number. He looked
like he'd been there the entire day but maintained a positive attitude to all the performances he had to oversee. I wasn't sure if he was also a volunteer or a worker from JYP sent to oversee the auditions.
After telling me to look into the camera, he told me to begin whenever I was ready. I knew from Angelika and Jocelyn that I had 40 seconds to do my act. I managed to do the best that I could prepare in a few minutes and imagined that I was a host on a talent show. Throughout my BS, I noticed he was listening intently and smiling as I awkwardly tried my best to perform. High school senior speech class and a bit of drama allowed me to be aware of my voice and presence but I knew I did terribly.
Nevertheless, I heard him do the same laugh he did to my sister at the end of my performance. I shyly thanked him and went my merry way. My sister and I talked to other waiting outside of the building while we waited for our ride home. The camera that recorded everyone's audition will be sent to JYP headquarters. A group of panelists will view them and determine who is eligible to be sent to Korea. Because the global auditions are held in other places of the world besides Oakland, it will be about a month before they finally call some of these participants and tell them whether they're going to become trainers or not. The auditions actually brought me close to many people, even if I wasn't very knowledgeable about K-Pop.
As I waved good-bye to Angelika and Jocelyn, I honestly wished them the best of luck. These girls and many others were very talented and willing to bear the struggles to be a star. Hopefully, they will be able to fly to Korea and be in the ranks of all the other well-known stars.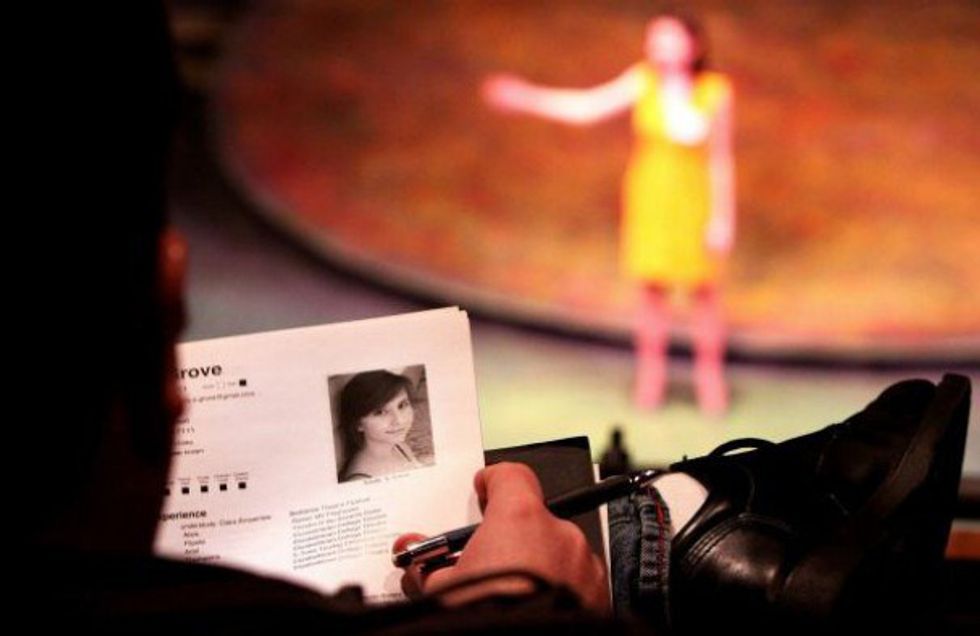 Did everything go as expected? Not really. It wasn't similar to what I've seen on "A Chorus Line" or the "American Idol" auditions on TV. The location of the audition did not give a good first impression and I wished the volunteers and workers were a bit more informed. However, the atmosphere was not tense or hostile. Everyone was super friendly and passionate about K-Pop and all were dreamers themselves. Whether I do get in or not, I don't really care. I still wish the best to everyone I've met thanks to this experience.