After President Trump's nomination of Brett Kavanaugh for the Supreme Court, an obscure college professor, Dr. Christine Blasey Ford, came forward with allegations of attempted rape against Kavanaugh. In response, Trump tweeted the following mess: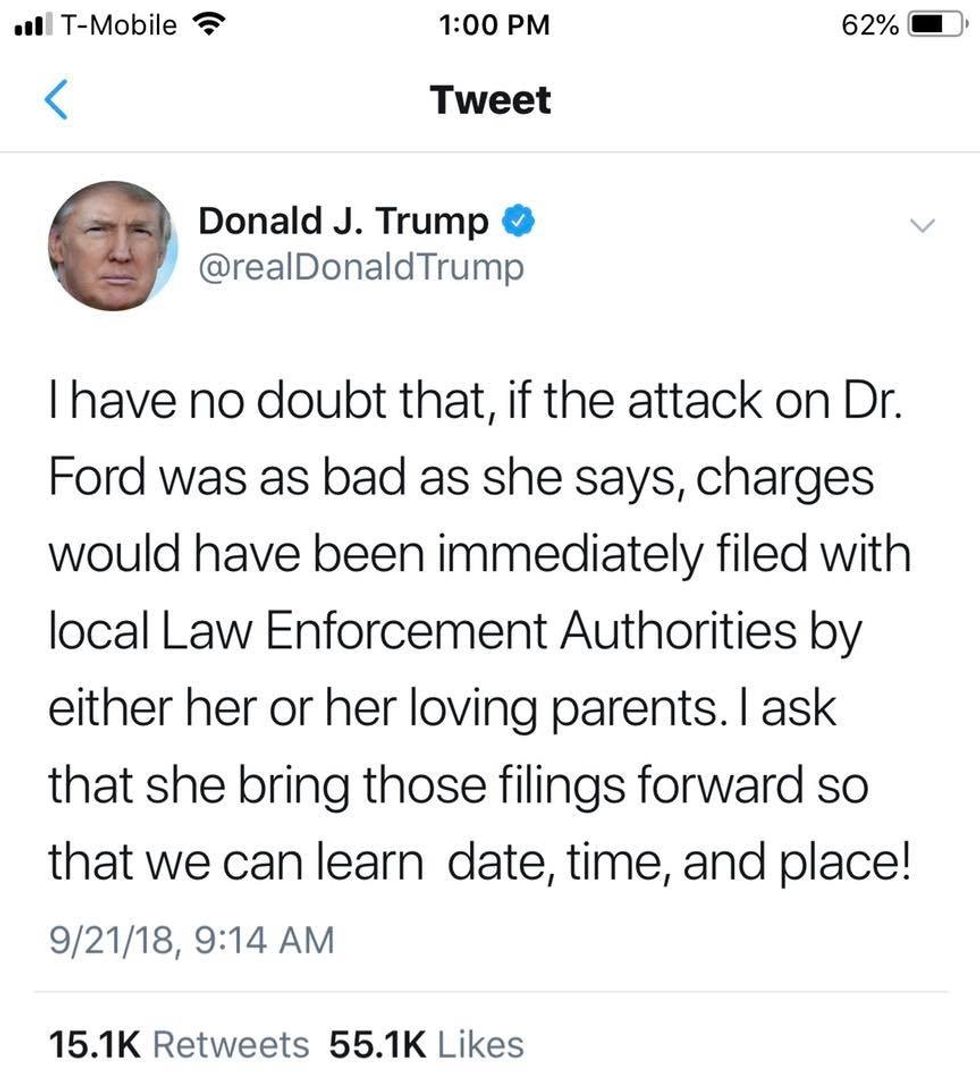 He went on to wonder why someone didn't call the FBI 36 years ago, furthering cementing the fact that he clearly knows nothing about what it's like to be the one on the receiving end of sexual assault (though he's clearly familiar with what it's like to be on the perpetrating side).
He apparently doesn't seem to know or understand that only 2% of rape charges are even false, and only 40% of rapes are reported to the police.
This display of ignorance sparked the use of the hashtag #WhyIDidntReport, something that's been tweeted about hundreds of thousands of times since September 21.
After scrolling through many, I've compiled a list that, though I wish it comprehensively covered all the reasons, is only an attempt at showing skeptics why the actual act of reporting sexual assault can be so difficult for the survivors.
Jess Davidson shared with Teen Vogue her take on President Trump and likeminded folks' view on survivors not reporting:
Approximately two out of three sexual assaults are not reported to police. To claim that those assaults did not take place — only because they were not reported — is disgraceful. This is the very rhetoric that suffocates reporting. Survivors must be believed and supported, and this pervasive, systemic, and shameful treatment exemplified by President Trump and Senate Republicans is precisely why two in three assaults are not reported.
There is a myriad of reasons for not reporting sexual assault. But it's time that we stop putting survivors in a position to defend themselves, and instead choose to believe, empower, and stand by them.
If you've been assaulted, I understand that therapy is not readily available for everyone (however, if it is for you, take advantage of that opportunity). But you still need a support system. Talk to someone or multiple someones, and if you don't have anyone to talk to, call the Sexual Assault Hotline: 1-800-656-4673.
You are heard, you are valid, and you are supported.