Recently I've been working with the wonderful people at Wunderkind PR for my Odyssey articles. Most recently, they kindly sent me a really cool package with the "Ascenders" series by C. L. Gaber and a few other fun things inside and offered me the chance to ask a few questions to the author.
Read on until the end of this article for your chance to win your very own Ascenders box just like mine!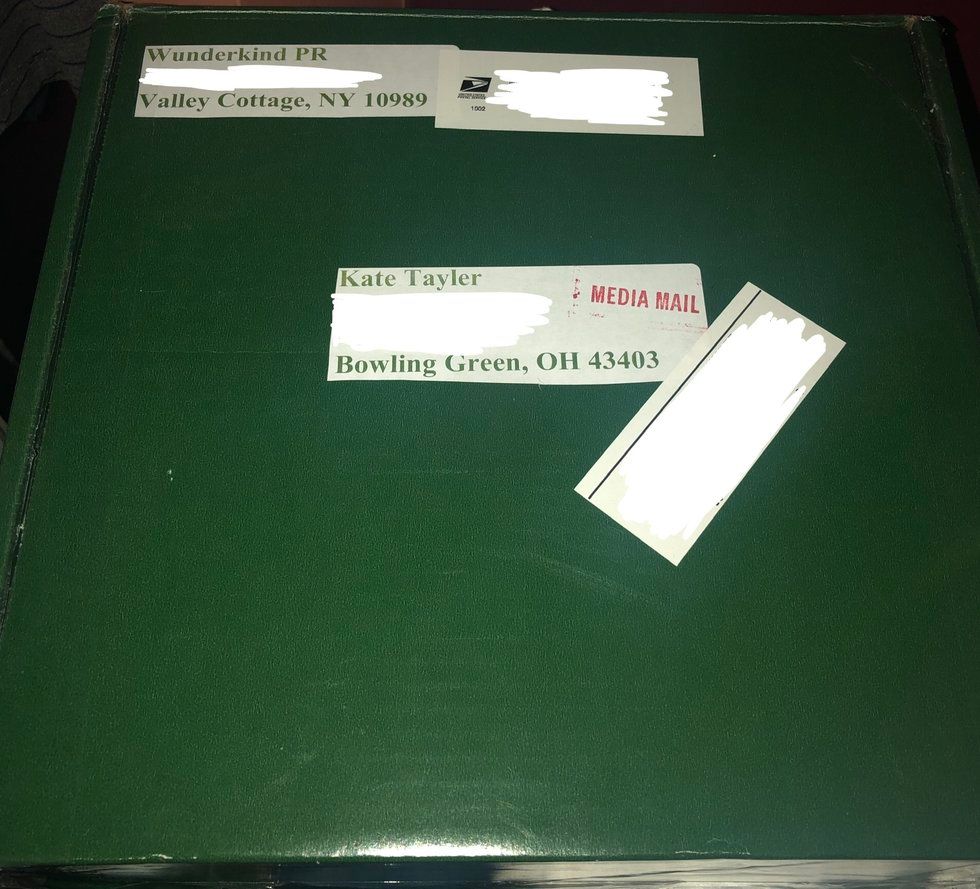 Unboxing the 'Ascenders' books.Kate Tayler
I wasn't expecting the box when it came so the uniqueness of the box was extra exciting! It was pretty heavy and I was super excited to open it.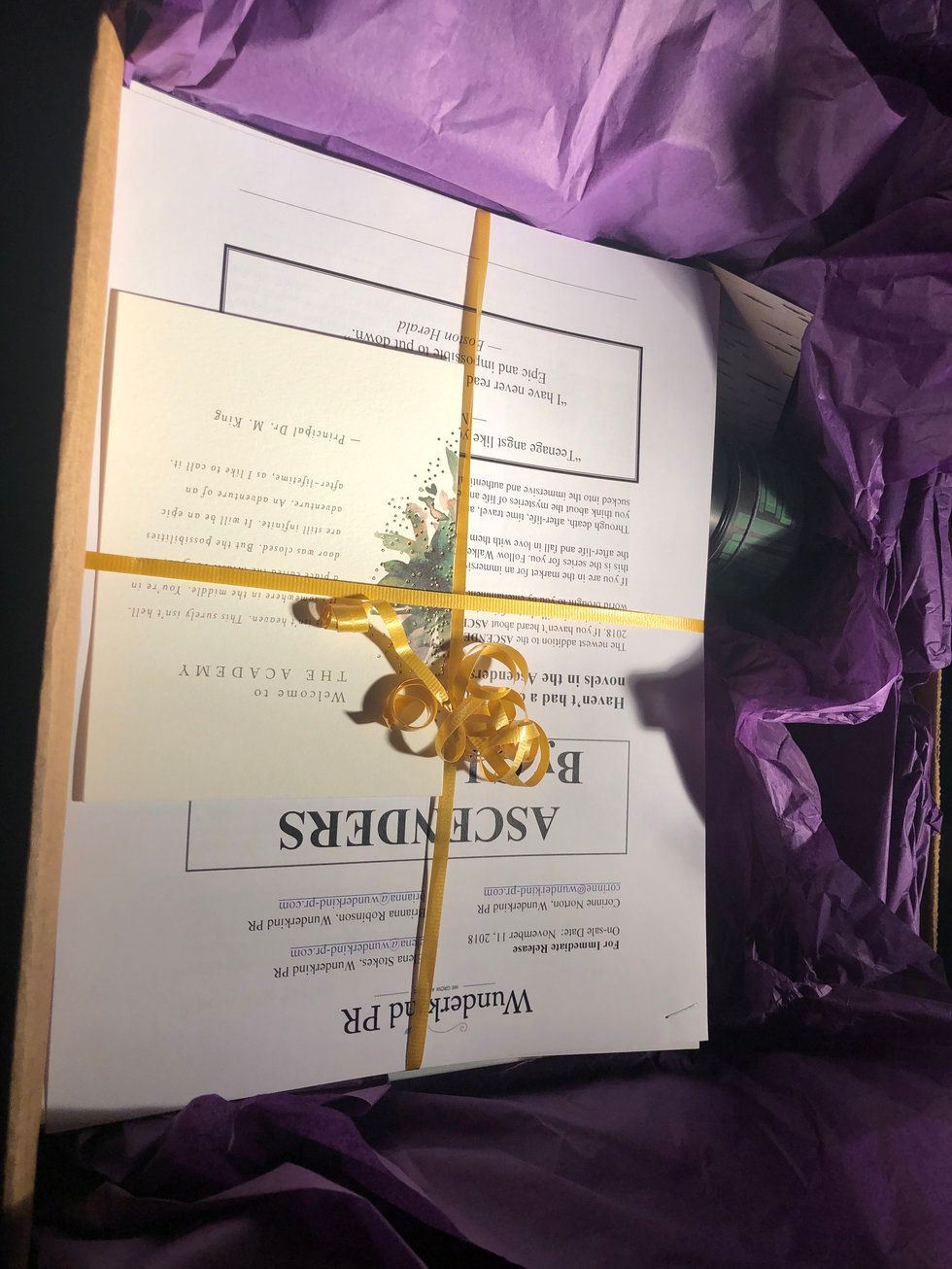 Kate Tayler
This is what it looked like when I first opened it. The purple paper and yellow ribbon along with the dark green box all gave a very mysterious vibe that perfectly set the tone for the world within the box.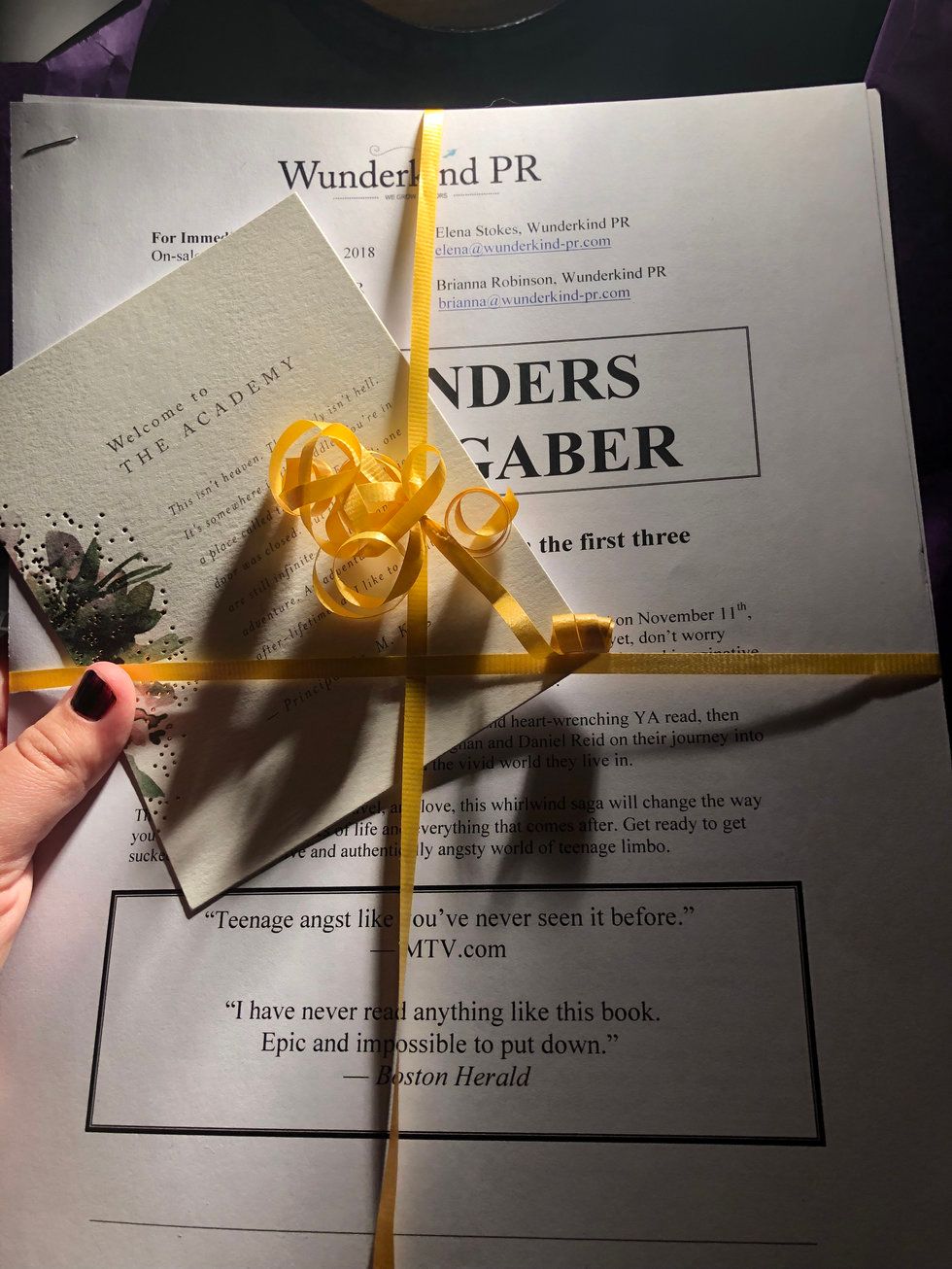 Kate Tayler
The first thing on top was a packet of papers with a "Welcome to The Academy" note right on top. The Welcome note had a quote from what I'd guess to be one of the characters in the 'Ascenders' series that really made me want to crack open the books right that very second. The packet also included an excerpt from the fourth book "11:11" that's out now. I didn't read it yet, but I look forward to reading it after I finish the last book.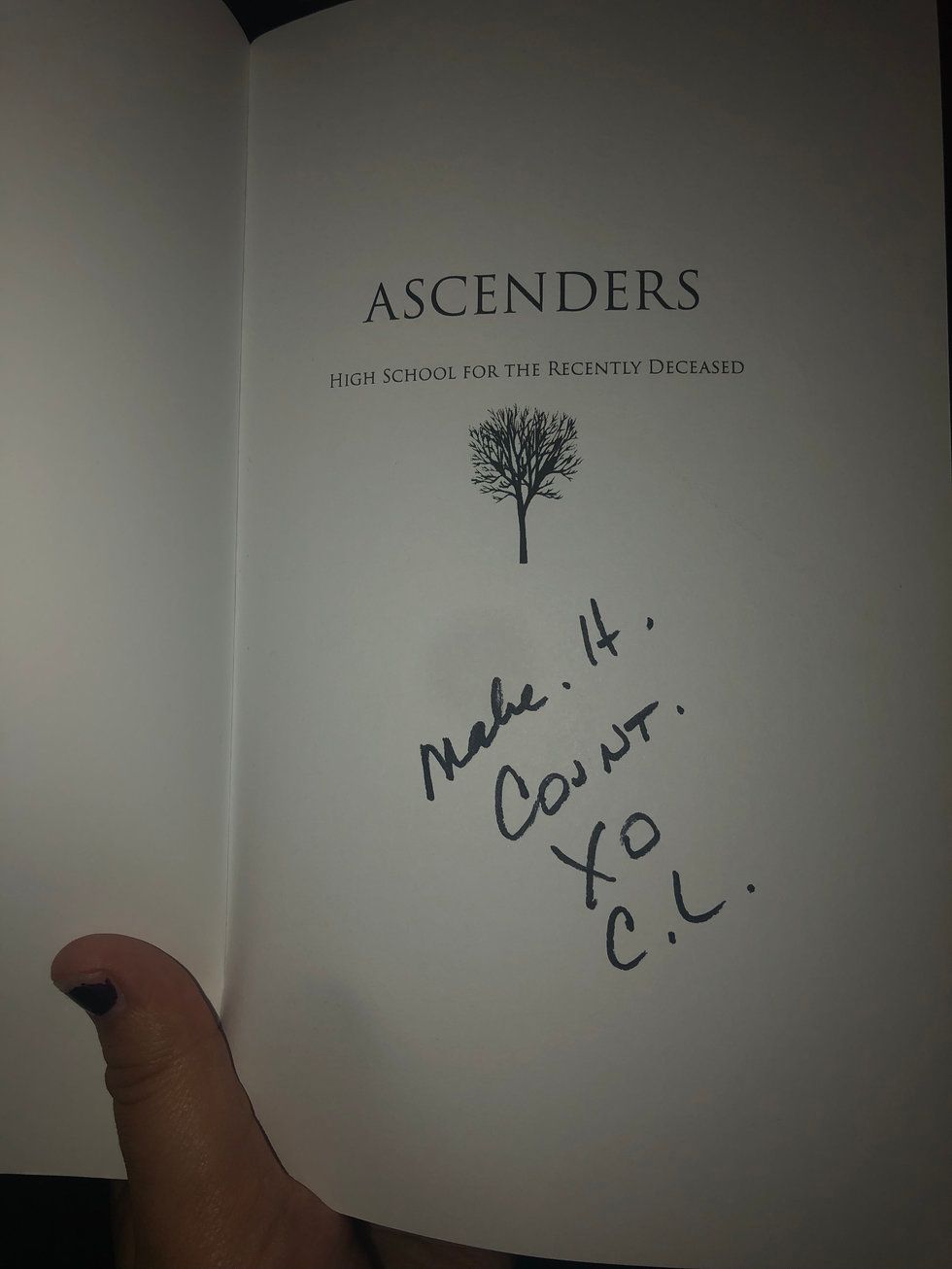 Kate Tayler
After I set the packet aside, I was excited to see all of the books. The covers are absolutely beautiful and all of the books were signed by the author! The books included are the first three books in the series: 'Ascenders,' 'Ascenders: Skypunch,' and "Ascenders: Omorrow."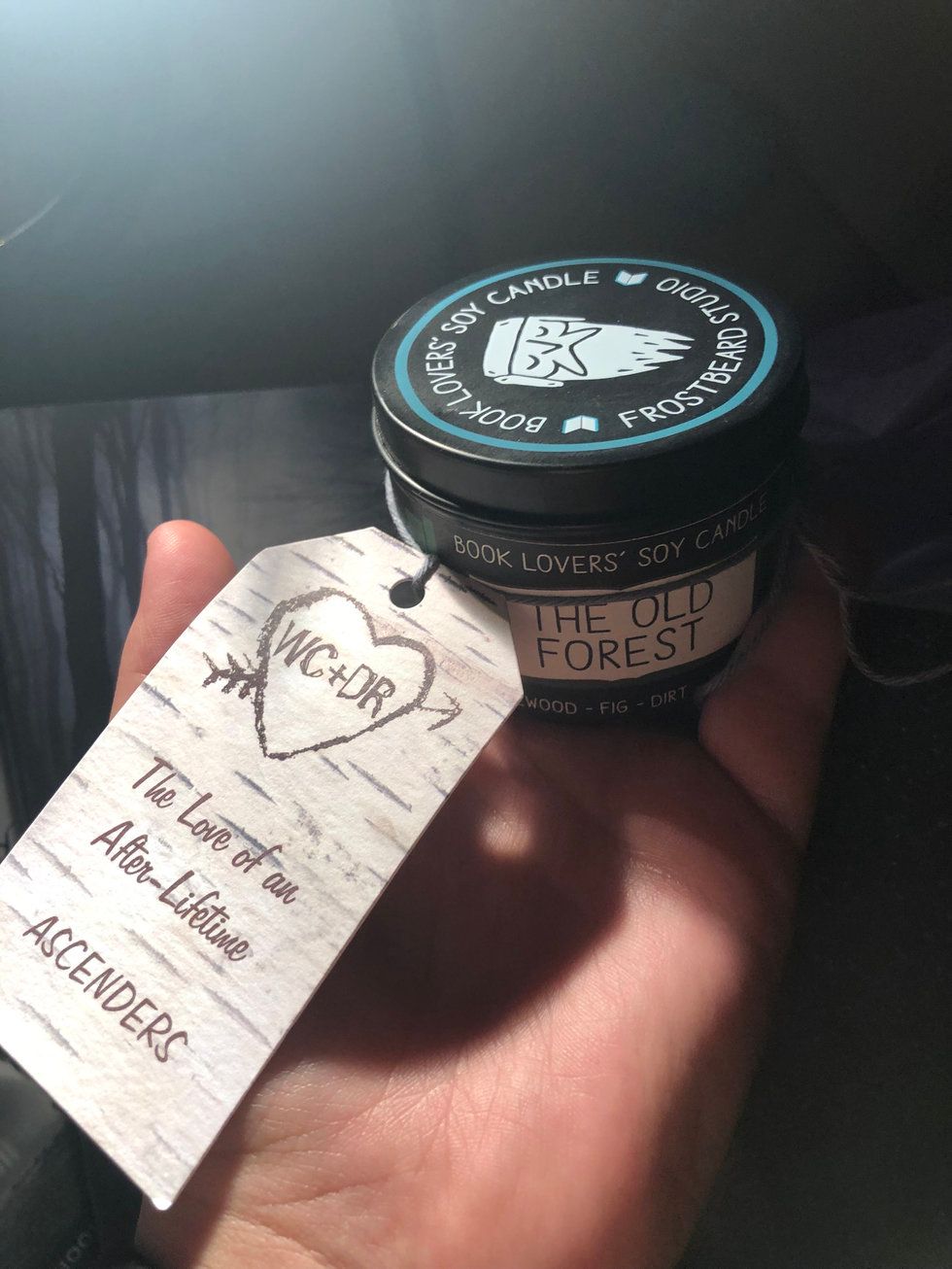 Kate Tayler
This was probably the coolest and most unique thing that I found in the box: a special Ascenders candle. This candle called "The Old Forest" is meant to be burnt while reading the books to give the scent that the forest in the books would give off. This is a really unique idea and is a really cool way to get you into the world of the books. The candle smells like pine and earth and a little bit like vanilla. I only wish it was bigger so I could burn it forever!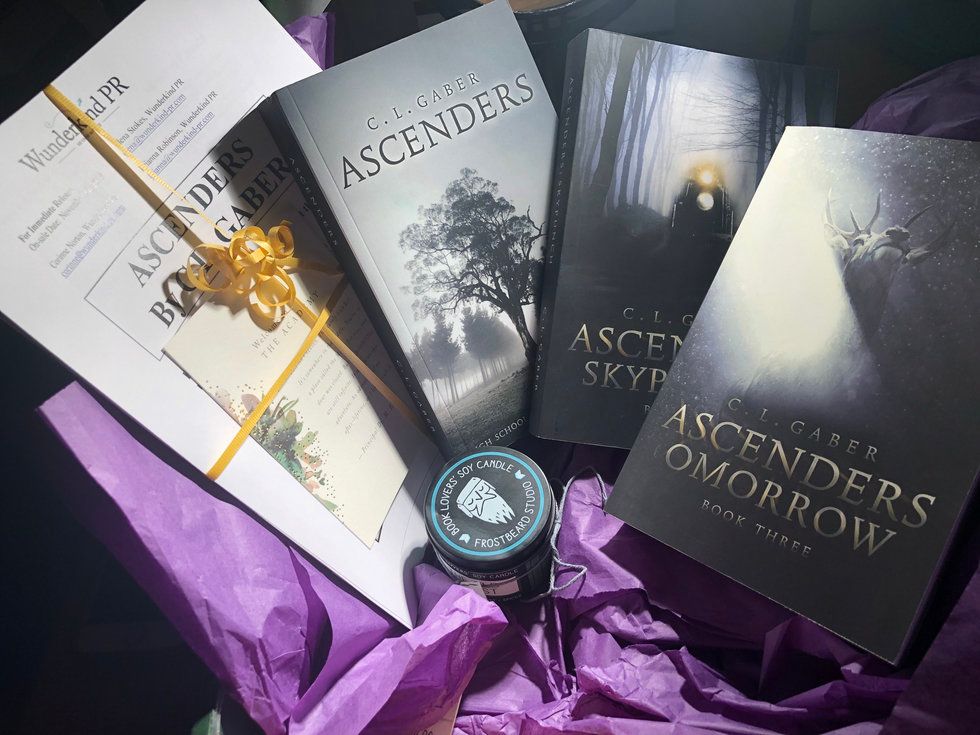 Kate Tayler
This was everything in the box. I gotta say this was a really cool way to be introduced to a series and it got me really excited to start reading it.
I was also fortunate enough to send some questions the author's way and I got some responses!
The interview with the 'Ascenders' author, C. L. Gaber, is as follows:
C.L. Gaber is the author of the 'Ascenders' Saga and a journalist for the New York Times Syndicate, Chicago Sun-Times, and the Las Vegas Review-Journal. She also co-authored the young adult 'Jex Malone' series with V.C. Stanley in 2014.
She is originally from Chicago and now resides in Nevada with her husband, bonus daughter, and two dogs.
1. When did you first realize you wanted to be a writer?
I was your average nerd who luckily wandered into the school newspaper office at Jack London Jr. High School. No one wanted to be the editor of the paper that year ...and I said yes. I was so lucky to do daily journalism as a way to practice writing. Many years later, I read about a fiction writing contest sponsored by Seventeen Magazine. I sent my story in, went away to college and tried to forget about it. The odds....I mean, come on! When I came home from school for a weekend, my little-to-no-mail was piled up on my nightstand...credit card offer, letter from my cousin...Seventeen Magazine..."Hey, you won...and here's a check for $100." It might as well have been a million dollars. It was that exciting.
2. What has been your favorite part of being a writer?
I love creating new worlds, which is the entire basis of Ascenders, which is about a high school for the recently departed. But since I'm a journalist, I like to add factual truth to my fantasy. Ascenders is based on the medical fact that the human brain doesn't fully form until you're 25. If you died young, I wondered, where would you go? Where would all that potential go? In my mind, you'd linger in a place to continue developing into the person you were supposed to be. How long would you stay there? Who knows? How much "work" do you have to do?
3. What do you find most difficult about being a writer?
There is a lot of waiting...which requires patience...which, let's face it, few of us have these days. You wait for the book to come out, wait for the response and thrillingly I'm waiting right now to hear about a screen version of Ascenders.
4. What advice do you have for aspiring writers?
Write every single day. Just 200 words or 100 or 50. Write something. And let it flow. If you get into the mode of writing all the time, you will suddenly have a lot of content. Also, don't write by committee. There is nothing harder on the writer than showing five people a work in progress. Everyone will have a different opinion...and you don't necessarily need that at this point. Show one trusted person or no one until later. Finally, write for you. What story do you want to hear?
5. Where did you get the inspiration for Ascenders?
For over two decades, I have been a film feature writer for the New York Times wire. There I was in Los Angeles about to interview Cher the next day. I fell asleep and had a pretty wild dream that played out in my mind like a movie with a beginning, middle and end. My husband is a really light sleeper, so I snuck around the room, grabbed every notepad and spent the next several hours in the bathroom writing it all down. A lot of that became the first chapter of Ascenders. (Of course, around 5 a..m, I heard a tap on the bathroom door with the obvious, 'Are you okay in there?'") By the way, Cher was really nice the next day.
6. Which character do you relate to most in the series?
It's my main character Walker who has red hair and wanted to be a reporter for the New York Times. She's quite inquisitive and truly believes somehow it will all work out. This is a dead girl being positive. And, above all, she will go the distance for true love.
7. Which book was your favorite to write?
It might be the first Ascenders book that started it all. I also had an amazing journey doing the third book, "Ascenders: Omorrow," because Walker and her tat-covered rebel partner Daniel go time traveling back to New York's past where the time periods keep rolling. I personally visited the places I put in the book including what was once the old autopsy "theater" at Ellis Island. (It's a miracle I'm sleeping through the night -- even now). Looking for history's smaller stories was exciting, plus a few weird things happened. At the actual Church of Ascension in New York City, one of the few churches that kept their doors open all night long during the Great Depression, I had a moment. The doors were locked and I asked a young guy sitting on the front steps if the church was open on Sundays. He smiled and nodded. Then I turned to my husband Ron and said, "That guy thinks it's open tomorrow." My husband said, "What guy? It's just the two of us here."
8. What do you hope readers take away from this series?
I'd like them to consider that there might be more than one realm of existence. Perhaps what we are experiencing now is just the beginning. And I always sign the first book: Make. It. Count. We let so much time just slip through our fingers. Another theme of Ascenders is that there are many great loves in life...romantic love, love for your parents, love of a child or pet and even love of a place. Each should be honored as the threads that tie us to those loves never really break. They are just woven again and again as our story continues.

Good luck to all the writers out there and grateful to all the readers! xo CL
Enter to win a special "Ascenders" box, full of terrific goodies!
The box includes:
- A special forest scented candle that evokes the scents of the forest around the Academy, high school for the recently departed
- One signed copy of "Ascenders" (book one)
- One signed copy of "Skypunch" (book two)
- One signed copy of 'Omorrow' (book three)
- A special excerpt of the fourth book, "11:11," out now!
Enter to win the "Ascenders" box and delve into this interesting new world here!
The winner will be contacted on December 31st.
Check out her latest book in the Ascenders series "11:11."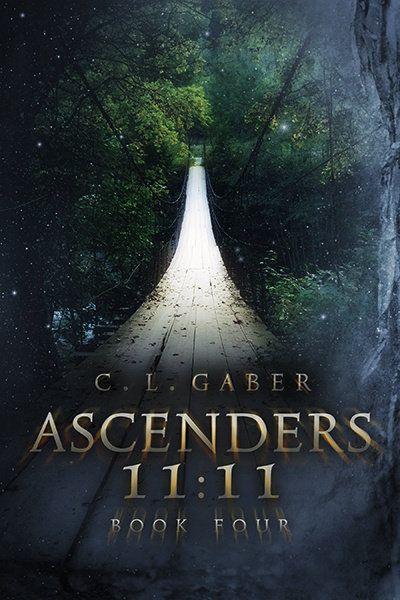 Breeze Munson
A synopsis of book four is as follows:
In the Midst — a place for those who departed young — there is a fate worse than death. It's the passing of love. Tat-covered Daniel Reid's memory has been erased by his sadistic father who has also jettisoned his other children to places unknown.
Walker Callaghan must now face her destiny alone.
Alliances shift in the fourth book of the 'Ascenders' saga when Walker is accused of murder, lies, and crimes against existence. Only twice a day at 11:11 — a time when all things converge — is everything and everyone clear.
Forced to run to the other side of The Other Side, Walker meets up with Daniel only to discover that the afterlife world they previously experienced was only the beginning of The Vastness.
In a new realm of illusion and deception, there are no rules except one: Rock bottom builds heroes.
I am so excited to read this series! I wish you all luck in the giveaway and hope that you get the chance to enjoy this exciting series!