November 7, 2018
Tonight is the night I've been waiting for since mid-August when season seven of "Are You The One?" premiered on MTV. As someone who has seen every single episode of the series, I've been invested in this cast since the trailer came out and have been intrigued by the plot changes this season.
Below I share my views on the season as a whole (BEFORE watching the finale), followed by some of my live reactions during the finale, and lastly my closing thoughts on the end of the season and the cast as a whole.
**THERE WILL BE SPOILERS AHEAD**
Personally, I've found this season more entertaining than the previous one. I still miss Ryan Devlin as the host. To be fair Terrence J is growing on me, but nothing can beat Ryan's classic calling out of the cast as they recklessly tried to figure out the perfect matches.
One of the worst things about this season is the lack of mini-games. Half the strategy is gone because of the stupid fate button, which let's be honest MTV it's a producer, not fate. They're definitely trying to make it harder for the last this year, but not letting them have a say in who goes on the getaway dates.
Not to mention now I truly feel like I'm just watching them drink and sleep since there are no games. Yes, there's still plenty of drama to be had, especially since they have more time to consume alcohol, but we legit just watch them roam around the house all day. I can't help it, I miss the stupid games they played.
As for the couples, I can't believe the fact Tevin and Kenya are actually a match since Tevin is a carbon copy of her ex. Also still heartbroken over the fact that Cam and Kayla are not a match, they were adorable together. I really hope they're one of the couples who still date afterward, even though they're a no match.
My Live Reactions
BRETT AND NUTSA!!!!!! But also we should all hate Brett because he convinced the house not to send them to the truth booth weeks ago.
Andrew and Cali, I kind of hate it but wait I love it too…maybe.
Cam and Bria are interesting…for lack of better words. But does she like the ocean? If you know you know.
They are finally strategizing…at the LAST minute as always. But nothing beats season 3's strategizing with red solo cups.
I want Sam and Daniel to be a match so badly, but statistically, I don't think it works out. I know this because I have a spreadsheet.
ASIA WTF?! Stop spreading fake tea. And why is Moe the one to tell Sam?
Andrew looks amazing at this matchup ceremony.
Yes, Morgan, you could have roasted him and probably should of.
I don't even know who I want Sam to pick! So confused. But that was the longest commercial break of my life.
Tomas' smile during the matchup was adorable.
At 5 beams they're already sobbing.
Why did Terrence take his hand off the scanner?
THEY DID IT!!!!
These are the weirdest matches.
I'm so excited to see the night after! We've never seen this before.
Daniel and Sam ARE BACK!
They are all so drunk right now.
Lewis and Asia…what is this conversation. And yes Lewis did do a lot of things.
Zak and Qwasi and Maria. WHAT? Or just Qwasi and Maria. Again, WHAT? But, proud of Maria.
Why are Lewis and Asia sleeping together and awake at 4 am? WAIT they're hooking up?! Asia, he literally told you he's not attracted to you.
YES, Morgan call him out!
Aww, family!
Confirmed. Bria is still crazy.
All in all, I would say this was a very good season. The cast was eventful, yet the format still proved to be predictable, but I was on the edge of my seat the whole time. After many hours of careful deliberation, I'm a little sad my MTV support group and I only predicted 8 of the 11 perfect matches, but that's not bad.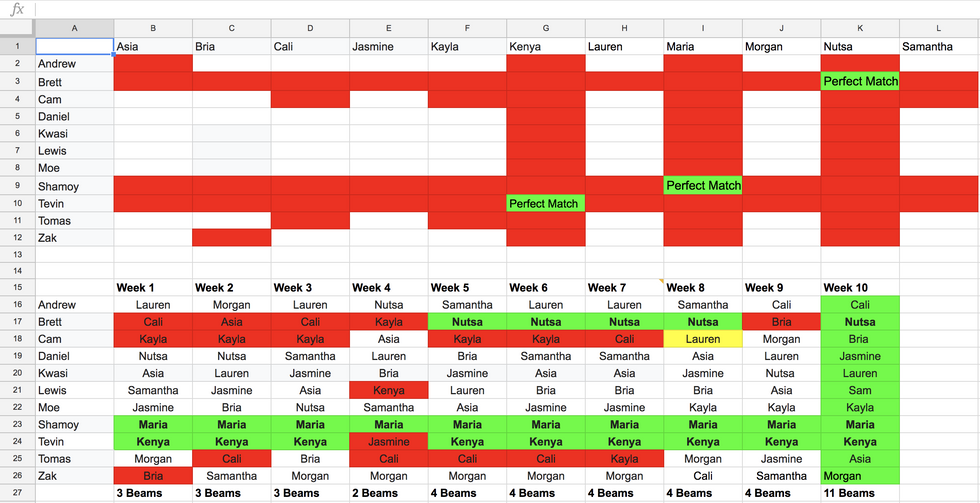 The only people we mixed up were Moe, Kwasi, Cam, Bria, Kayla, and Lauren, because let's be honest none of their matches made any sense. To be honest, I'm sad it's over, but we still have next week's reunion to learn all the secrets the camera didn't show.