If you haven't heard of singer-songwriter Gabi Sklar, you may be missing out on one of the best upcoming artists of 2018. This Long Island native, student and musician has been able to do it all while managing to stay humble. Sklar's single "Liberteens" is a song you won't mind getting stuck in your head and her success has only just begun. She opened up about college life, writing songs, growing up watching YouTube and more in an interview.
Q: Where do you attend college currently?
A: I go to the University of Miami, but I'm in New York for meetings and to go to the studio. To be home!
Q: You're majoring in music. Can you tell me a little bit about the program at the University of Miami?
A: The program is called the "M.A.D.E." program which is musicianship, artistry, development and entrepreneurship. You get a little bit of every aspect of the industry.
Q: How is it balancing a social life, friends (at home and at school) and then music?
A: It's extremely difficult... I'm not going to lie. I think there's a lot of sacrifices that are made, but at the end of the day, this is what I want to do. It's kind of cool because my experiences in school contribute to my music and vice versa. I love it. It's a great experience.
Q: When you're in Miami do you do any projects on the side besides what goes on through the program at school?
A: Right now it has just been through the program and learning about the technique of something. Whether I'm improving piano or improving writing on the side on my own time, that's really what I've been doing.
Q: When did you start playing piano?
A: I started playing piano when I was 7 and I kind of just taught myself. I started taking lessons when I was 8 and that's really when I started writing.
Q: Do you want to learn any other instruments?
A: Yes. I think it's important to be able to play a little bit of a few instruments. I would be amazing to pay the violin.
Q: You have two songs out right now. What can you tell me about both of those projects?
A: When I was 15, I wrote a song called "LA Changes You" which I released about a year and a half ago. Basically, it was about my fears about going into the industry just seeing what was going on in Hollywood. We made a video for it and released it. The concept of the video is (that) the industry can alter a person (just) as a drug can. It was kind of raising awareness for drugs. My latest single "Liberteens" is more of a teen anthem just embracing your mistakes as an adolescent and being a free spirit.
Q: In terms of what's next for you in terms of music, would you say another single or are you trying to move towards an EP now?
A: I think I am going to release a few singles at the top of the year, (then) ultimately an EP and then ultimately an album.
Q: From what I see on YouTube, there are a lot of positive comments and you do have a nice following and a fan base. What's it like to go on YouTube and read through those amazing comments?
A: I try not to. On Instagram, I see everything and reply to people. I reply to people on Twitter, too. For YouTube, I like to see the feedback when I first post a video. You get the positive comments and you get the negative comments. I kind of just try to stay away from them. Sometimes I try to take the comments into consideration and really apply them even if they're bad ones.
Q: Females in the industry have been really taking over. There are of course the big stars that everyone knows like Rihanna, but then there are some artists who are fairly new. You have Dua Lipa and Camila Cabello to name some examples. What do you think about all of the female artists taking over the charts?
A; I think they're all really killing it and that music is just a really creative outlet. Especially with social media. I think it's really cool to see artists taking advantage of their platform.
Q: Is there any artist you're dying to go on tour with?
A: Dua Lipa! I think my taste in music ranges so much that it could (even) be Lana Del Rey and I'd be so happy. It could be Dua Lipa or Gavin DeGraw. I'd be happy opening for any talented artist that really inspires me.
Q: Is there anyone you would want to collaborate with that you maybe think you're voice would sound well with?
A: I always liked Arctic Monkeys, so I think collaborating with Alex Turner would be really cool. Even though my soul is different from them, Panic! At The Disco would be cool, too. I think those are two collaborations I would love. Even in the future, a single Martin Garrix or more pop electro DJs.
Q: What has been the biggest obstacle so far?
A: I definitely think being very young in the industry. Starting out when I was 14, it was very hard for me to be respected or taken seriously. Being 18 now, I think I have come a long way. Those obstacles are something to learn from and make you grow.
Q: If you could only listen to three artists for the rest of your life, who would they be and why?
A: Dua Lipa. Probably Arctic Monkeys because I have listened to their album "A.M." on repeat since 2013. I guess Lana Del Rey. Gavin DeGraw of Lana. It's kind of a tie.
Q: Have you done a lot of work in LA?
A: Yes, a lot of my work has been going from New York to Los Angeles. It's a good escape in small doses. I spend a lot of time in LA.
Q: What advice would you give to younger girls trying to go into the industry and live their dream like you but that may be facing negative feedback?
A; People are just jealous. Whether it's jealousy, they just don't like your sound or they use cyberbullying as an outlet to put you down, you can't spend too much time focusing on that. I know it's really hard, but you kind of learn to build a shell after awhile.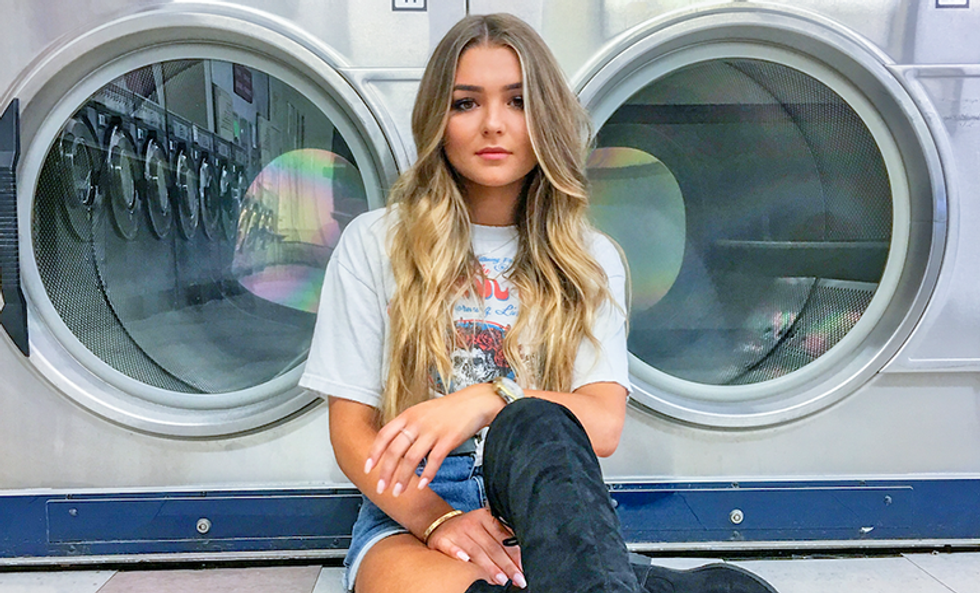 Q: What's one thing you want people who aren't familiar with you or your music to know right from the start?
A: I think I want people to know that I'm an artist, but I'm also very into my writing. I do write my own music and take it very personally. All of my songs come from a place in my life.
Q: When did you start writing songs?
A: I started writing when I was 8. It took a lot of writing and experiences and eventually I evolved. I started co-writing when I was 14 and that was when I started traveling from New York to Los Angeles. That's when the start of my career happened and since then I've been growing.
Q: What can fans look forward to?
A: Right now, more audios. I do enjoy the process of making music videos a lot and I'm really into cinematography and film. There might be a music video or two!
Q: When you're not doing music, what do you like to spend your time doing?
A: I'm really into traveling and finding cool new spots. I like going around the city. I love photography, so I usually bring my camera everywhere.
If you're interested in what Gabi Sklar may be up to next, be sure to follow her on her social media accounts linked below. Also, check out her music videos on Youtube and her released songs on Spotify, Apple Music, Soundcloud and Itunes.
Gabi Sklar's Social Media:
Instagram: https://www.instagram.com/gabisklar/
Twitter: https://twitter.com/gabisklar
Facebook: https://www.facebook.com/gabisklarofficial