It's safe to say that whether you like her or not, you know who Cardi B is. She is constantly making headlines for setting new records and releasing new music.
Cardi B is well aware of what it's like to start from the bottom. She was born in The Bronx, New York, and had a bit of a rough upbringing. By the age of 16, she was involved in gangs, and was a member of the Bloods. She was also involved in stripping by the time she was 19.
Although people may judge her for stripping, she saw it as a good thing. She saw it as an opportunity for her to be able to pay school and nothing else.
Although Cardi B has quickly risen to fame, she has continued to stay humble throughout it all. She knows what it's like to come from nothing, and has not forgotten where she came from.
Cardi B is all about self expression. If you look at her style or listen to her music, you know she's not afraid to be herself. She often takes to her Instagram or Snapchat stories to speak her mind about current situations.
She takes to her social media platforms to speak on how we should better our country. On April 18, 2018 Senator Bernie Sanders tweeted how he agreed with Cardi B on Social Security.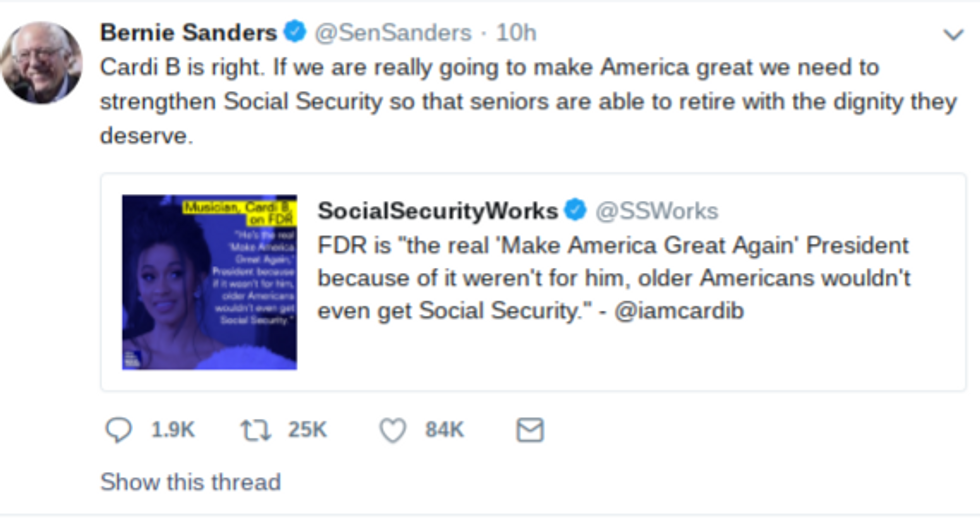 It is also apparent that Cardi B never stops working. With just having performed at Coachella, she recently released her new album Invasion of Privacy. This album debuted at number one, and her songs are continuing to top the charts.
Cardi B can be a hit or miss with people. However you feel about her, you have to respect her hustle, and ability to create a better life for herself.