I didn't know what to expect when I pulled up the hair-pinned driveway of The Brampton this past Friday for our Memorial Day weekend getaway. A beautiful A-frame stood welcoming us in with glowing light and the sound of the rushing Hudson River next door just barely seeped through the 80s music bumping from the open windows.
We walked up to the entrance and were greeted by Jamie, the Brit who told us that the only rule was "No shoes in the house, y'know, Jeff's Korean and we like to keep it clean." Jamie and Jeff, two guys with incredible backstories and the mutual dream to open up a lodge upstate which provides food, booze, and constant access to activities, opened The Brampton in order to offer and host a curated getaway where all the work involved is in their hands. Let me tell you, I never thought summer camp for adults could be this fun.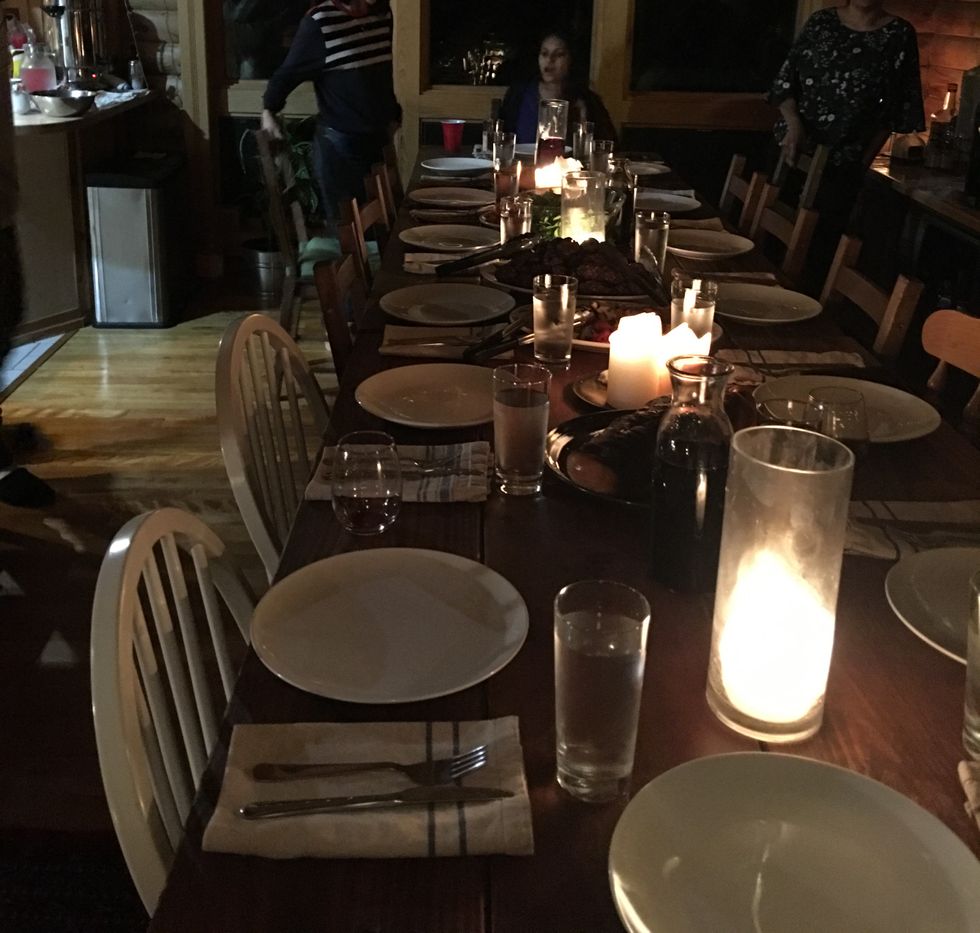 It was about 9:30 P.M. but dinner was just coming out of the oven. Dinner the first night was a delicious serving of greek salad, tzatziki sauce, and a beef gyro followed by a classic cheesecake— made from scratch by our chef Mickey. The rest of the night was spent outside around the fire getting to know the staff and other guests which filled the lodge with culture and perspective: Korea, England, Australia, America, India, Lebanon, Israel, France. Soon it was 2 A.M. and time for bed.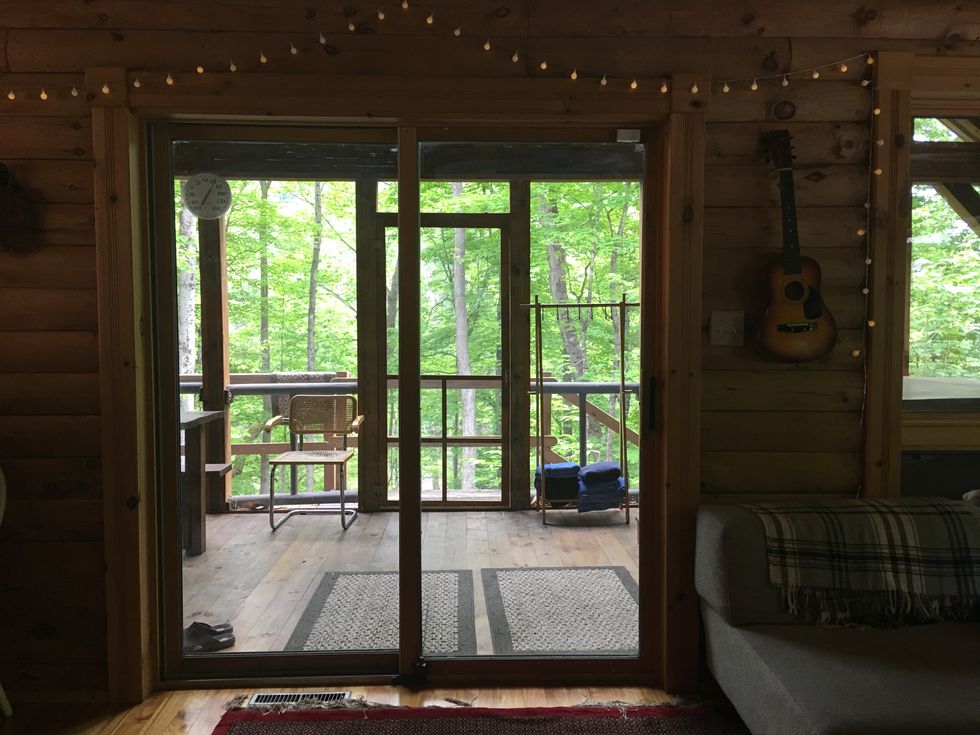 We woke up to a breakfast bake. Skillets filled with tomatoes, peppers, ground beef, cheese, and egg. Coffee was served by the gallon and as the guests filed into the dining area Jeff asked whether we'd all be up for a hike at Crane Mountain. Of course we were; yes, nature, perfect.
"How hard is it?" "Oh, not that difficult, maybe a little harder than beginner."
"Okay, perfect, there are some newbies here."
"Well everyone I've ever taken has completed it if that means anything."
"Oh, yes, we'll be fine..."
Cue the 30-minute vertical rock climbs and a downhill romp covered in slippery leaves. Jeff was right though. Everyone finished with barely a scratch. The hike ended with a lovely dip in a freezing cold Crater Lake which provided much-needed respite from the humidity in the air.
4 hours later and we arrive back to warm showers and plates of sloppy joes and other assorted sandwiches. "Mickey, you're my hero." At that point it began to rain, so a trip to the river wasn't viable. We spent the rest of the night patiently awaiting dinner (chicken kebabs, tabouli, roasted cauliflower, the best orange cake we've ever had) and getting to know each other some more. Again, a fire. Ping pong followed suit. 1:30 A.M. and we're done for the night.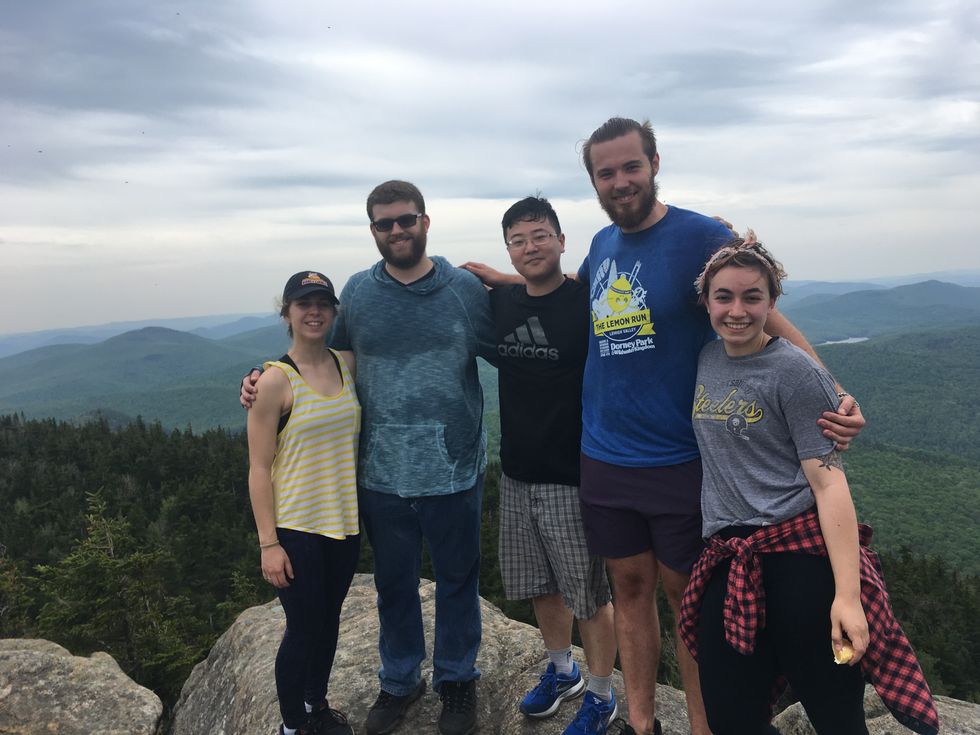 Breakfast with coffee was served at 9 A.M. We were gifted eggs, bacon, toast, jams, and fresh vegetables. As a group, we passed up a trip to an obstacle course in the trees for a few hours walking around the nearby town of Lake George for mini-golf, ice cream, and a look into the tourism of the mountains.
We arrived back home, damp from the rain, and ready to dig into a warm lunch of spinach and feta bread rolls. We all got together after lunch to play Avalon (similar to Mafia, but much more complicated). The dinner that followed was my favorite by far: meatballs, roasted zucchini, onions, peppers and jalapenos, salad, and garlic buttered bread. For desert, apple and clove crumble.
Later, the fire started and the barn filled with laughter. Slowly, couples left to go to bed, and only a few of us stragglers remained. It was 2 A.M. and the perfect time to dip into the hot tub for some more conversation. A great end to a great weekend.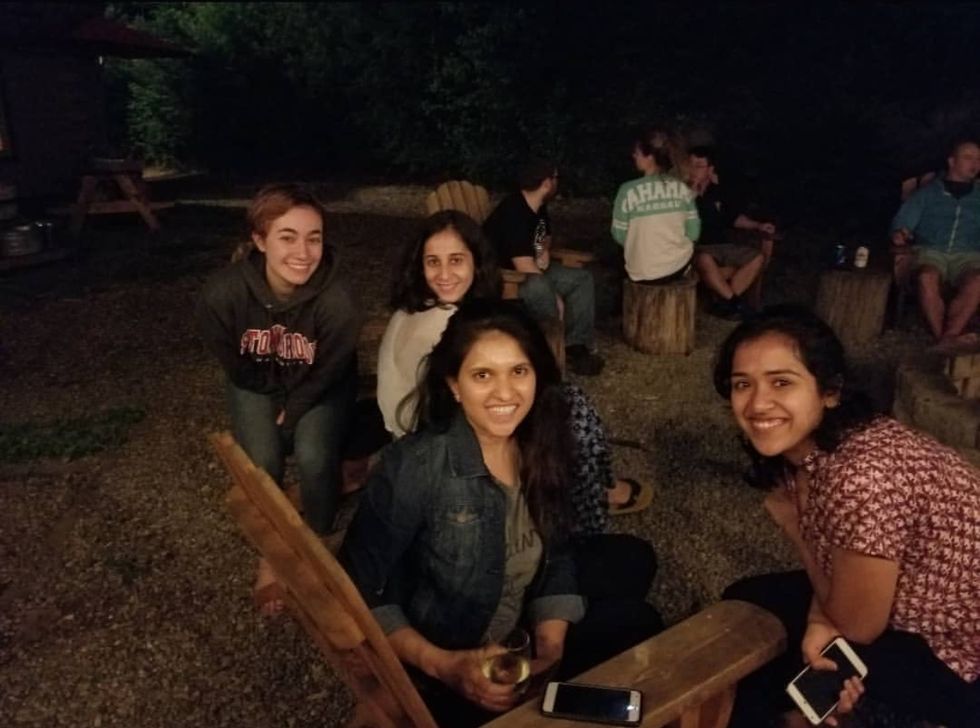 I hadn't intended to make friends on this trip. I didn't know we'd be spending so much time together. But I am so glad we did. We felt comfortable, welcomed, accepted, and of course, always invited back. So here's to The Brampton, I'll most certainly be back soon. And here's to everyone I met; I can't wait to see you again in the city.