To Jake Prest, Future Black Bear:
First thing's first: how'd you make it into college? Your grades in high school had a Cinderella story, dude, honestly. Going from straight F's to A's and B's (including Math, your life-long nemesis) was seriously impressive. Mom, Dad, Sis, even Gram were so glad you went 0 to 100 real quick, and I'm so damn proud their prodigal son/brother/grandson made it to here and now academically.
College will be hard, as the saying goes, but it goes by quick if you don't lose your confidence and have as much fun as you can. Friends come and go, but best friends will watch Royal Rumble and Wrestlemania with you every year no matter what. Dylan will be the first friend you ever make at UMaine, and he will remain a loyal friend no matter how crazy your life will get in Orono. Bottom line: don't ever lose faith in your friends, they're the closest thing to you since your family is five hours away.
The low point of your college life will be late night music sessions regretting that one mistake.
Chet Baker's "The Thrill Is Gone" or Childish Gambino's "Flight of the Navigator" will be on repeat as you regret something that won't be a big deal after a few months sophomore year. Sure, you might see her every day, but don't let her actions ruin your future. You made the simple mistake of overthinking her feelings for you, but in the end, you'll see the brighter side of life. She's just another face in the crowd, now, that's all.
---
Oh yeah, you'll also be an RA for two years and you'll have the best time ever.
Enforcing policies, hosting programs, duty shifts on the weekends till 2 am, all that and more will be attached to your life for two years. You will have the best time of your life developing into the professional, caretaking, sane person you will become. The friends you'll make as an RA will be awesome, too, especially the supervisors who will let you 'cut promos' on your every day struggles as a student and an RA.
All in all, your early years of college will have some ups and downs, but don't let that go to your head now. Keep. Being. Your. Goddamn. Self. No one or nothing will stop you from being the crazy, pro wrestling fanatic you are.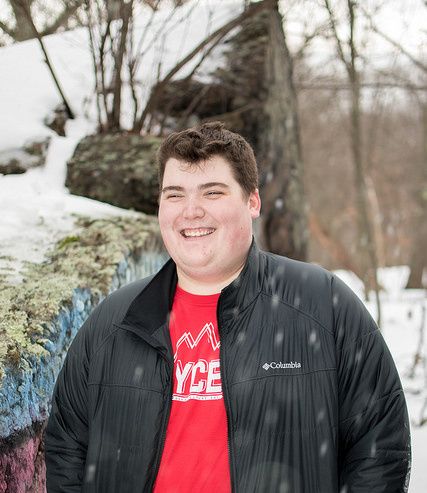 Never forget your true passion at college: singing.
You've been singing since forever, man, ever since dad played "My Girl" by the Temptations all those years ago. Sure, you had a tough time being in the high school acapella group, but don't let those egotistical guys get to you. You've got a great voice, man, everyone knows that. Don't be ignorant about it: just be confident. Know that nothing, not even college, can stop what you want to do with your life after graduation.
However, just know that four years will go by quick. I just found that out.
Have as much fun as you can, don't second-guess any opportunity to have fun. Make a ton of friends, try some new clubs, study harder but not super hard (eat, sleep, study, repeat basically). Don't let the assholes beat you down, and don't forget the people that brought you to the dance. Entertain others but entertain yourself, because at the end of the day: you live life for yourself. You don't live for your friends, not even for your family.
You live for yourself because you're the first person you see in the mirror every morning.
And, lastly, from personal experience, watch this EVERY morning. EVERY...morning.
Signed,
Jake Prest '19
P.S. Be sure to thank mom and dad when you get home the first winter back from college. You'll know what I mean when that time comes.