1. Iris // The Goo Goo Dolls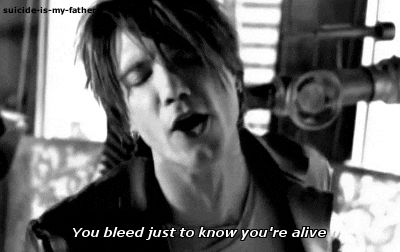 "And I don't want the world to see me, 'cause I don't think that they'd understand.
When everything's made to be broken, I just want you to know who I am"
2. Wannabe // Spice Girls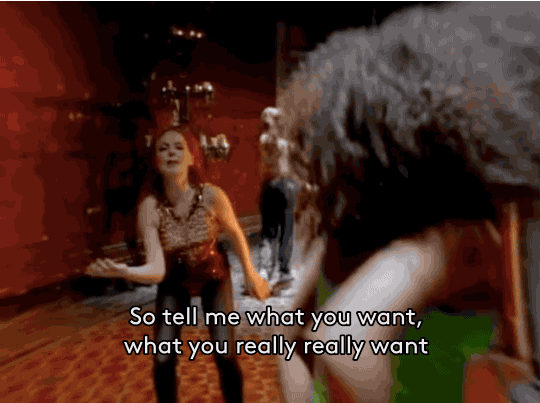 "If you wanna be my lover, you gotta get with my friends. Make it last forever, friendship never ends. If you wanna be my lover, you have got to give. Taking is too easy, but that's the way it is"
3. Baby Got Back // Sir Mix-A-Lot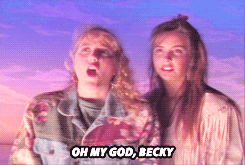 "I like big butts and I can not lie, you other brothers can't deny, that when a girl walks in with an itty bitty waist and a round thing in your face you get sprung"
4. Everybody (Backstreet's Back) // Backstreet Boys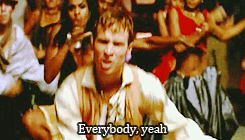 "Am I original? Yeah. Am I the only one? Yeah.
Am I sexual? Yeah. Am I everything you need? You better rock your body now!
Everybody, Yeah. Rock your body, Yeah. Everybody, Rock your body right
Backstreet's back, Alright!"
5. One Week // Barenaked Ladies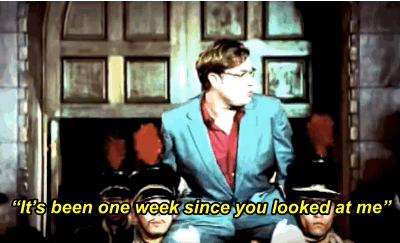 "It's been one week since you looked at me, dropped your arms to your sides and said I'm sorry. Five days since I laughed at you and said, you just did just what I thought you were gonna do. Three days since the living room, we realized we're both to blame, but what could we do? Yesterday you just smiled at me, 'cause it'll still be two days till we say we're sorry"
6. Semi-Charmed Life // Third Eye Blind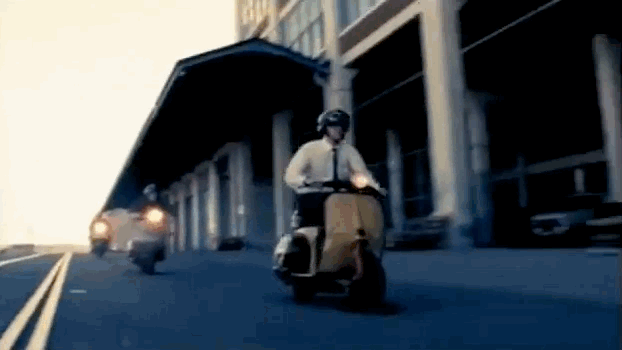 "I want something else, to get me through this semi-charmed kinda life, baby, baby
I want something else, I'm not listening when you say good-bye"
7. Whoomp! (There It Is) // Tag Team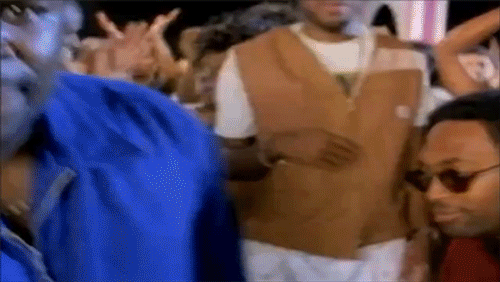 "There's a party over here, a party over there.
Wave your hands in the air, shake your deriere.
These three words when you're gettin' busy
Whoomp there it is!"
8. 3AM // Matchbox Twenty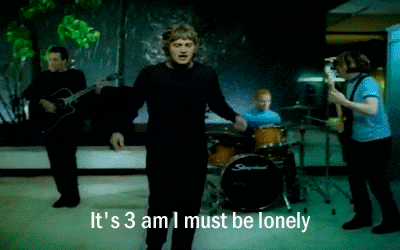 "She says baby, it's 3 am I must be lonely
When she says baby, well I can't help but be scared of it all sometimes
and the rain's gonna wash away I believe it"
9. I Don't Want to Miss a Thing // Aerosmith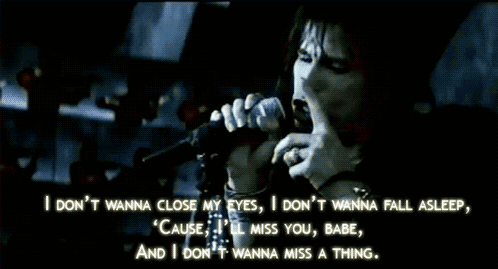 "I don't want to close my eyes, I don't want to fall asleep 'cause
I'd miss you babe and I don't want to miss a thing
'Cause even when I dream of you, the sweetest dream would never do
I'd still miss you, baby and I don't wanna miss a thing"

10. My Own Worst Enemy // Lit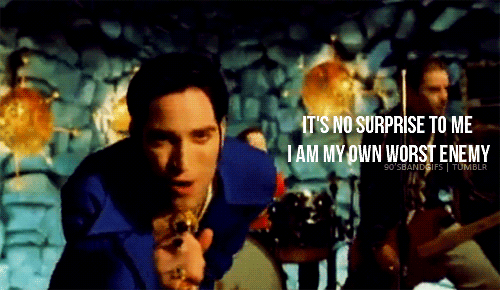 "Please tell me why my car is in the front yard, and I'm sleeping with my clothes on
I came in through the window last night, and you're gone, gone"
11. Jump // Kris Kross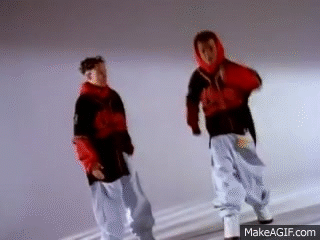 "'Cause I'll be kicking the flavor that makes you wanna Jump!
How high? Real high. Cause I'm just so fly, a young loveable, huggable type of guy. And everything is to the back with a little slack, 'Cause inside-out its wiggida wiggida wiggida wack"
12. Mr. Jones // Counting Crows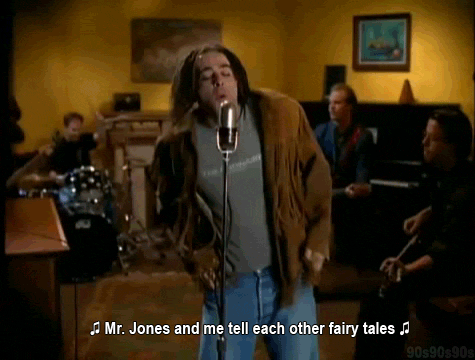 "Mr Jones and me, starin' at the video.
When I look at the television, I wanna see me, staring right back at me.
We all wanna be big stars, but we don't know why, and we don't know how, but when everybody loves me, I wanna be just about as happy as I can be"
13. Tearin' Up My Heart // *NSYNC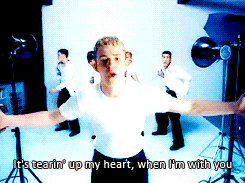 "It's tearin' up my heart when I'm with you, but when we are apart, I feel it too
And no matter what I do, I feel the pain with or without you

"
14. Man! I Feel Like A Woman // Shania Twain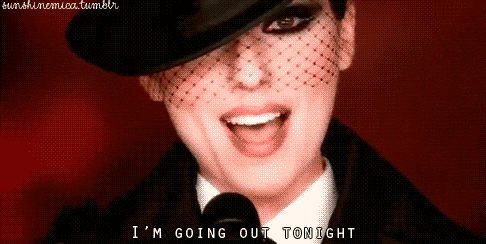 "The best thing about being a woman is the prerogative to have a little fun and
Oh, oh, oh, go totally crazy, forget I'm a lady, men's shirts, short skirts
Oh, oh, oh, really go wild yeah, doin' it in style
Oh, oh, oh, get in the action, feel the attraction, color my hair, do what I dare
Oh, oh, oh, I want to be free yeah, to feel the way I feel, Man! I feel like a woman!"
15. All Star // Smash Mouth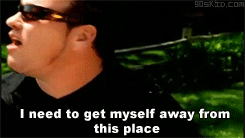 "Hey, now, you're an All Star, get your game on, go play
Hey, now, you're a Rock Star, get the show on, get paid
And all that glitters is gold, only shooting stars break the mold"
16. Livin' La Vida Loca // Ricky Martin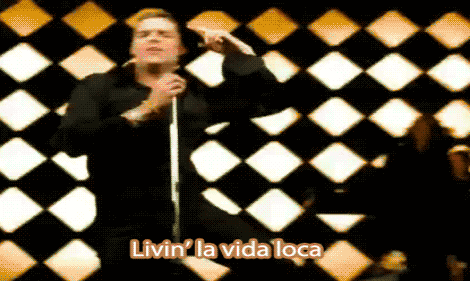 "She'll make you take your clothes off and go dancing in the rain. She'll make you live her crazy life but she'll take away your pain like a bullet to your brain. Come On! "
17. Torn // Natalie Imbruglia
"That's what's going on. Nothing's fine, I'm torn. I'm all out of faith, this is how I feel, I'm cold and I am shamed lying naked on the floor. Illusion never changed into something real, I'm wide awake and I can see the perfect sky is torn.
You're a little late, I'm already torn"
18. All The Small Things // blink-182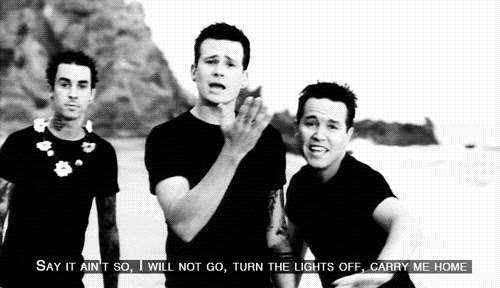 "Say it ain't so, I will not go,
Turn the lights off, carry me home"
19. Mambo No. 5 (A Little Bit of...) // Lou Bega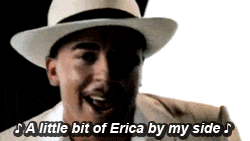 "A little bit of Monica in my life, A little bit of Erica by my side
A little bit of Rita is all I need, A little bit of Tina is what I see
A little bit of Sandra in the sun, A little bit of Mary all night long
A little bit of Jessica here I am, A little bit of you makes me your man, oh"
21. Closing Time // Semisonic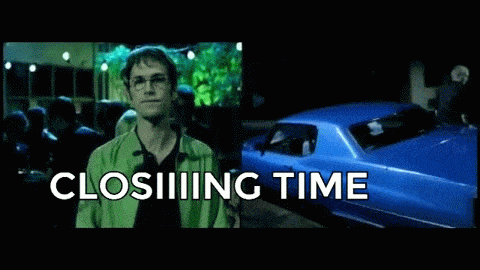 "I know who I want to take me home, I know who I want to take me home,
I know who I want to take me home, Take me home "