Let's see. Finals are over, I saw Rogue One. Yay! I can finally do a Christmas article. I love Christmas. It's easily my favorite holiday out of the year. The decorations, the gifts, but nothing is better this time of year than the movies. And no other Christmas movie did it for me like Love Actually. Easily my favorite Christmas movie, as well as one of my favorite movies of all time, the many themes and the interconnected stories throughout the movie, has made it a classic in my opinion. Here are 7 scenes that prove Love Actually is the best Christmas movie of all time. Before I begin, let me make clear that this list is based on my own opinion, so don't be offended if you disagree with something. Also, spoiler alert!
The Wedding Scene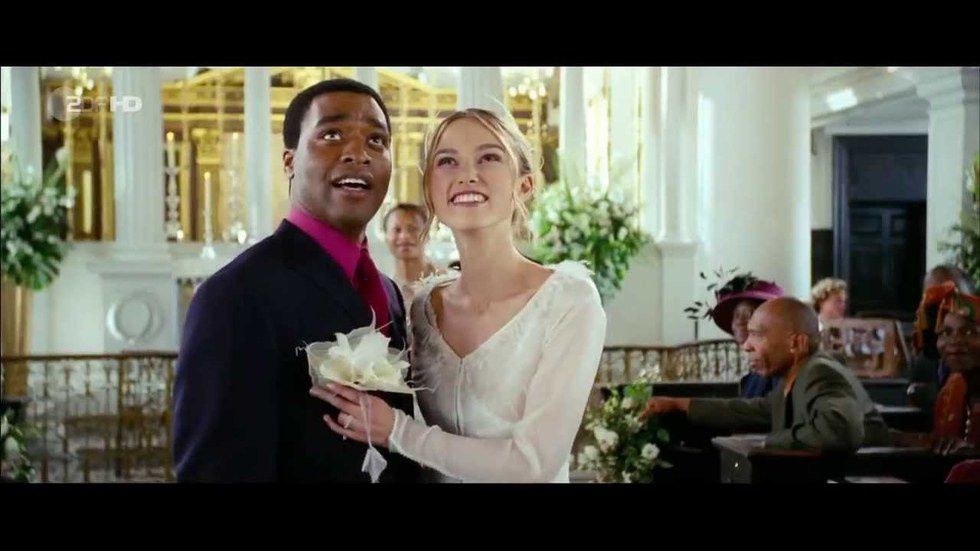 The scene in which Peter (Chiwetel Ejiofor) and Juliet (Keira Knightley) get married helps to immediately set the tone and foundation of the film. Underneath all of the stories and themes, this movie is a love story. Not only do you get a feel for just how much Peter and Juliet love each other but Mark's (Andrew Lincoln) surprise with the band was the icing on top of an already delicious cake.
The Airport Scene
Easily the cutest love story of this film, Sam (Thomas Sangster) is in love with American classmate Joanna (Olivia Olsen) and goes to great lengths to impress her, even learning the drums in order to impress her at the school concert. Once the concert is over, her family heads to the airport to return to America. Encouraged by his stepfather Daniel (Liam Neeson), they go to the airport and Sam runs past airport security so that he can go see her off. She reciprocates this gesture with a kiss. This was one of the film's sweetest moments and it shows that love can come in all shapes and sizes.
David searches for Natalie
When David (Hugh Grant), the newly elected Prime Minister, believes his attraction to junior house staff member Natalie (Martine McCutcheon) has become a distraction to his work, he has her transferred. He comes to regret this decision, and on Christmas Eve, after receiving a card from her in which she says she's his and no one else's, he decides to find her and tell her how he feels. Knowing nothing except the neighborhood in which she lives, he goes door to door until he finds her getting ready to leave with her family. Not only does this show dedication, but this also shows just how powerful love can make an individual. David is usually polite and timid, but his love for Natalie spurs him to make a bold and tender move.
Jamie and Aurelia go Swimming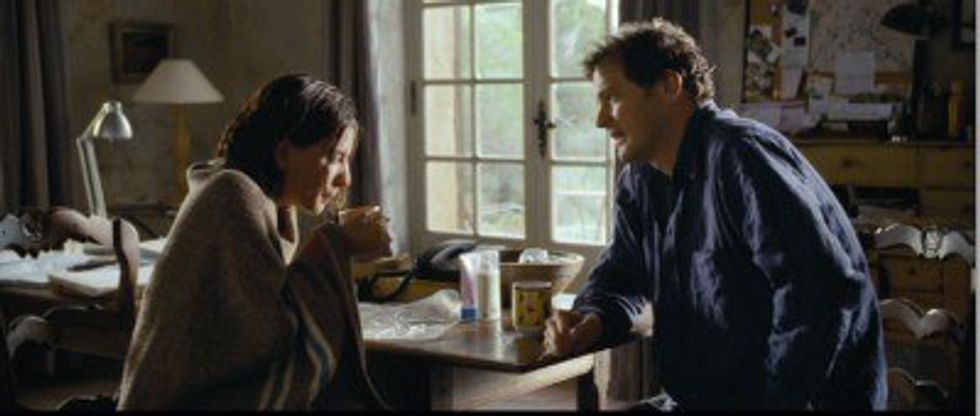 After writer Jamie (Colin Firth) discovers his girlfriend cheating on him with his brother, he retreats to his French cottage, where he meets his Portuguese housekeeper Aurelia (Lucia Moniz). While serving him tea, Aurelia accidentally causes some of Jamie's pages to get swept away in the wind, where they land in the nearby lake. She dives in after them, with Jamie going in after her. Afterward, they go back in the cottage to warm up and share an intimate moment. The romantic tension is increased by the fact that neither of them understands each other, causing the scene to be both romantic and a little tragic at the same time.
Any scene with John and Judy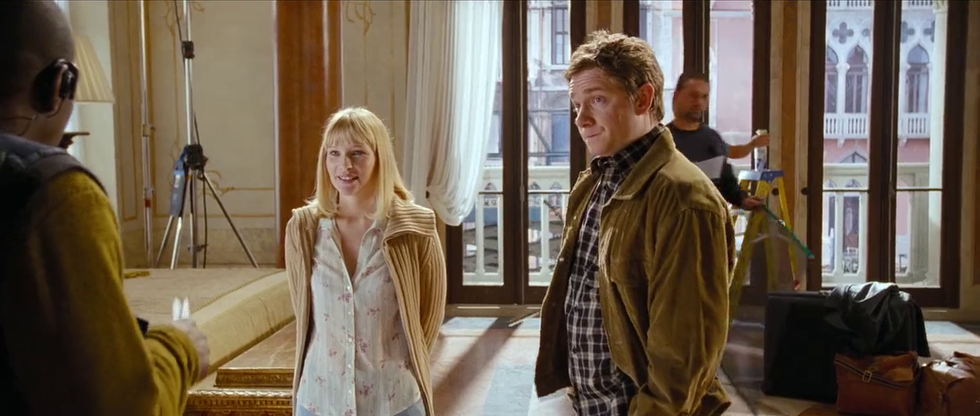 John (Martin Freeman) and Judy (Joanna Page) are professional body doubles for films, with the film they're currently working on involving a number of sex scenes. All of the scenes in which they appear in are awkward and hilarious, providing the film with a comedic element that it is sometimes lacking at times.
Mark loves Juliet

In what is one of the most romantic scenes in modern film history in my opinion, Mark shows up to Peter and Juliet's house one night with a boom box and cue cards. He puts on the boom box so that Peter thinks that carolers are at the door and one by one, the cue cards drop away and Mark confesses his love for Juliet. The two share a quick, innocent kiss, after which Mark decides that enough is enough and that for Peter's sake, he'll move on. Not only is this a very romantic gesture but Mark's decision shows just how much we're willing to sacrifice for the people we care for.
Mr. Bean trolls Snape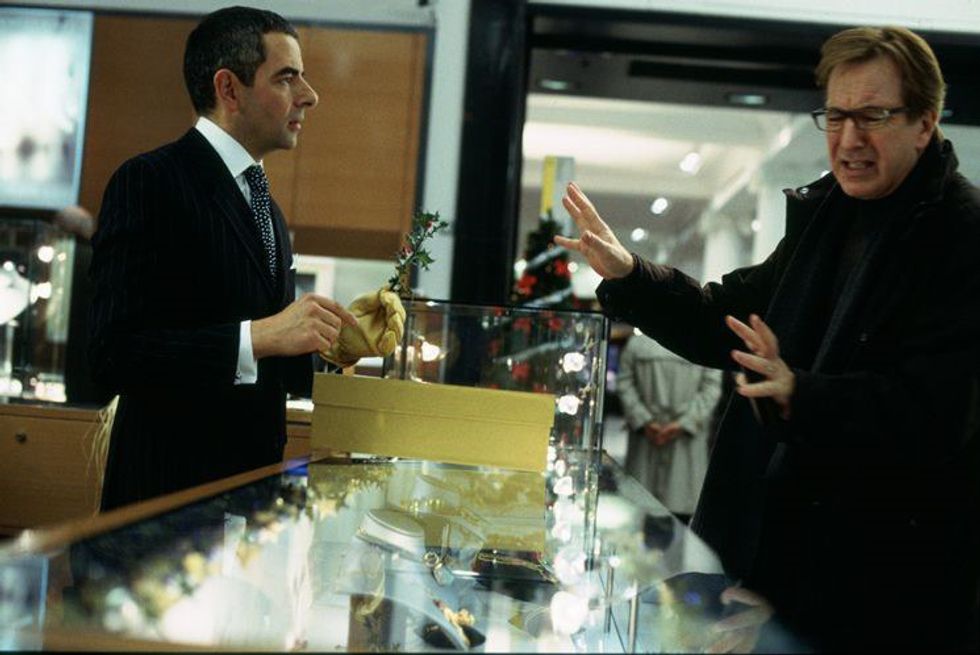 I don't care how much you love Snape, nothing will ever beat the scene in which Alan Rickman tries to buy jewelry from Rowan Atkinson. In it, Rickman's character Harry is attempting to buy a necklace for his girlfriend Mia (Heike Makatsch) without being caught by his wife. Atkinson's character Rufus is the salesman and wants to wrap it as extravagantly as possible. The more decorations Rufus adds, the more stressed Harry gets, culminating in Harry almost getting caught by his wife at the end of a hilarious scene.