We all know the down-to-earth country singer Thomas Rhett and we see how he showers his wife, Lauren Akins, with love in the most amazing ways. He does exactly what any girl could ever want in a husband, they are gold beyond #goals.
1. When he rented out an entire movie theater just for the two of them.

You heard it people, and no I am not making it up. He surprised Lauren and rented out an entiiiirrre movie theater just for the two of them!
2. They met at 13 and briefly dated at age 15.

3. How her dad called him and told Rhett to get over to their house.
Years after they dated, they split up and got into serious relationships with other people. In fact, they almost even got married to those other people! One night Lauren's dad called him and told him to get over to their house and tell her how he really feels. Even he knew they were meant to be.
4. Their little family they're starting.

Both new additions to the family, they recently adopted precious Willa Gray from Uganda and Lauren gave birth to baby Ada James! Talk about family goals.
5. All the songs he's written for her.

With "Die A Happy Man" probably being the most popular of the songs, he's written so many more about her! "Unforgettable," "Marry Me," and so many more.
6. All of his cute Insta posts.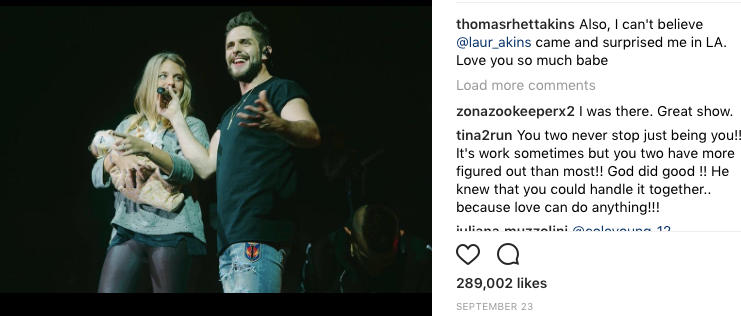 I'm not crying, you're crying. And this isn't even the best one.