Easter is just around the corner! Here are some fun ways to decorate and get crafty!
1. Water Marble Egg Decorating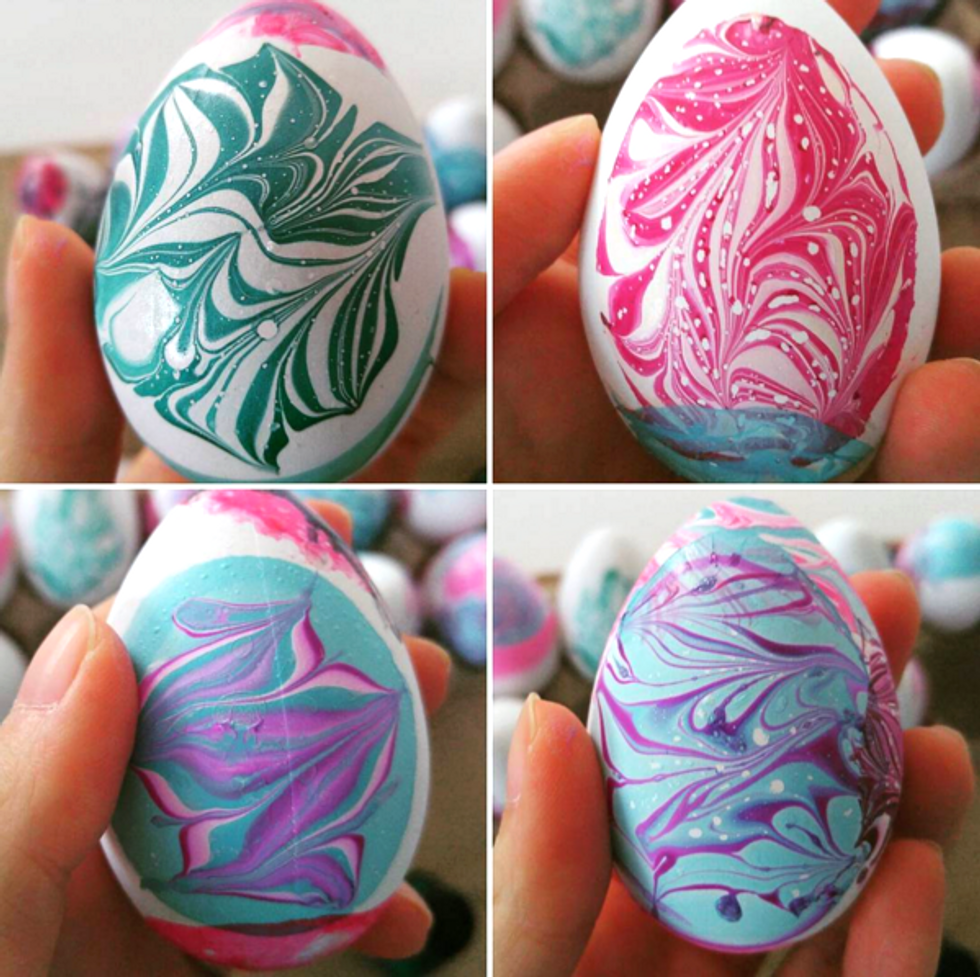 This has been a big trend in painting nails, but can also be done just the same with coloring Easter eggs! Simply swirl nail polish drops in a container of water, mix with a toothpick until you have your desired design, dip the egg, and remove! These make super fancy designs, making you look extraordinarily creative and artistically skilled, but is so easy for anyone to do! These are a great addition to table centerpieces or to decorate the garden and potted plants.
2. Shaving Cream Egg Decorating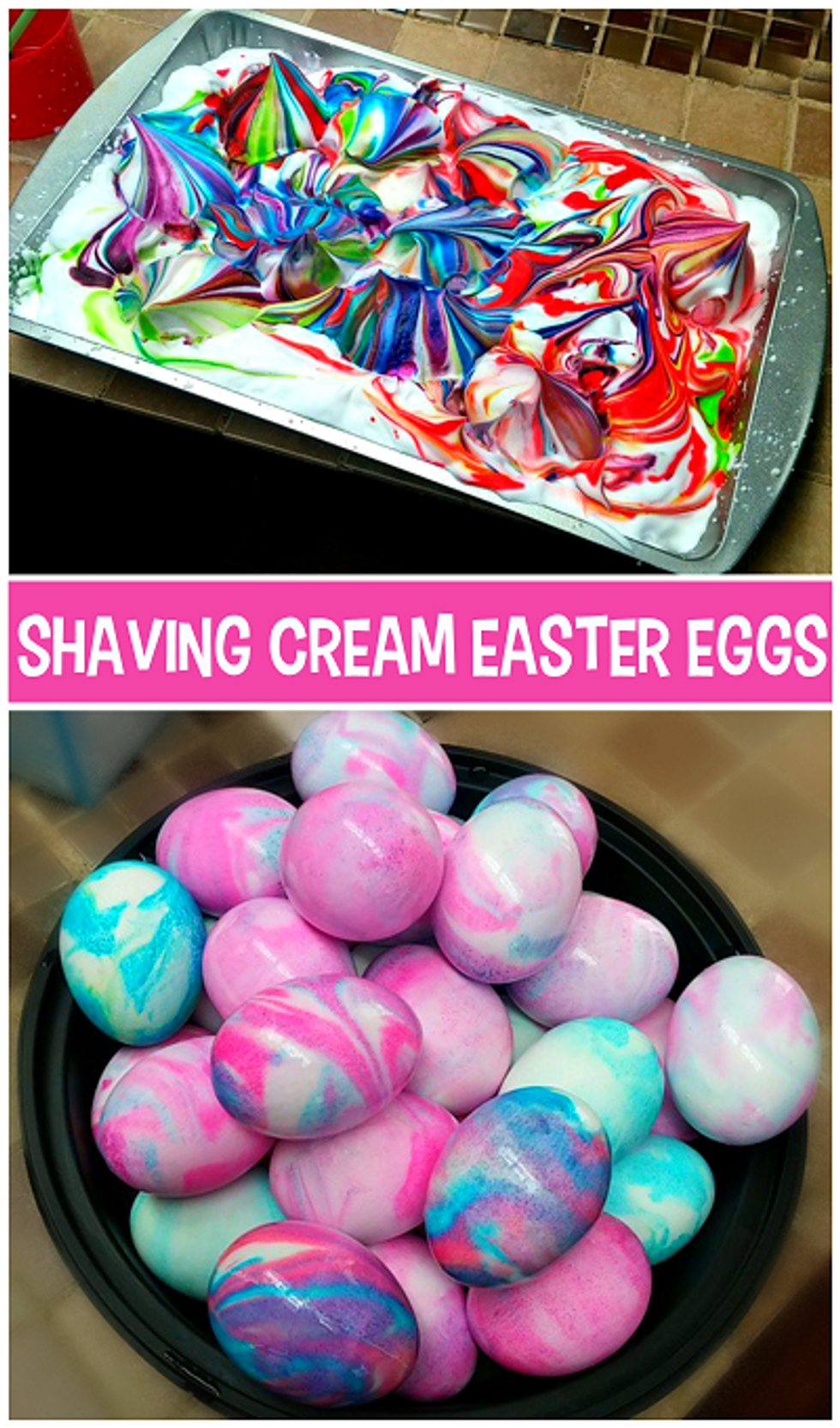 This one is messy and fun! Just fill a container with shaving cream, drop food dye and swirl around with a tooth pick, and then put the hard boiled egg into the colorful shaving cream on one side. Roll the egg gently through the mixture from one side to the other so that the egg is covered in the colorful mess. Take the egg out of the mess and set it on a piece of cardboard. Let it sit while the shaving cream will start to dry (5-10 minutes) and then clean it gently with a clean paper towel! The food color soaks in while you let it sit and underneath all the mess is a beautiful tie die masterpiece!
3. GLITTER EGGS!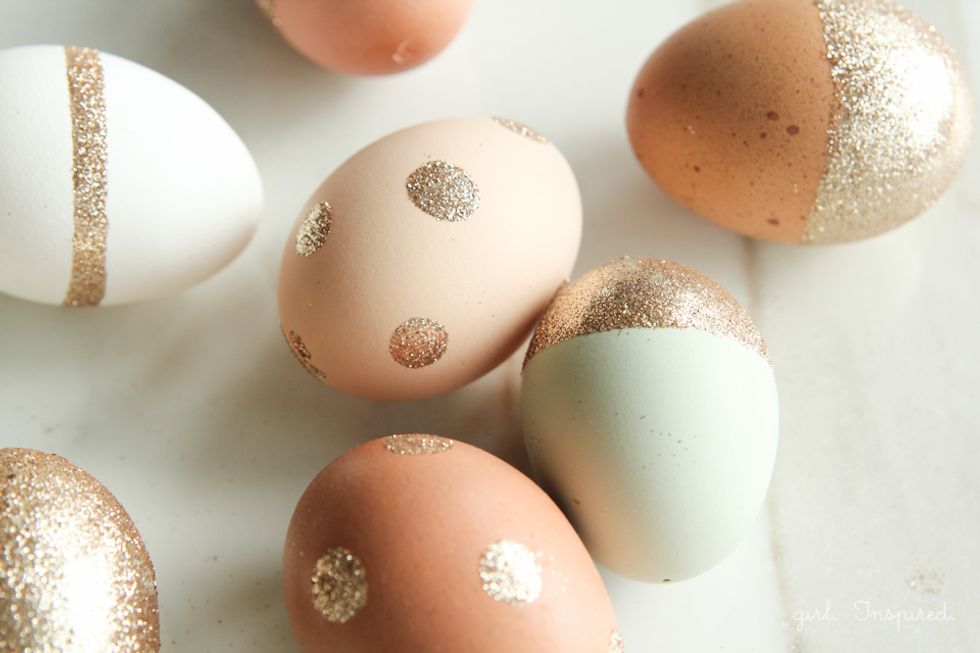 Let's be real, glitter is always good. Add glitter to any Easter craft by using some glue and a paint brush to get the glitter to stick where you want it! You can use glitter to cover the entire egg, write words, or just to add some extra sparkle! This looks great on bright and colorful eggs or natural ones.
4. Easter White Chocolate Bark
Melt white chocolate (you can use milk chocolate too) and spread into a lined pan. Add all your favorite little sprinkles and decorations! You could add little bunny graham crackers, pastel colored sprinkles and M&M's, crushed Oreo's, pretzels, baby marshmallows, candy pearls, and any other things that are pastel or Easter themed. You can also add food coloring into some of the white chocolate and drizzle it over the top to add more color! You might even try swirling the colors together. Let the chocolate harden in the fridge and then break into pieces to have fun bite size treats!
5. White Chocolate Carrots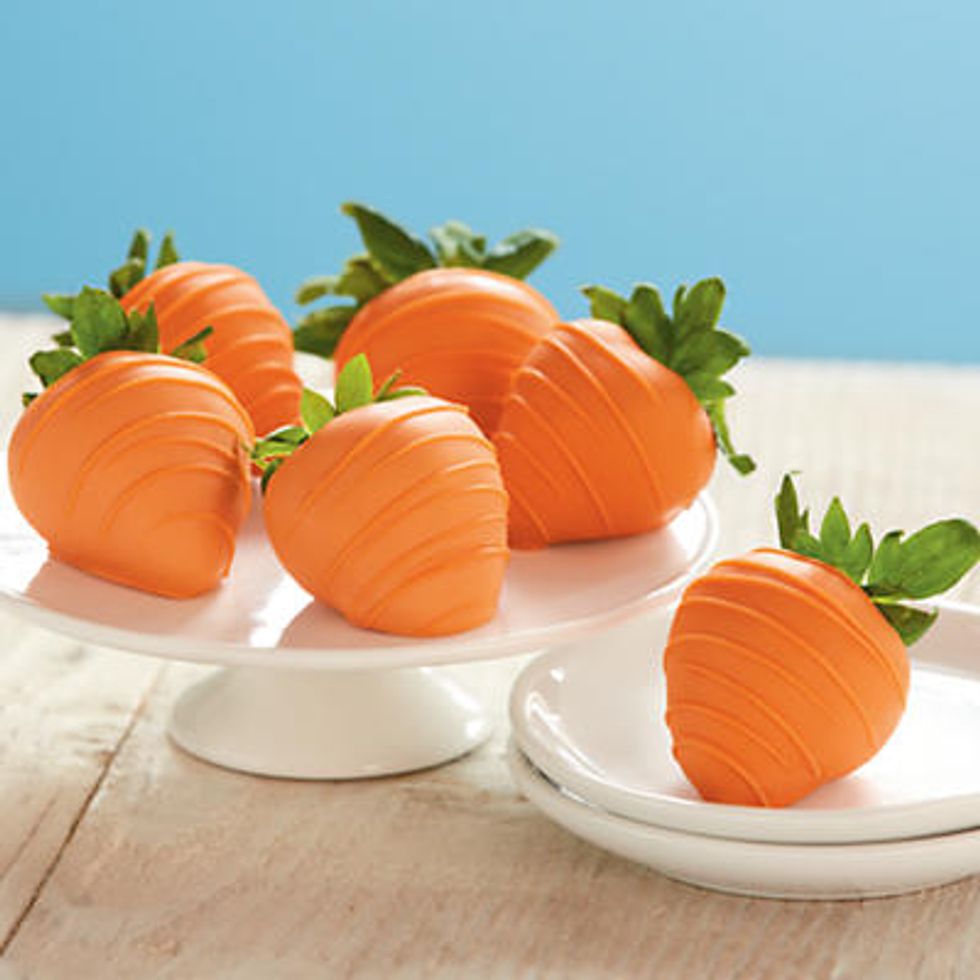 For another fun foodie craft, melt white chocolate and add orange food coloring! Dip strawberries into melted chocolate and let dry. Put the extra orange colored chocolate into a plastic baggie and snip a the corner off with scissors! Now you can use the baggie to pipe on stripes of orange to make the strawberry look more like a carrot! These are fun and can help decorate your food and dessert displays.
6. Homemade Place Settings or Cards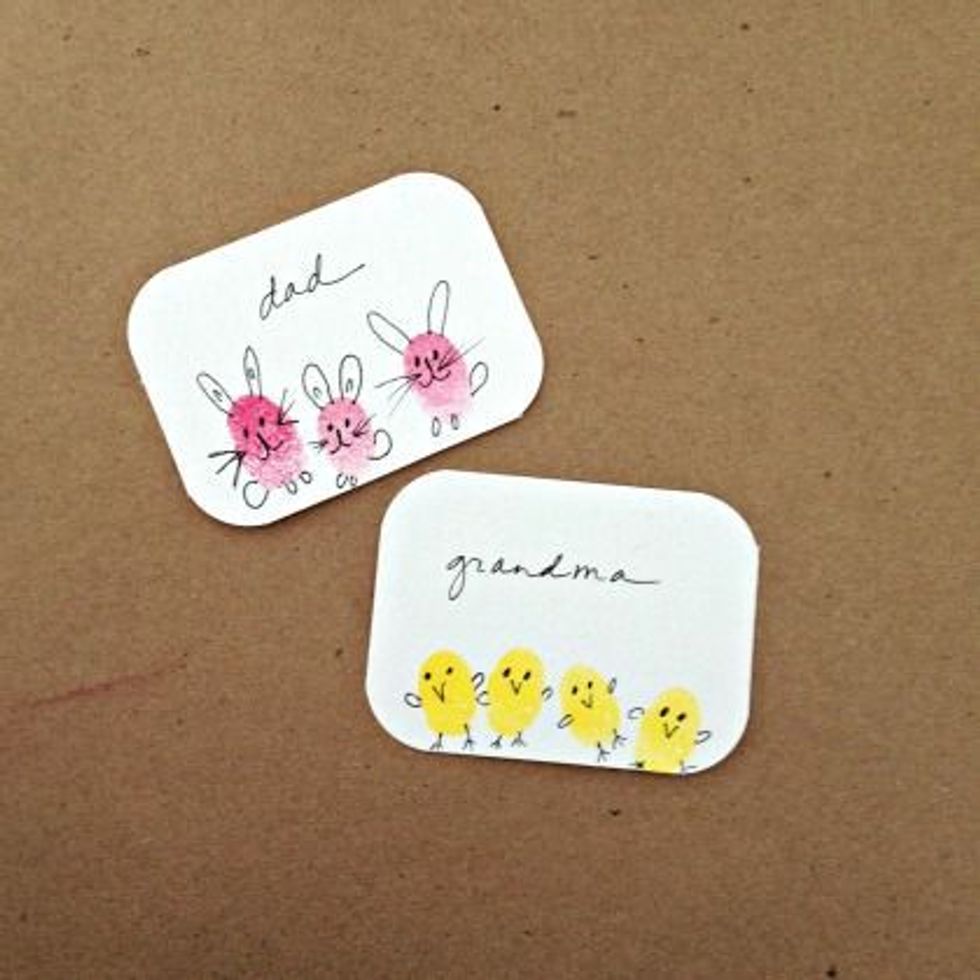 No matter what meal you are sharing with your loved ones, try these cute and simple place cards! You can use any ink pad or just paint! Dip your finger into the ink or paint and place it on the paper. Let them fully dry and then draw bunnies, little chicks, or cute decorated eggs over top of the ink or paint with a thin Sharpie or black pen! You can do this to make a homemade card for Easter, or finish by writing each person's name at the table with the shin Sharpie or pen!
There are endless possibilities to brighten up your display table or have fun getting crafty with different egg dying techniques! Try them this weekend for Easter and see what you can come up with :)