The new 5 Seconds of Summer album, 'CALM' is finally out, and not one song disappoints. Every song is incredibly different, and each delivers unique sounds and lyrics.
"Red Desert" starts off the album strong and showcases the vocal abilities of the members. Luke shared with Apple Music that "We [the band] wanted to show that we all sing, but we can do it in a way that's different from when we were younger—more of an Eagles, Crosby Stills Nash way, those big rock harmonies."
The harmonies featured in this song create an echoey sound, while the bass and drums create a powerful beat that grows as the song progresses.
The second track, "No Shame" talks about society's obsession with fame and receiving attention. It demonstrates how people act when society brands them as famous, "I only light up when cameras are flashin' / Never enough and no satisfaction / Got no shame / I love the screaming my name."
This song is not just about celebrities and their lifestyles, but about how people act on social media.
"Old Me" is predominantly sung by Luke and is the band's way of showing respect to their younger selves. The message can be found right in the intro of the song, "Shout out to the old me and everything you showed me / Glad you didn't listen when the world was trying to slow me / No one could control me, left my lovers lonely / Had to f*** it up before I really got to know me."
The first track that was released prior to the album was "Easier". On Genius, the band said that the sound is inspired by "bass-heavy, hard rock". This song marked the band's return since "Youngblood" in 2018.
"Teeth" was another single released early from the album. This song is incredibly catchy, and you'll definitely find yourself humming/singing the chorus.
The bass-heavy riff throughout the song is one of my favorite parts. I also really like the part in the chorus at the end of each line where all the members sing (starts at 0.54 with "sweet").
5 Seconds of Summer: Teeth www.youtube.com
"Wildflower" is a shift from the bass and rock heavy songs. It has a softer feel and features vocals predominantly from Calum.
Luke explains that this song is "a step forward for us in that it's not so dark—we can do this big stadium vocal but also have it be a big, positive, euphoric anthem and not be lame."
This song radiates such happy and lighthearted energy, and I personally would love to see it performed live. This is also my current favorite song off of this album.
"Best Years" is a more emotional track and contains an interesting parallel from "No Shame". This similarity was pointed out on Genius, so all credit goes to them.
Both the words "cigarette" and "regret" were used in "No Shame" and had a selfish tone attached to them. However, in "Best Years" those two words have taken on a mature tone, "Past love, burned out like a cigarette / I promise, darling, you won't regret." These lyrics demonstrate growth and how they have "burned out" a negative aspect of their life.
I would have to say my second favorite song is "Not in the Same Way". This song immediately stuck out to me the first time I listened to it.
The progression of the chorus is the perfect speed, starting with just Luke's voice and growing to include bass and drums.
"Lover of Mine" introduces an acoustic guitar into the sound of the album, showcasing the band's versatility.
Similar to the theme of the lyrics in "Best Years," this song is about learning from your mistakes with your lover and maturing because of them.
All four band members participated in writing "Thin White Lies". This song is about realizing your partner isn't invested in you anymore, but still trying to keep the relationship alive.
When it comes to the song's chorus and title, some fans have observed that it could be misheard as "thin white lines" and connected this back to the story within the song.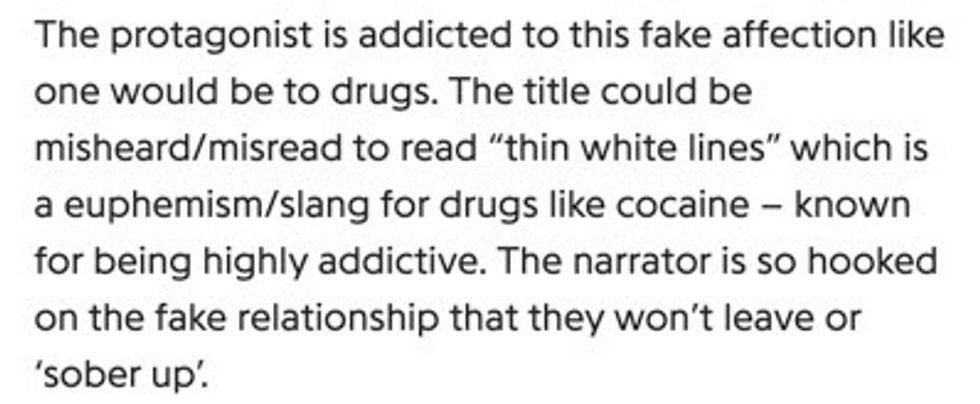 https://genius.com/19396456
"Lonely Heart" is another acoustic track, but it builds up to an intense chorus and bridge with more instruments. The bridge with all their voices is addictive and brings the song to its grand conclusion.
The last track, "High," is very reflective and thoughtful. In the interview with Apple Music, Luke finished off explaining the album with, "I love the honesty. That's why I wanted to close the album with it."
Give 'CALM' a listen, and once you're finished, watch 5sos listen and commentate on it.
5 Seconds of Summer - Carpool Karabloke www.youtube.com